Lillooet Bakery - Lillooet, BC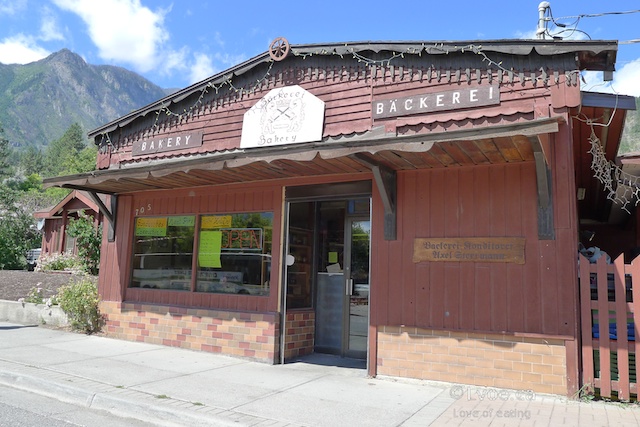 **UPDATE JUNE 2013: This German bakery is now closed.**
Hello Lillooet. I get out to Lillooet a few times a year due to work; I've never added any of their eateries to Love of Eating, so I thought I'd start today. I'm here at the Lillooet Bäckerei. It's a German Canadian bakery located on the main drag in Lillooet.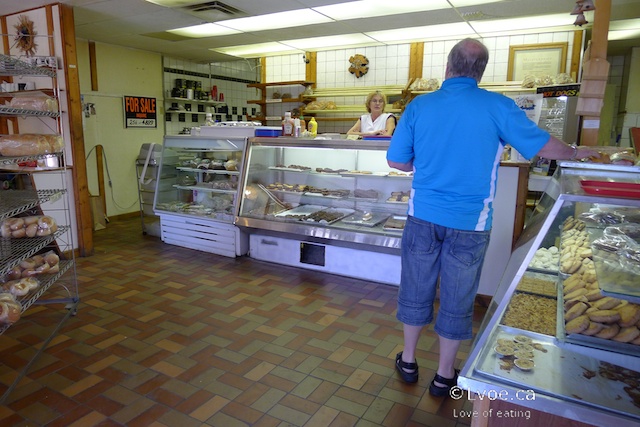 The bakery is small, but there is ample outdoor seating to the side of the building. The service today is well...stern. She reminds me of my elementary school librarian. There are no prices on any of the items and it's scary to ask. Seriously, I'm glad the gentleman in front of me inquires about a number of the items. I listen as closely as possible, so I wouldn't have to trouble her again. I feel like I'm in Grade Two, starting my first research assignment on Grey Wolves, and I wasn't paying attention when Mrs. Johnson (the keeper of books) explains how to use the reference book section to the rest of the class. The lady behind the counter didn't crack a smile or change expression the whole time! Just like Librarian Johnson. It is both mesmerizing and unnerving.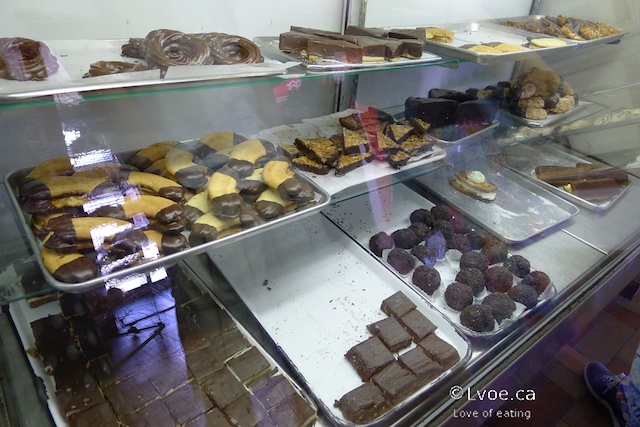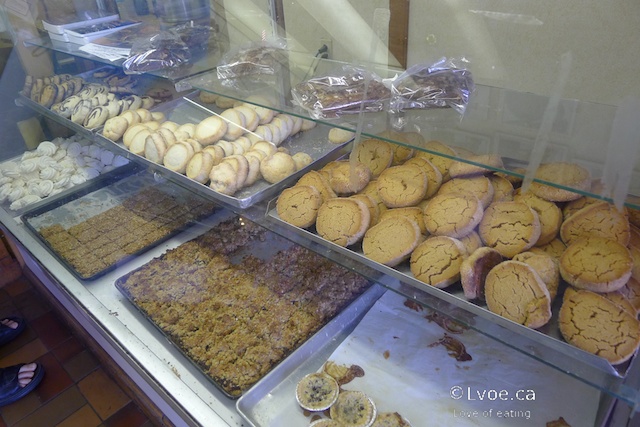 Lillooet Bakery does crank out a number of German baked treats. I choose a few for a quick snack while we enjoy the sun.
Apple Strudel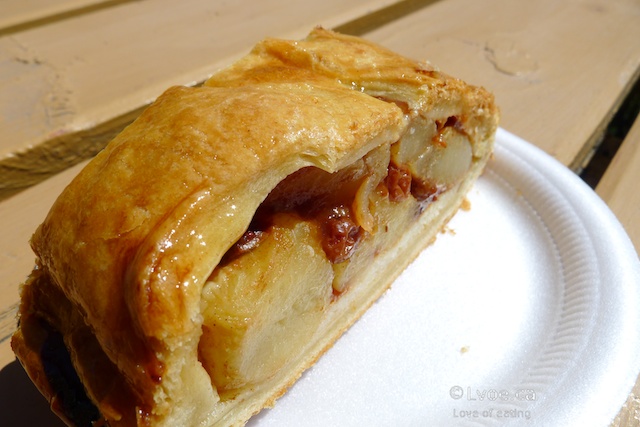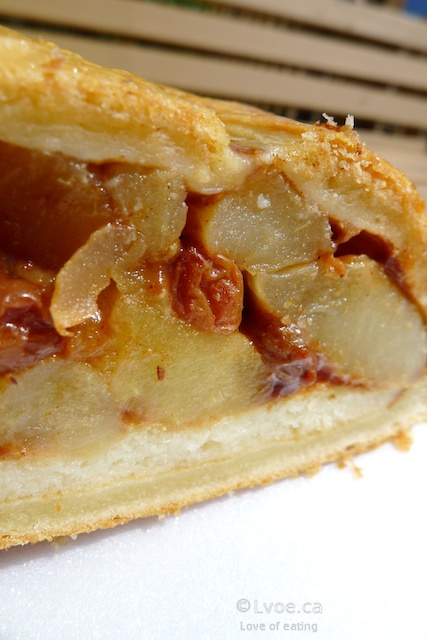 The apple strudel is thick with chunky apples and a sprinkle of golden sultanas. The cinnamon didn't overwhelm the apples and raisins, but added a warm background spice. What I enjoy most is that the strudel is not super sweet. I can really taste the flavour of the apples and the sweetness of the fruits. It didn't blow DL's German pants off, but it's pretty good.
Chocolate Banana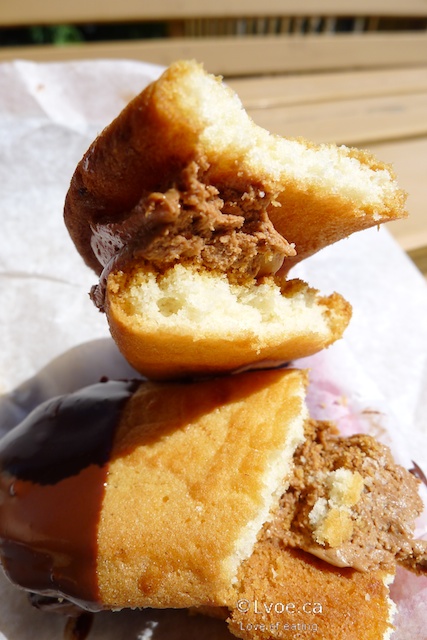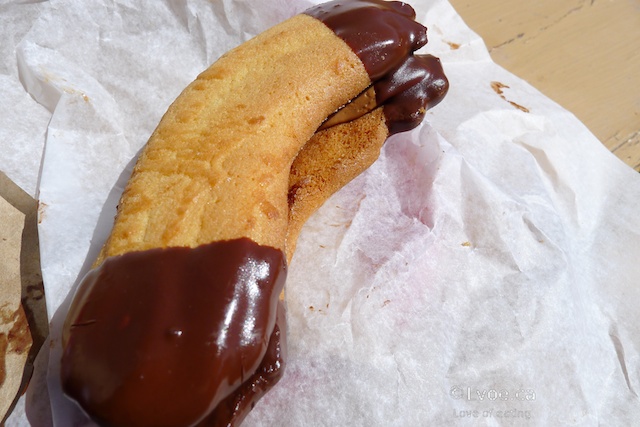 I just made up the name for this cookie. I have no idea what it is really called. Perhaps if she uncrossed her arms, and let down her stance a bit I would have inquired about the name. The treat is comprised of two banana shaped butter cookies with a chocolate ganache-like filling, with the ends dipped in dark chocolate. The chocolate is very good, and the cookie is crisp and buttery.
Pretzel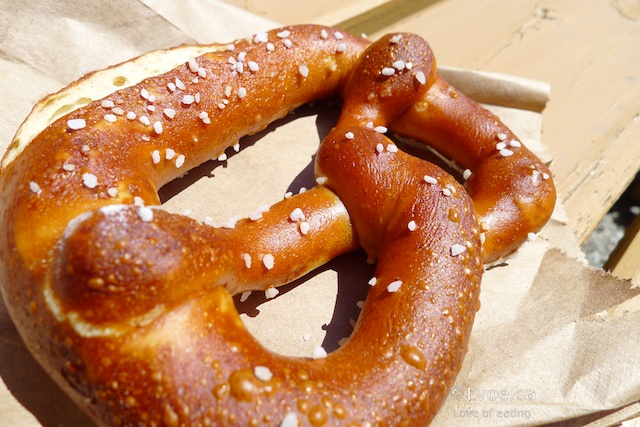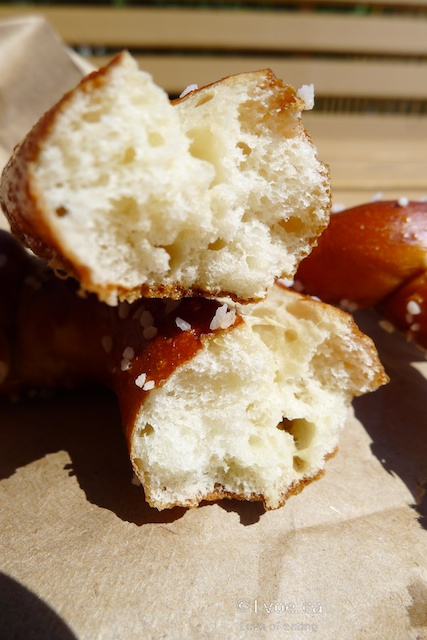 This twisted bread has a very nice chew. Soft and dense in the middle, with a bit more chew and crispiness near the slender arms. Have you ever tried making brezel at home? I've experimented with making various breads at home, but never ventured into playing with pretzel.
Me + caustic lye = not a good idea.
Florentine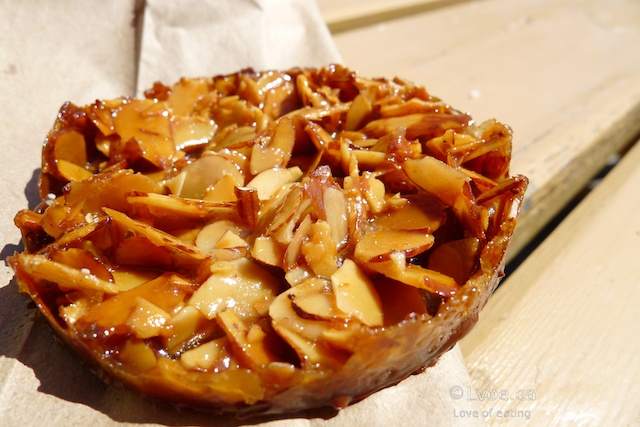 Loaded with nuts. Lillooet Bakery makes a thicker Florentine with tons of almonds. The hot sun today made this a little sticky, and messy to eat but I prevailed.
Who knew Lillooet is a busy tourist destination? Most of the people eating here today seem to be fresh off a tour bus that parked across the street. According to the signage: Elke and Axel Sterrmann have been providing Lillooet with good bread since 1986. Lillooet Bakery is cash only.
I notice a "For Sale" sign posted on the bakery wall. Is this a sign of the times? It seems almost every small town eatery I've visited in the past year or so, are all waiting around for a buyer.
The baked goods are respectable here at the Lillooet Bakery, but the service could be a smidge more welcoming. I did not provide you with price points this time. You can guess why. Our German bäckerei items today are enjoyable, but DL refuses to go back due to the service. So does that mean next time, I have to run in, get my pretzels, and then jump back into the vehicle? I would totally go back for a pretzel.

Locations
Lillooet Bakery
717 Main Street
Lillooet
,
BC
V0K 1V0
Canada