Dina's Place Restaurant - Lillooet, BC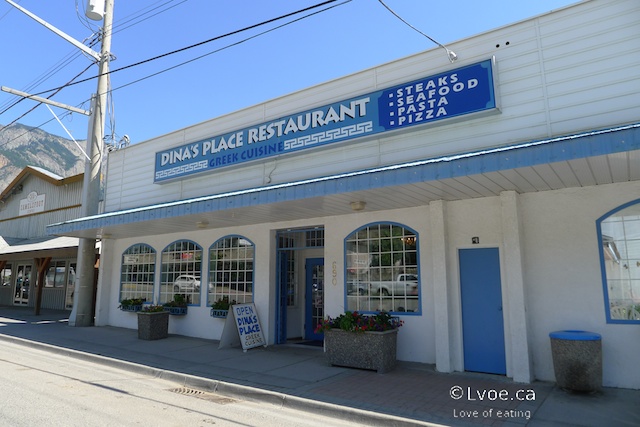 I'm still in Lillooet and it is Guaranteed Rugged. Yes it is. I've enjoyed many hiking trails in Lillooet and the surrounding areas for the past few summers. Have you been to Seton Lake? So beautiful.
Dina's Place Restaurant is located on Main Street and seems to have a loyal local following.
Cheese Saganaki ($12.95)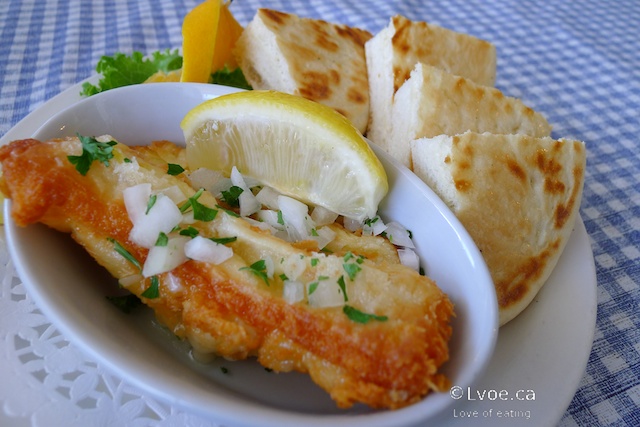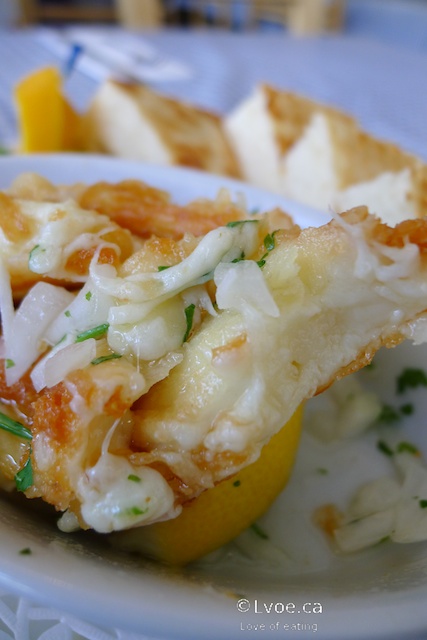 Minus the sagani pan. The fried Kefalotyri is a little greasier than some other versions, but the lemon juice helps tone down the oiliness. Although the menu stipulates the cheese is pan-fried, it looks deep-fried, no? There are no tell-tale sear spots on the cheese. In fact, it's crispy, like battered fish. But hey, it's hot melted salty cheese served with soft warm pita bread, how can I hate on it that much. Please.
Kalamari Lunch ($15.50)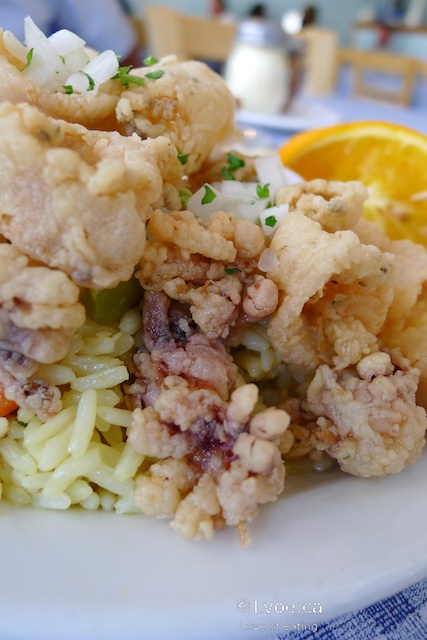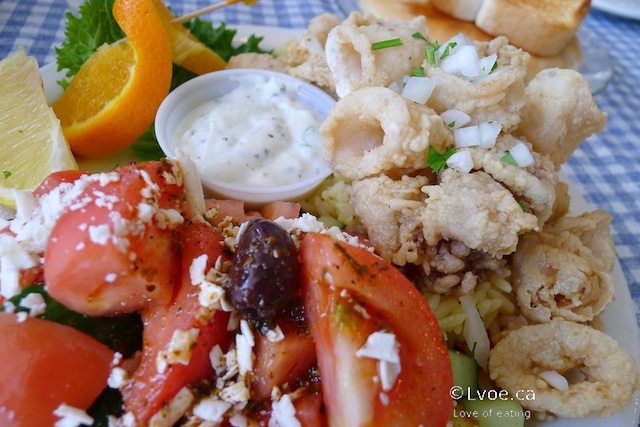 This is pretty decent. The rings and tentacles are lightly battered and are not greasy. Looking around the room, this looks like a popular menu item. It seems every table has a squid-y dish in either the appetizer or meal form. The kalamari is served with Greek salad, rice, and pita bread.
Baked Ravioli (large $13.95)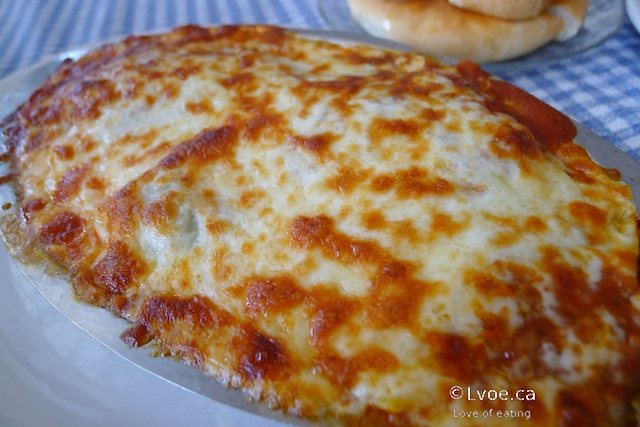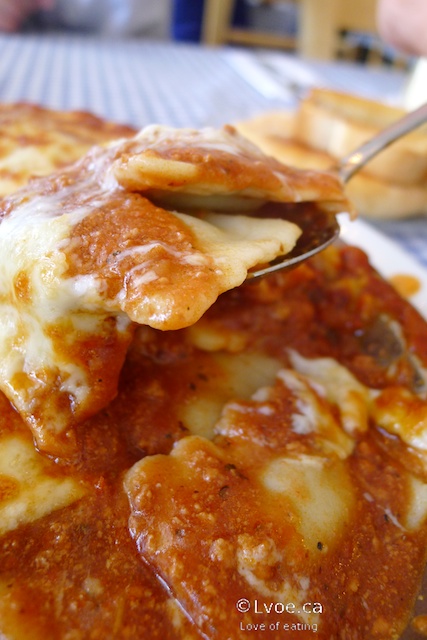 The baked ravioli came screaming hot out of the oven. Underneath all that browned cheese I find a generous population of the little pasta pockets. I have no idea what kind of meat is in here. "Meat sauce" is the only descriptor, and I didn't bother to ask. The sauce is very commercial tasting if you know what I mean. The pasta as a whole is okay, but just a bit Chef Boyardee-ish. A side of garlic toast accompanies the ravioli.
Baklava ($5.50)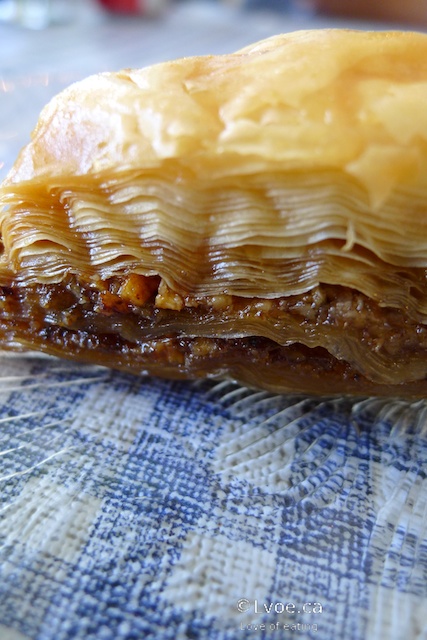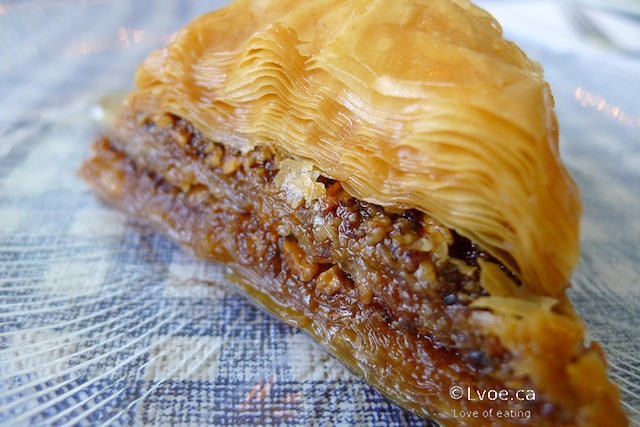 Sweet and nutty, as expected. A nice way to end our meal.
Dina's portions are generous but not ridiculously large; which I think is a good thing. The price points for some items are a little dear, but considering the small-town-captive-audience factor this is to be expected.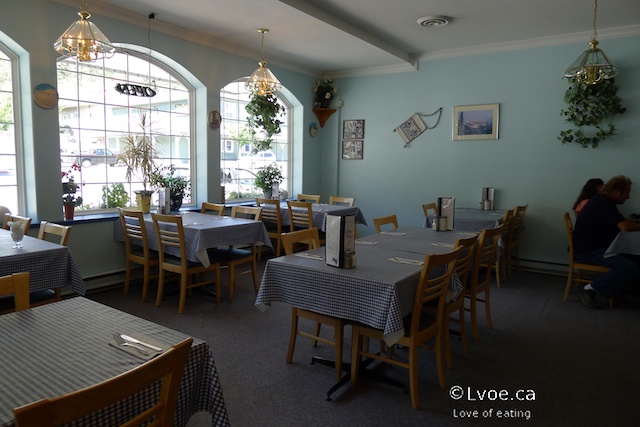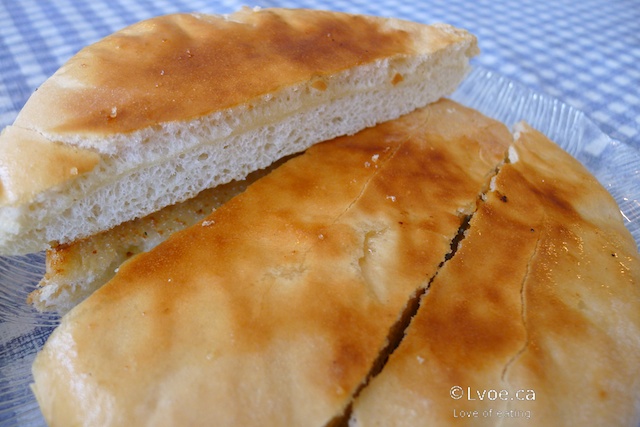 There are certainly some diehard fans of Dina's Place Restaurant. In fact, it was a diehard colleague that told me about Dina's years ago. One time, this Dina's Devotee insisted we eat at the Lillooet location and then eat at the (now defunct) Ashcroft location. And we did. Please, if you are not familiar with the distance between these two communities: Google Map it. It was a long day drenched in tzatziki.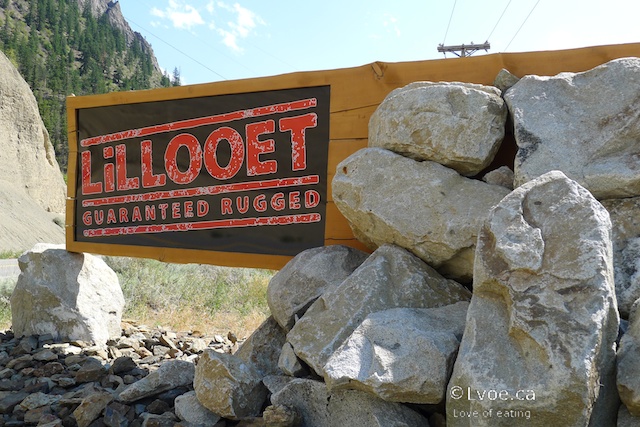 I know it doesn't sound like I'm all jizzy about Dina's offerings. However, in a small community where there isn't a whole lot of choice, I appreciate very much the option of a Greek food place like Dina's. I've actually eaten a meal here at least once a year for the past four(?) And that's not including the catered food served at work related events. Also, let me tell you, Dina's Greek fare becomes pretty damn good when you've just finish a trail run up to Red Rock and back.
Dina's Place Restaurant hours:
Mondays to Saturday 11:00am to 9:00pm
Sundays and Holidays 4:00pm to 9:00pm
Locations
Dina's Place Restaurant
690 Main Street
Lillooet
,
BC
V0K1V0
Canada