Bubble Queen - Richmond, BC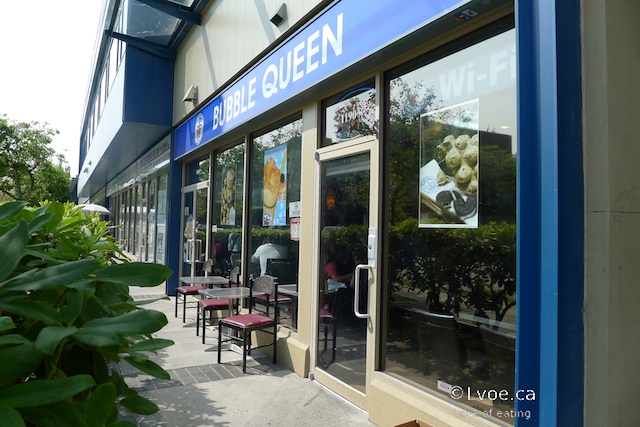 Here's a quick coastal post. Looking at my agenda, it seems the bulk of my conferences for the next several months have been moved to Richmond. Hmm...this is all well and good, but I did enjoy the variety of things to do on my off-hours, when my conferences were held in Coal Harbour.
I thought I would include a Bubble Queen post. The last time I came here, three or four years ago, Bubble Queen was located on the Cambie Road side of this shopping complex, and now it's located on the McKim Way side. I knew the business had moved, but I assumed it moved to an entirely different location. Yes, I am confused for a bit, as I am expecting the address to be different. (Just for the record, I only circle the complex twice before catching on.)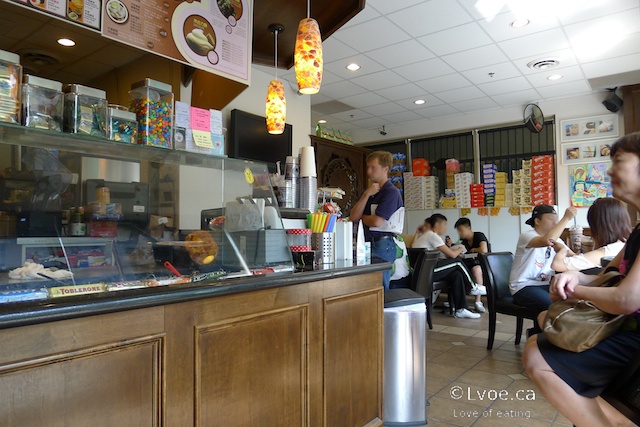 The selection here favours bubble tea drinkers with a sweet tooth. There is a huge selection of chocolate bar inspired bubble drinks, but I came here because I'm craving a waffle. Not just any old waffle but an egg waffle.
We indulge in some bubble teas too.
Coconut Slush with tapioca pearls ($4.50)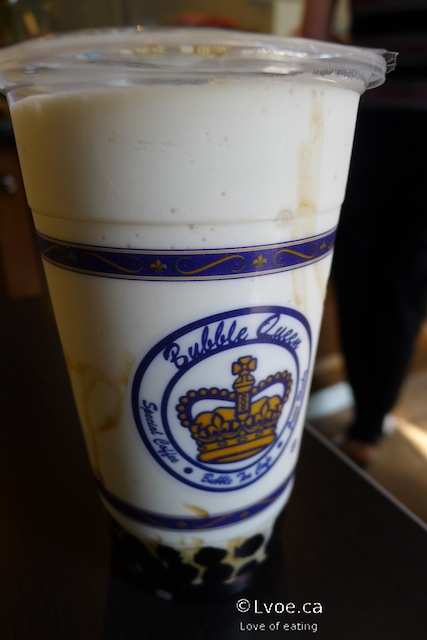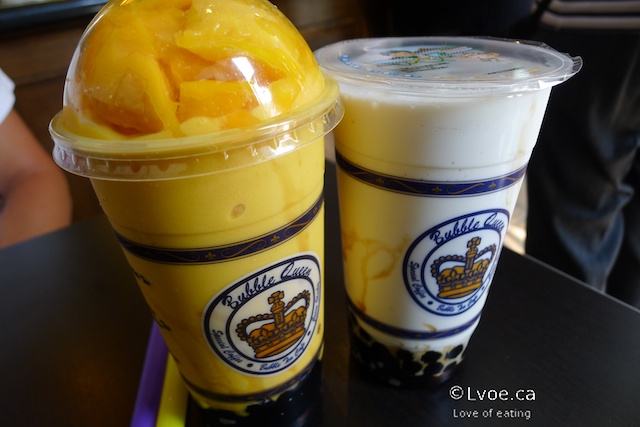 Not too sweet and yet coconutty. The pearls are tender, but still with structure and chew. You can choose what size of tapioca you want at Bubble Queen. Regular size pearls or small. I went with the standard fat pearls. The slush granules at Bubble Queen are super fine, which made both the drinks very smooth, creamy in texture and thick.
Mango Cube Slush with tapioca pearls ($4.50, add fresh mango cubes $2.25)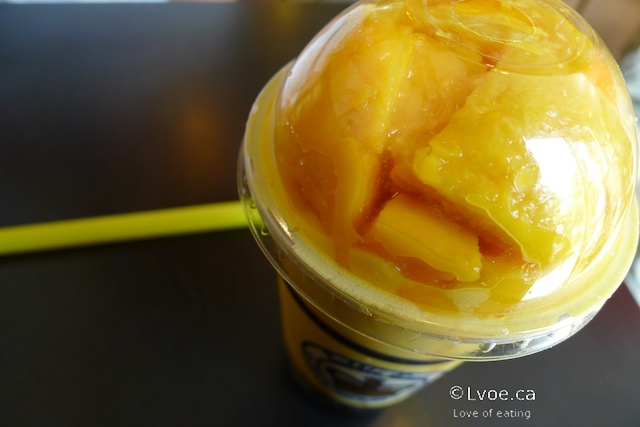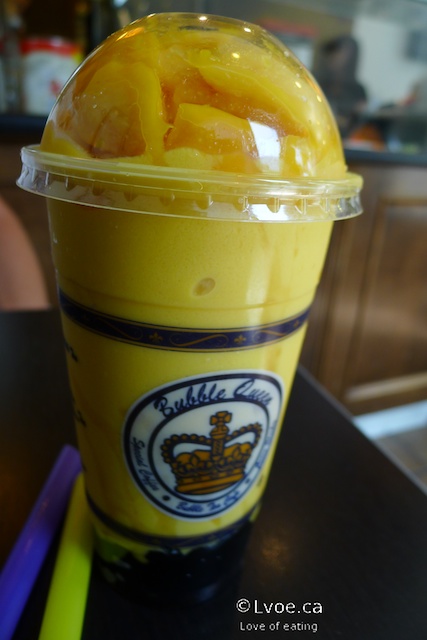 The last time I had a bubble tea here at Bubble Queen, it was some chocolate concoction. I think it was Ferrero Rocher, or something similar; this ended up being too sweet for me. So today I just go with their mango slush. Yes, it is excellent. The mango pieces are generous, ripe, and cut from the kind of mangoes which I referred to when I was a kid as the "good" mangoes. ("Good" mangoes are one of the impossibly sweet, yellow, elongated, non fibrous varieties. Not those hard stringy Tommy Atkins varieties so prevalent in the big supermarkets. This is a whole other arena I shouldn't tangent off into right now.)
Although this is a solid fruit drink, the price is a tad steep for me to make this a regular beverage. $4.50 is a pretty standard price for bubble tea, but the added $2.25 for the mango cubes pushes this particular slushy to $6.75. Am I getting frugal with age? I don't recall beefing about the price the last time I had Bubble Queen's Mango Cube slush.
Now onto the eggettes:
Matcha Mochi Waffle ($4.25)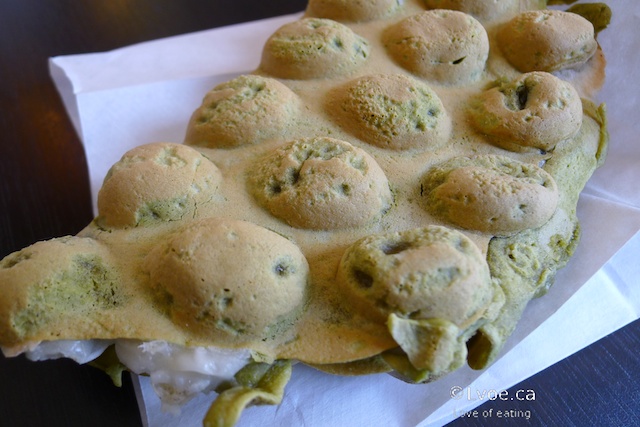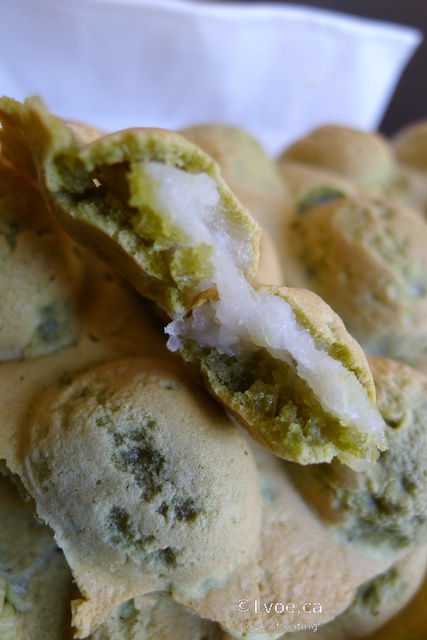 It's also called a bubble waffle. The simple sweet dough is prepared much like a regular waffle on a specialized griddle to give the hollow poufy texture. I like these best hot off the waffle iron and plain jane, but Bubble Queen has some pretty tempting filling choices. The green tea-ness is subtle; with just enough matcha flavour without being overwhelming. The mochi makes this very filling.
Black Sesame Waffle ($3.25)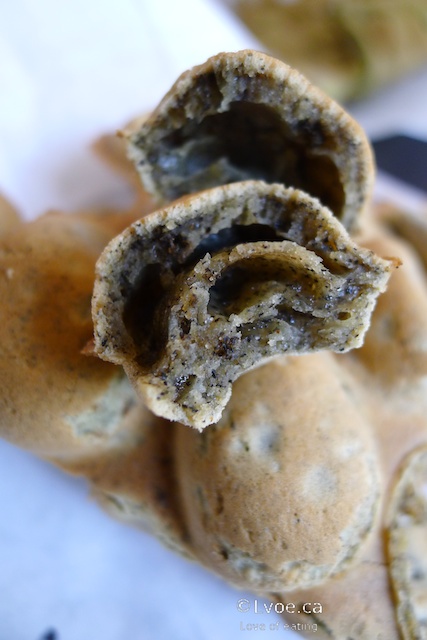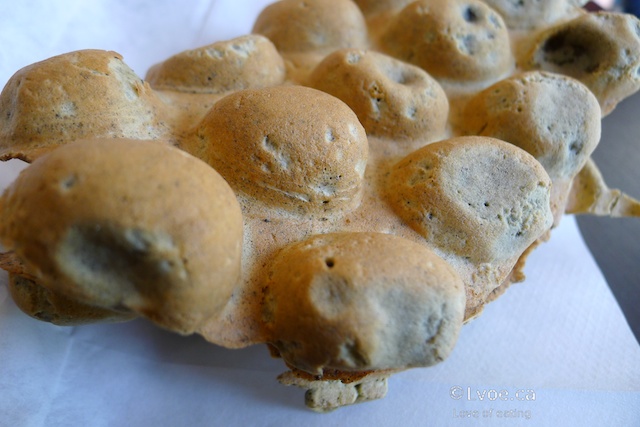 I love the aroma of black sesame! The heat of this freshly made waffle helps the fragrance of the sesame waft into my nostrils.
One of my favourite things about this slightly sweet street food is that egg waffles are clean to eat. This is important for me. It's no lie that I'm a little clumsy sometimes when it comes to getting food into my face. (For example, an empanada...) The bubble waffle has a "dry" exterior, and I can eat each poufy pocket one at a time. This little snack will not leave your fingers sticky, nor will you be wearing a veil of crumbs on your business attire.
It's a near perfect on-the-run or in-between-keynote-speaker snack.
Bubble Queen hours:
Monday to Thursday 2:00pm to 10:00pm
Friday and Saturday 12:00noon to 1:00am
Sunday 12:00noon to 6:00pm

Locations
Bubble Queen
8888 Odlin Crescent (Pacific Plaza complex)
unit 1200-8700 McKim Way
RIchmond
,
BC
V6X 3Z8
Canada