JamCan Cafe - Kamloops, BC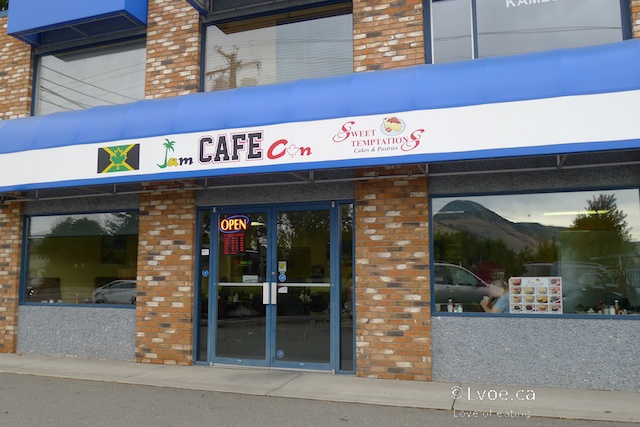 I tried to get to the JamCan Café earlier for their breakfast offerings, but I was moving at sloth speed this morning. The JamCan Café is exactly what the name implies: a little Jamaican fare and a little Canadian fare. The diner is located in an industrial business center just off of the Halston on 12th. Did I say that like a non-newbie? I remember when I first came out to Kamloops; every now and again people would refer to this mysterious thing called The Halston. It took me a while to figure out they were referring to the connector road.
Slashy Restaurant Alert: Sweet Temptations Cheesecakes is also run from the same space as the JamCan Café.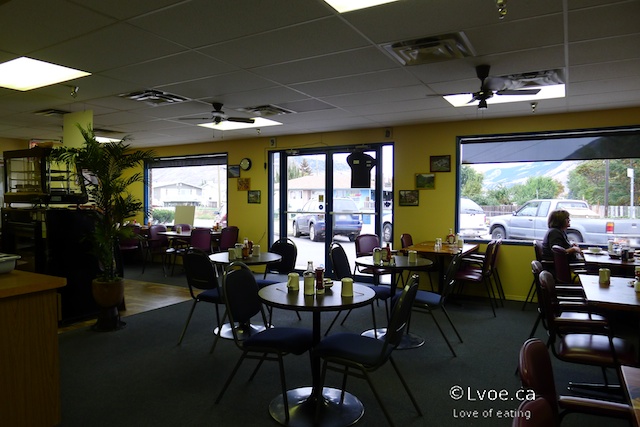 This Caribbean diner opened in the summer, but I never found a chance to stop by until now. The space is roomy with two spacious dining areas. The décor is much like most of the diners I've visited in industrial parks: nothing fancy, just simple retro coffee shop furnishings. The room is comfortably clean and the sunshine coloured paint adds to the brightly lit corner unit. On this particular day, there may have been some recent painting activity going on, either in the café or in the building somewhere. There is a strong, STRONG odor of what smells like Gun Wash wafting throughout the café.
Jamaican Patty ($4.00)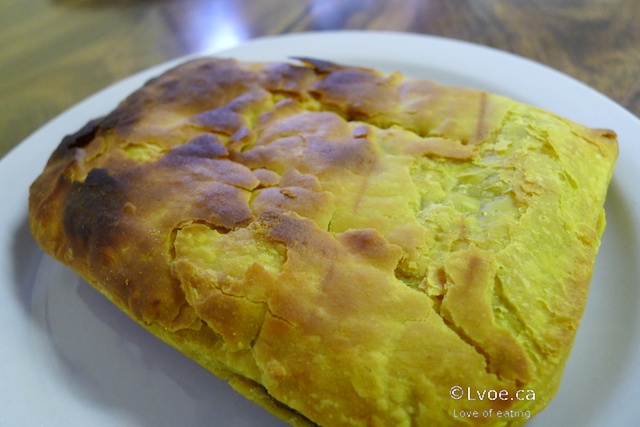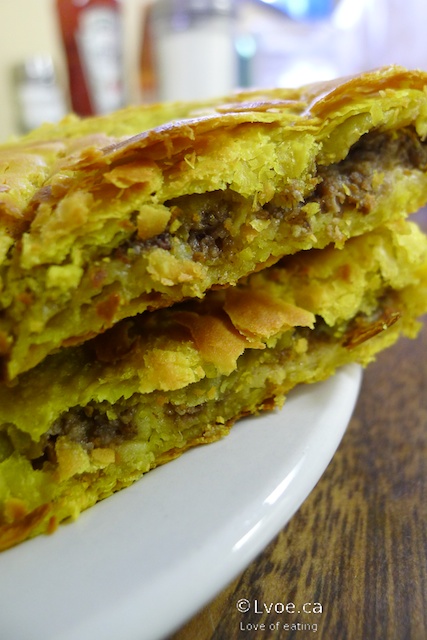 You have a choice of beef or chicken Jamaican patty. Although, the pastry is a little dark on one side, it is light and flakey, with enough thickness to hold the meaty bits inside. The ground beef filling is well seasoned. Savoury with a tinge of spice.
Jerk Chicken Kabobs ($10.95)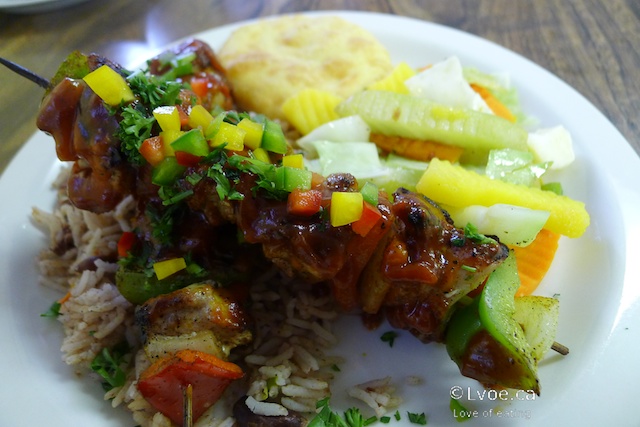 This lovely dish is one of the four tempting chalkboard specials today. All four nominees are possible winners today. It is a difficult choice. I narrow it down to the Jerk Chicken Kabobs and the Goat Soup. A Johnny cake accompanies the chicken, but the goat comes with spinners.
Gah! How does one choose? Fried bread or dumplings?? I love both. Sophie's Choice! (Okay, I know that's going a little overboard...)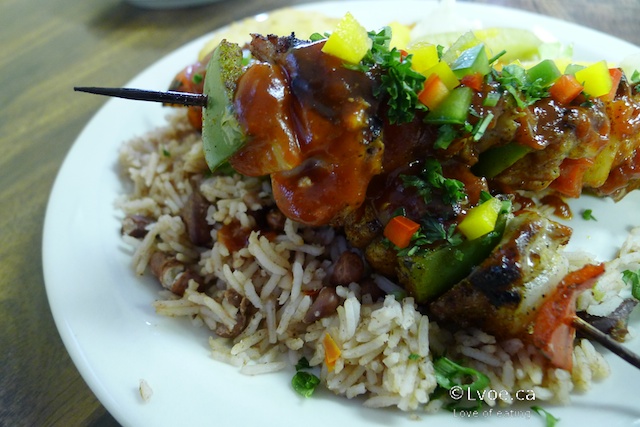 The aroma of the Jerk Chicken Kabob cuts through the lacquer solvent fumes, and stuffs my nostrils full of awesome. The two skewers of chicken are moist and juicy. There is a wonderful smokiness to the kabobs that reminds me of summer time outdoor open flame cooking. Also, this here sauce is addictive.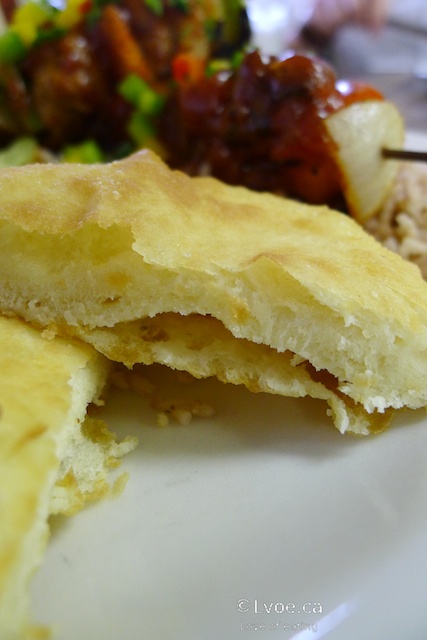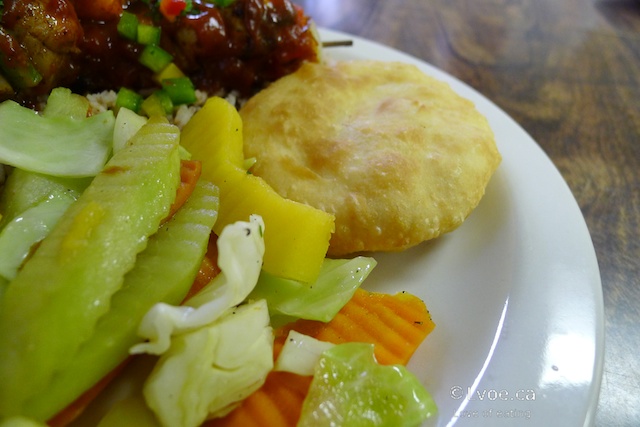 This plate is full of colourful good stuff. Steamed carrots, cabbage and various squash. The chicken sits atop a generous scoop of coconut rice and beans, next to the fried circle of happiness: the Johnny cake.
Jamaican Rum Cake ($4.95)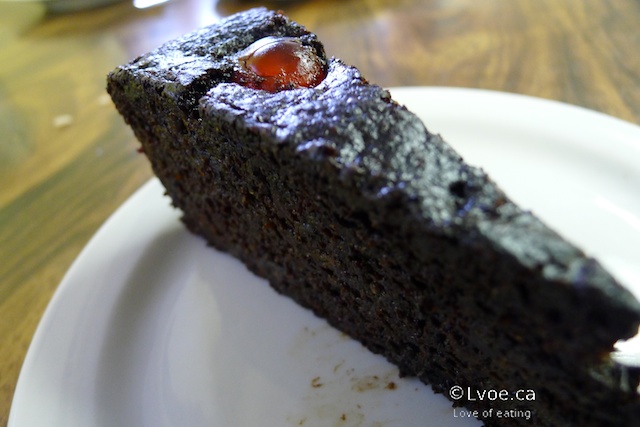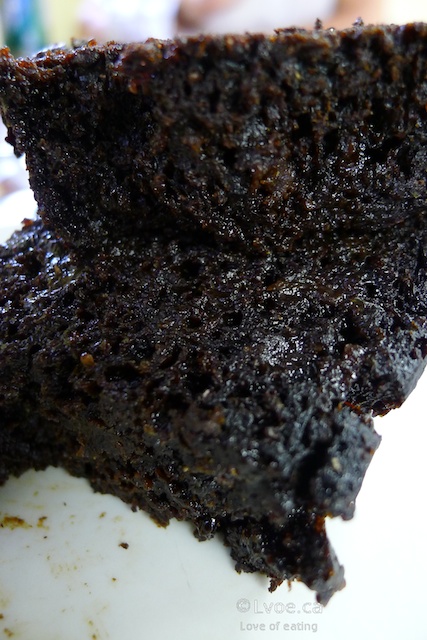 This tastes like Christmas. A richly dark, sticky moist, and deeply sweet Christmas. For those of you that abstain from animal products, the server informs me that it happens to be vegan too.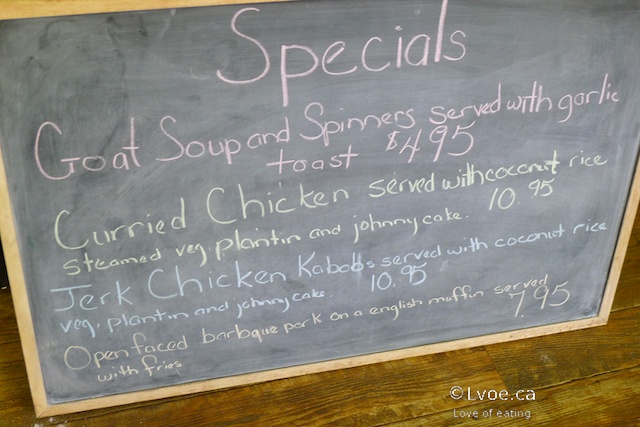 Even though I was worried the sovlent fumes might overpower me today, they didn't, and JamCan is a tasty addition to Kamloops. I'd love to return one day for their breakfast selections. Click here for AL's photos of JamCan's breakfast menu. One morning I want to start my day with stewed salt fish too, what about you?
Jam Can Café hours:
Monday to Friday 6:00am to 3:00pm
Saturday 7:00am to 3:00pm
Sunday closed
JamCan Café Facebook click here
JamCan Café Twitter feed click here
Locations
JamCan Cafe (Sweet Temptations)
Unit 102, 1157 12th Street
Kamloops
,
BC
V2B 7L2
Canada