Bellringer Espresso Bus - Kamloops, BC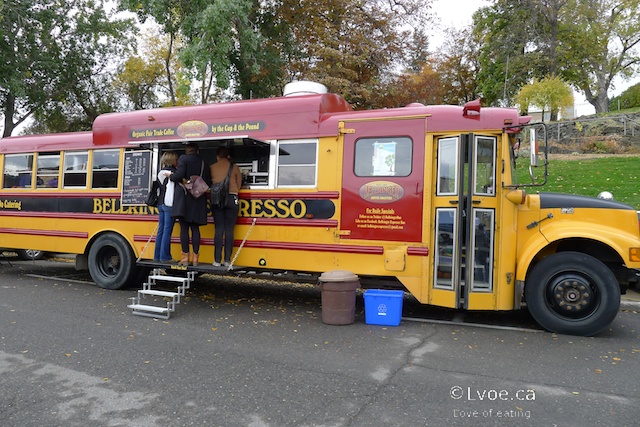 The Bellringer Espresso Bus is usually parked somewhere on the Farmers Market grounds. I don't need a lot of produce today so I thought it would be an opportune time to stop for a little feast. (I'm less inclined to stop for eats when my multiple canvas bags weigh me down like an overworked mule.)
The espresso bus is popular! There is a short line up of coffee lovers in front of the vehicle for most of the morning. The Bellringer Bus is open for breakfast and lunch, and of course great coffee drinks can be had all morning and afternoon.
Pumpkin Spice Latte and Egg Nog Latte ($4.50)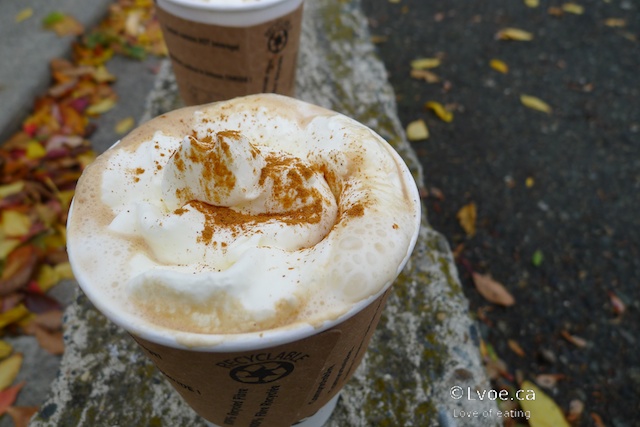 Perfect hand warmers on a chilly morning.
Sticky Piggy ($7.00)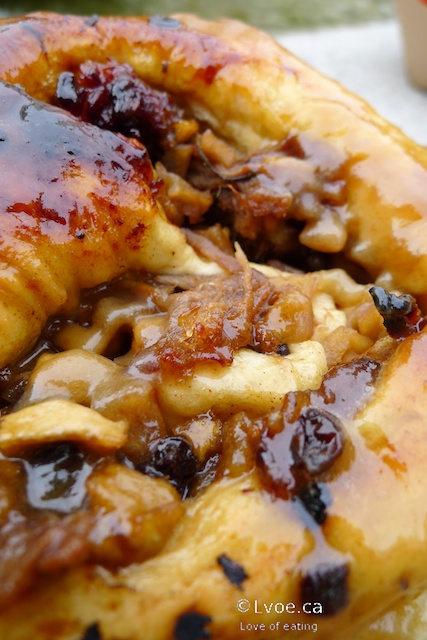 Hello bourbon pork cinnamon bun. Nice to meet you.
I love sweet and savoury combinations; the Sticky Piggy is all that and then some. Sweet, sticky, a bit gooey and stuffed with apples, currants and maple glazed pulled pork. So good.
I know it's hard to see just how big this sticky bun is from the photo, but it is huge. It's bigger than my hand. The surface area of the Sticky Piggy is roughly the size of my face.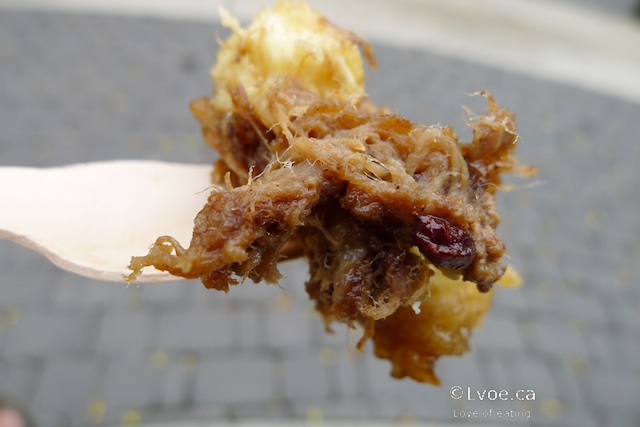 Proteins in dessert baked goods is better tasting than it sounds. Trust. However, keep in mind that I'm also a fan of Tuna Danishes. So there's that. (Yes, a tuna danish is exactly what you imagine it to be. Instead of lemon curd it's a dollop of tuna salad underneath the icing and glaze.)
Autumn Hash with Chorizo and Bacon ($8.00, add $1.00 for chorizo & bacon)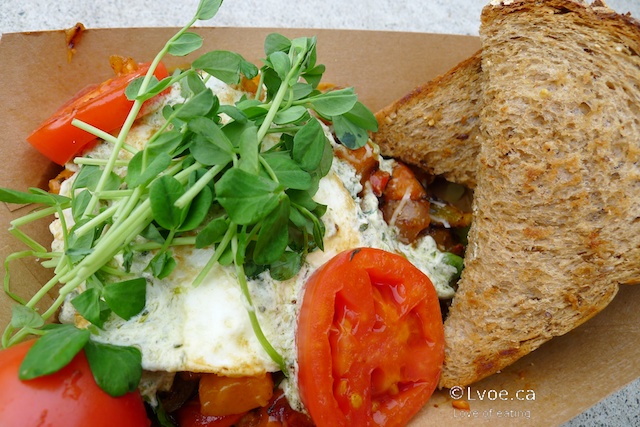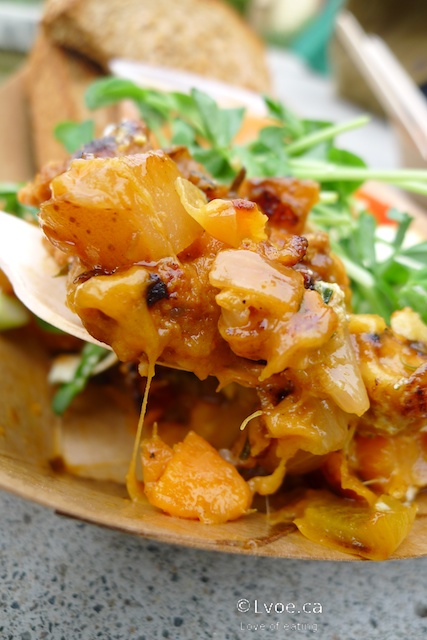 This mosh pit of spuds, onions, peppers, tomatoes and cheese smells awesome. For an extra punch of pork, I add chorizo and bacon to accompany the easy egg. The fresh tomatoes are ripe, and they add a little tang to this Autumn Hash.
The Bellringer ($7.00)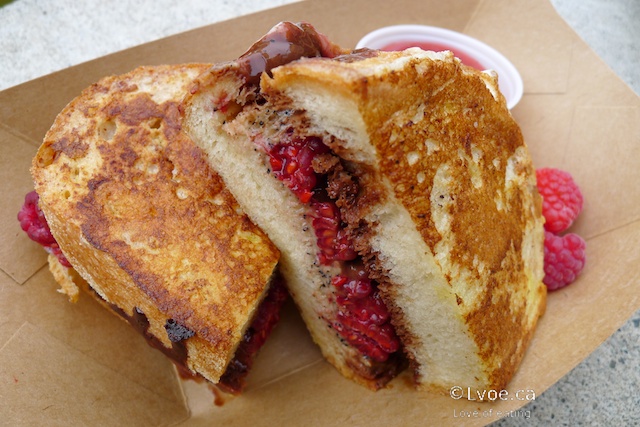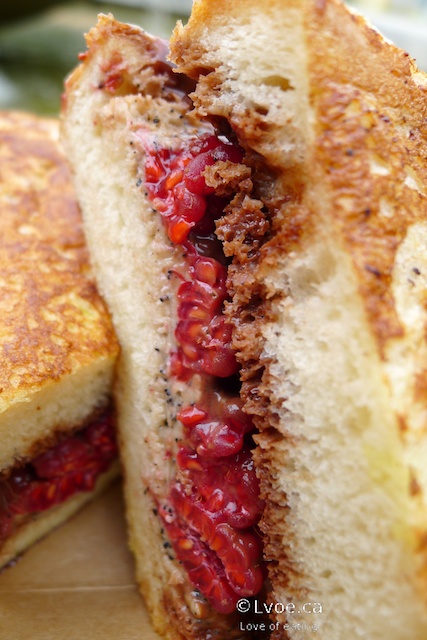 The namesake dessert sandwich is thick French toast slices jammed with espresso mascarpone, chocolate ganache and damn fresh raspberries. It also comes with a side of raspberry coulis. The coulis is wicked good. It's thicker than most berry coulis and it tastes like smashed fragrant raspberries.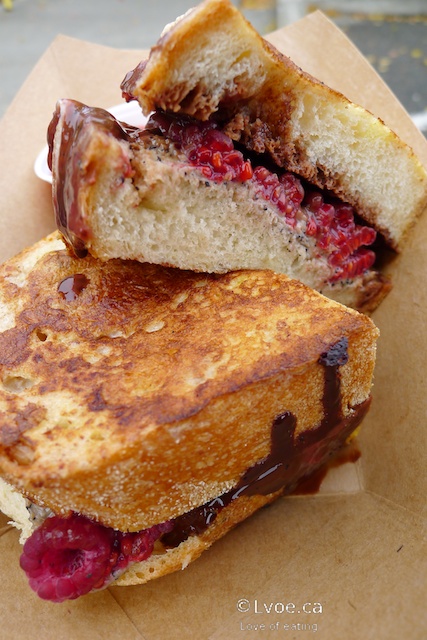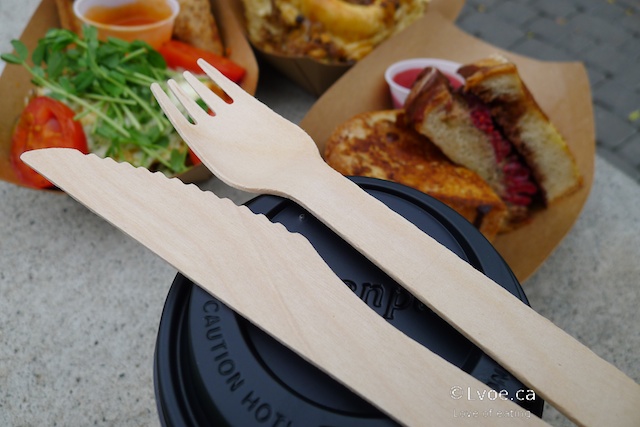 The sandwich looks like it would be crazy sweet, but it's the most appropriate breakfast sweet. Don't get all classy on me and attempt to eat The Bell Ringer with their eco-trendy wooden fork and knife. The most efficient way to get the perfect bite is to eat this with your hands, just as you would any other sandwich. Word of caution to those who like to eat clean: You will need wet wipes.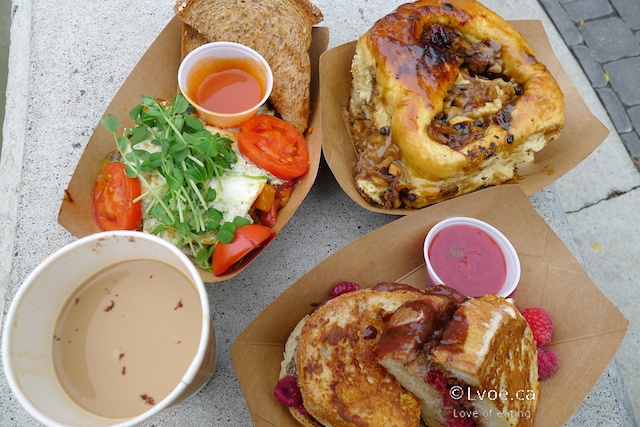 Word on the street is that The Bellringer Espresso Bus is packing up, and hibernating for the winter season. This makes me sad because the Bellringer Espresso Bus serves one of the better breakfasts in Kamloops. Tomorrow, October 27 2012, is the last day of the Kamloops Farmers Market on Saint Paul Street, and also the last day for the Bellringer Espresso Bus until warmer weather next Spring. If you haven't been yet, tomorrow is your chance!
Bellringer Bus Facebook click here
Locations
Bellringer Espresso Bus
Roaming food truck - Various locations
Seasonally at Kamloops Farmers Martkets
Kamloops
,
BC
Canada