Buy the Sea - Kelowna, BC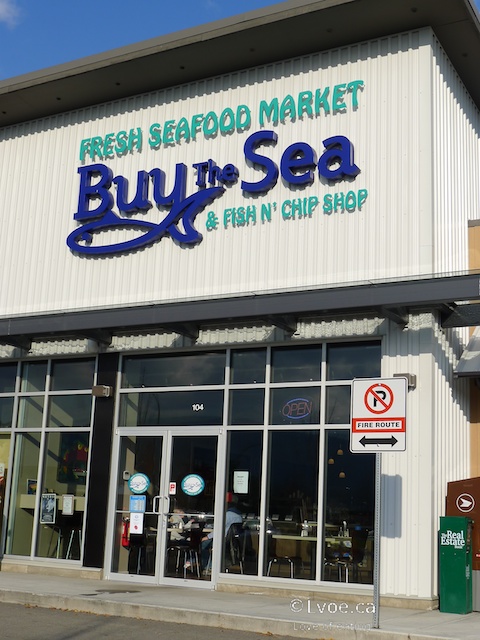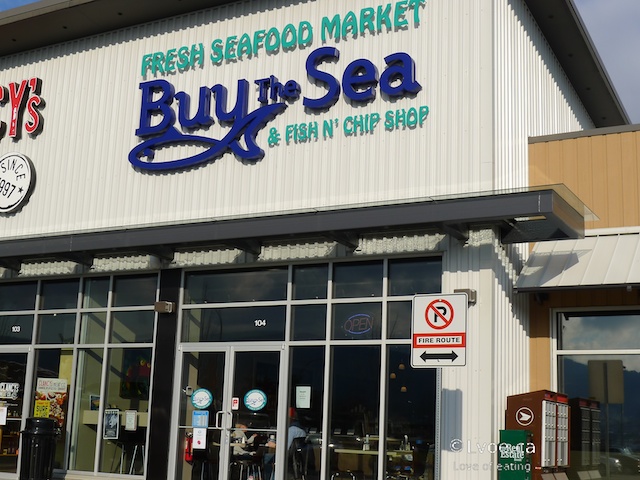 I'm eating at Buy the Sea Fresh Seafood Market and Fish n' Chip Shop today. There are two locations of Buy the Sea. I'm at the West Kelowna location; the other one is in Penticton.
Oh Westbank...
There's a quote from an episode of Parks and Recreation that runs through my head every time I'm in a particular area of Westbank. It's from the episode, Sister City, where the city of Pawnee welcomes a delegation from Venezuela.
Delegate Elvis: What's your profession?
Mark: I'm a city planner.
Delegate Elvis: This city was PLANNED?
You know, I like this area. I have to be here a lot for work related stints. But dang. Were these roads an afterthought? All morning, during my meeting, I watched car after car commit illegal turns, weaving through the barriers, in order to avoid having to drive several blocks out of their way to turn legally. (Yes, my meeting was so gripping that I was staring out the window half the time.)
In addition, if you want to get from one side of the highway to the other, it seems like there is only one controlled intersection to maneuver across the 97. (Why is this?)
When I try to patronize the businesses on Louis Drive and then needing to go over to Carrington Road, I end up having to back track a lot through the one intersection and around the round-about. Although I'm used to it now, the situation has become a bit of a run on joke for me when I head into Westbank.
Boston Clam Chowder ($3.89 small)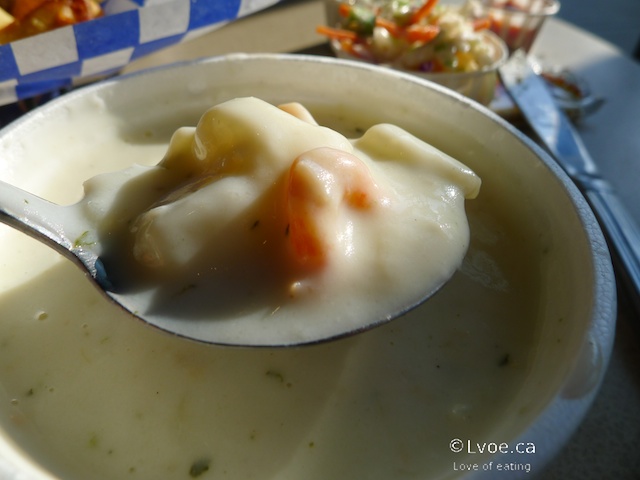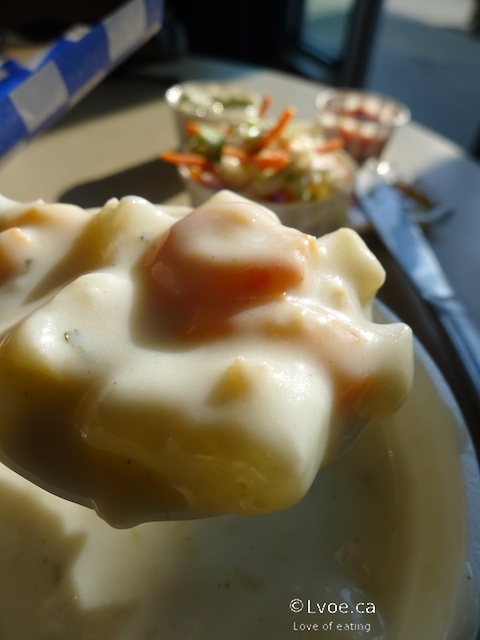 This is actually listed as seafood chowder, since there are shrimp swimming in there too. More clams would've been better, but I guess that can be said of many clam chowders. I enjoy the chowdery consistency of it. Sometimes seafood chowders can be one extreme or the other: thick like stew or runny like salad dressing. This is a perfect chowder thickness, aided with potatoes, carrots and celery that make up the background.
One Piece Halibut Fish and Chips ($12.99)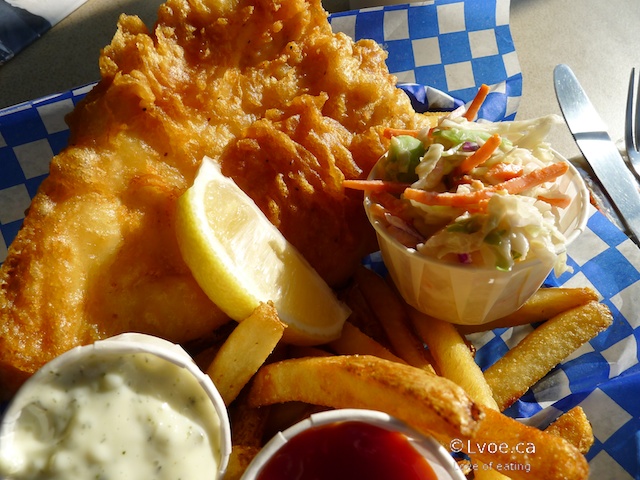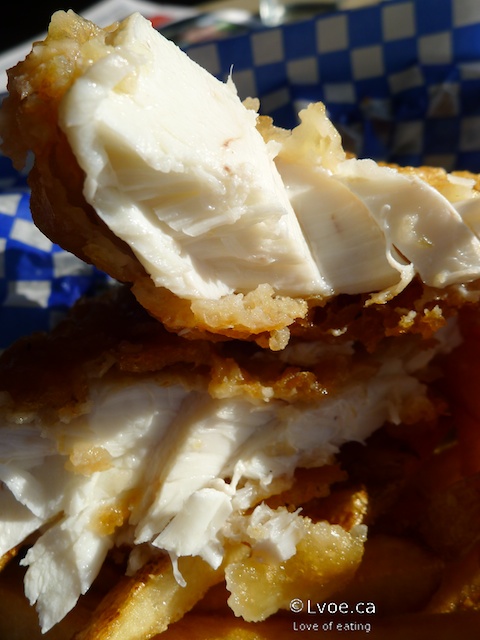 This here my friends, is some fine fish. A thin, light crispy package holds the super fresh and moist halibut. I usually find battered fish a bit ho-hum, but this is some of the best I've had in a while. Fresh is best. The dense white flesh is almost silky. I often encounter velvety steamed fish, but not so much velvety fried fish. I like what I'm eating, and it's huge. The one piece of halibut is plenty big to satisfy most pangs of hunger.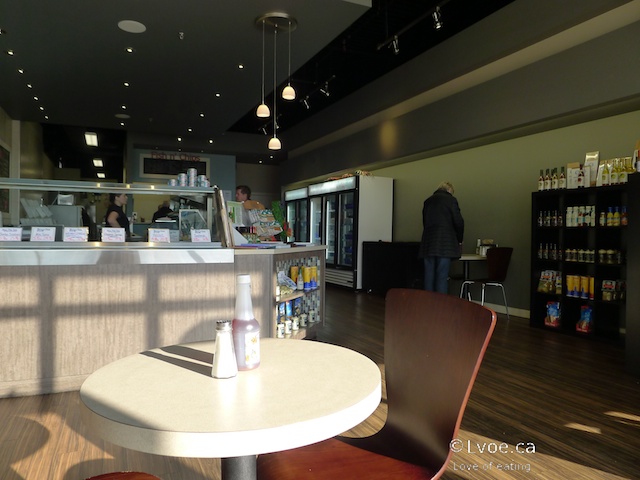 The fresh seafood market is the main space, but the front shop area dedicates a half dozen tables for diners. Service is casual, efficient and courteous. I spy multiple quality checks at each table performed by at least three different staff members. If you are a dine-in customer, keep in mind that their fish fry is not a secret, so the lunch time seats fill up fast.
I'd like to return and try their oysters and Manhattan chowder, but next time I'm going to force DL to come with me. DL is not a lover of fish n' chips. Buy the Sea does a very favourable fish fry up. Certainly good enough to convert fish n' chip haters...like DL, right? We shall see.
Buy the Sea Website click here
Buy the Sea Facebook click here
Buy the Sea West Kelowna diner hours:
Monday to Saturday 11:00am – 7:00pm
Sunday 11:00am – 6:00pm

Locations
Buy the Sea
2231 Louie Drive, Unit 104
Westbank
,
BC
V4T 3K3
Canada
Phone:
250 768 3474 (FISH)