Ranch Café - Falkland, BC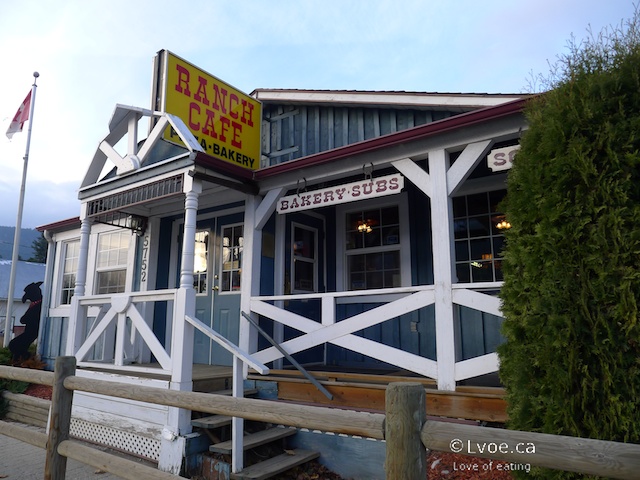 I spent the entire morning going to different stores trying to find a specific type of re-usable hand warmer. Totally random, I know. The issue is: I need nine of them. Nine or nothing. I've already scoured Kelowna and West Kelowna, and only found a total of six. Argh.
A staff member in the store, where I found the last three, suggests I drive over to their Vernon location. Vernon is not the direction I'm supposed to be heading today, but I cancel my plans to head south and drive over to Vernon in hopes of finding more of these elusive hand warmers. (I have an idea for my next work meeting and I can't let it go. Thus, my determination for these ridiculous hand warmers.) With my last minute change of plans, I find myself heading home via Highway 97 through Falkland.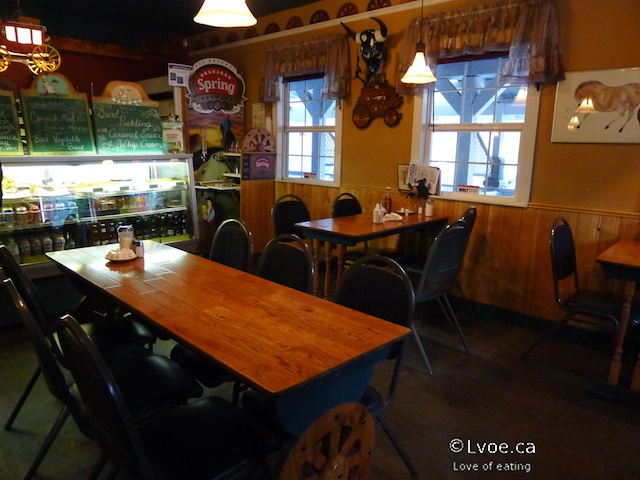 Over a year ago a Love of Eating reader suggested a stop in Falkland to check out the offerings of the Ranch Café. The Ranch Café is a home style bakery café that apparently serves great pizza too. It took me some time but I finally had a chance to stop here.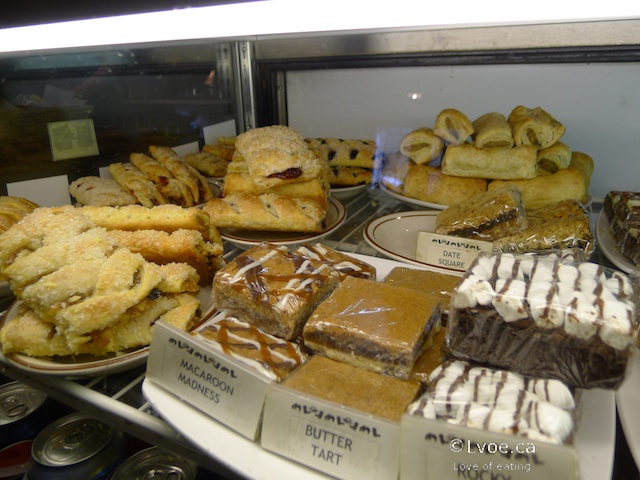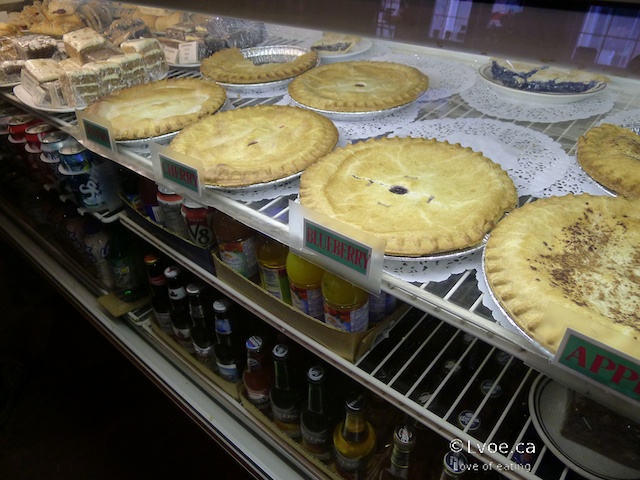 The display case holds quite a selection of sweet and savoury baked goods. A number of people come in just for the baked goods. The strudels and sausage rolls seem to be hot items today. Although the treats look very good I have to refrain. I've been on the road for a while now, and my vehicle is packed full. I can't justify bringing home more baked goods.
Cornish Meat Pie with soup ($12.00)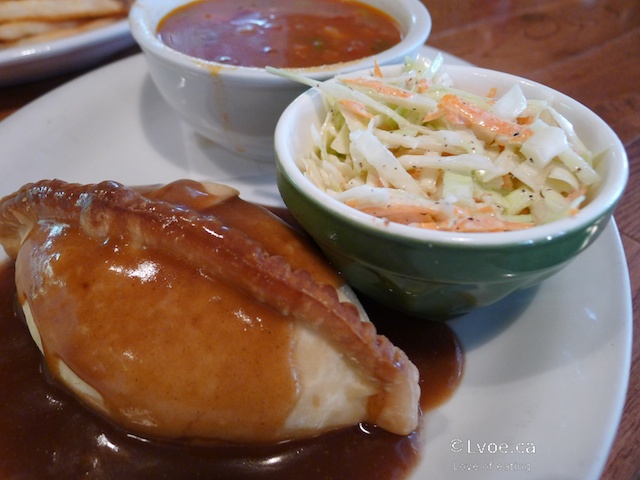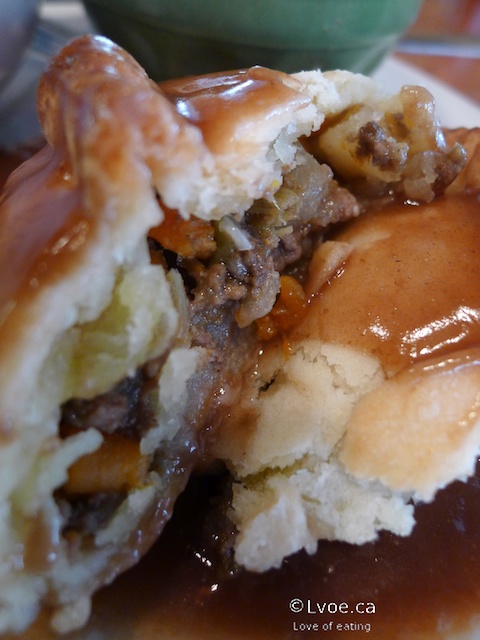 Did you know the European Commission gave the Cornish Pasty Protected Geographical Indication status? People of Cornwall must take their pies seriously, because it's a lengthy process to gain PGI status. Hence, to label something a Cornish pasty it must be prepared in Cornwall, UK (however, the ingredient origin and baking location can be elsewhere.) Does the EU have Pasty Police patrolling the union exposing non-Cornish pies? In Falkland, the meat and veg filling is generous, but could use a touch more seasoning. I like the crust on the Ranch Café's version it's substantial but still flakey on the outside.
Beef Vegetable Soup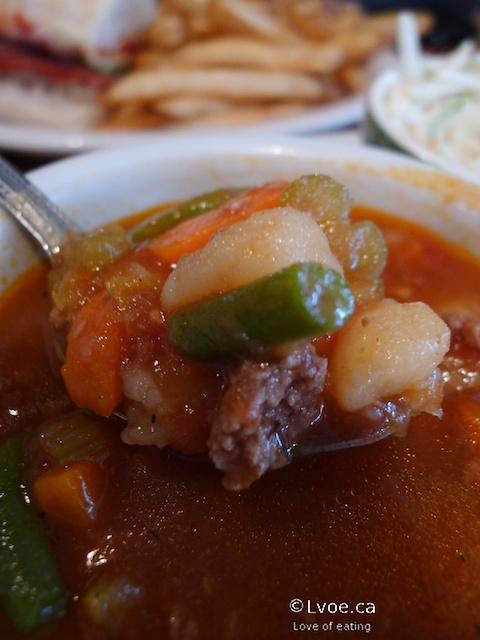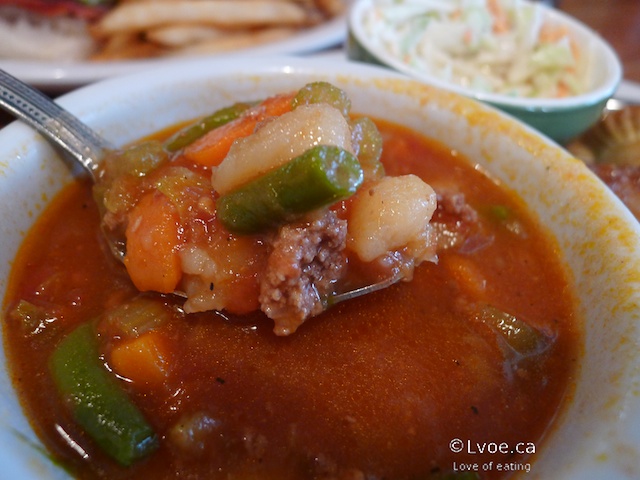 Why is it that when I only have one choice of soup at a restaurant, it's always Beef Vegetable or Vegetable Beef? The soup today is perfect for the chilly weather. Hearty and full of home style flavour.
Oven baked Pizza Sub Sandwich with Fries ($12.00)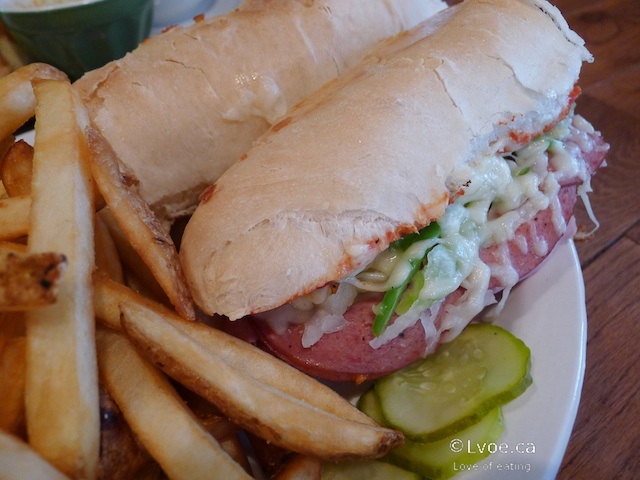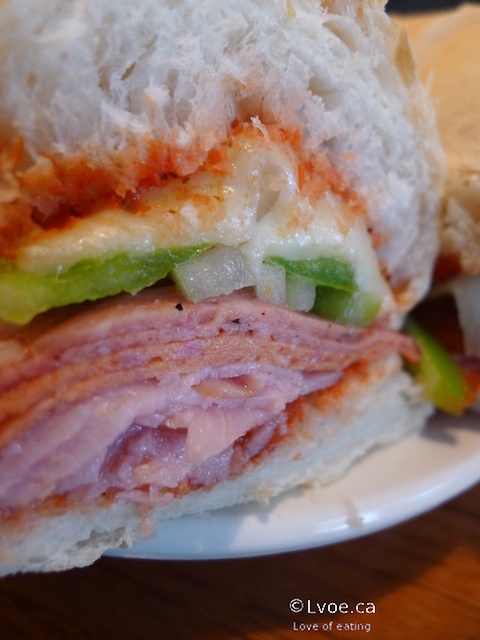 We plan on having dessert so I thought a whole pizza would be over the top gluttony. The pizza pie order became a pizza sub instead. Pizza subs don't excite me. They remind me of a time when Gas Station Eats consisted only of vacuum sealed pepperoni sticks with a side of cheese...and right there beside it would be that "Pizza Sub" from some unfamiliar manufacturer. For DL, it's always a trip down memory lane. Every. Time. Too many adolescent late nights eating a Boston Brute in the wee hours of the morning. It's very large. There's a lot of deli meat in here. The bun is super fresh and soft n' airy so it can be squished down to make taking a bite easier. The side of fries is also pretty great as far as a deep fry potatoes go: crispy, HOT, and salty.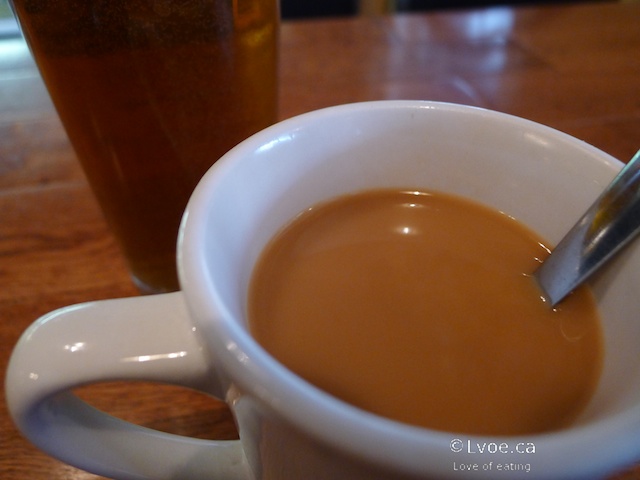 The dessert of the day is Bread Pudding with Caramel Sauce. A queue forms at the service counter and our lone server is slammed for more than 20 minutes (I stopped keeping track at 20 minutes.) During this time, I talk myself out of dessert. I still have a fair bit of driving to do and I convince myself that Bread Pudding may be the difference between a comfortable drive and a coma drive.
I found my ninth re-usable hand warmer in Vernon. Thanks god! I'm already feeling environmentally guilty with my inefficient use of fossil fuels in the last leg of this trip. But then again, I finally got to try the Ranch Café. Thank you to homefry for the suggestion! I will attempt to try their bakery goods on a future trip. Hopefully it won't be another year in the future.
The Ranch Café Bakery and Pizza Menu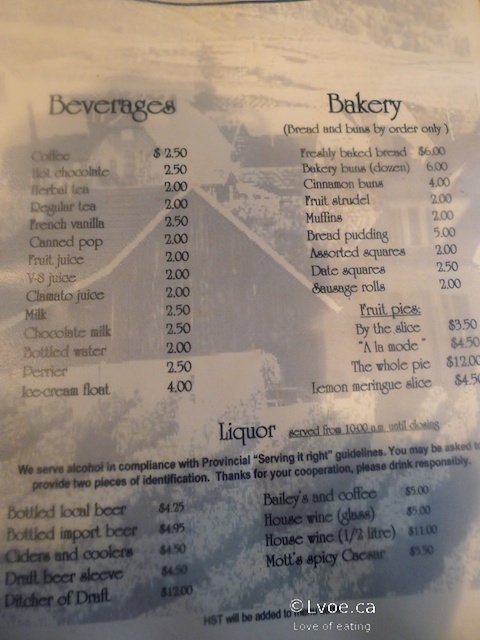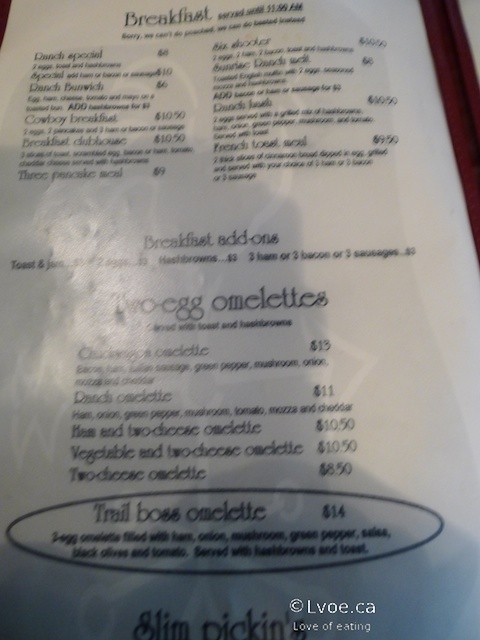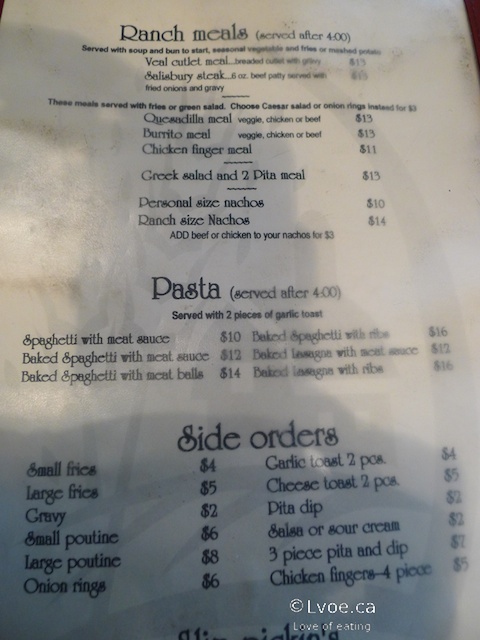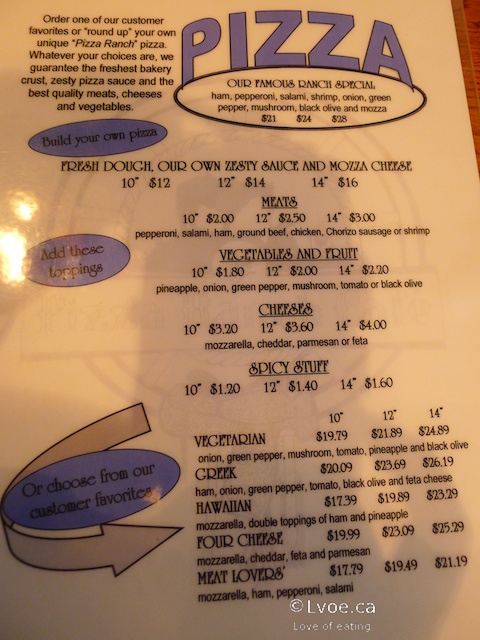 Locations
Ranch Cafe
5752 Highway 97
Falkland
,
BC
Canada