Laura's Pies at Gourmet Greens - Kamloops, BC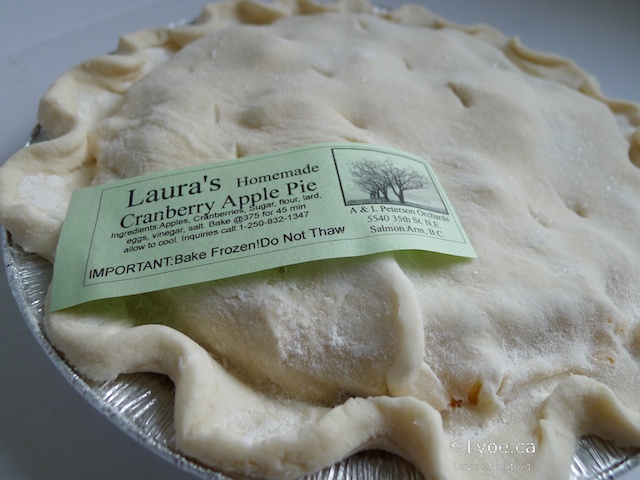 While standing in line at the check out at Gourmet Greens Produce Market, I peer into the freezer display. What do I find? Pie. That's what.
Laura's Pies is a little pie company based in Salmon Arm. Laura Peterson makes her homemade pies with much of the bounty from A&L Peterson Orchards, which is part of the Peterson Brothers Heritage Orchards in Salmon Arm. Do you know of the Peterson Brothers Orchards? What a rich history they have in the BC interior. This past September the Ministry of Agriculture presented the Peterson Family Farm with the Century Farm Award.

There are a number of different selections of Laura's Pies in the Gourmet Greens freezer. So many sweet n' tart apple combinations!
I hate making hasty decisions. Also, I tend to ponder each possibility for longer than any normal person should. I think about what pie filling flavour will go with items I have at home, or what dinner will this pie be a dessert for, or I will be pairing this pie with ice cream, or with a dollop of crème fraîche. Do people still say "à la mode" nowadays? All this thinking takes time.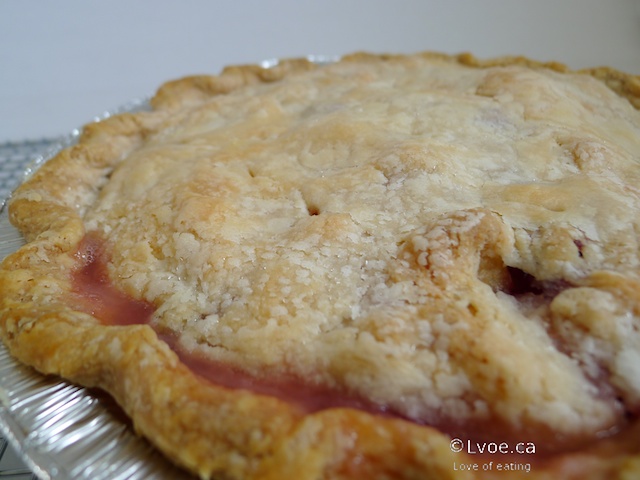 You may realize that now that ordering from a menu can take me a long time. This is why it's a bit of an ordeal for me to eat at counter service or fast food type places. I end up annoying everyone around me: The people waiting behind me in line, the server waiting for me to make up my damn mind, and an embarrassed, eye rolling DL who still can't believe I need read the menu boards at fast casual restaurants. Yes, I read the menu boards. And when I say, "I read the menu boards" I mean, I like to read the ENTIRE menu board before I decide. Yes, I am THAT person. (Before you all hate on me, I do try to stay out of the queue until I think I know what I want...well at least 92% certain. It's that 8% uncertainty that makes people want to strangle me.)
Okay, the Gourmet Green cashier is waiting now, and a man and a woman just aligned themselves next to me with their grocery baskets and canvas bags ready to be checked through. I need to choose!
Laura's Homemade Cranberry Apple Pie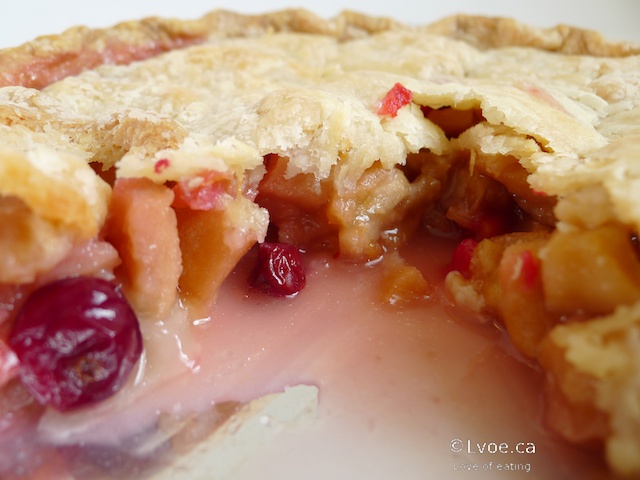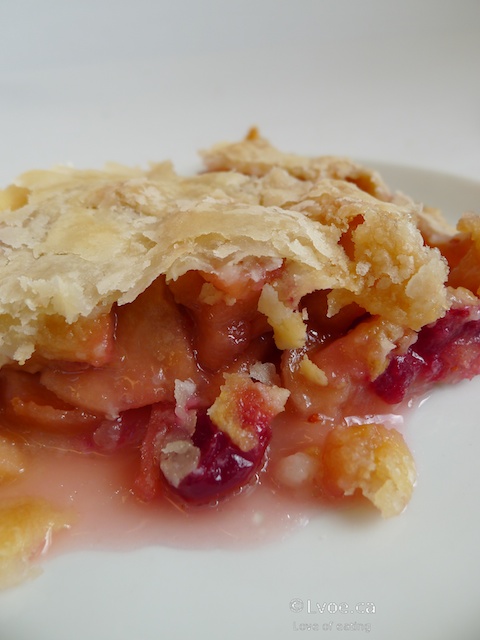 I grab the cranberry apple because, hey that's festive. I bake it for an hour, rather than the 45 recommended minutes, just to add a bit more colour to the crust. The triangular apple chunks are small, but still hold a tender, yet not mushy texture after baking. The crust is thin and delicate. Despite the tart cranberries the filling is on sweeter side. I don't normally buy frozen pies but it's pretty nice to have a homemade pie waiting in the freezer. (For which I didn't even have to make pie pastry.)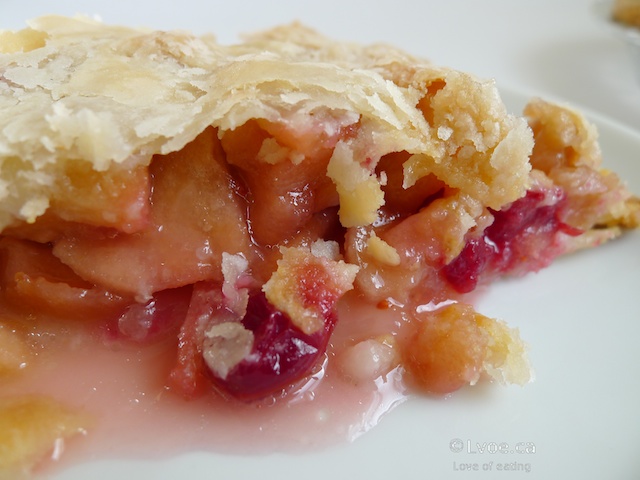 I haven't seen Laura's Pies available anywhere else in Kamloops, have you? I don't know if Gourmet Greens stocks Laura's Pies regularly, or if it's just a seasonal thing. I can't recall seeing them in the freezer display all the time. Now I'll know to keep my eyes peeled for pie.
Locations
Laura's Pies - A & L Peterson Orchards
5540 35th Street NE
Salmon Arm
,
BC
Canada
In Kamloops, Laura's Pies can be found at GOURMET GREENS
1415 Hillside Drive, (Unit # 18)
Kamloops
,
BC
Canada