The Fish Market Restaurant Fiskmarkaðurinn - Reykjavík, Iceland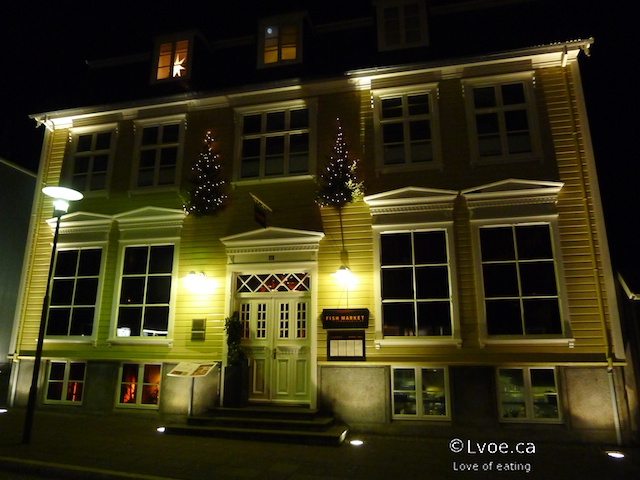 Here I am at The Fish Market or Fiskmarkaðurinn. This seafood restaurant is located in the old Kvosin area of Reykjavík, which is like the city center.
Earlier today, I jumped in a water filled crack that opened up on the earth's crust. As you do.
I spent the day snorkeling in between two tectonic plates in the glacial waters of Silfra. By the time I return to downtown Reykjavík I'm famished. As in, I can eat a leather shoe. Lucky for me, Iceland has some excellent sole, and other seafoods. I decide to eat multiple courses tonight. Again!
I'm ready Fish Market. Feed me.
Baguette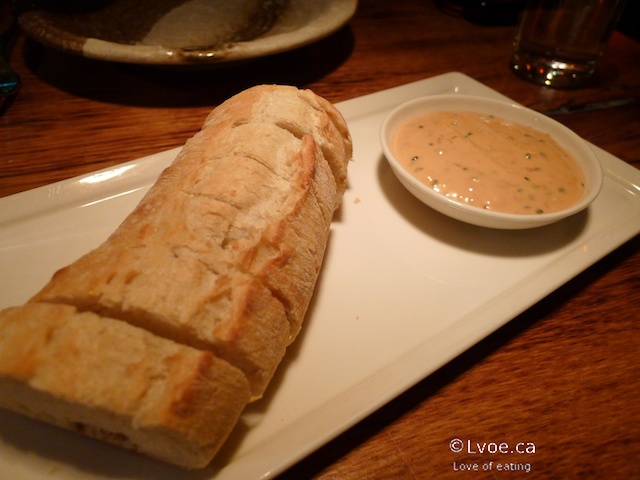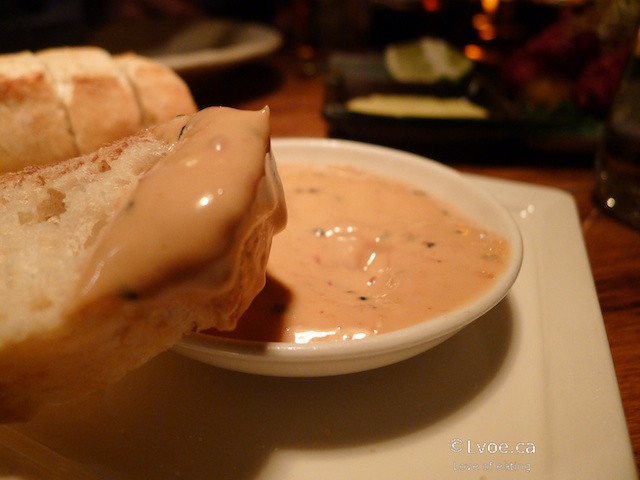 The bread of the evening is a warm baguette with a chili and black rice vinegar dip. I didn't ask, but I swear the base of the dip is made from Skyr. Skyr is a common Icelandic soft cheese, with the texture of yoghurt. Seriously, I think there's a dollop of Skyr in everything here. Oh Skyr, not only are you good on your own, but so darn versatile!
Rock Shrimp Tempura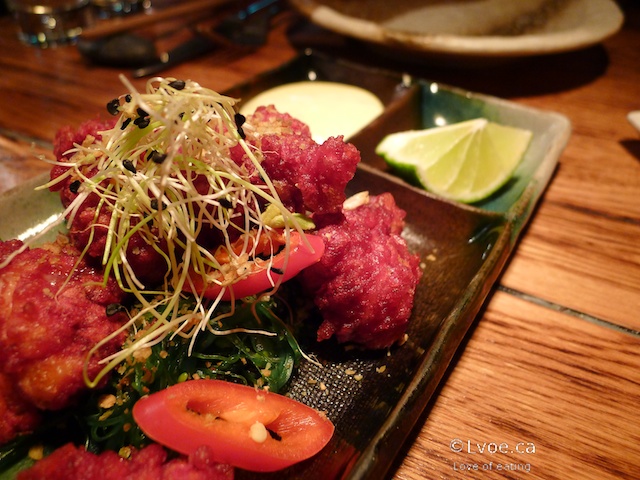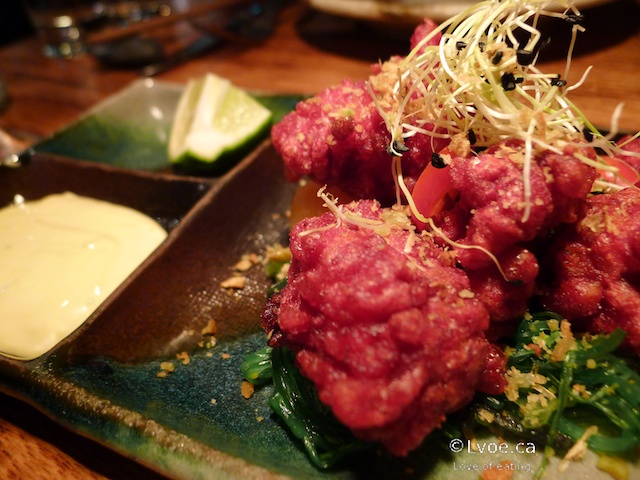 These deep sea morsels are pretty substantial in size. The bites are enveloped in a delicate batter. Are you wondering about the colour? I am. The batter is a vivid tandoori red! No matter, it's still good. I add a drizzle of the dressing for a little jalapeño punch.
Minke Whale Sashimi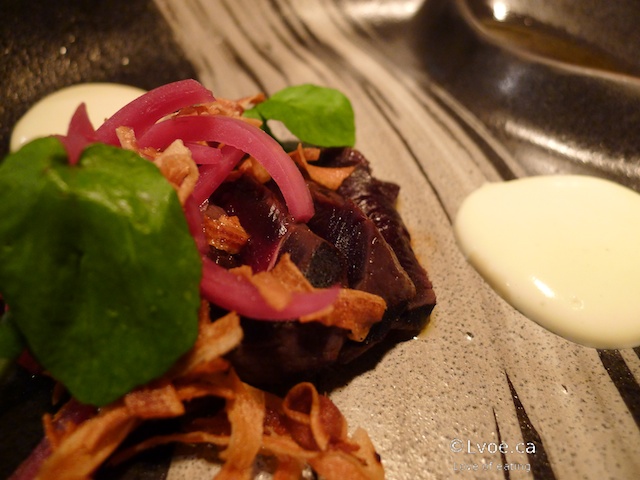 When I wrote about minke whale last time at The Sea Baron Sægreifinn, I thought it was rather sinewy. It is much more enjoyable raw. The dark flesh is more tender and the flavours are less intense. The Fish Market version has a smokiness to it, and is accompanied by wasabi cream cheese. I still find one of the last pieces in this serving slightly on the chewy side.
Plaice Ceviche style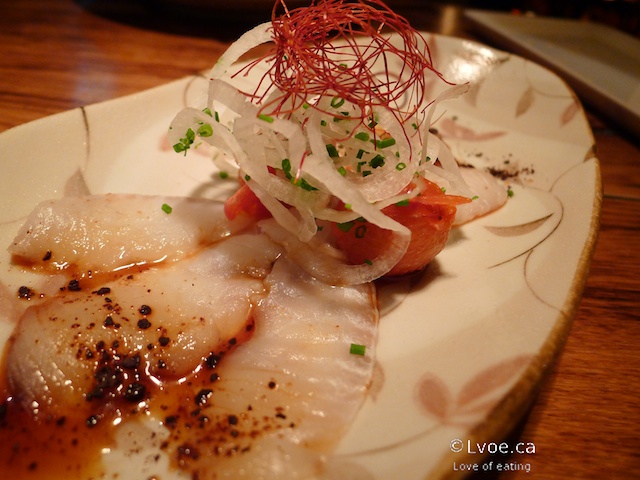 This little flat fish is refreshing. The slices are clean tasting as long as the fish didn't pick up too much of the truffle yuzu dressing on its way to my mouth. Also, the sweet smoky tomato on this plate is so tasty!
Duck Salad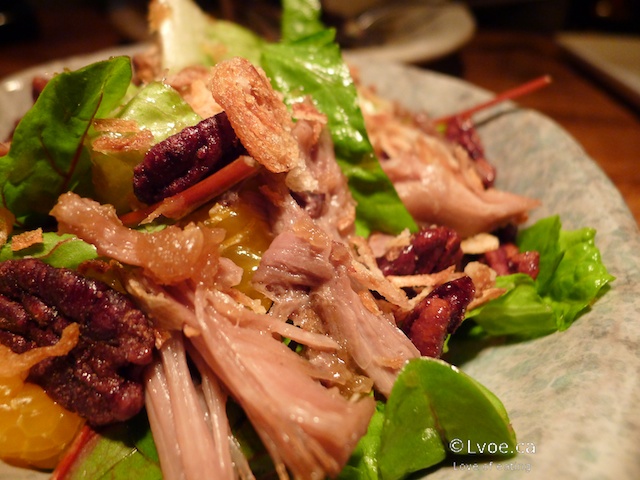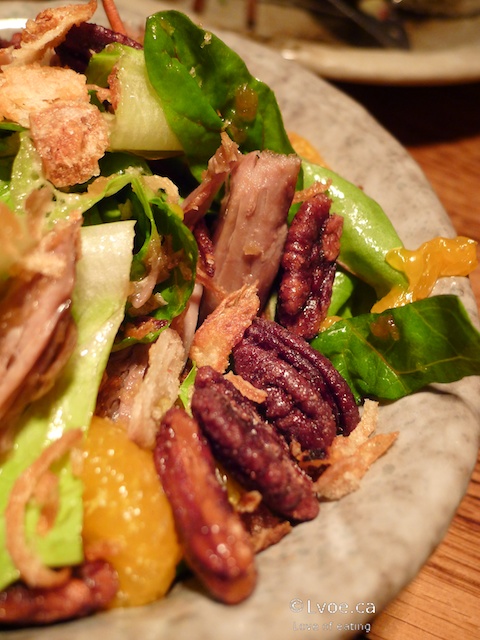 How can I not enjoy this? Who loves duck? I love duck. Who loves confit? I love confit. The protein on this plate is pine smoked duck leg confit. Who loves sweet and savoury combinations? I love sweet and savoury combos. The candied pecans and mandarin orange slices give this salad the sweet factor. If it wasn't for the romaine lettuce, lightly tossed in Nobu Matsuhisa's dressing, I would've forgotten that this is a salad.
"Blend of Sushi"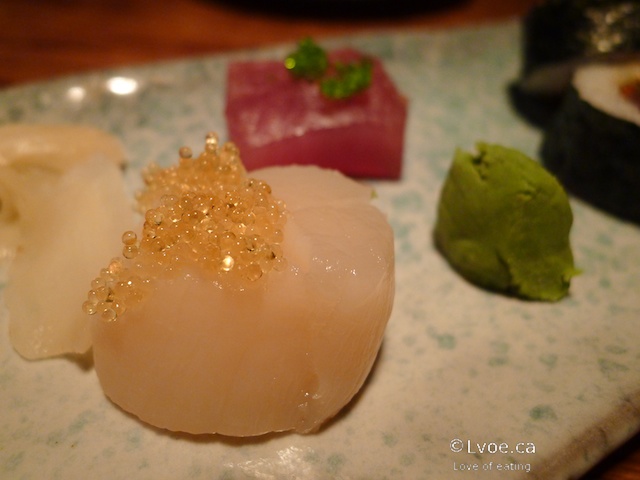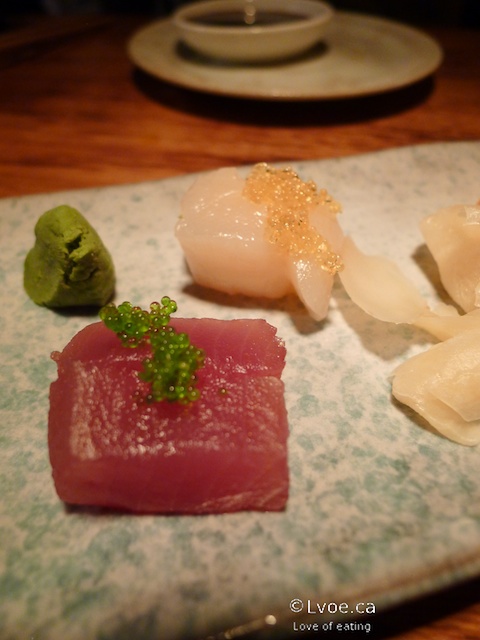 The Blend of Sushi plate gives me a few bites if nigiri, maki and sashimi. The sashimi is tuna and scallops, the maki is a tuna roll and the nigiri is salmon. The scallops are probably the best on the plate tonight.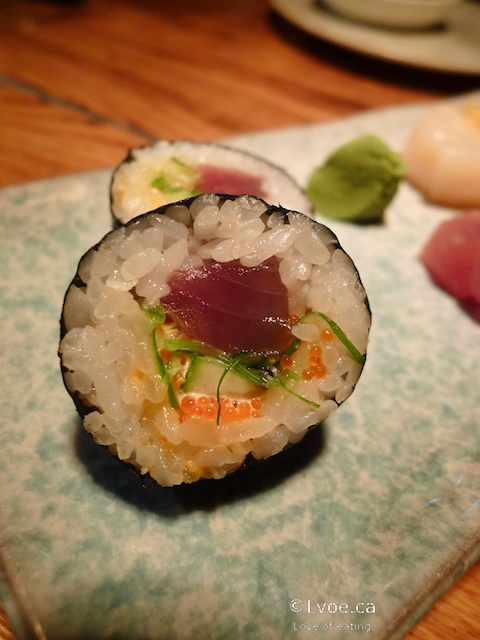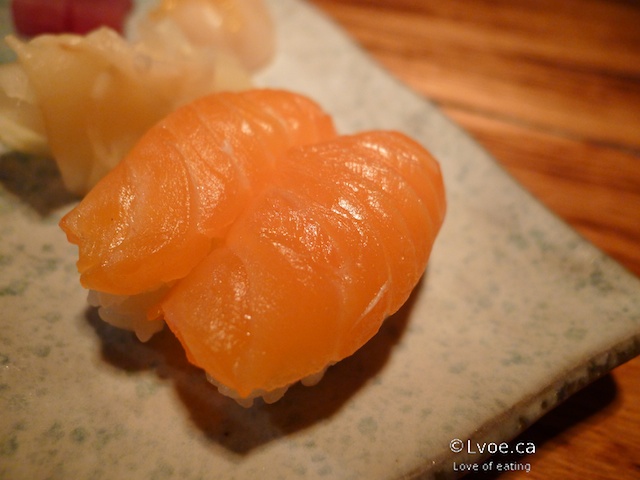 Taste wise, the rest of the fish is fine, but presentation-wise the tuna isn't really sliced all that well, and the salmon looks dry, non? I didn't use the green blob of reconstituted wasabi-horseradish powder as it is dry and crumbly.
Lightly Salted Cod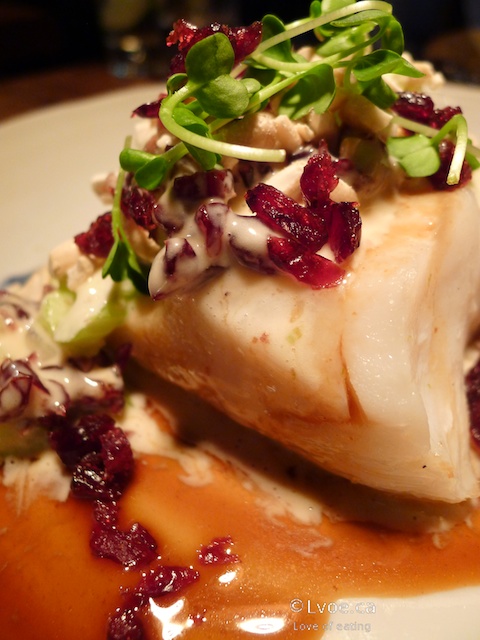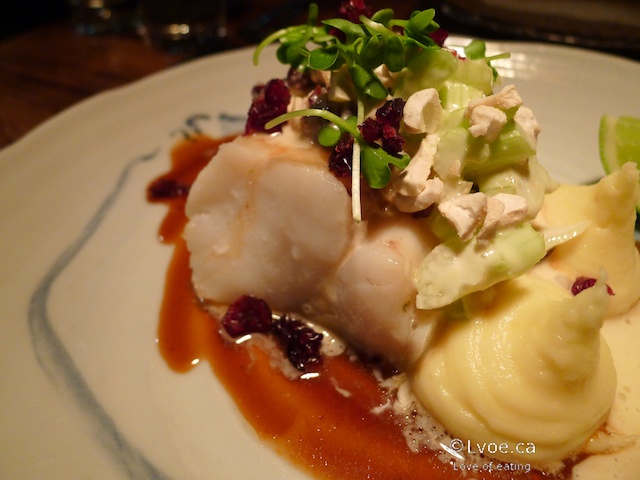 This is the reason I included a post about the Fish Market on Love of Eating. This is my favourite main entrée of the night (there are two more to come.) The lightly salted cod is impossibly smooth and velvety. So fresh. It easily slides down the gullet. The Fish Market mixes sweet dried cranberries and a cashew celery salad atop of the cod and the flavours are very agreeable. Even the potato puree is addicting, but I think it is because the puree is jacked up on Skyr (...or perhaps Smjor.) I'm convinced they put it in everything.
Grilled Salmon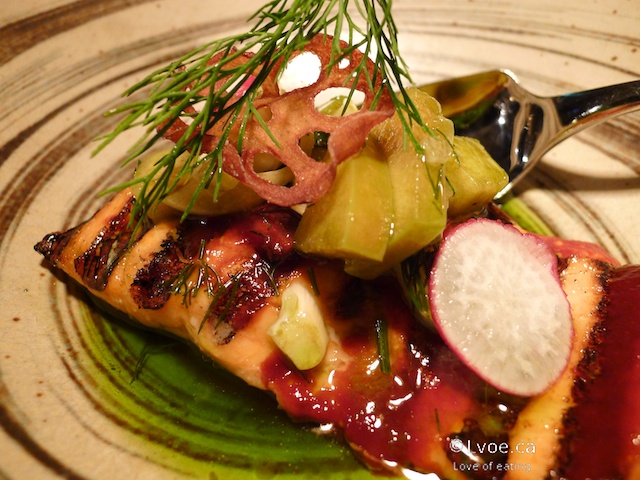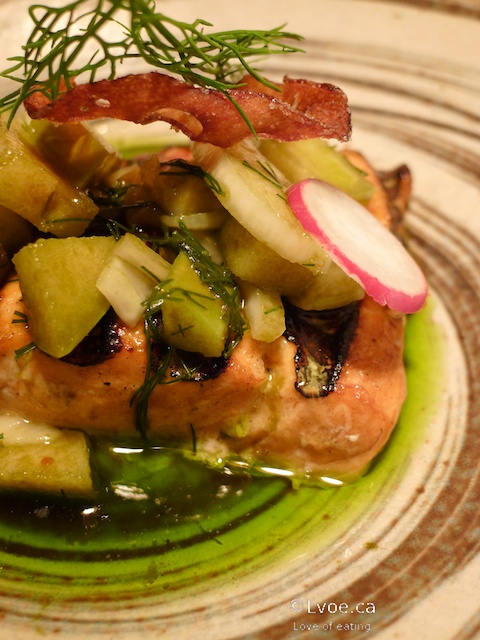 This is the second main entree. The marinated salmon has a beautiful colour inside and out. I like the slight charcoal aroma that hovers around the grilled fish. The apple and fennel salad add a fruity dimension to the robata style salmon. I've come across several plates in Iceland that will pair sweetness with seafood. It's really a great combination, when done right.
(I don't come across a lot of places that will pair seafood with sweet fruit flavours; especially so in North America. Have you ever had those "Seafood Fruit Salad Rolls" at Cantonese dim sum? Prawns, canned fruit salad, and mayonnaise all roll up spring-roll styles. Yeah, I know how it sounds…but they're awesome. I haven't had those in ages! I think Sun Sui Wah on Main Street Vancouver still serves them.)
Grilled Fillet of Lamb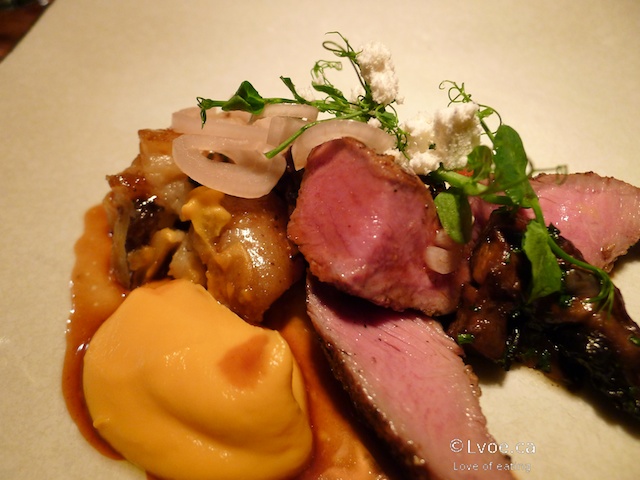 Main entree number three. Lamb is so lovely here in Iceland. The flavours are more subtle than the lamb we have back home or the imported New Zealand stuff. I've had lamb at a number of different restaurants here, and the common denominator is that Icelandic folks know how to prepare their local meats. It's all ranged from good to excellent. Wild mushrooms and cauliflower salad are sharing the plate real estate tonight with the lamb and squash puree. Once again, the butter nut squash puree is sinfully creamy. And once again, I suspect it's been laced with Skyr.
Premium Blend Dessert Selection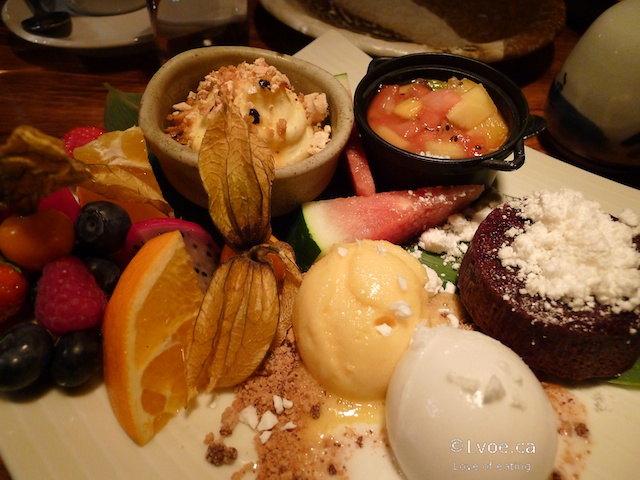 This is a great way to taste a selection of the desserts the Fish Market offers. I didn't expect it to be this big.
Sorbet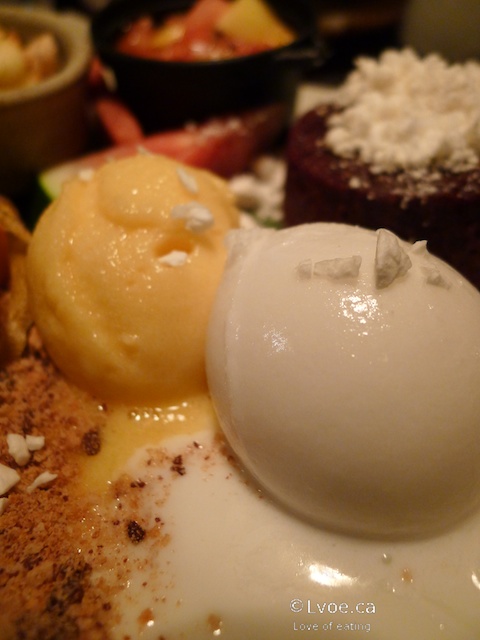 The sorbets tonight are coconut and passion fruit. Since the desserts all come out on one plate, the melting sorbets need to be eaten first.
Warm Chocolate Cake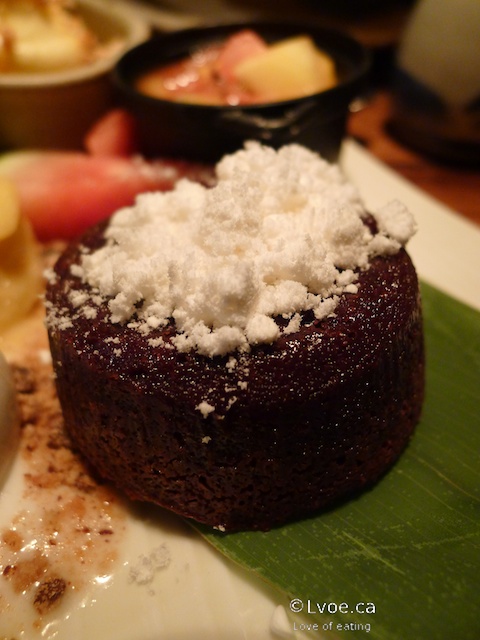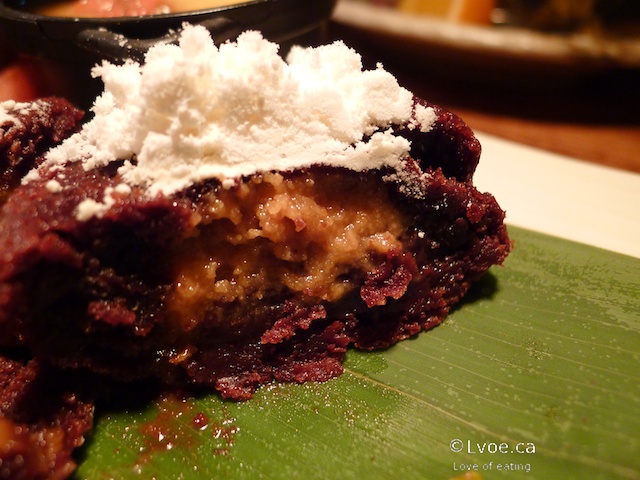 This is very rich; almost brownie-like, with a thick peanut butter filling. The topping is a white chocolate "snow."
Honey Custard Muchie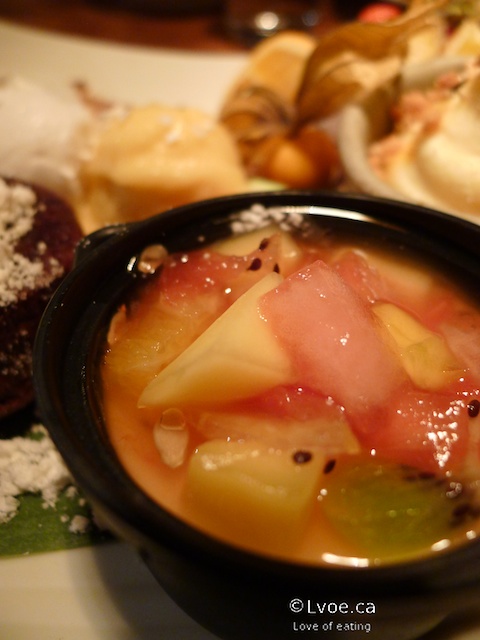 Slow cooked fruit as a topping with a custardy bottom. The bottom layer is similar in texture to crème brûlée.
White Chocolate Cheesecake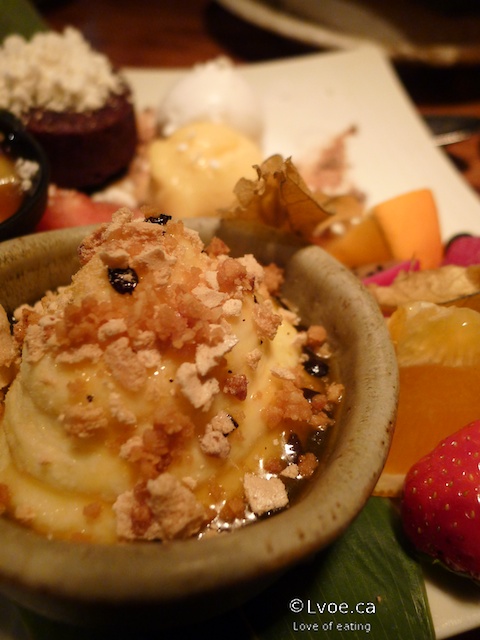 Despite the name this cheese cake is all about the passion fruit. It is passion fruit sorbet with a co-coordinating passion fruit sauce finished with crunchy meringue bits.
Fresh Fruit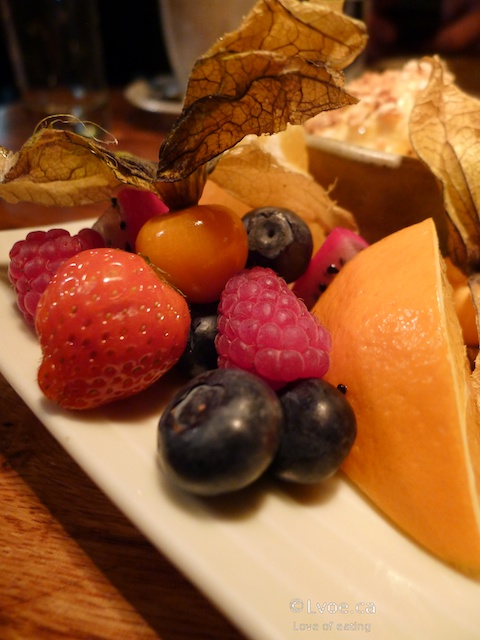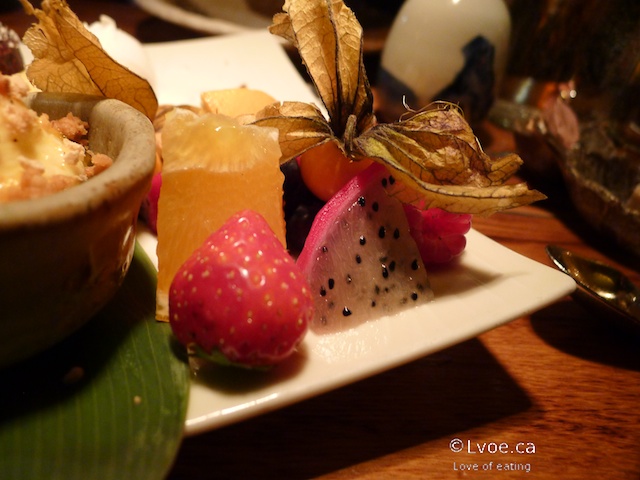 The fruit tonight consists of of dragon fruit, blueberries, raspberries, and strawberries, orange slices, watermelon wedges and gooseberries.
Whew! Do I need to say that I'm full?
Initially, due to the location, The Fish Market strikes me as a touristy type of restaurant. I don't know if it is or not. It didn't seem like it this evening as all the surrounding table conversations tonight are in Icelandic.


I thoroughly enjoyed my day out at Þingvellir National Park and meandering through the Silfra at Þingvallavatn Lake. This feast at the Fish Market is a great way to end an exciting day of swimming in between two continents.
Fish Market Fiskmarkaðurinn website click here
Fish Market Fiskmarkaðurinn Facebook click here
Location
The Fish Market
Reykjavík
101
Iceland