Rajissimo - Copenhagen, Denmark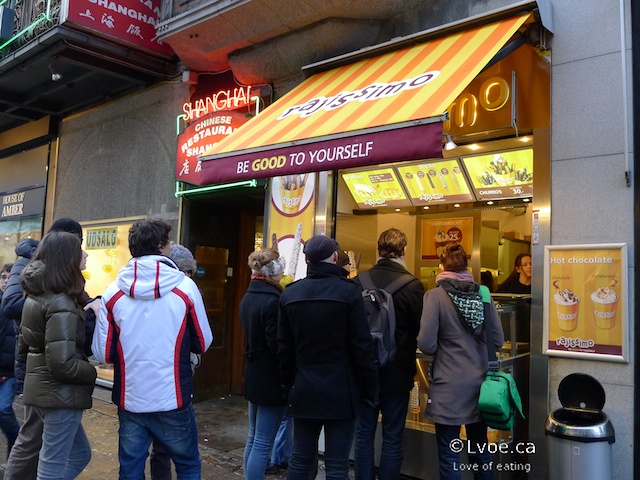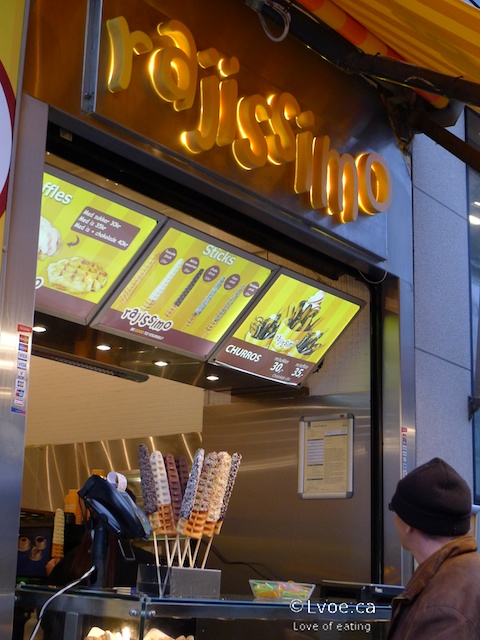 My reservations at Noma didn't work out for tonight, so I find myself with an empty chunk of time during the evening. It's cold. I'm desperate for a hot chocolate, which makes me stop at this curious food stand.
Rajissimo is a series of cafés that serve homemade ice-cream, coffees, waffles and a version of Spanish style churros. There are a few locations of Rajissimo in Copenhagen. I must've passed at least three locations while strolling around today. I'm at one of the two Rajissimos within the Strøget area in Copenhagen today.
The Strøget is the largest pedestrian-only shopping area in Europe. I love the idea of pedestrian-only zones. I like being able to criss cross the streets and not have to worry about getting hit by a car. On any given afternoon every inch of the Strøget is jammed with people shopping, eating or just getting from one point to the next.
Churros (40 DKK each, approx $7.30 CAD)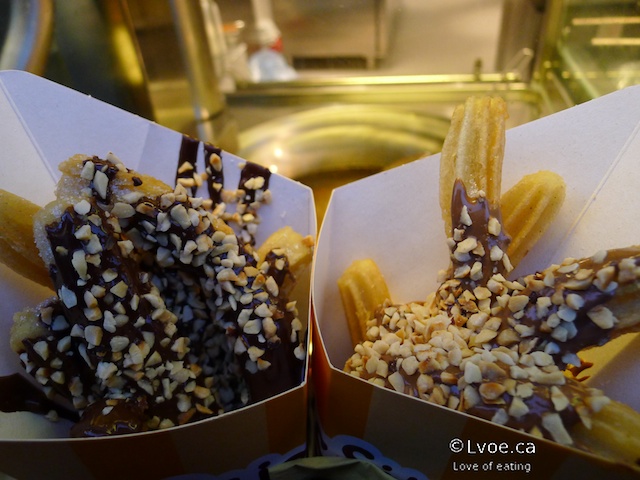 You have to wait a few minutes as the churros are fried at the time of order. The server then tosses them into a paper cone, adds a granular sugar and your choice of toppings. I choose dark chocolate and nuts for one serving, and milk chocolate with nuts for the other. Hot n' crispy.
I've said it before and I'll say it once more...Who doesn't love fried dough?
I am not one, that can eat and walk at the same time. And since this area is very crowded, I have to back myself up next to a rubbish bin to eat my churros.
Classy. I know.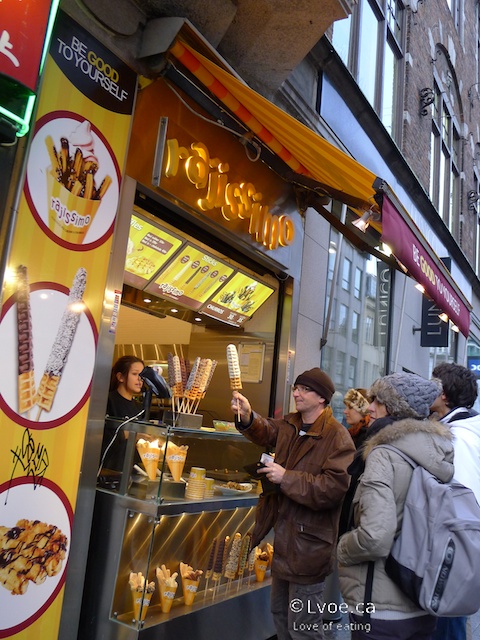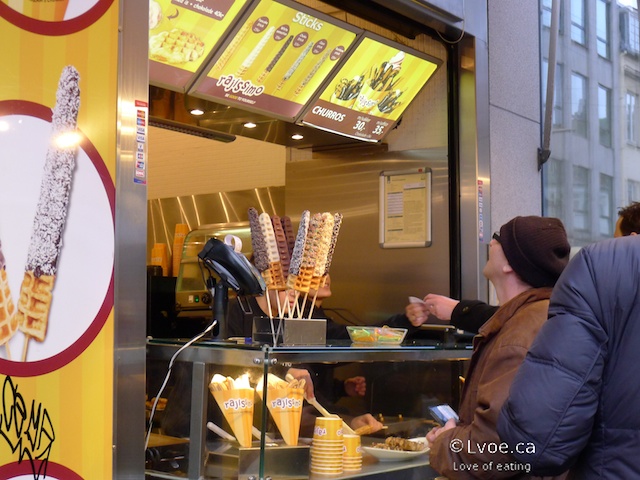 Rajissimo makes fun treats. Look at how much fun this guy is having with his waffle on a stick! I need to take my gloves off to eat these fried morsels, but I only get half way through before my fingers become numb from the chilly weather. I cradle my hot chocolate until I can feel my fingers again; then I slip seamlessly back into the Strøget crowd.
Rajissimo is good for a quick hot treat; which hits the spot for a little snack. I guess my opportunity to have some whimsical foraged fungi on a bed of woodland moss will have to wait until my next Copenhagen visit. Just as I finished typing that last sentence, I realize churros and waffles sound so much better, no?
Rajissimo Homemade Ice Cream & Churros website click here
Rajissimo Hjemmelavet is & Churros Facebook click here
Locations
Rajissimo Hjemmelavet is & Churros Homemade ice cream and Churros
København
1164
Denmark