The Royal Café - Copenhagen, Denmark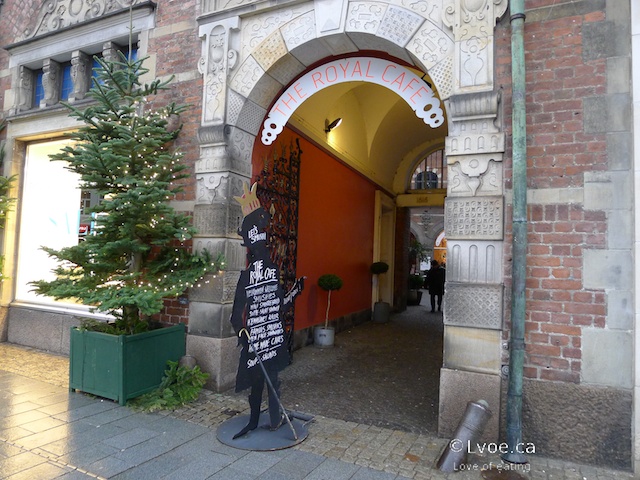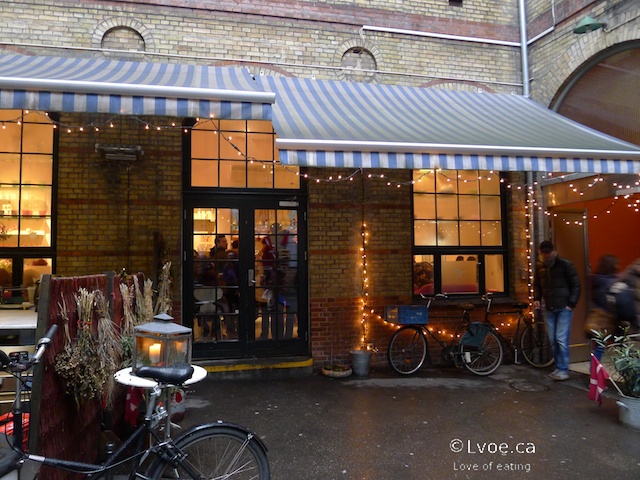 Today I'm at The Royal Café in Copenhagen. The Royal Café is a little kitschy tea shop that's set up to showcase the wares of various Danish designers, and of course Royal Copenhagen porcelain.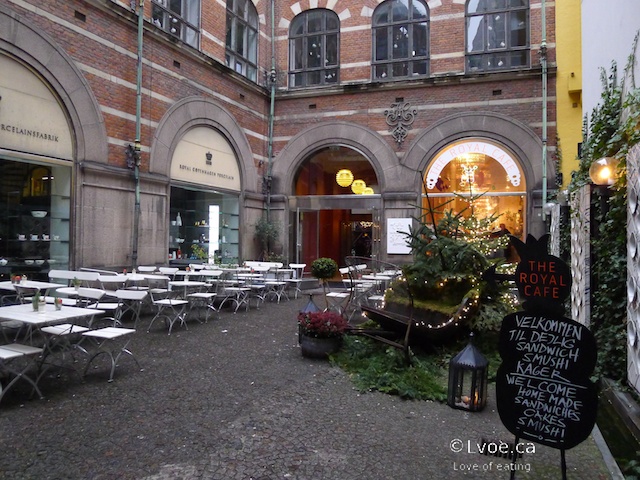 The café is located across the courtyard, next to the Royal Copenhagen flagship store.
The small restaurant makes for quite a pretty spot in the summer or winter.
When I travel, I pack light. It doesn't matter if I'm going for two days or two months.
Business or pleasure.
I One-Bag it. Carry-on only.
(Am I the only weirdo that is strangely excited at the challenge of the 13 lb weight restriction found on some European and Asian airlines?)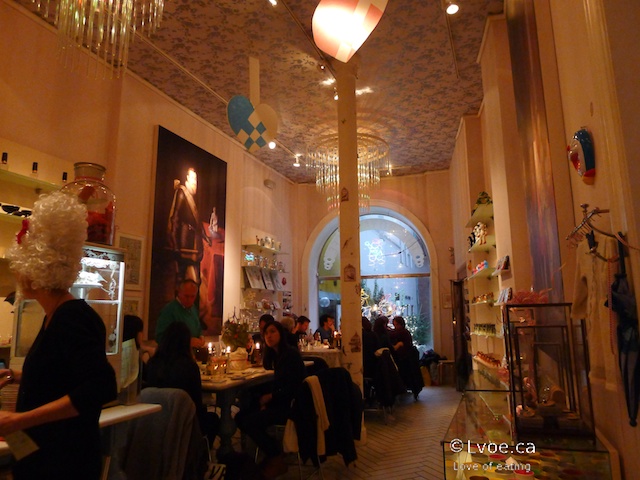 However, this often means I have to purchase some basics along the way. Particularly, liquids. Things like contact solution. Had I known how difficult it would be to locate contact solution in Copenhagen I would have allocated more square inches in my bag to accommodate a few more 100ml bottles.
It's tea time!
H.C. Andersen Tea (75 DKK per pot; approx $13.60 CAD)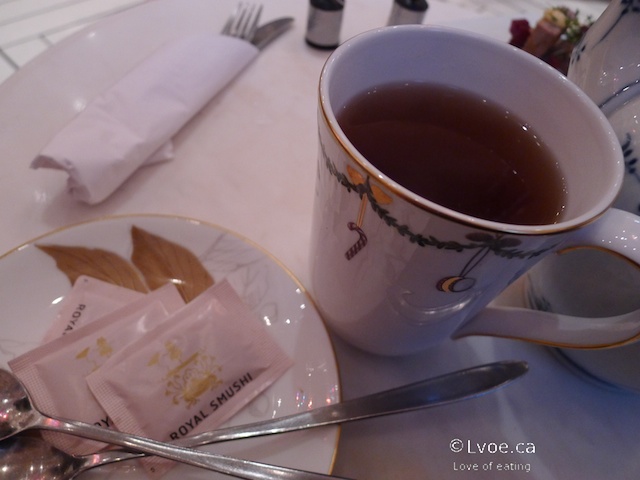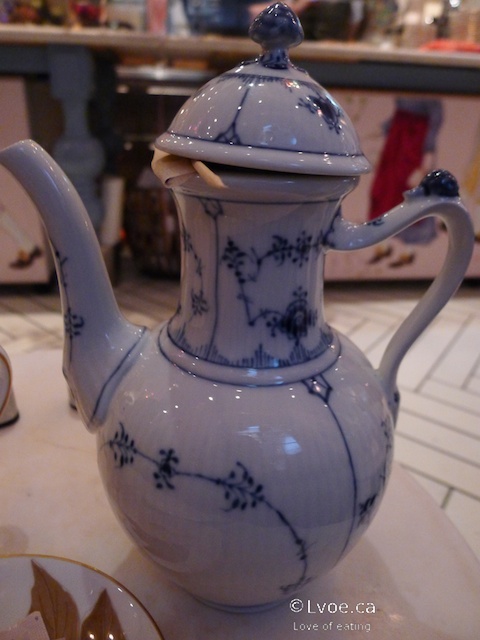 The loose leaf tea is served in a Royal Copenhagen coffee pot, so there is a lot more volume of tea than I expected. Super fruity. H.C. Andersen tea is a golden mix of black teas with, (I think) some hibiscus and orange. Normally I'm not a fruity tea type, but the taste here is strong, crisp and sharp.
Darjeeling FTGFOP Ging (75 DKK per pot; approx $13.60 CAD)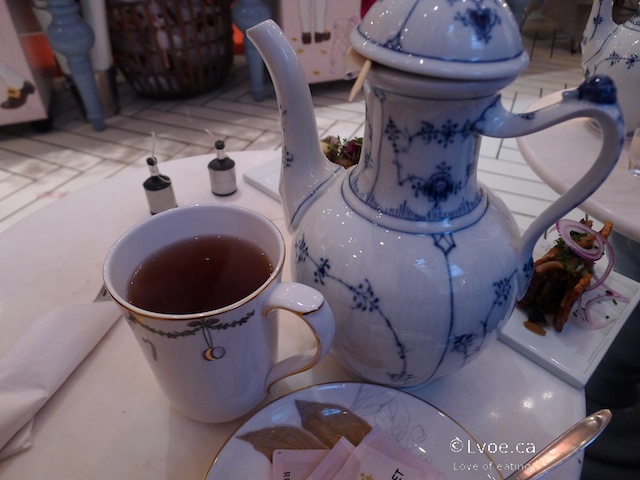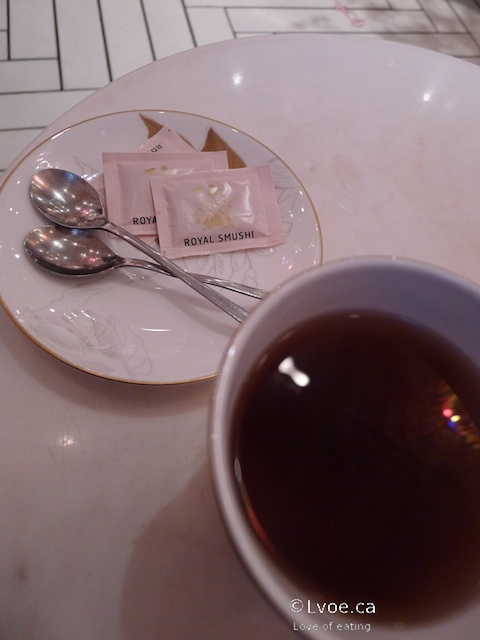 I love Darjeeling tea. It's such a treat to find a fine tippy golden flowery orange pekoe at a cafe.
How posh!
I gather the idea here is that if I end up loving the porcelain my tea is served in today, I can just mosey next door to purchase this very coffee pot. I'll save you the trouble of converting currency: it's approx $337 CAD. Caution now, don't get all impulsive and add this one to your cart by mistake. Yowza.
So after scouring several local pharmacies, 2 London-Drugs-type stores, 1 swanky grocery store, 2 regular grocery stores and one dodgey looking catch-all shop in the past few days, I came up empty handed in terms of contact solution. How can this be? Surely, folks in Copenhagen need to disinfect their soft lenses, no?
The Royal Club Sandwich (135 DKK; approx $24.45 CAD)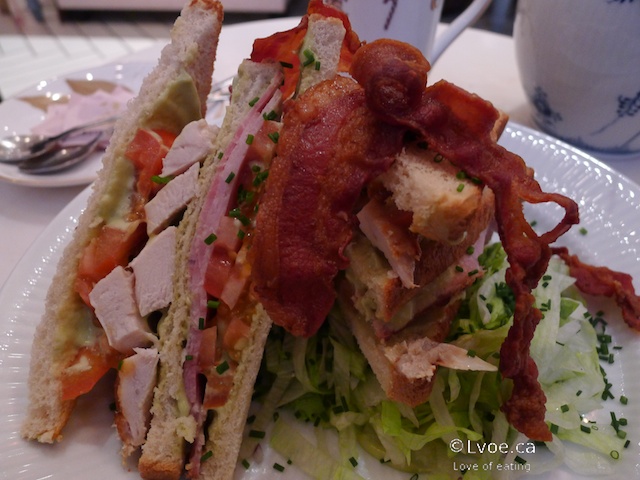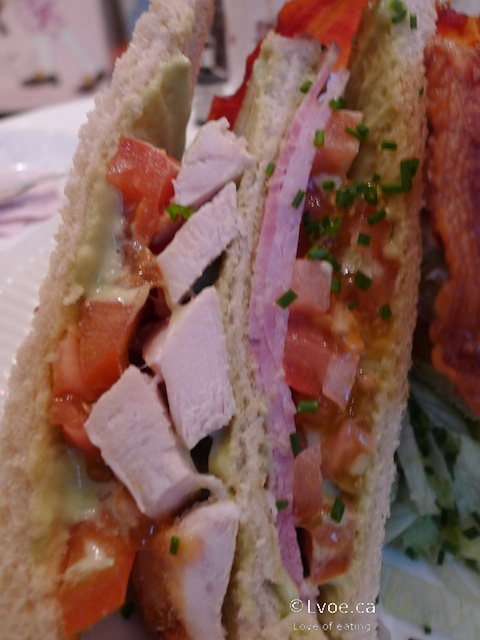 This is quite the club sandwich. This royal clubhouse consists of chicken breast, bacon and ham with tomato, lettuce and avocado. The proteins are generous and the vegetables are fresh.
Bonus: I manage not to tear up the roof of my mouth with the toasted bread. This feat is, possibly, due to the creamy soothing nature of the avocado.
Smushi or small Danish smørrebrød (175 DKK selection of 4; approx $31.70 CAD)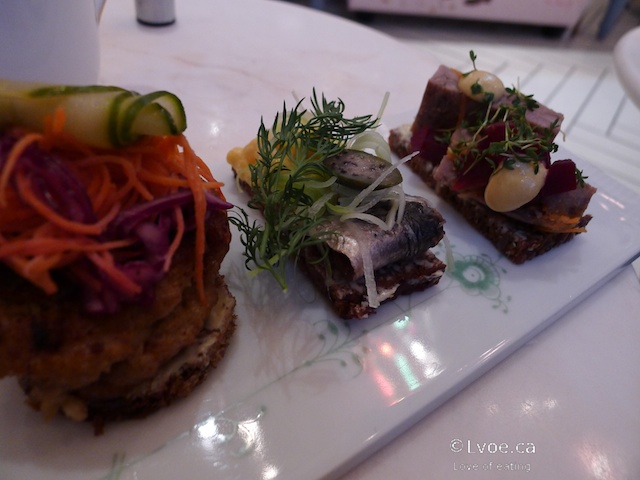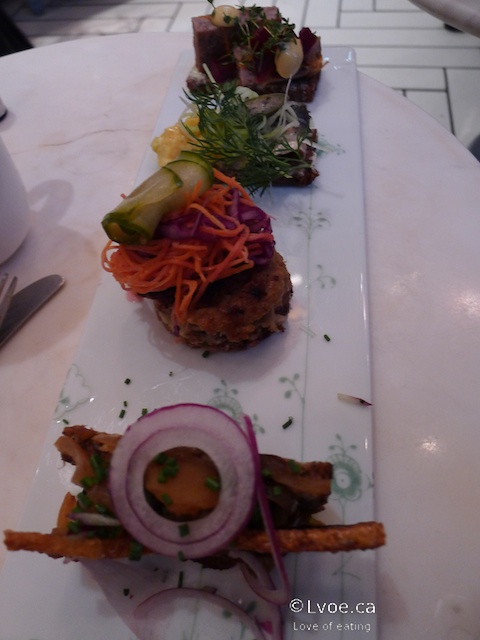 Smushi is the cutesy portmanteau the Royal Café has given to their small open faced sandwiches. The moniker is derived from combining "smørrebrød" and "sushi." Um, okay. Whatever name they go by, they're just little open face sandwiches.
Æbleflæsk or Pork belly with apples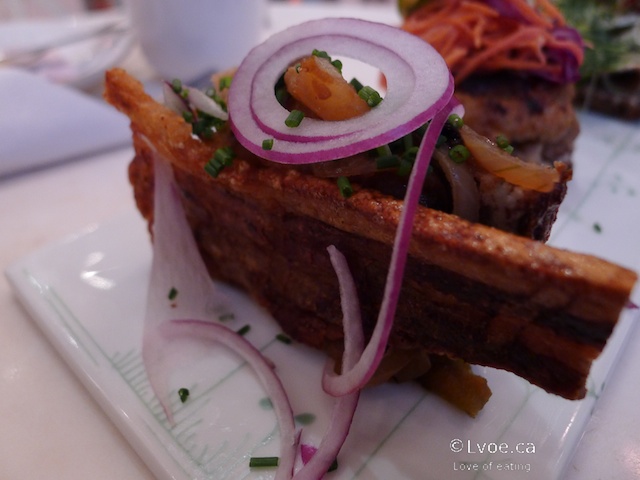 The pork belly is like thick bacon. Dry and crispy but seasoned like cured streaky bacon. The caramelized onions added a touch of sweetness.
Frikadelle or Danish-style Meatball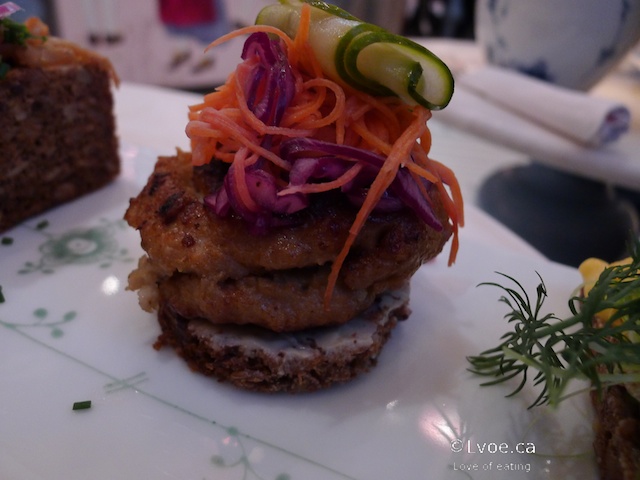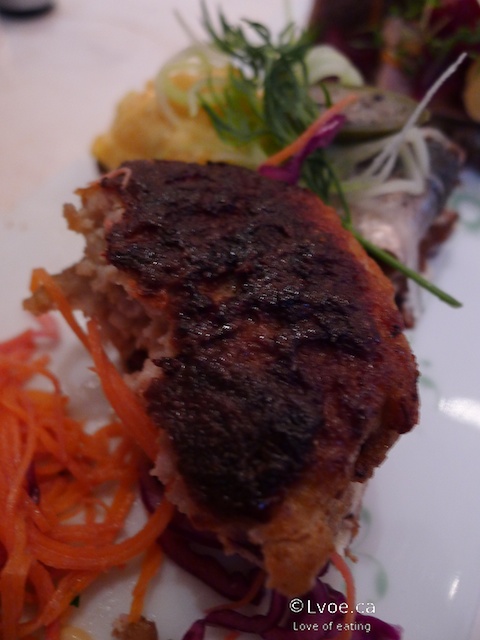 The meatball. There's one in every culture. This sphere is seasoned moderately and tastes mostly of ground pork. The cucumber folded on top is actually a pickle! What a happy surprise.
Meatballs: they aim to please.
Sild or Herring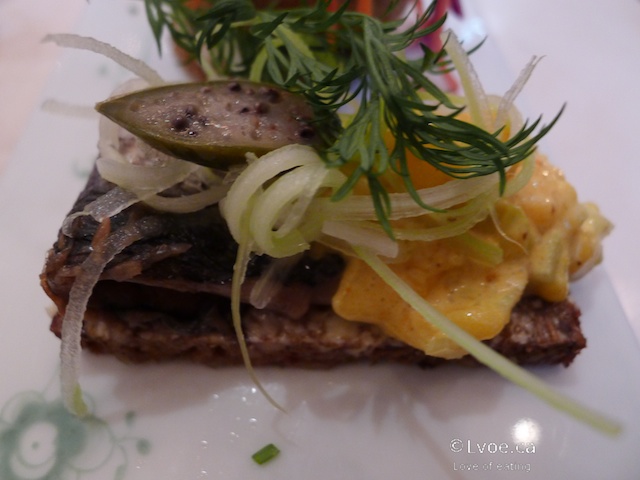 I'm not sure if it's because I overdosed on fish back in Iceland, but this is pretty standard. The herring is clean tasting with no "after flavour" and the curry mango salad adds an interesting contrast in texture and taste to each bite.
Braiseret Kalve/Svinekæber or braised veal/pork cheeks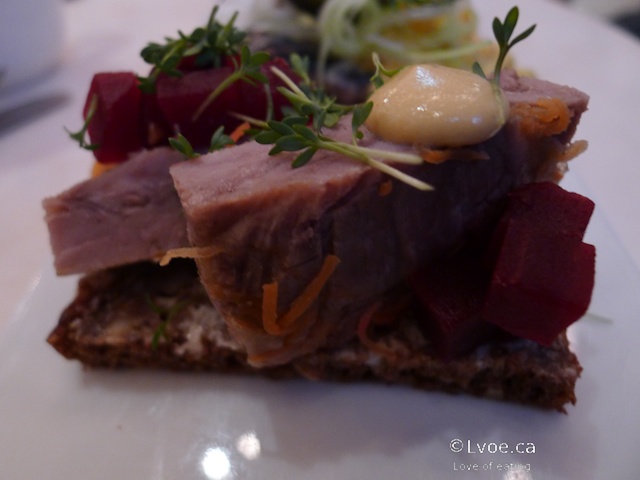 Initially, I ordered the Duck Pâté Smushi but they were out of pâté. What a pity. So this is my second choice. Honestly, I can't tell if this is veal or pork, but it sure is tender. And them beets are sweet!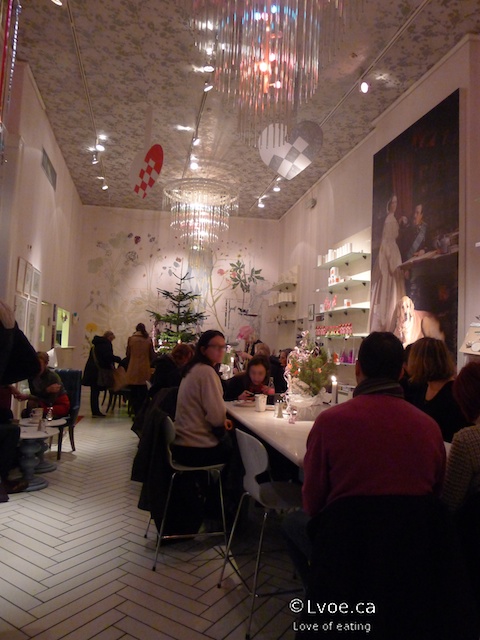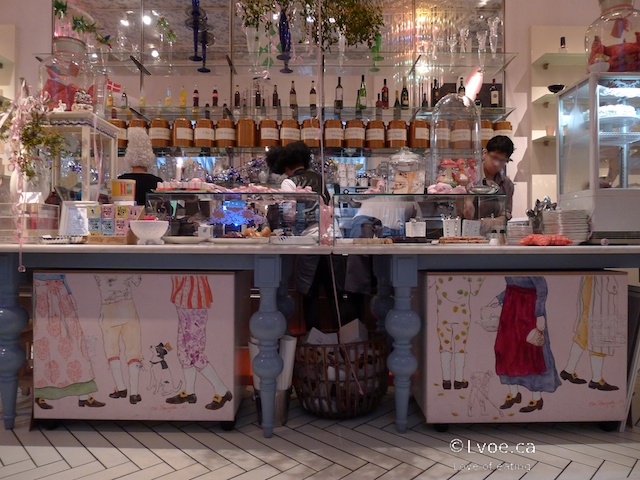 The decor is an ecletic blend of modern design, with a Hello Kitty-edge and Amalienborg-chic. The space is narrow and tall so gettig cosy with your neighbour is common if you are dining inside. The service is young, and friendly enough. The Royal Cafe has a distinctive feminine vibe to it. With their choice of decor, music and dainty smørrebrød selections,it's a fitting place to spend time with your daughters, mothers, aunts and grandmothers. Especially, grandmothers. Grannys tend to go bananas over things like porcelain. You know the type.
Here's a helpful tip if you are looking for contact solution in Copenhagen anytime soon:
In Copenhagen, apparently contact solution is ONLY sold at optician retail outlets. Why is the sale of saline so exclusive? Do tell if you happen to know.
It would seem my problem is solved with this helpful tip, but trying to find an optician open when I happen to be out and about is tricky. Late opening hours and early closing times have been actively working against me! Curses.
The Royal Café website click here
The Royal Café Facebook click here
Location
The Royal Cafe
Amagertorv 6
København
1160
Denmark