Fireside Steakhouse and Bar - Kamloops, BC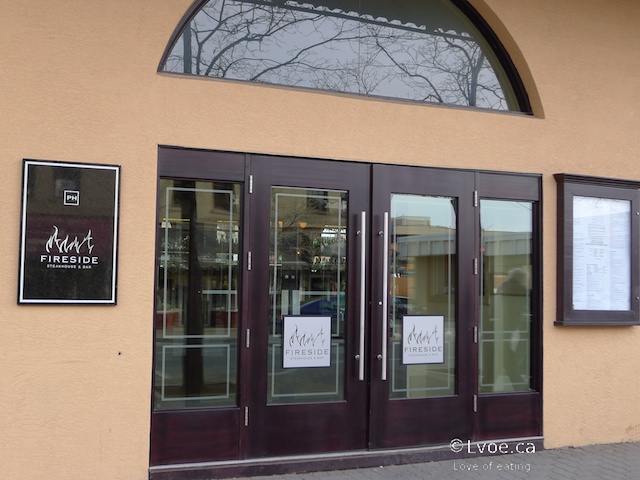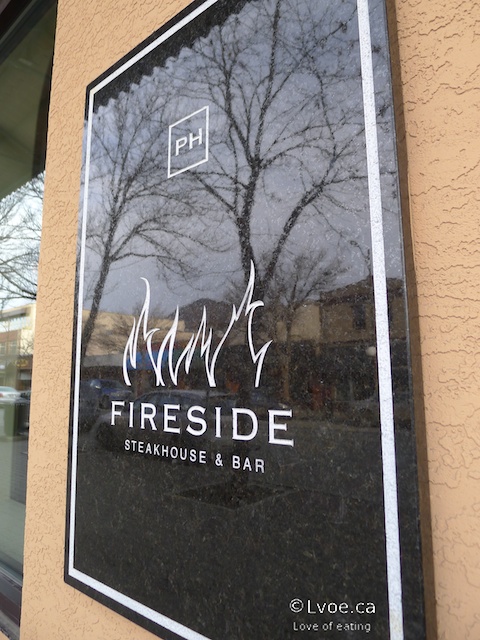 The Fireside Steakhouse & Bar is housed within The Plaza Hotel on Victoria Street in downtown Kamloops. The space is large and the ceilings are high, but there are no bodies occupying the room...
Hang on...this intro sounds familiar.
Oh yes, Fireside Steakhouse and Bar used to be Rocksalt Restaurant and Bar. (Click here for my Rocksalt experience.)
The old Plaza Heritage Hotel went through a top to bottom facelift, including the old Rocksalt restaurant. The building is now referred to as "The Plaza Hotel." I guess they reno'd the heritage right out of it! Tee hee. The hotel restaurant is the Fireside Steakhouse.
Tonight, I need to console myself with some comforting vittles as I killed off a tray of tomato seedlings this afternoon. As you know, we have been kissed with warm sunshine and fantastic spring weather lately. So I thought, "Hey, all plants need sunshine, right?" I naively took my seedlings from their climate controlled surroundings and put the plastic domed greenhouse tray of super healthy looking tomato seedlings in the sun. Then I took off to run some errands. Dumb.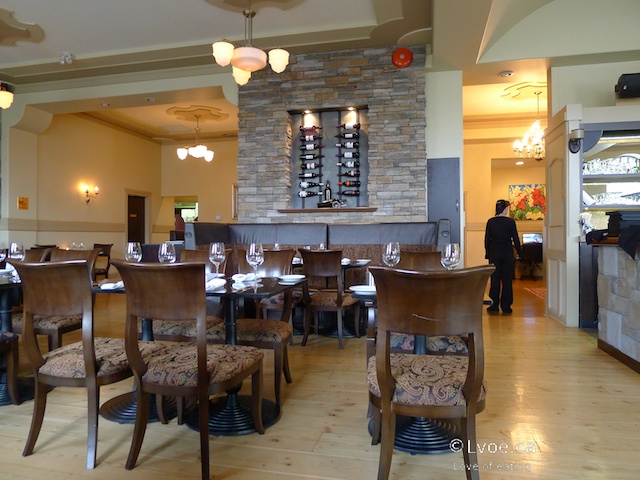 If you enter Fireside via the Victoria Street entrance, you'll find the dining space on your left, the bar counter immediately in front of you and the bar lounge area to your right. The sports channel playing on the flat screens gave the space more of bar atmosphere than a restaurant feel this evening.
Baguette and butter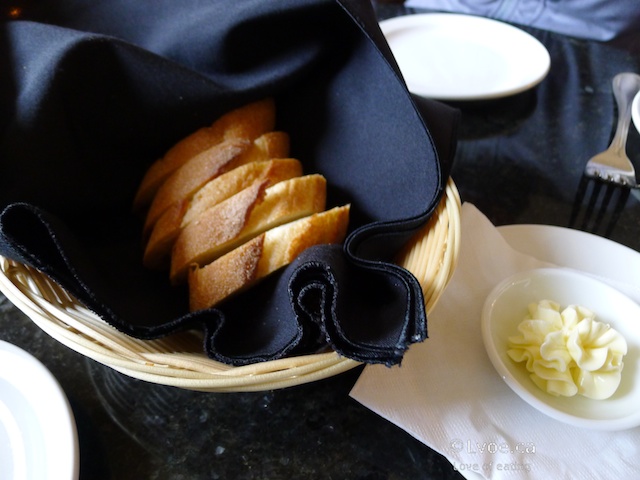 The butter tastes weird. Kinda oily, with an olive-y aroma. Is this what margarine tastes like? I don't use margarine, but I always imagined it would taste oily.
Smoked Tomato and Prosciutto Flatbread ($14.00)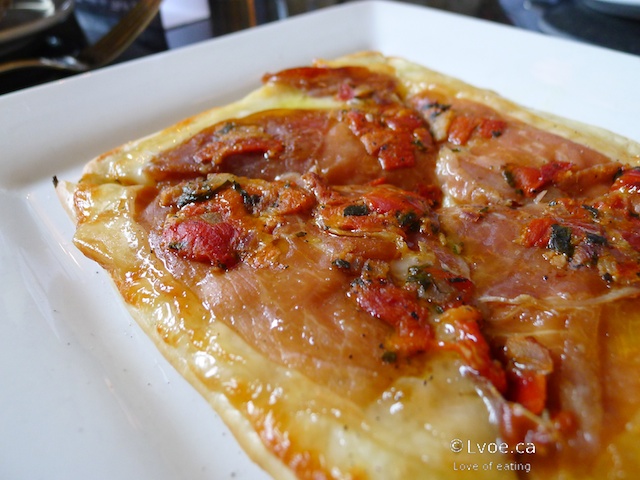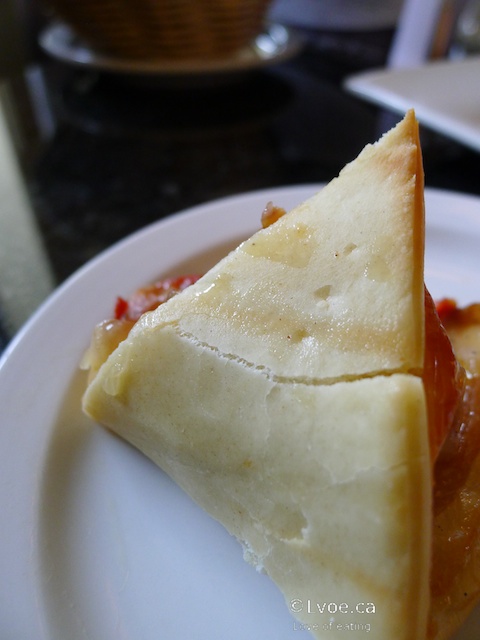 The menu describes this as being topped with fresh basil. So am I wrong to expect fresh basil leaves? Oh well. The toppings of provolone, tomato and prosciutto satisfy my salt craving, and I do love me some cured meats! The only thing I couldn't get past was the "flatbread." It has the texture of frozen pizza dough with no colour.
Beef Osso Bucco ($24.00)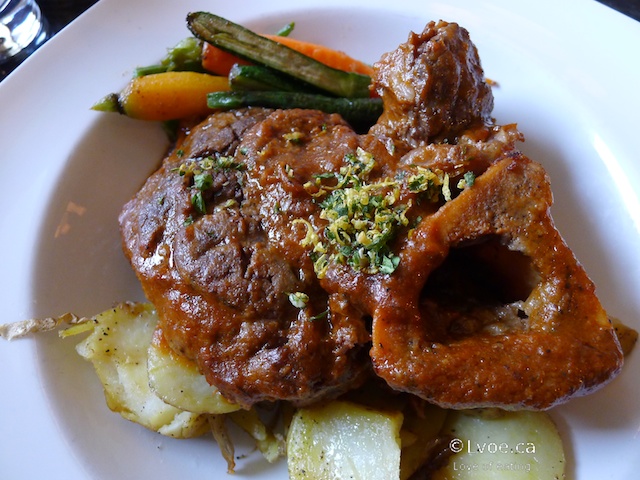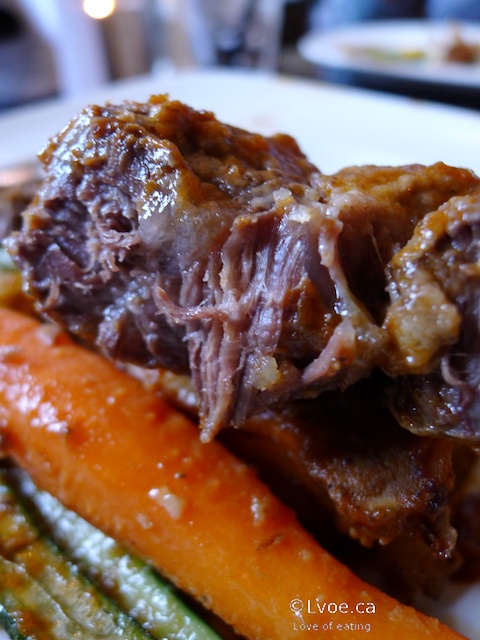 I am torn between having a rib-eye or their beef stew. Both sound like they can soothe the Tomato Seedling Massacre of 2013. But the beef osso bucco is listed just below the beef stew and my eyes got lazy when the server asked for my order. My line of sight dropped down and then I hear my mouth say, "Osso Bucco, please, with Lyonnaise potatoes." The serving is enormous. The meat is Crock-Pot tender, even the tendon-y bits. Isn't it funny that without proper cooking, tendons aren't actually tender at all? The flavours and seasoning in the beef are strong,and super tomatoey. The best part about any braised shank dish is the marrow. I always try to save the savoury jell-o shot until the end. Like it's a dessert.
Pan Seared Crispy Herbed Chicken ($21.00)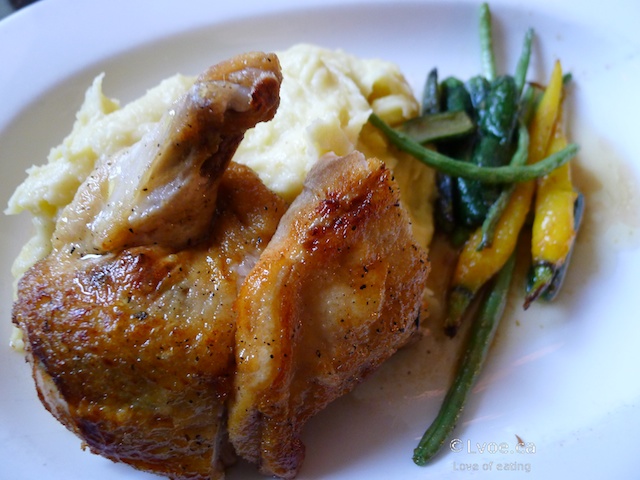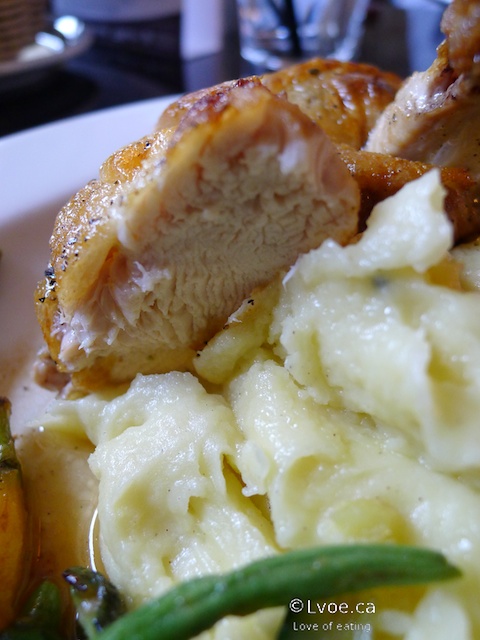 I go through phases where I try to eat less of something. Sometimes, it's less red meat, sometimes it's less dairy; I'm thinking of putting chicken on the Eat Less Of List. Until then, lets order some poultry... The chicken breast with winglet is super moist and indeed had a crispy herby skin. Both dishes have well prepared sides. Fireside was out of baked potatoes tonight (??), so DL went with mashed potatoes. The vegetables and the ample mound of chunky mash potatoes are contently seasoned and props up the bird nicely.
The restaurant is pretty quiet this evening with only two other parties dining, and a lone gentleman sitting at the bar knocking back rye n' Coke.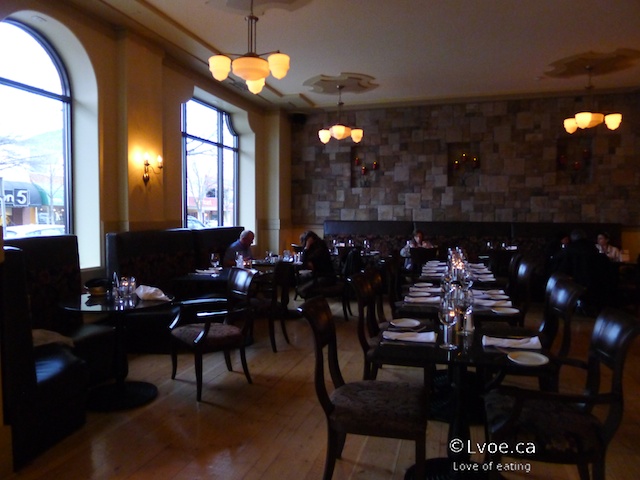 Our server is mature and amicable, but the service seems inexperienced. Don't get me wrong, we appreciate our server tonight. He was really trying, and endearingly bumbled his way through service. The Fireside made a big ta-doo a few years ago with announcing their use of beef from Haughton's Southlands Ranch located in Knutsford. Isn't that a step in the right direction? It's one of the reasons I came back to the Plaza's restaurant. This fantastic feature was never mentioned by the server. (Stop yelling at me. I know it's written on the menu.) My point, if the server is enthusiastic about a product, then I'm going to be excited about it. Generally, if you make the effort to sell an add-on or tell me about something, I will take you up on it. Yes, I am that easy. Offers like drinks specials, information about dishes with unique features, coffee and dessert are silent tonight. Service at the Fireside is still a little green to the game.
Wow, I had no idea those domed seedling trays could get that hot! It was like an oven in there, when I came home hours later. My li'l seedlings were obliterated by the heat. A tiny shriveled grey stem in each potting cell was the only evidence of former plant life. Another gardening lesson learned...the hard way.
The Fireside Steakhouse website click here
Locations
Fireside Steakhouse and Bar
405 Victoria Street
(The Plaza Hotel)
Kamloops
,
BC
V2C 2A9
Canada