Arabian Restaurant - Kamloops, BC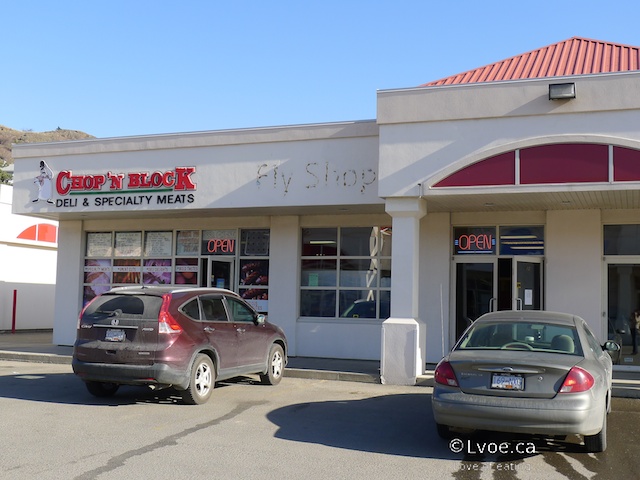 **UPDATE JANUARY 2015: This has now re-located and re-opened as Ooh Kabsa at 101-795 McGill Road.
**UPDATE APRIL 2013: Arabic Restaurant is now closed. Thanks to A.L. Smithey for the update.**
I finally had a chance to swing into the Arabian Restaurant today (they seem to have changed it from Arabic to Arabian. Curious.) A.L Smithey brought this eatery to our attention a few weeks ago back in mid March.(Click here for a peek at A.L.'s chicken kapsa.) Do you ever use the Bumbling in Kamloops blog as a local events blotter? I am guilty of this. I have a little list of places that were introduced to me through Bumbling that I haven't got around to yet. This month I'll attempt to make a dent in this list.
The Arabian Restaurant is attached to the Chop n' Block. It's a few doors down from Sweet Spot Cupcakes and across from Gourmet Greens. (The Chop n' Block was formerly known as Keely's Chop n' Block, then it was Murphy's Chop n' Block. Now I'm not sure, so I'm just going to call it the Chop n' Block.) A wall was removed, and the meat store expanded into the neighbouring retail space. The Arabian Restaurant occupies a part of the new space.
Slashy restaurant alert!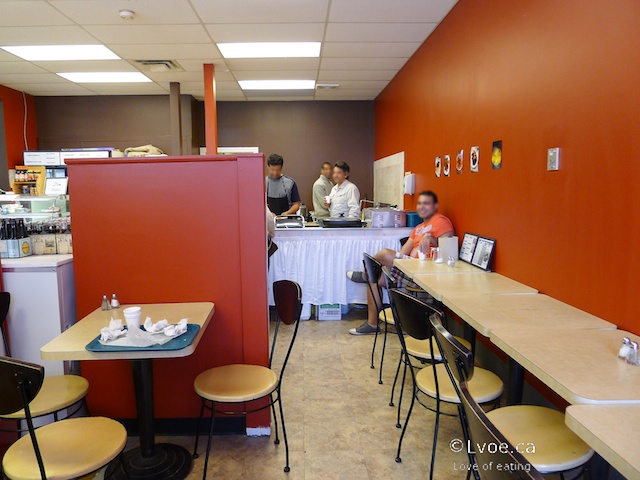 The dining area in the Arabian Restaurant is diner-esque, with casual counter service and a half a dozen tables. You can eat-in while observing the goings-on over in the chopping block side of the building.
(I think I need to create a cloud tag for slashy eateries. Never did I think I'd encounter so many.)
When I read that they offer breakfast, I fast tracked the Arabian Restaurant to the top of my list.
I'm always game for breakfast. The Arabian Restaurant has a small lineup of sandwiches that are available from the morning opening hours.
Kebda ($4.00)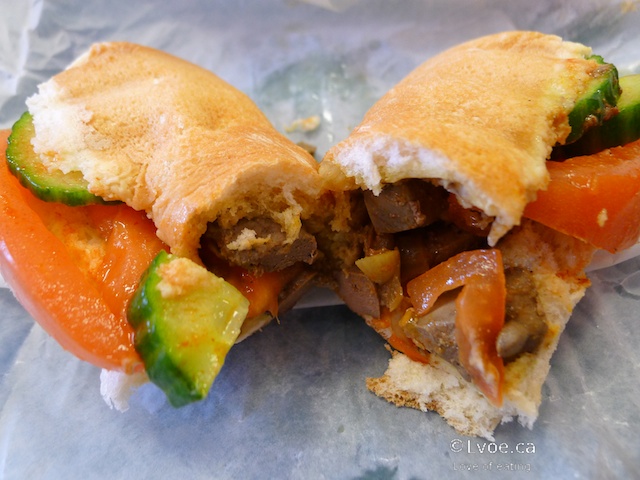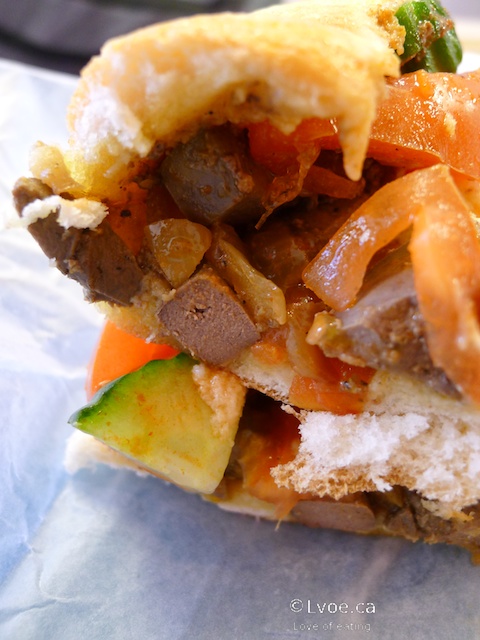 Bits of lamb liver in tasty spices on toasted bun. I think this is my favourite of the three. The spices are just mild enough not to overcome the distinct flavor that is liver. The liver chunks are not over cooked and maintain their texture. Chopped liver is always cheap and cheerful...well, until it's ground up and molded in a terrine, then we seem to be okay paying up the nose for pâté. Perhaps this explains the other meaning of kebda.
Mafroom* ($3.00)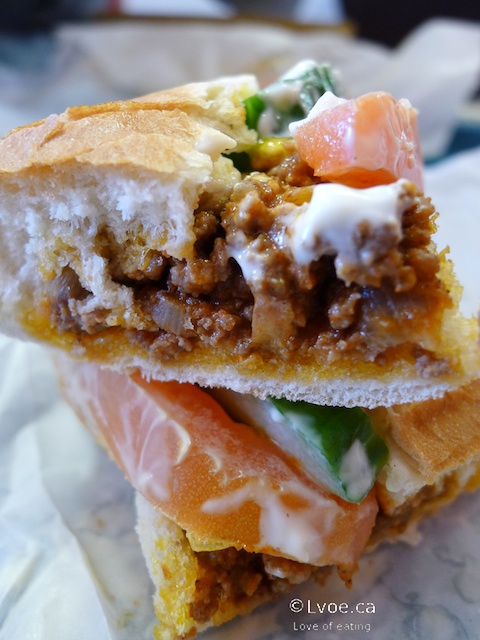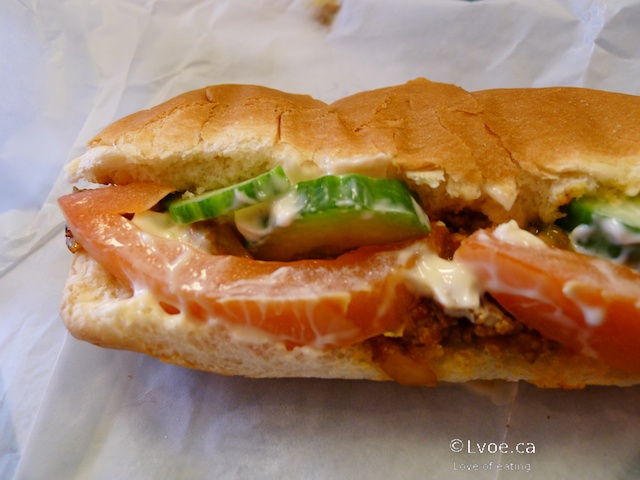 The lamb fest continues with the mafroom*. This is ground lamb in juicy saucy goodness. If you don't like the aroma of liver go for this one. The spice flavours are more intense and texture is like that of a sloppy joe. The vegetables and mayo are optional. I like it.
*Okay, so the whole time when the counter person was explaining the different breakfast options to me, my ears kept hearing "mushrooms." I'm thinking, "Oh I didn't read about mushrooms on the menu. This must be an exclusive item for today. Score." It wasn't until I am seated at my table, yammering on about mushrooms that I received an eyeroll, as DL pointed to the name of the sandwich. Oh. Oops.
These are golden moments for DL, as they don't happen often. Enjoy it DL.
Moshakal Falafel ($4.00)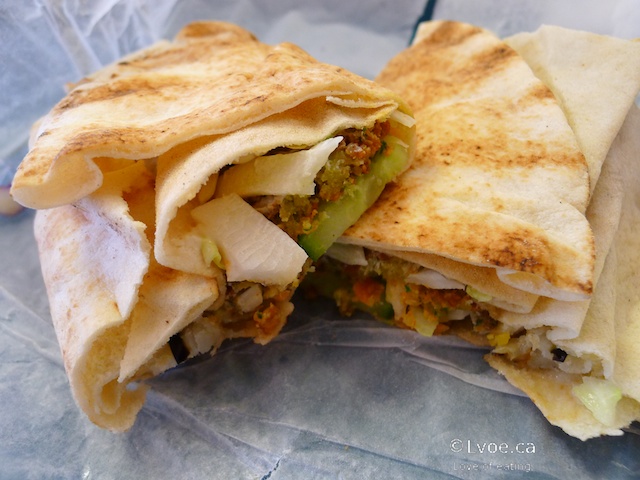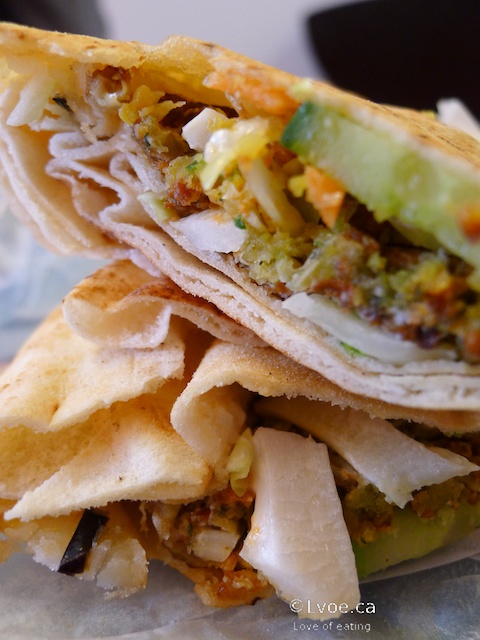 This is the falafel wrap with eggplant and crispy fries. Fries! The falafels are fresh. Really fresh. No seriously folks, really, really fresh. The person at the counter emphasized this. Multiple times.
I believe him.
The greens (parsley, scallions…etc) in each croquette are tiny vibrant hits of colour and flavour.
The falafels are indeed fresh. Do I need to say that again? Fresh!
Tea ($1.00)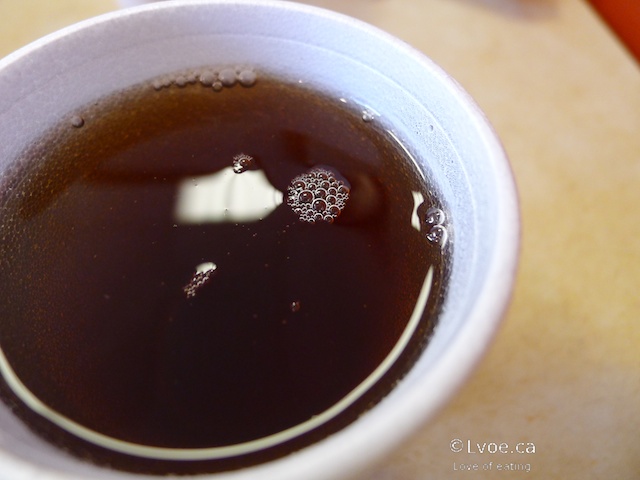 Sweet and aromatic.
The Arabian Restaurant today is a good time.
I don't know if the eatery is like this all the time, but ordering at the counter this morning is a hoot.
(I may be the only person under the age of 75 using the term hoot in 2013.)
There is a counter person and his buddy sitting in the diner today. I have no idea if they both work at the Arabian Restaurant or if one is a visiting friend. Together they make a great team. If you arrive not knowing what exactly to order, fear not! These two friendly gents will set you straight.
You will be asked what kind of condiments, vegetables and/or type of bread suits your fancy. As I am offered each item from the Counter Guy, the Diner Buddy beside me will give me a head nod or a grimace as to whether or not my answer should be "yes" or "no thank you."
This is how the Mafroom order went:
CG: "Tomatoes?"
DB: Head nod.
Me: "Yes."
CG: "Cucumbers?"
Me: looks over to the Diner Buddy.
DB: Head nod.
Me: "Yes."
CG: "Mayonnaise?"
DB: Head nod.
Me: "Really?"
DB: Confirms with another head nod.
CG: "You will like it!"
Me: "Okay."
CG: "Tzatziki?"
Me: looks over to the Diner Buddy.
DB: Grimace.
A little conferring between Counter Guy and Diner Buddy. They both come to agreement.
CG: "No, no, he's right...save it for the falafel, save for the falafel..."
I did well when it came to choosing the bread for my falafel. I chose the flatbread that has a bit of char to it, and I receive confirmation via thumbs up from my friend who had assisted me with my other orders.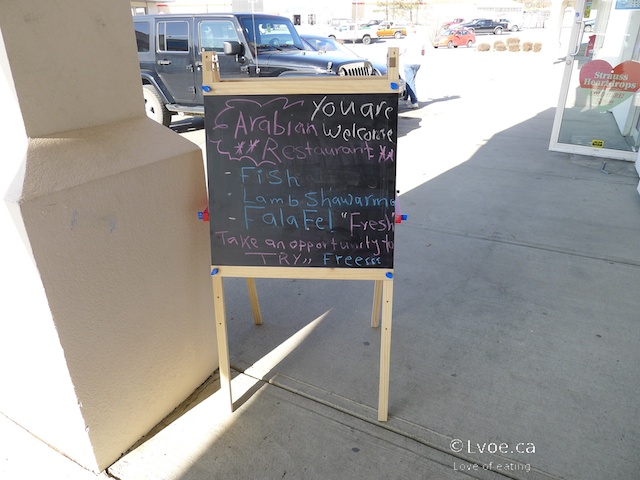 The sandwiches are pretty easy on the trifold too. At $3 to $4 per item, they're cheap. That's moving in on bánh mì cheap. The service made for an entertaining morning with small savoury paper wrapped parcels that would be just as good for lunch in the afternoon.
The Arabian Restaurant hours:
Tuesday to Saturday 8:30am to 6:00
Sunday 8:30 to 5:00pm
Closed Mondays
Locations
Arabian Restaurant
1415 Hillside Drive, Unit #12
(opposite Gourmet Greens)
Kamloops
,
BC
V2E 1A9
Canada