Cornerstone Korean BBQ - Kamloops, BC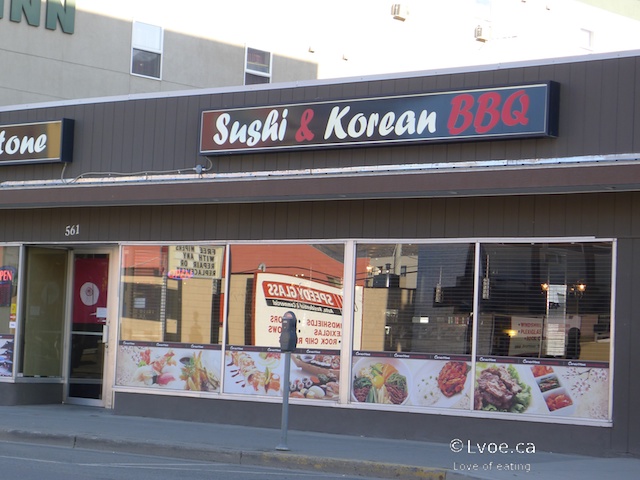 Here's another place that is familiar but now different. Tonight I am at Cornerstone Sushi and Korean BBQ. Some of you may remember this space as the short lived slashy restaurant: Nayaab Fine Indian Cusine/Pizza Factory.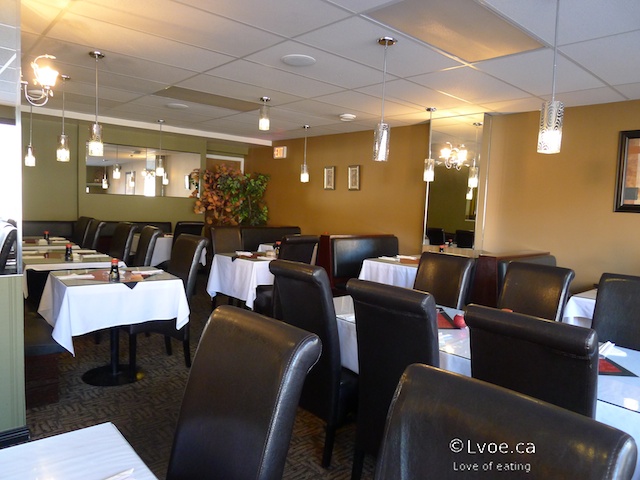 Cornerstone is not the grillin' at the table kind of Korean BBQ, but wouldn't that feature be great in the future for Kamloops? Baby steps, right?
The décor is pretty much the same as when it was Nayaab. (Exactly the same, click here, for a comparison.) Has anyone noticed that the chairs are a bit low? I'm not a particularly tall person, but I found that the cushion on my seat sunk way down when I dropped my trunk upon it. Alternatively, this may be a case of my lacking in vertical but generous in the horizontal.
Miso Soup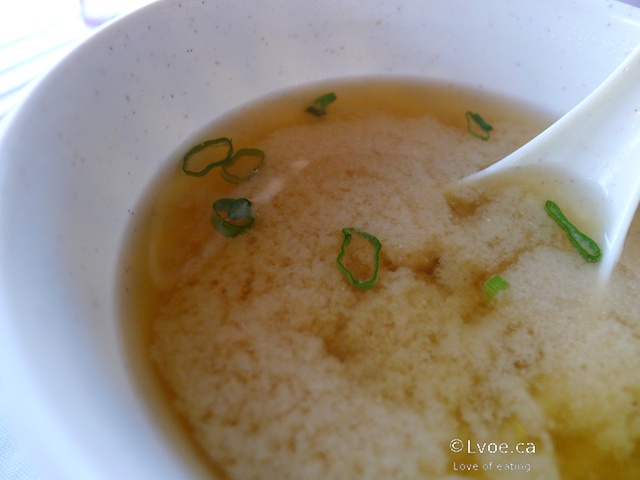 Miso soup is miso soup. It's never been a fave. I can take it or leave it.
Dak Gal Bi entrée ($13.95)
The marinated spicy chicken entrée includes a salad and banchan selections (small dishes) of the day:
Salad with House dressing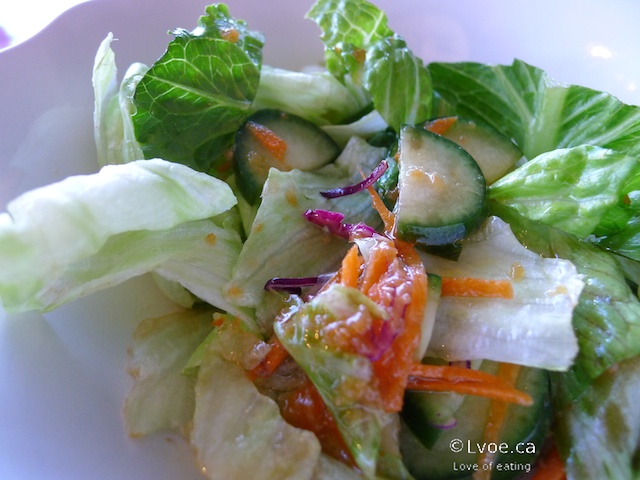 Salad is salad. Though the house dressing is quite tasty.
Japchae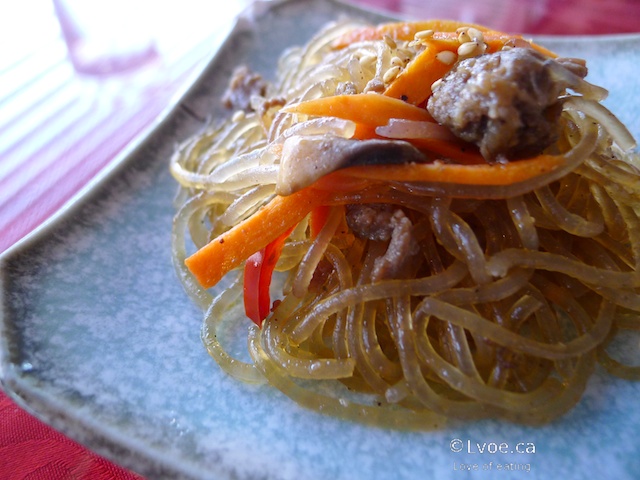 I'm guessing this banchan is Cornerstone's version of japchae. It's cold potato noodles, topped with some slivers of bell pepper, carrots and a lil' meatball. I might like these noodles the most tonight.
Salad roll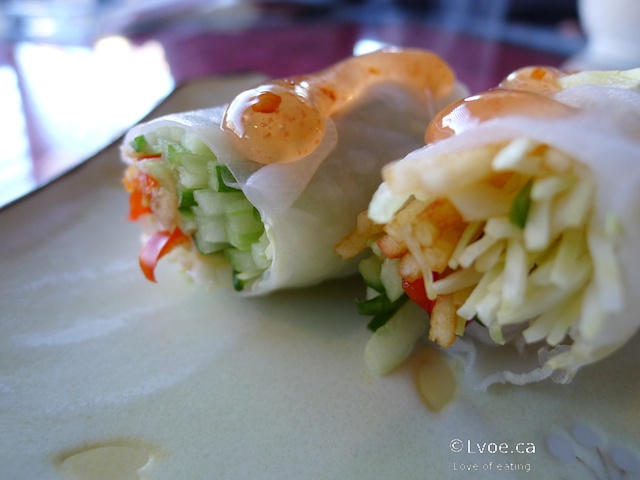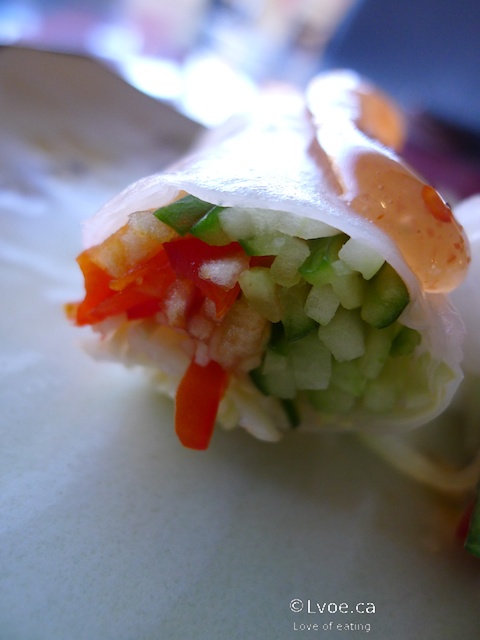 The two bite roll is crisp and light with bell peppers, cucumber, cabbage, and an unexpected zing from the julienned radishes. Surprise!
Curiously, there is no kimchi as banchan tonight. Which is alright with me, since I can just dip into my jar at home.
Dak Gal Bi with rice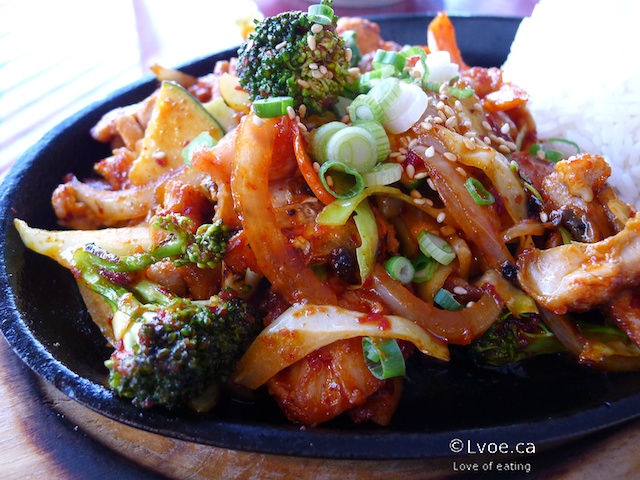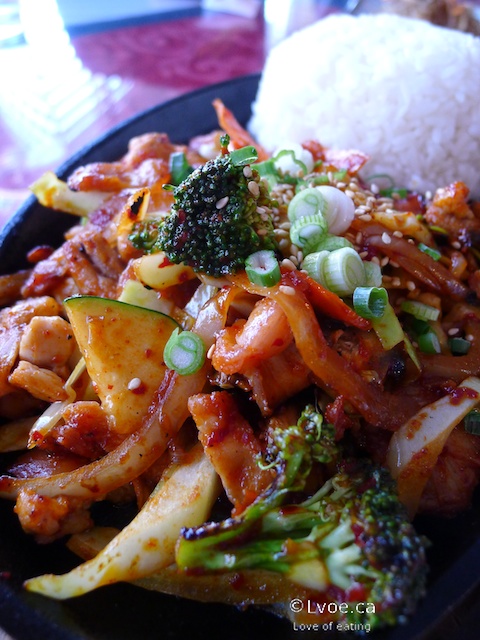 After I pluck off the yellowing broccoli floret (??), this sizzling chicken mix is zippy with spice and saucy. The flavours are strong and perfect with a mouthful of white medium grain rice.
Korean Style Spicy and Sweet Chicken ($9.50)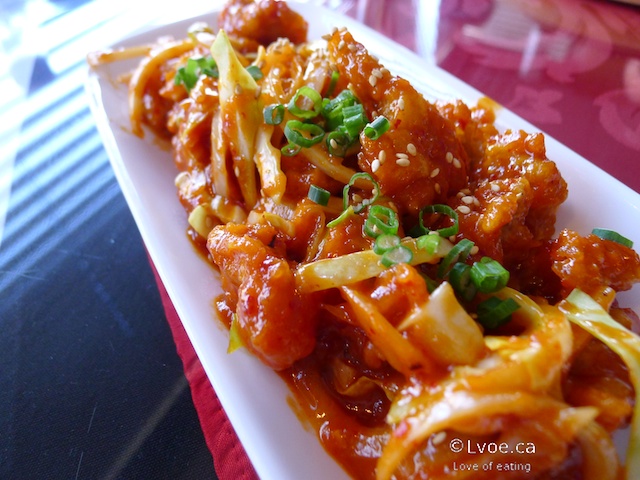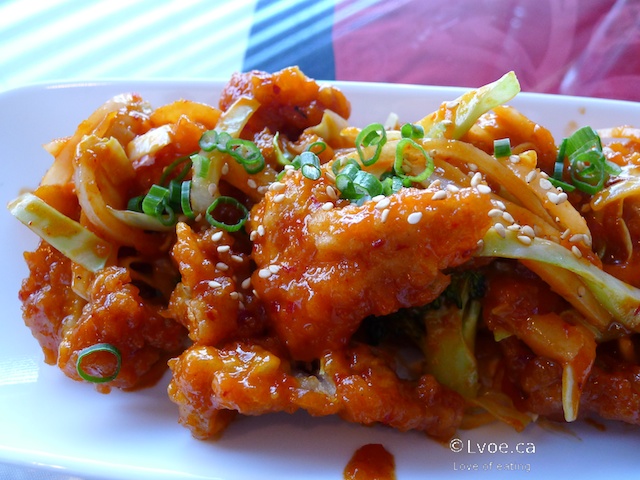 It's like DL can't get enough chicken these days. I love blaming gluttony on DL. Although the light batter is tossed in stickiness, it still maintains crispiness. Do you use ever use Sweet Chili Sauce For Chicken? Yes, that is the entire name. I always have a bottle of it in the fridge next to the sriracha. The flavours here remind me of this sauce.
Bi Bim Bop ($10.95)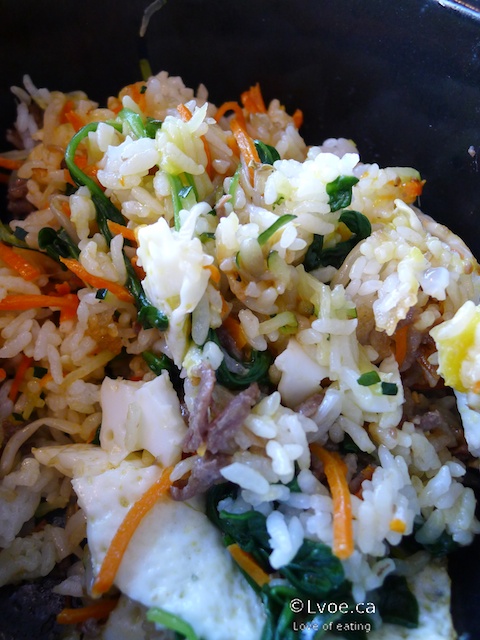 Bi Bim Bop; Bibimbap. Tomato; tomahto. Bi Bim Bop is basically a bowl of rice with a sampling of various toppings like veggies, meat, and egg. Kinda like the Korean version of Japanese donburi. (Why is that Hanson song from the 90's playing in my head?) The best part of this is that browned crispy rice that develops at the bottom of the hot bowl that holds Bi BimMMMM Bop. (Before non stick coatings, you could recreate this crunchy brown rice at the bottom of those vintage style National rice cookers.) Mix it all up and enjoy. Mmmmm bop indeed.
The service at Cornerstone has patience and is very accommodating. The two diners behind us seem to possess every special dietary restriction that was trendy in the last decade. Their server relayed each of their needs back and forth between the dining room and kitchen. Almost as if for my own entertainment, they choose not to tell her all their restrictions at once. So she got a work out, but kept a smile on. Eventually, the kitchen and server basically created a little custom menu for these two. Pretty accommodating, right?
I come to the bottom of my Bi BimMMMM Bop and realize I have to bolt to an evening appointment. No time for an extra appy or dessert. I leave with a full belly, and knowing I'll never be able to have the Korean style rice bowl again without having that song infiltrate my brain. Out MMMBop, out!
Cornerstone Sushi & Korean BBQ website Click here
Locations
Cornerstone Sushi and Korean BBQ
561 Seymour Street
Kamloops
,
BC
V2C2G8
Canada