Eden Bento Café - Kamloops, BC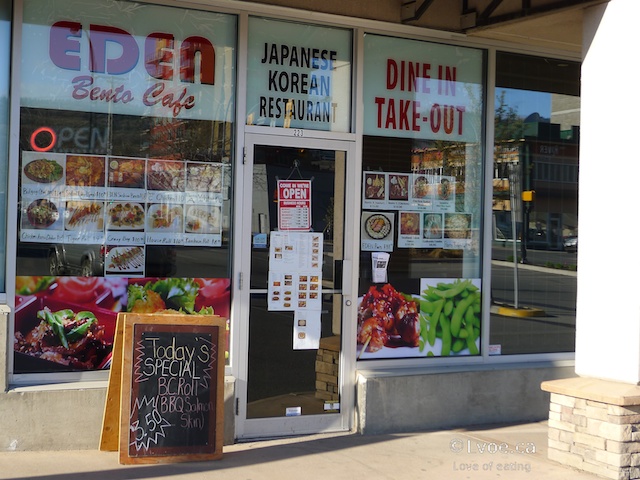 Eden Bento. Here's another little eatery that has been languishing on my list for some time. The location is once again familiar, the last time I wrote about this space it was known as Sip's Martinis and Tapas.
Eden Bento serves up Japanese style meals-in-a-box with a side of Korean flair.
Time, or lack thereof, often dictates where and what I can eat. I need something relatively quick tonight. "Quick" as in I don't have time to linger around three courses and drinks, but not so "quick" that I need to order through a wireless intercom system.
My plan is to grab dinner before I put my student-hat on. For the past several weeks, I've been busy taking a little evening course. I am learning something quite exciting. If I don't bungle it up, I'd like to share it with you sometime at a later date. It's no secret that I'm a bit of a hack when it comes to gardening. So I'll quietly try this new thing out first, to see if it is possible for me, before I blab about it...and inevitably embarrass myself.
Chicken Katsu Donburi ($10.00)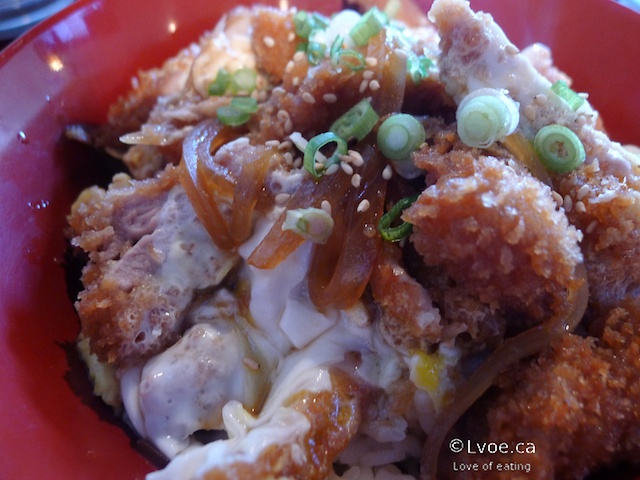 After enjoying a little bibimbap over the way at Cornerstone Korean BBQ post, I still have rice bowls on the brain. Chicken donburi is a basic home-style dish. It's like the hamburger of Japanese foods.
It's hard to screw up. If your rice is good, and you have some chicken cutlet deep frying skills then it's pretty much a done deal. My roommate used to live on this stuff during my university days, so by default I ate a lot of it too.
I didn't intend to order any maki rolls. As you may have notice in my Cornerstone Sushi and Korean BBQ post I stuck with Korean fare and avoided sushi. Truth be told, I've pretty much given up on "sushi" in Kamloops after surviving some EPIC fails in this town. As noted before, sashimi in particular, seems to be difficult in Kamloops. It's been brown for me too many times and occasionally served frozen.
(I don't want to re-live those experiences but if you do, you can click here, here, and here)
Hang on, wait! There are some different options now in Kamloops. Thanks god.
I certainly don't want to miss out on the possibility that some maki makers may be good, especially since we have newer sushi serving additions to the 'Loop.
Today, I decide that it is time to dip my toes back into the Kamloops sushi water again.
BC Roll ($5.00)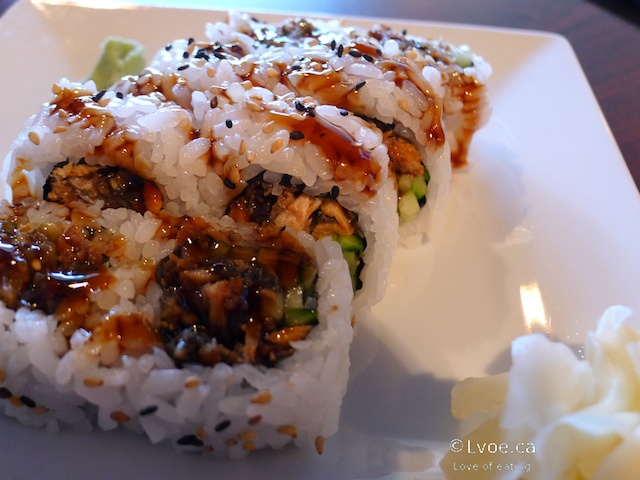 I order a simple BC Roll just to check some basics. The rice in this roll today is subtly seasoned just with a twinge of vinegary tang. So glad there aren't mushy grains, or loosey-goosey roll techniques here. The salmon skin is proper salmon skin with bits of salmon here and there. For my tastes, I find the sauce a little heavy handed for such a small roll, but generally it is enjoyable.
Bento A Yakitori ($10.00)

Miso soup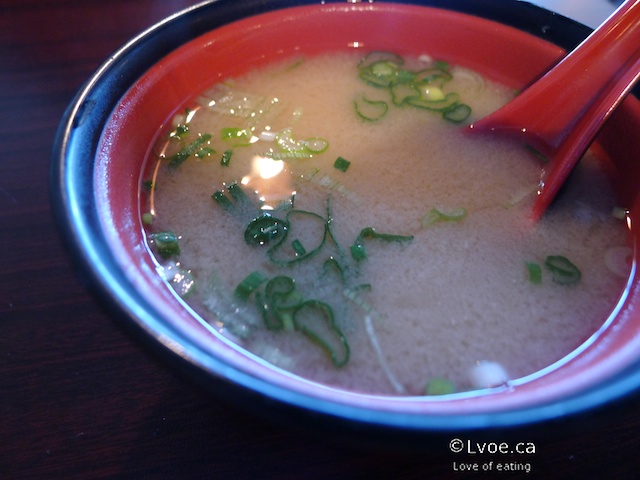 The ubiquitous miso soup.
Tempura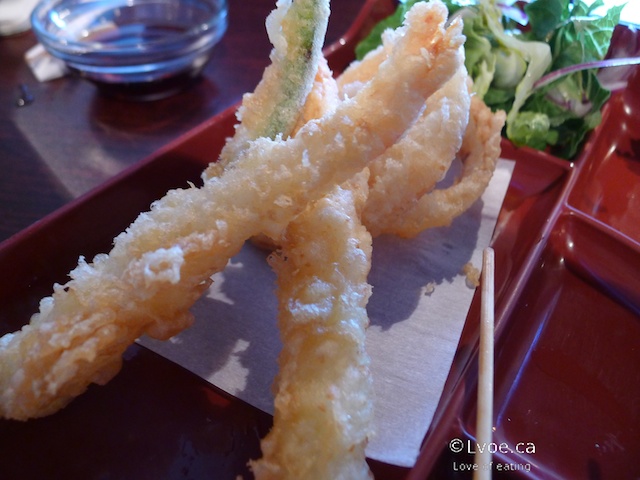 Deep fried here are some prawns, a green bean and a fat slice of yam. Yam tempura is one of our faves. So the large slice makes DL pretty content. Hot and lightly battered, yet not greasy.
Sunomono Salad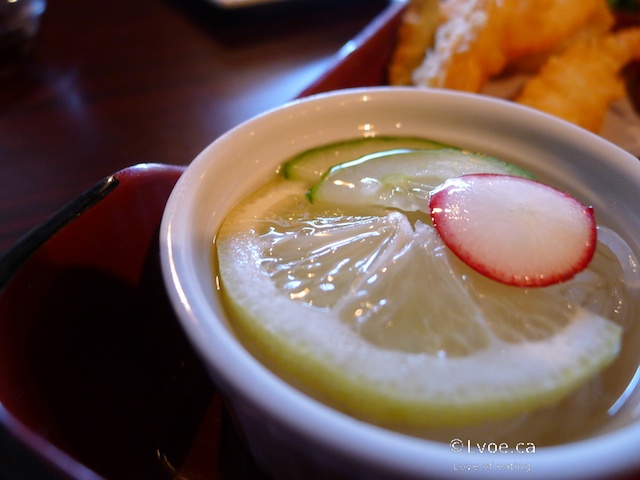 I always find sunomono salads refreshing. I also like that fact that it's not really a "salad" at all. Eden Bento's version is pretty simple but it does the job with a hit of sweet vinegar.
California roll


Wow, it's been ages since I've had a California roll! Isn't this the roll you make your non-sushi eating friends eat? Y'know, the folks that fear raw fish.
"Yeah, yeah. Go on eat it. There's nothing raw in there, don't worry."
The standard maki rolls at Eden Bento are pretty good. I wouldn't mind exploring their other sushi options in the future. Perhaps I should wade in a little deeper and visit some of other newish sushi establishments in town. Maybe give sushi and sashimi another go in Kamloops? I know a decent roll does not equal quality sashimi, but I've got to start somewhere, right?
Yakitori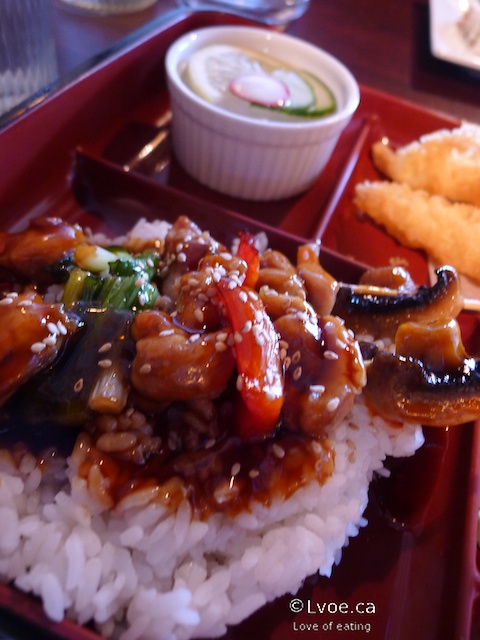 This is basically skewered grilled meat on rice. Like the maki roll above, the kebabs are a little too saucy for me, even when eaten with the rice. In contrast, DL does not place limitations on saucy enjoyment, so I leave DL with the yakitori, while I finish the donburi.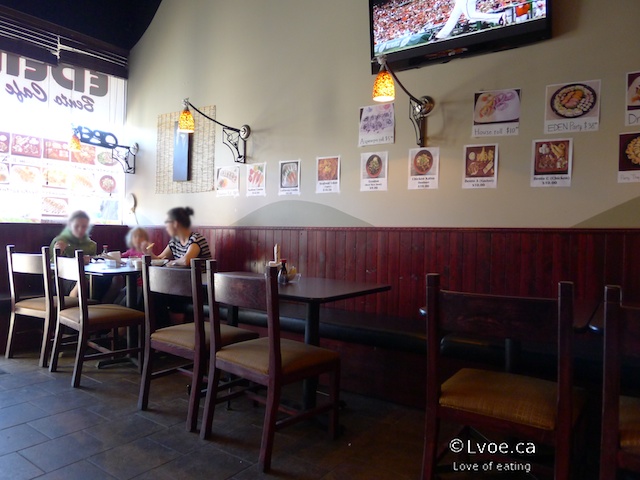 The service today is quick, attentive and courteous. Although there is only one other party dining-in tonight, Eden Bento does brisk take away service. There is a steady stream of people stopping by to pick up their to-go orders.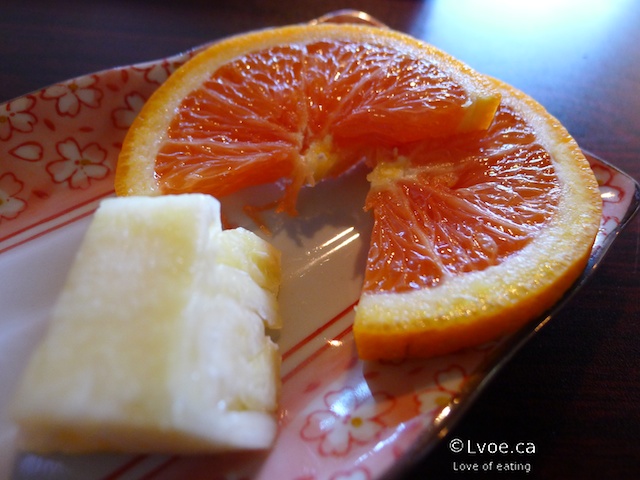 I come to the bottom of my donburi, and realize I have seven minutes to get to class. No time for dessert. Not that I'm going to be late, but I prefer to get to class at least 30 minute in advance, before all the geek seats are taken. I am that person that needs to sit in the front row, due to poor eyesight and the tendency for my mind to wander. Please, I know this doesn't surprise you.
Eden Bento Café hours:
Monday to Friday 11:00am to 9:00pm
Saturday 12:00 noon to 9:00pm
Sunday closed
Eden Bento Café Facebook Click here
Locations
Eden Bento Cafe
450 Lansdowne Street, Unit #223
(between London Drugs and Tim Horton's)
Kamloops
,
BC
V2C 1Y3
Canada