Gourmet Kettle Fudge and Popcorn - Kamloops, BC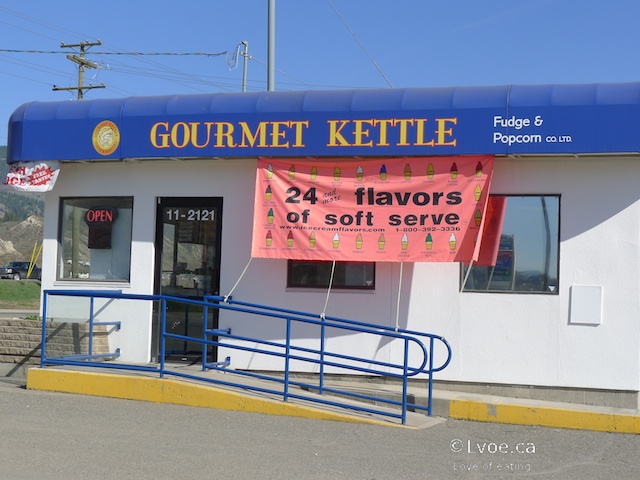 Gourmet Kettle Fudge and Popcorn is located in the small square building at the Valley View Shopping Complex parking lot. As I approach, I spy a minivan and two late model sedans with drivers all enjoying a soft serve cone with one elbow resting on the retracted side window. It's hot and sunny today and I suspect they will drive away with that Driver's Arm Tan. I knew Gourmet Kettle offered fudge and popcorn but I didn't know they offered soft serve too.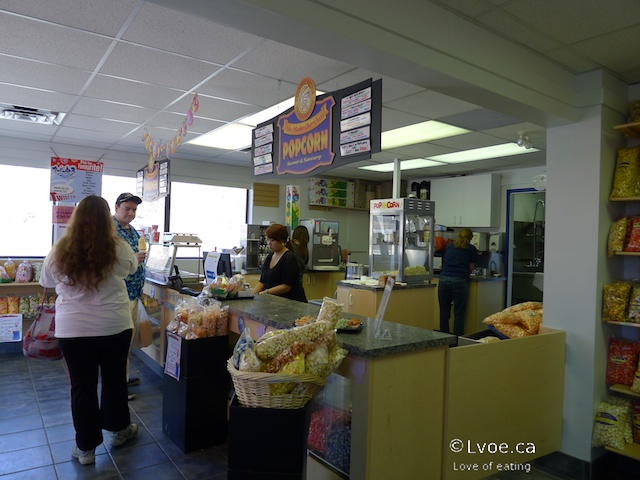 A family stops in for one of Gourmet Kettle's 24 flavours of soft serve. It's tempting, but I'm here for the popcorn. DL's here for the fudge.
You know how popcorn places use those over sized kernels to create the fatter poufs of popcorn we like so much? That's the first detail I notice about Gourmet Kettle's popcorn. It's not necessarily all giant explosions of fluffy popped corn. The savoury flavours tend to have smaller pieces of popcorn, similar to what you and I can pop at home. Much like when I popped corn with my Pro Popper.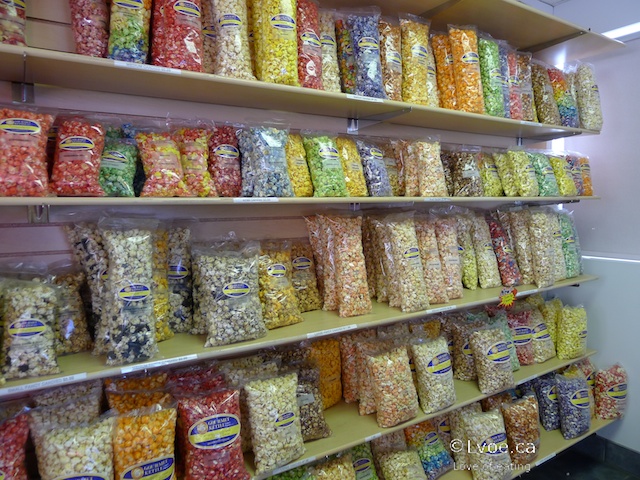 The sweet bags seem to have more of the larger popped corn. The size of the corn doesn't really make a difference to me, but I thought I'd mention it because Gourmet Kettle popcorn will look a little more home-style than a bag from Kernels.
Cheddar Jalapeño ($5.99)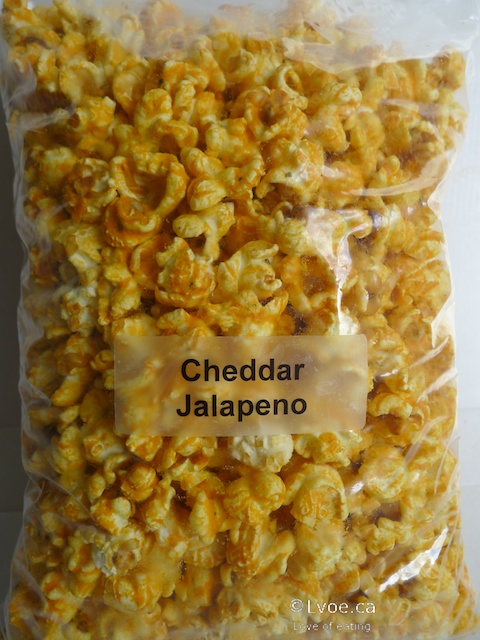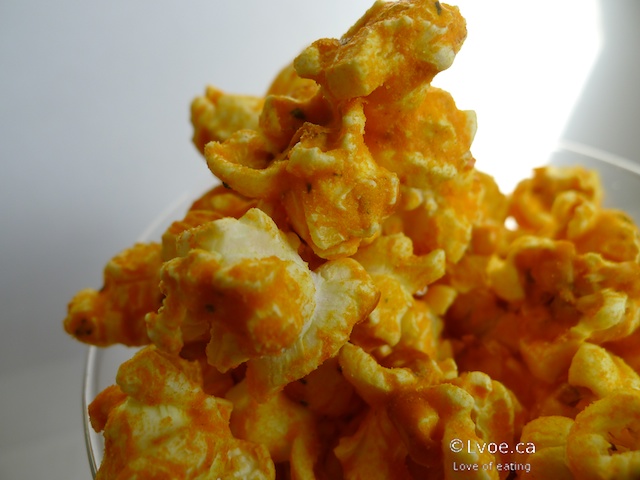 This is probably the most savoury and a favorite of the four. It tastes like spicy cheezie poofs that leave your fingers orange after a bowl…or two.
Ketchup Popcorn ($5.99)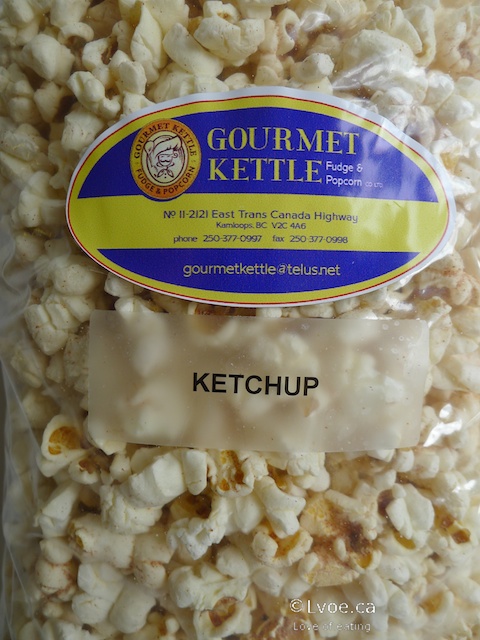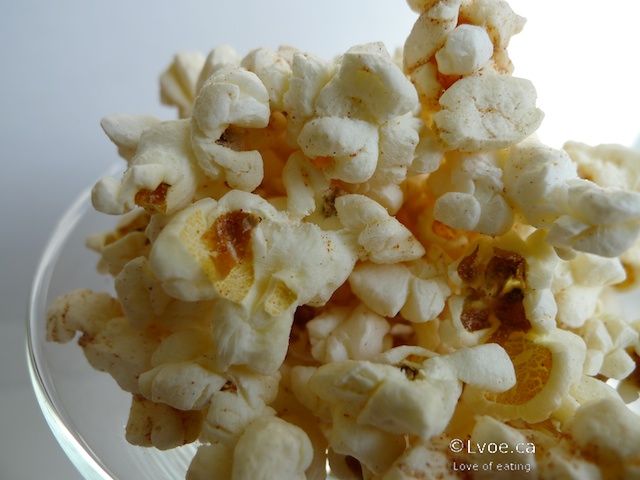 The ketchup taste is not as strong as the above cheddar jalapeño. It's not as strong as your average ketchup chip for that matter. Still noticeably ketchup in flavour, but after growing up on Old Dutch Ketchup chips, I'd say this is conservative in ketchup-ness.
Lemon Cheesecake ($7.99)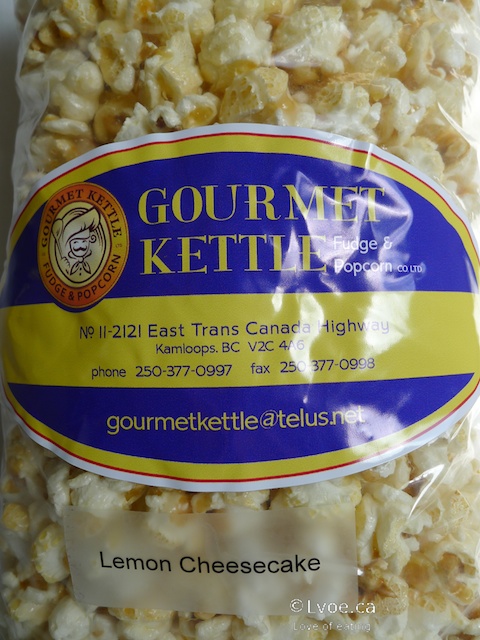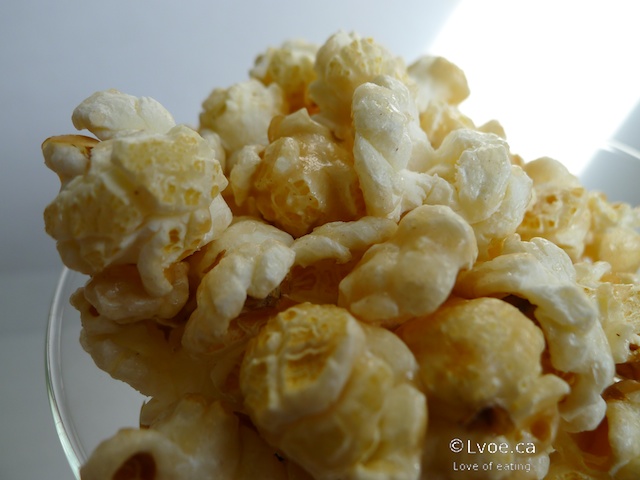 I'm skeptical, but intrigued. Not sure about cheesecake and popcorn. This popcorn selection is just sweet. The flavour is faint, almost undetectable but still fun to eat in my random mix below.
Sweet Vanilla Chai ($7.99)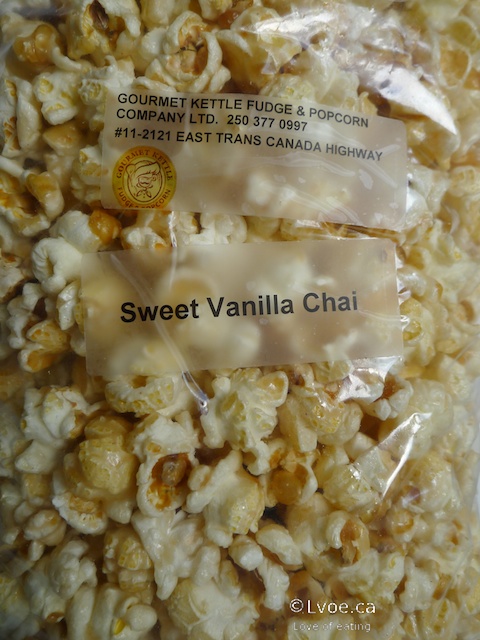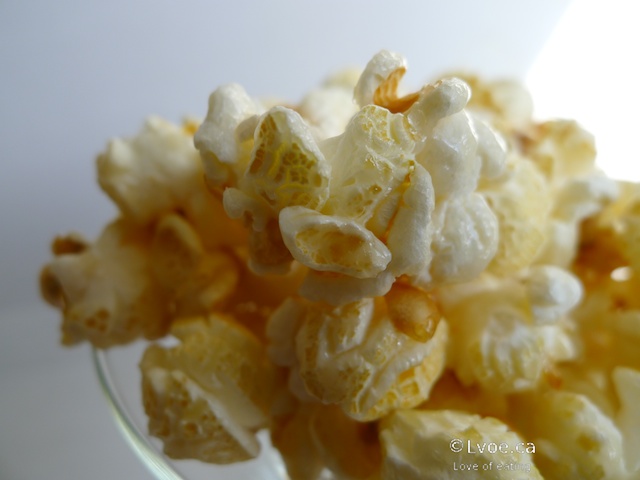 The Sweet Vanilla Chai flavour is more prevalent in this bag. Not overwhelming, but subtle notes of the vanilla tea spices.
The best though is when I mixed ALL the flavours together. Like this: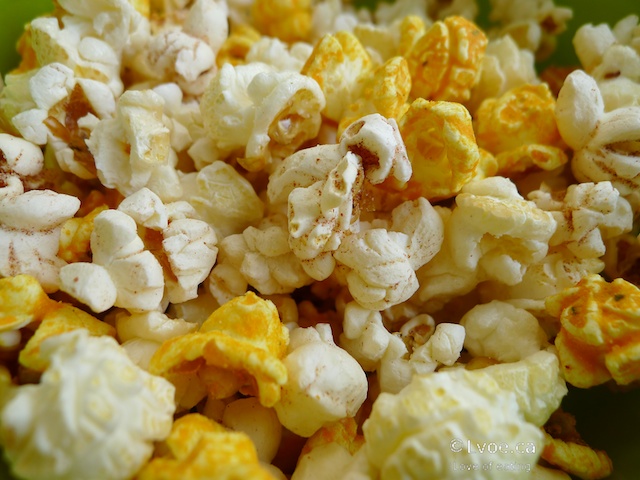 Fudge time!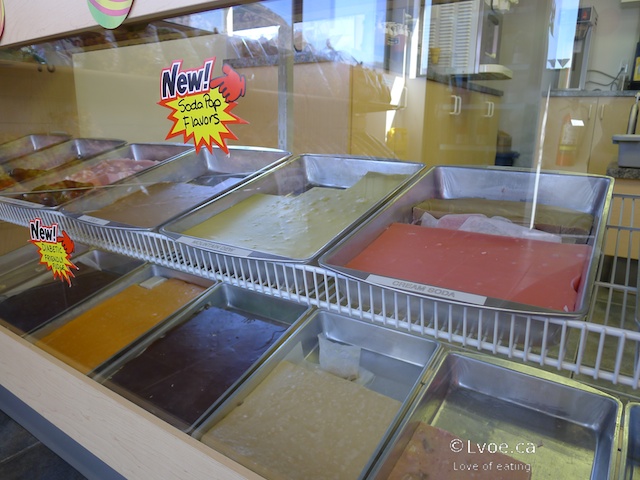 Mint Chocolate Swirl ($3.99)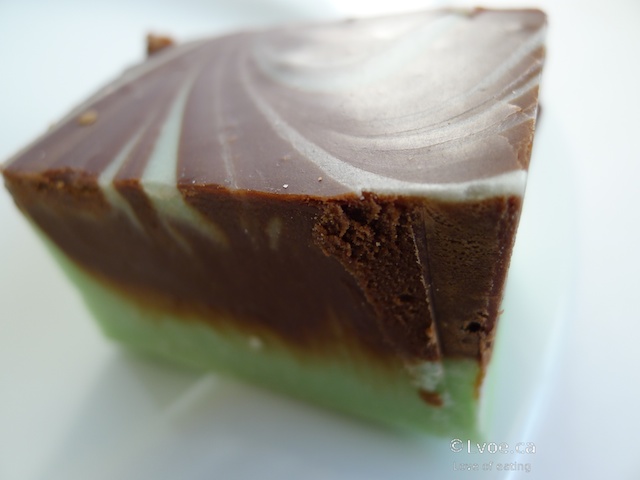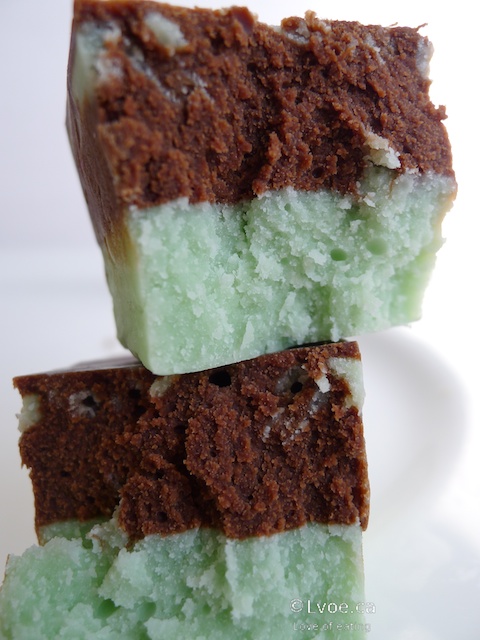 Can't go wrong with mint and chocolate.
Cola ($3.99)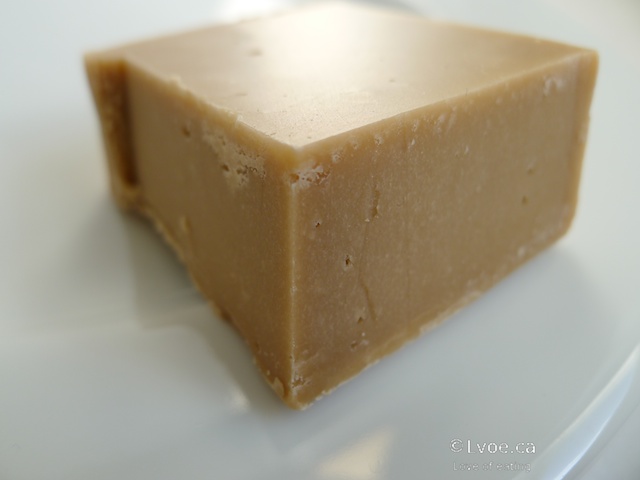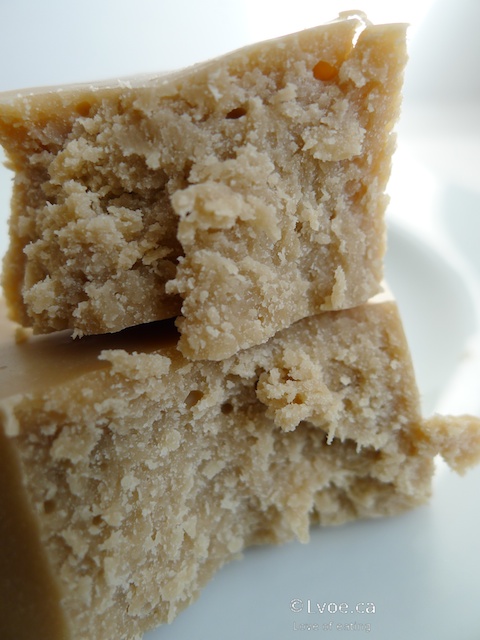 I like this one. Cola fudge taste like what a cola scratch and sniff sticker smells like.
Lemon Raspberry Swirl ($3.99)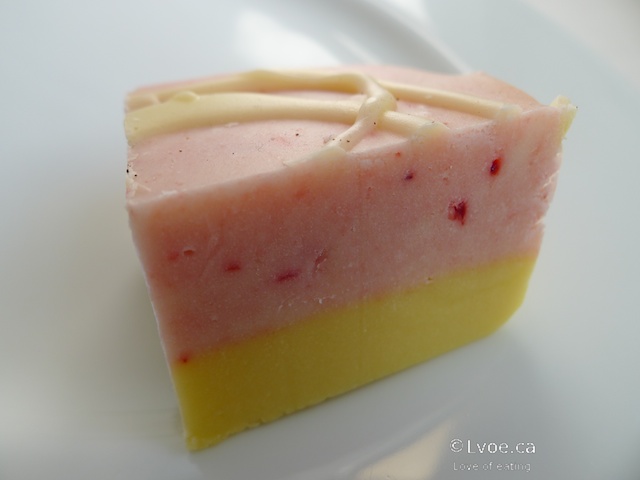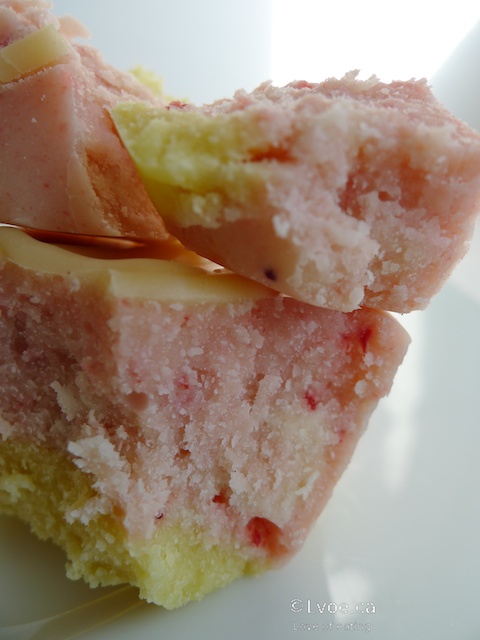 I made up the name for this one based on taste. I should really kick it Smithey Style with a notebook.
Raspberry Cheese Cake ($3.99)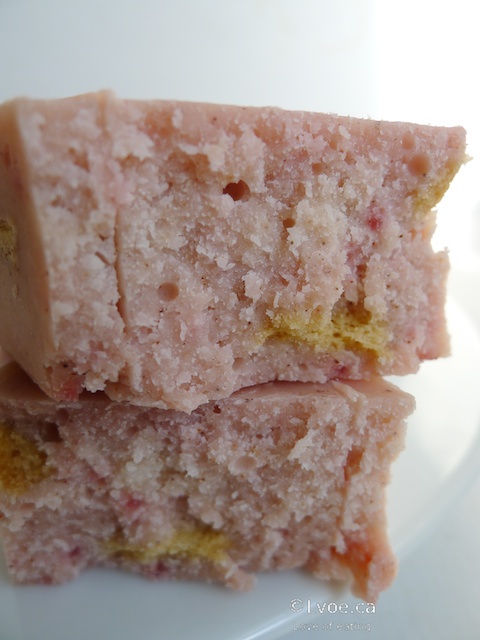 Made up the name for this one too, I can't remember what it said on the tag in the shop. Y'know, it would really benefit the Love of Eating blog if I actually took the time to write things down. At the time though, I always think I can remember.
We both agree that the fudge is doable. Gourmet Kettle does have a lot of flavours and some interesting mixes, but the flavour in the fudge isn't as intense as say, the fudge we had at Fudge Yeah! (Click here for my fudge-y foray at Fudge Yeah!) But then again, most of you know I'm not much of a fudge fan.
I do however want to come back and try their soft serve. They make it with flavoured syrup. When the staff member was explaining it I instantly envisioned it snow cone styles. Watching the family next to me eat their soft serve I know it's nothing like a snow cone. Now that hot weather is upon us, what a perfect time to try their summer treats.
Gourmet Kettle Fudge and Popcorn Facebook Click here
Locations
Gourmet Kettle Fudge and Popcorn
2121 East Trans Canada Highway
Kamloops
,
BC
V2C 4A6
Canada