The River Cafe - Hope, BC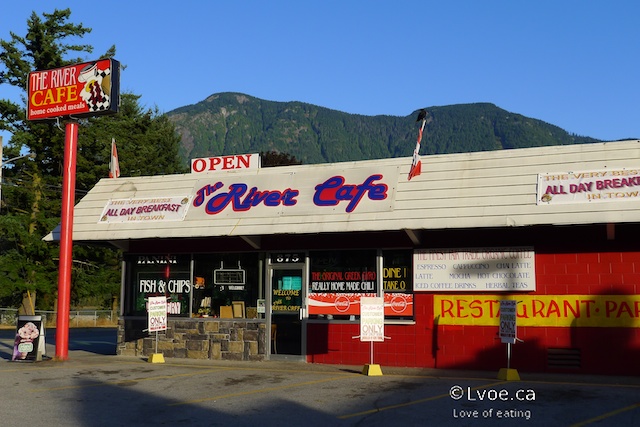 **UPDATE JUNE 2013: The River Café seems to have packed up and gone.**
The River Café is the diner beside the Chevron gas station in Hope. I'm stopping for petrol anyway, so I thought, "why not?"
Have you transplanted your tomato seedlings yet? Remember earlier in the year I ordered seeds from Sunshine Farms in Kelowna? Well, I think the seedlings are robust enough to plant outside now. We've had some crazy wind and rain these past few weeks so I waited until the end of May. I tucked a few sacrificial seedlings into the garden last week and they seem to be doing okay, so I'll be digging the rest of them in this weekend.
The space is bright, eye clean with quite a few tables and wooden chairs.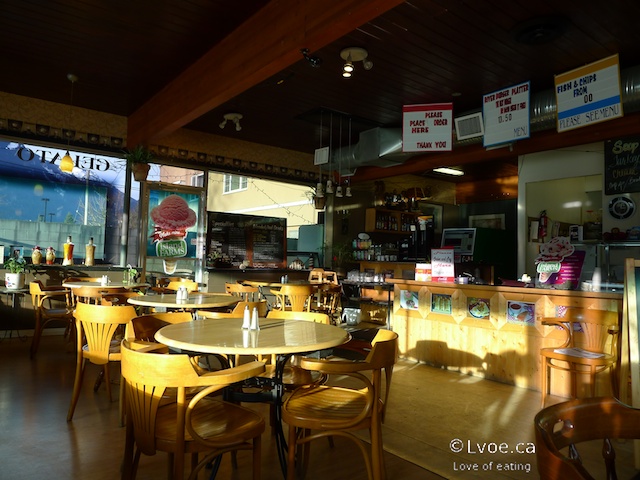 The River Café is a DDE. I looks as though it's been around for some time. The cutlery is well worn. I think the knives must double as Frearson head drives when the dishwasher is on the fritz or something, because look at my knife: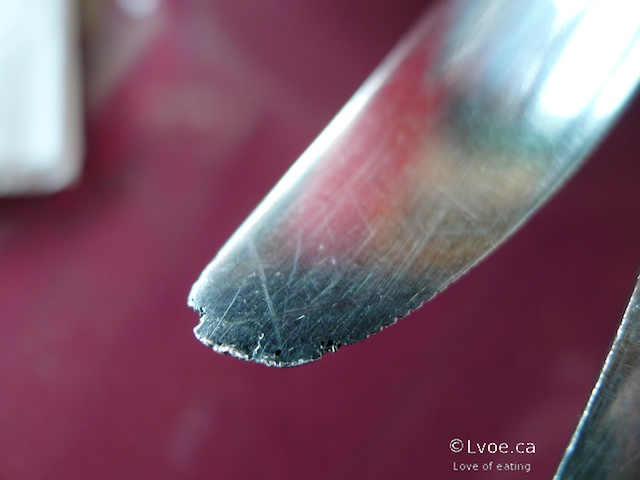 It doesn't bother me much since I won't need a cutting utensil today...I'm ordering a sandwich.
River Burger Platter ($10.50)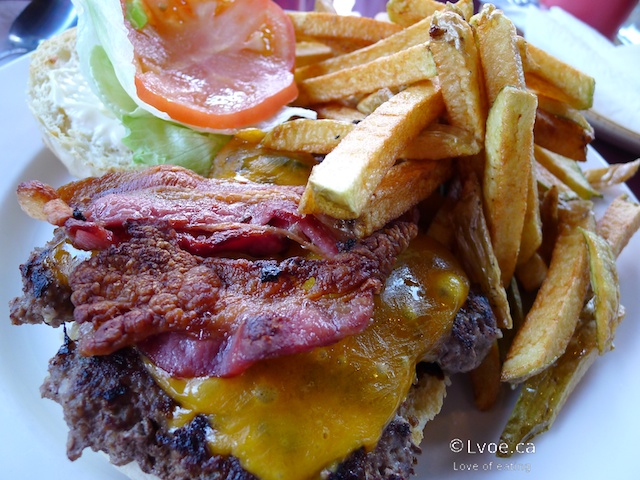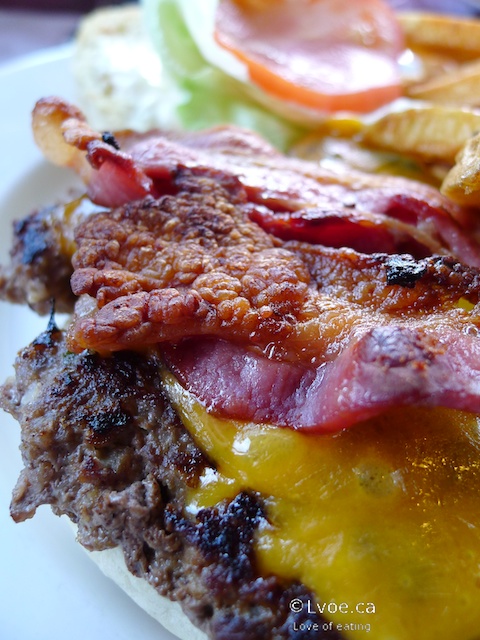 The onion bun is soft, yet holds up well. The bacon is very crisp, almost deep fried crisp, but it still has some chew to it. It looks a bit greasy, but it isn't really. The patty is thick and looks hand formed, but the ground meat is on the dry side. The maple bacon adds some sweetness to the dry burger. The handful of fries is a tad soggy and a little underdone. Overall, this platter is on the bland side. Oh well.
Roast Turkey Sandwich with soup ($9.00)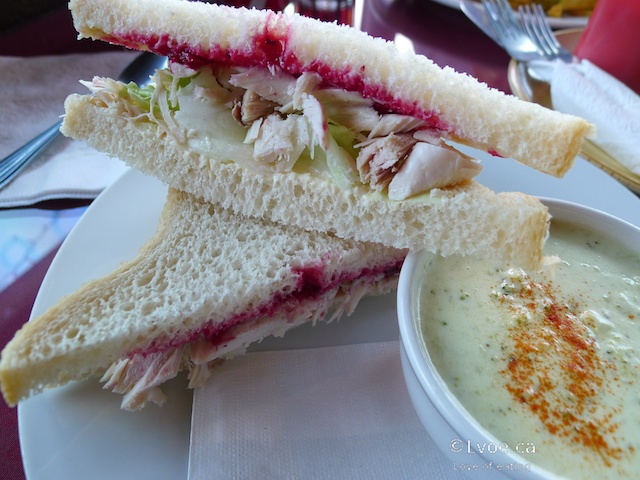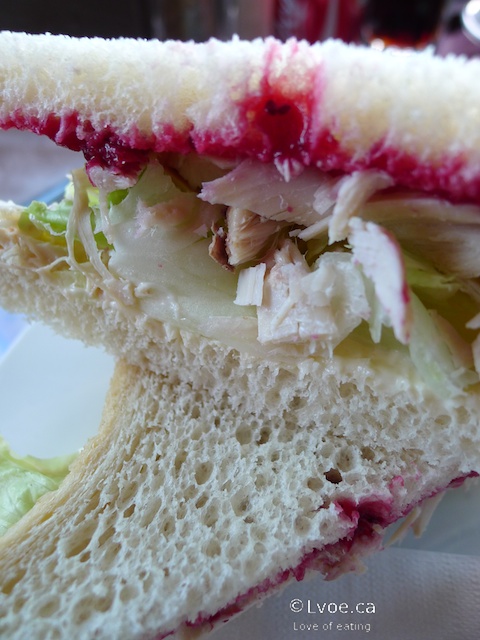 Oh my.
First, I do like that the protein is real roasted turkey, and the breast meat chunks does indeed have that oven baked taste. However, I don't know if you can tell by the photo, but the bread has that stale-dry texture. Despite the cranberry sauce and chunky iceberg lettuce, this sandwich is so dry.
I'm on my way home from a conference in Vancouver, and when I left the meeting, I decide not to stop for food to make better driving time. By the time I decide to make a petrol stop in Hope, I'm pretty much starving. So yes, I powered through this droughty sandwich. Thanks god I chose soup as a side. It really helps add some much needed moisture to this gobble gobble.
Cream of Broccoli Soup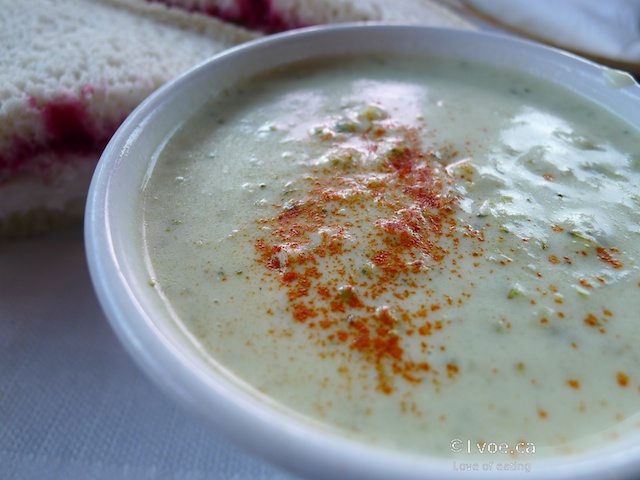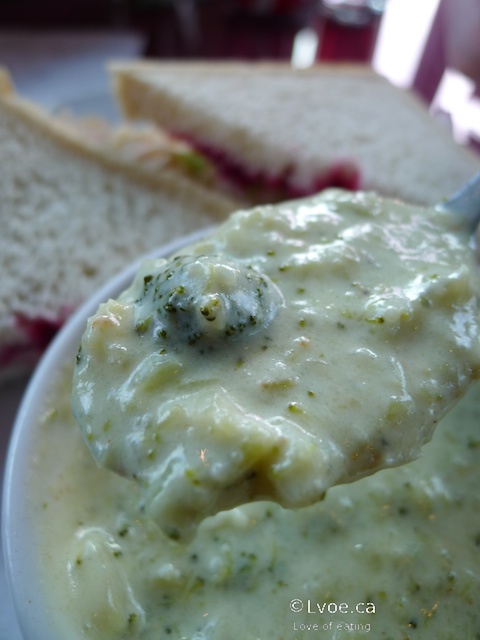 The soup is a bit thick, but it is creamy and has lots of broco flowers.
The service is basic but still welcoming. They must have issues with folks taking advantage of their parking because there is no shortage of signage warning me of the consequences if I use the River Café parking inappropriately. I also notice the staff from the neighbouring Chevron gas station watching us like a hawk until we legitimately enter the diner.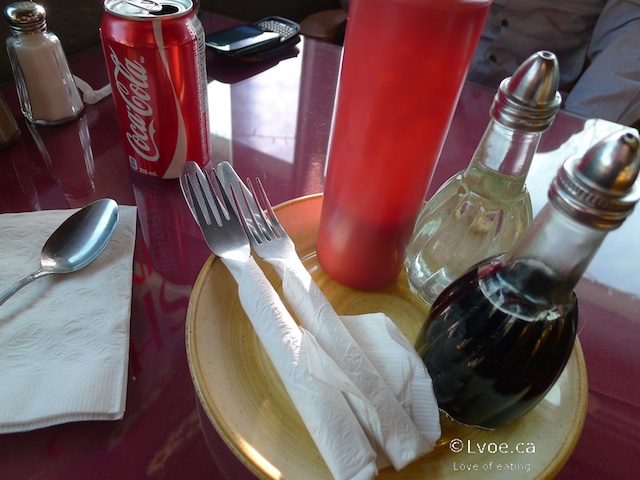 I want to get back on the road as soon as possible, so I have to say no thank you to dessert. I'd like to get home in time to plant out some of my garden seedlings, saving the bulk of this task for this weekend.
The River Café website Click here

Locations
The River Cafe
875 Water Avenue
Hope
,
BC
Canada