Good Knight Inn Diner - Cache Creek, BC

**Some of you have been getting the 403 error lately. Thank you to those that let me know something was awry. The error was only happening from certain locations, so I didn't realize any errors were occurring. Thank you for your patience. I hope www.lvoe.ca is accessible to all now.**
Happy fourth of July to my American friends.
It's hot.
I'm on the road today travelling through Cache Creek. I am in and out of Cache Creek fairly regularly, and I noticed this ice cream sign, pictured below, several weeks ago. (The possessive apostrophe in burgers is making me CRAZY!)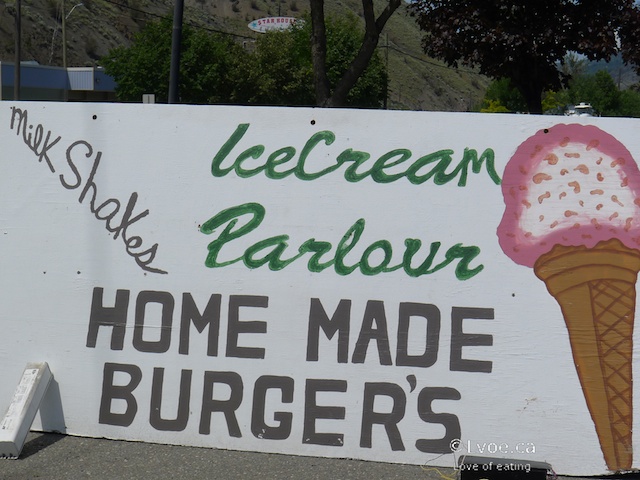 The Good Knight Inn must have an on-premise restaurant of some sort now. I don't know what to call it. Ice cream parlour or diner or restaurant? I'm not sure. But I do know it's a DDE.
The eatery is located in the Good Night Inn Motel which is across the street from the Starhouse Restaurant in Cache Creek.
After I pull into a shady spot I walk towards the motel, suddenly I hear a voice, "Are you looking for ice cream?" A large window slides open and the grey hair proprietor continues, "You can just order here. These are the flavours..." Pointing to a list on the window: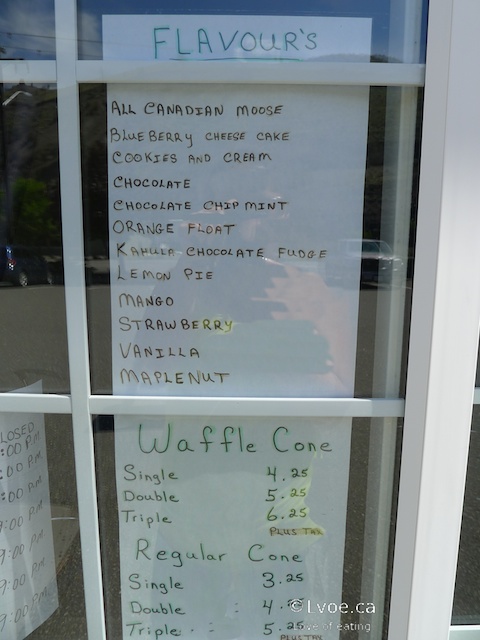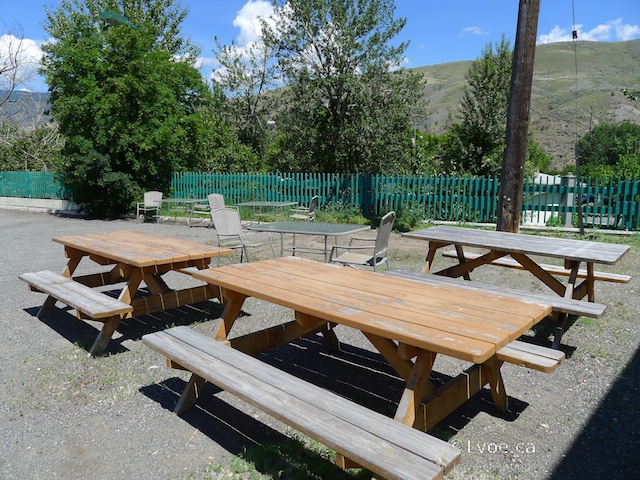 I'm actually here for lunch and specifically one of their home made burgers, but the man informs me the cook is away today. So the only option is ice cream.
Okay, no problem...this is not the first time I've made a meal out of Foothills ice cream.
Lemon Pie Ice Cream ($4.25 single scoop; waffle cone)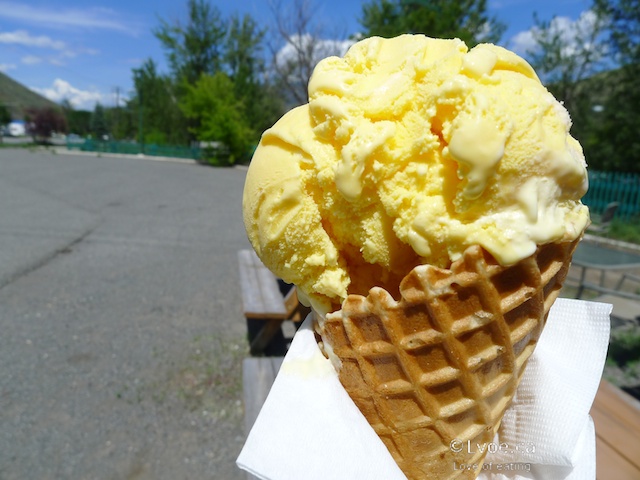 It's more sweet than tart, and not as lemony as I had hoped. It smells lemony, but tastes more like a Creamsicle with pie crust crunchy bits throughout.
Maple Nut Ice Cream ($4.25 single scoop; waffle cone)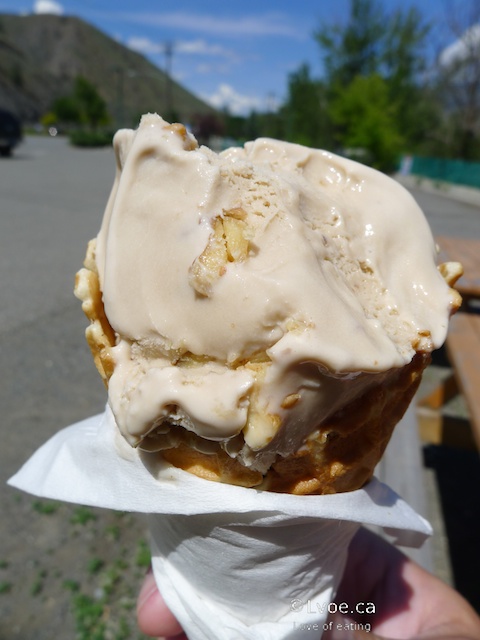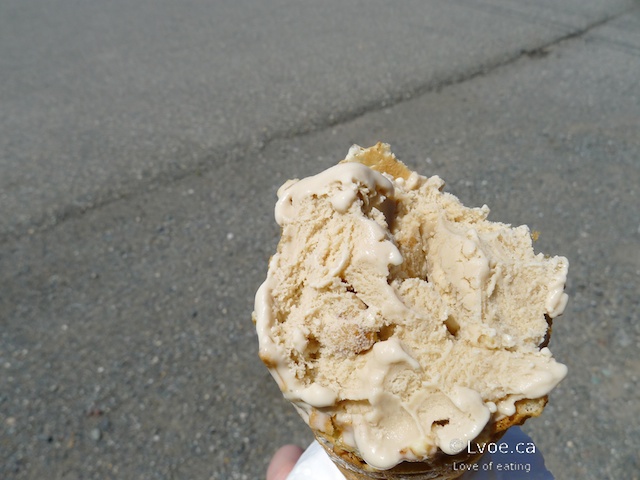 Maple Walnut ice cream is an oldie but a goodie. The single scoop is actually larger than what the photo shows. Somebody went ahead and started eating immediately...
For those of you that like to choose with your eyes, there is no ice cream tub display, and all the scooping and coning action is done back in the kitchen.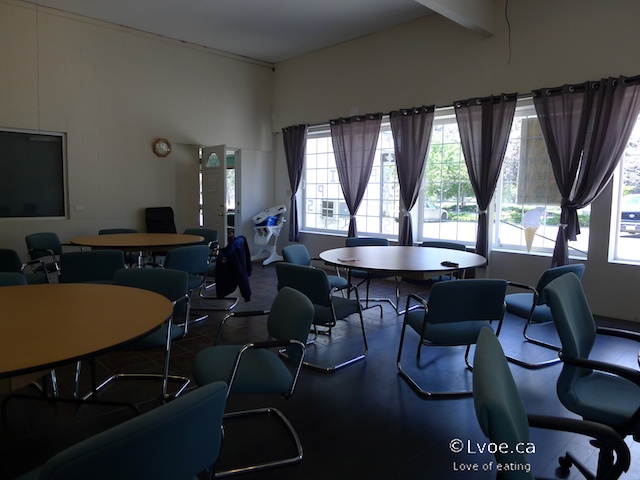 We waited for our waffle cones in, what I think is, the Good Night Inn breakfast area. The furniture is conference-room style with large round tables and late model wide cushy chairs. I'm going to assume they are still in the midst of creating their dining area, because this room is a bit random.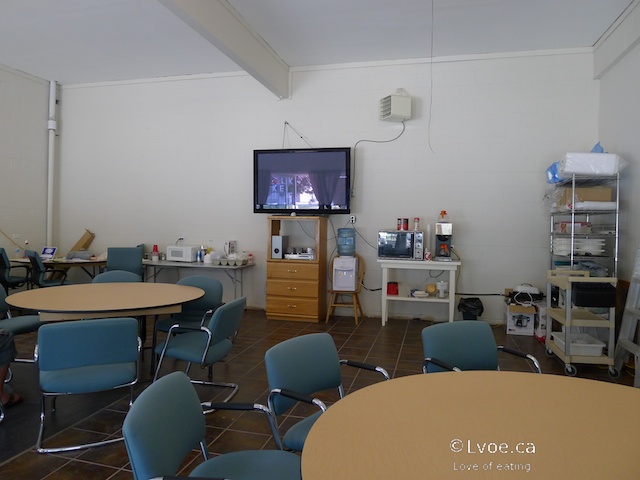 My ice cream lunch today makes for a cool sweet break, but I'll have to rummage around for a real lunch when I arrive home.
Good Night Inn Ice Cream Parlour hours:
Monday: 9:00am – 5:00pm
Tuesday to Sunday: 9:00am – 9:00pm
The Good Knight Inn website click here
Locations
Good Knight Inn
827 Trans Canada Highway East
Cache Creek
,
BC
V0K 1H0
Canada