Jakeob's Ice Cream Parlour - Nanaimo, BC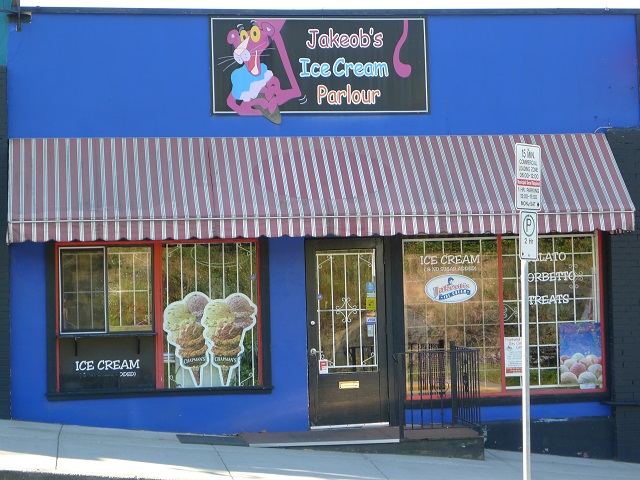 The weather has been pretty agreeable out here in Nanaimo. It's sunny, with a cool breeze. I'm taking a little stroll today to check out my temporary 'hood. I find myself at Jakeob's Ice Cream Parlour.
The Pink Panther on the sign initially caught my eye. I'm not sure how the Pink Panther links with Jakeob's Ice Cream Parlour? I convince myself that I can definitely use a scoop on this sun drenched afternoon.
I'm by myself for a few minutes when I enter. It's dark in here. I scan the ice cream cooler on the left and the four tables topped with red and white checkered cloths. Are they even open?
A lady, that seems busy with something else, emerges from the swinging door to the backroom. Is Jakeob's Ice Cream Parlour attached to a restaurant?? I feel like it is, but I don't know. It looked like she was prepping for tonight's dinner service or something.
Spumoni ($4.50 single scoop)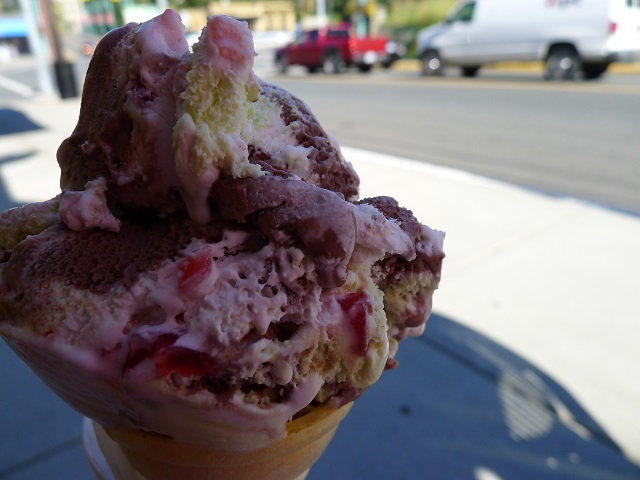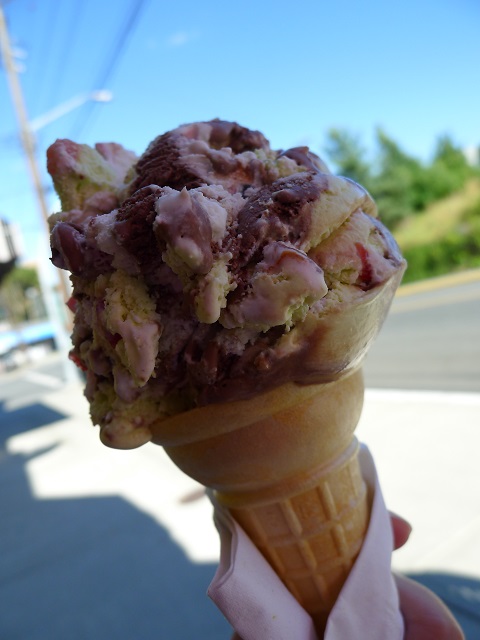 I'm not sure what possessed me to order spumone? It certainly isn't National Spumoni Day today. (That's in the Fall...) Maybe I'm having a subconscious fruitcake craving and those candied cubes of fruit tempted me? I'm surprised there aren't more folks getting ice cream today. What ice cream isn't sweet and satisfying on a warm day?
Something is awry with Jakeob's pricing though. I initially asked for a waffle cone, but apparently they are out of waffle cones today. So regular cone it is. The chalk board denotes a regular single scoop cone is $3.25. But after she serves my single scoop spumoni, she asks for $4.50 (??)
What's up Jakeob?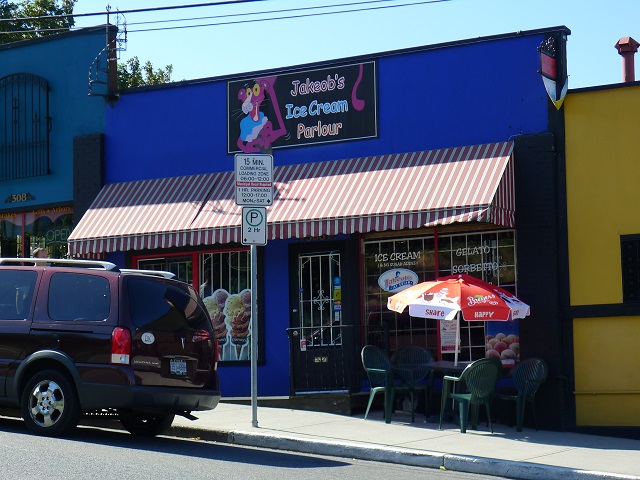 I've already spied that there are several ice cream vendors in Nanaimo's down town core. Perhaps I should save some room each night and explore some of the sweet creamery options this area has to offer.
Locations
Jakeobs Ice Cream
306 Fitzwilliam Street
Nanaimo
,
BC
V9R 3A5
Canada