Extraordinary Organics - Nanaimo, BC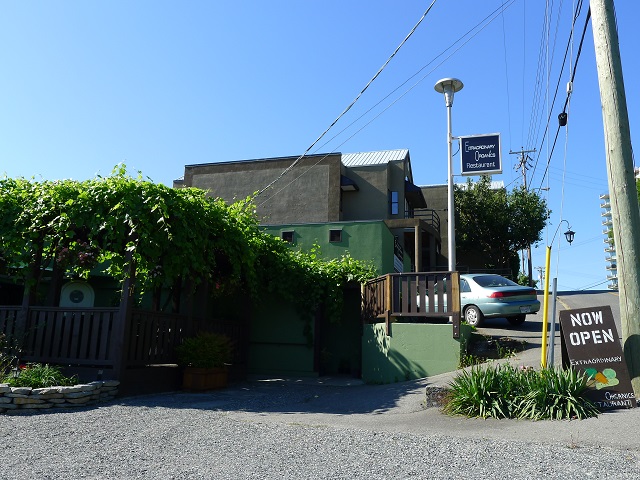 We are having some extraordinary weather in Nanaimo for the past few weeks. This is completely unlike some of my past visits, where the weather has always been grey and rainy. I even packed two rain coats with me for this extended stint in Nanaimo. No need apparently, as the weather has been warm and sunny everyday...so far.
Tonight,I'm here at Extraordinary Organics Restaurant.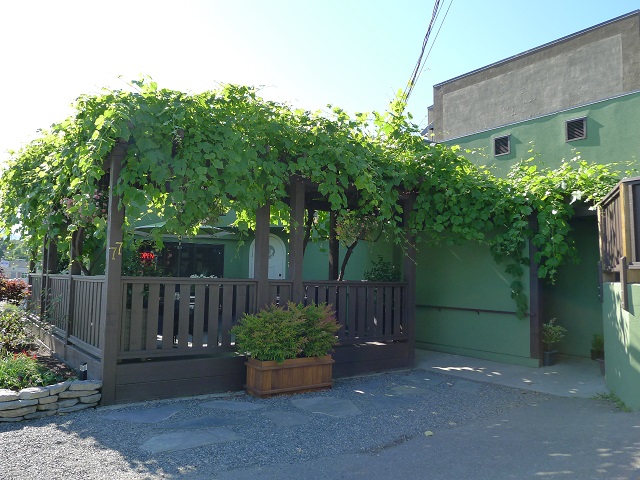 The Extraordinary Organics building is perched on top of the Skinner Street hill a few doors down from that bright blue Tex Mex restaurant. You know the one. Unlike the neon-look-at-me exterior of it's restaurant neighbour, the well camouflaged Extraordinary Organics is possible to miss if you're not looking for it. (Hey Nanaimo, as a side note, when and why did y'all block off Skinner Street near the old Bay Theatre?)
Mojito ($6.75)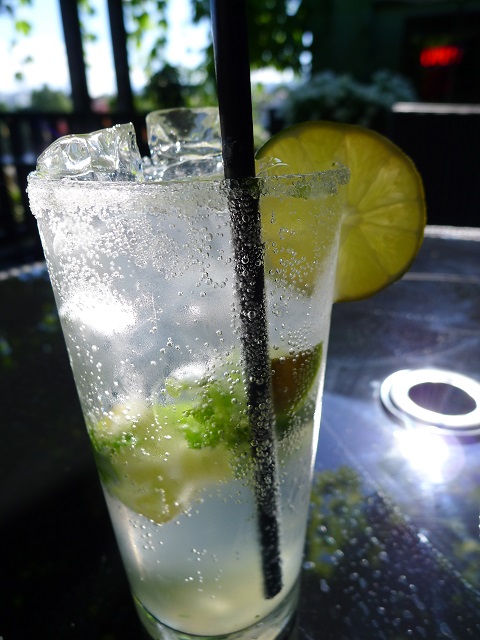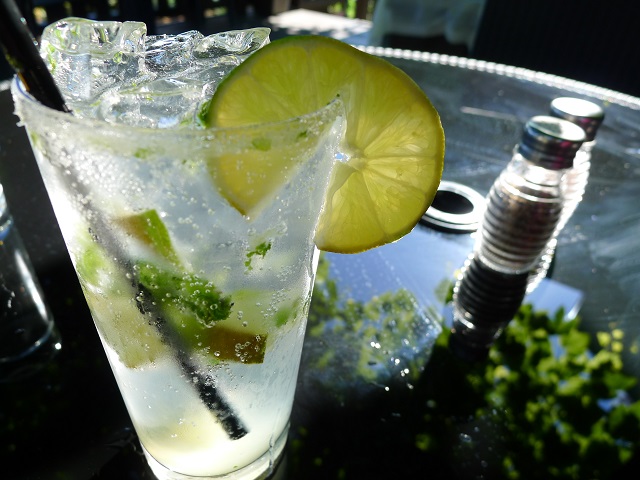 I cool off with a mojito as I peruse the menu.
Pumpkin soup ($6.95 cup)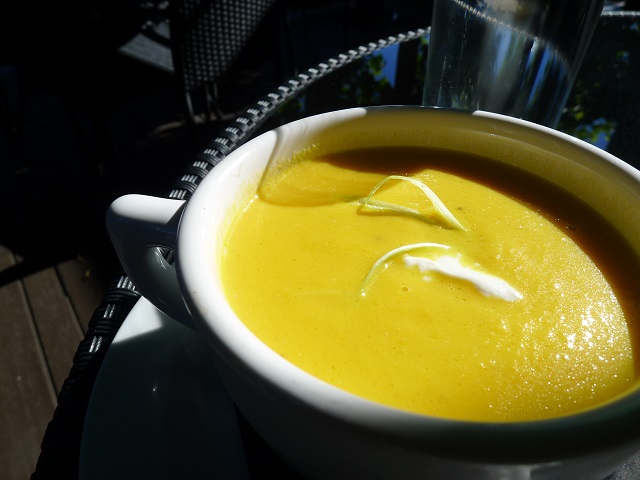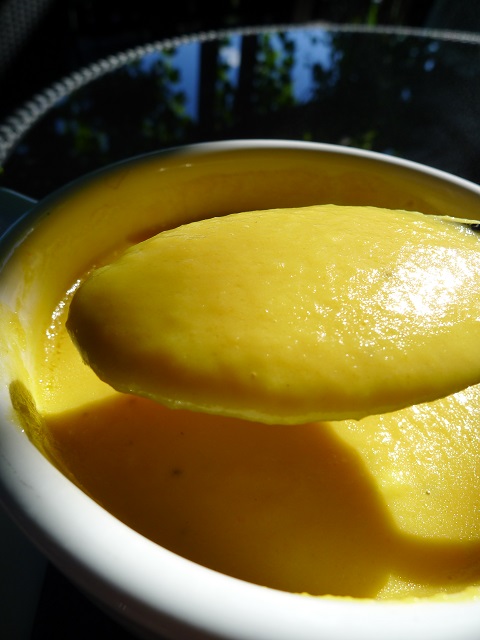 I decide to begin with pumpkin soup. Super gingery and smokin' hot in temperature. I'm one of those folks that doesn't mind eating hot things in warm weather. The amount of pumpkin soup is ample, as the "cup" is actually comparable to the size of a bowl.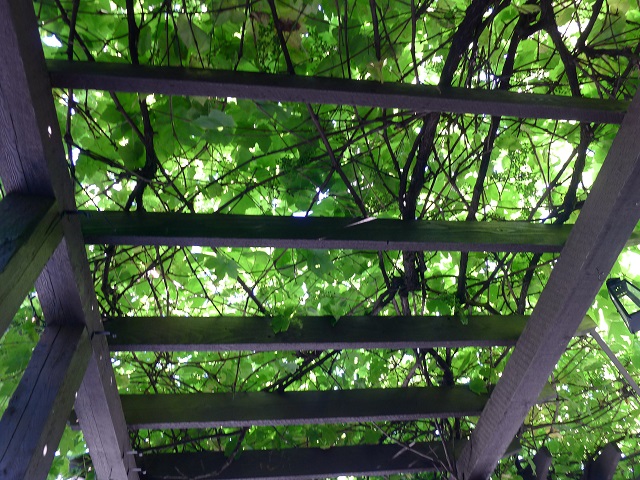 There lives a very mature grape vine at Extraordinary Organics that shades the patio beautifully, creating a natural parasol over the their outdoor dining space. I planted another grape vine this spring. Fingers crossed that it will survive. My first one, from two springs ago didn't make it through the first winter.
I order a selection from their burger choices because the entrees on the menu have similar flavours to what I would regularly cook at home. Plus, I never make chicken burgers at home.
Tandoori Chicken Burger ($16.95)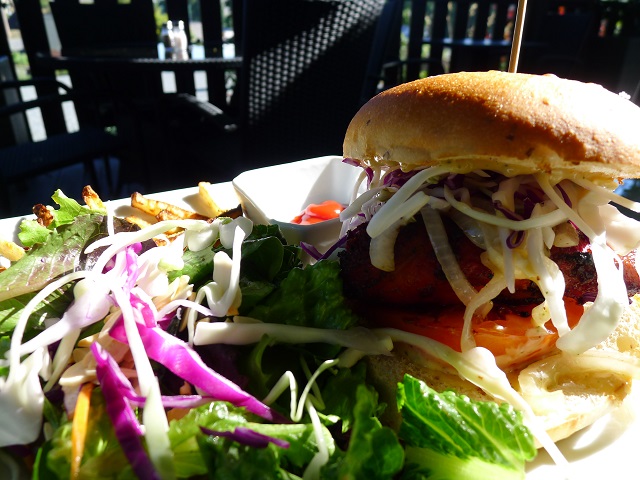 The aroma of this chicken burger is wonderful when it hits my table. Timing-wise, my entrée came out well before I have a chance to put a dent in my soup. For tonight, this works out fine as it lets me weave soup slurps into my meal between burger bites.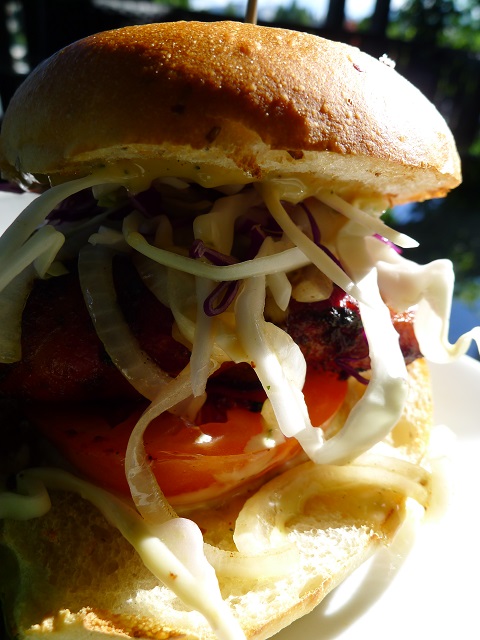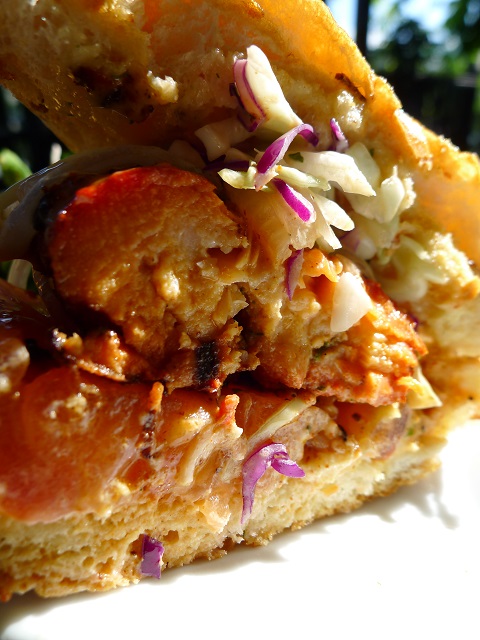 The grilled poultry is moist, tender and well seasoned throughout. The bun holds a chicken breast grilled with spices similar to tandoor-style chicken. (Hence the name, duh.) Even my bites of the burger without the chicken have the taste and aroma of tandoori chicken.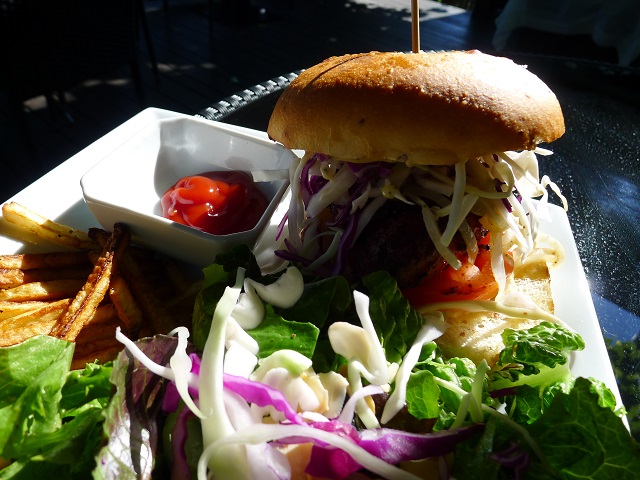 The oven fries are thin and rustic cut. Extraordinary Organics chooses not to use deep fryers, so the fries are oven-baked. I appreciate the smaller portion of fries, since there is a side salad too. It's nice to have a spudsy taste without weighing you down with a lot of potato. And y'know how I like me potatoes!
The lightly dressed salad is fresh with a variety of baby greens and sprinkled with slivered nuts.
The pink Himalayan salt in the table shakers is the same salt used in their cooking too. It's also the same kind of salt I do my nasal flushes with, but this extra tidbit of info is neither here nor there.(I really do try to control random thoughts, but they tend to leak out through my finger tips and onto the keyboard...)
Pumpkin Crème Brûlée ($8.95)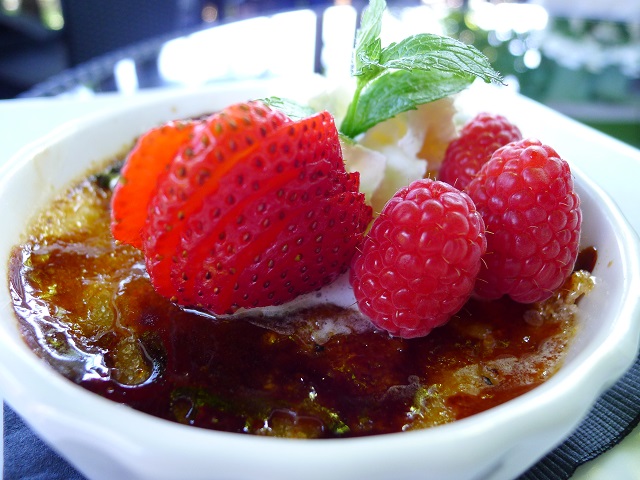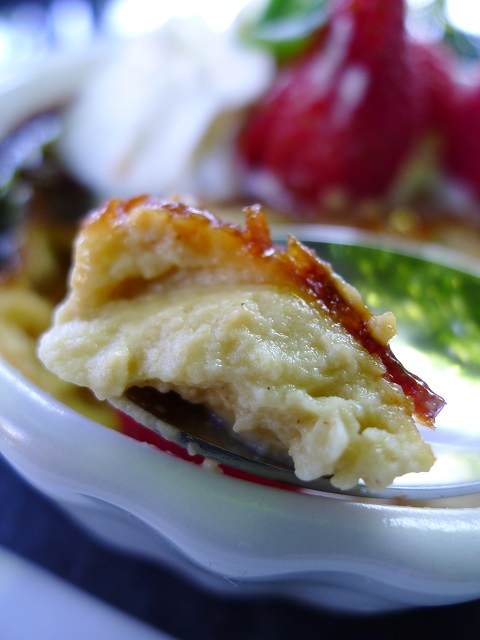 I began with pumpkin so I thought, why not end with pumpkin too? The ramekin size is generous enough to be shared. Now, I'm not one to throw shade on crème brûlée, (because I love crème brûlée!) but the burnt sugar is uneven and thick. Very thick and very uneven.
Is this a thing now that I'm not aware of??
If I recall correctly my last crème brûlée also had heavy duty jack-hammer brûlée. This thick sugar somewhat overshadows the pumpkinny-ness crème part of the dessert. What happened to an evenly torched, delicate crackle component on crème brulee? Extraordinary Oganics tops their dessert with whipping cream, strawberries and raspberries. The fruit gives me a welcome break of tang between the sweetness of the candied sugar shards.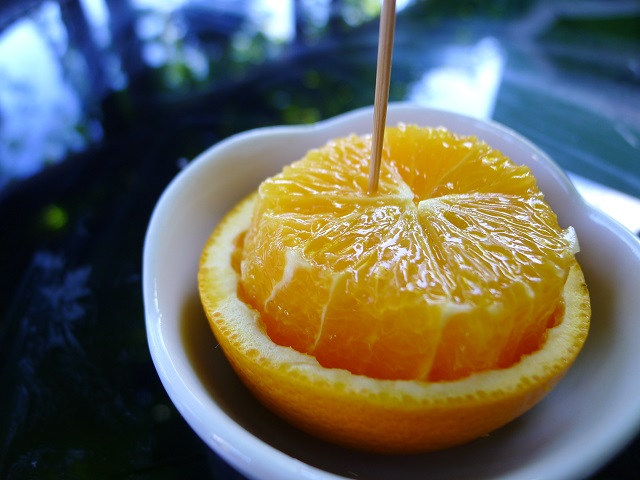 Organic oranges as a refresher at the end. Fresh fruit is a typical ending at most Asian restaurants. Seems pretty standard right? But the attention to detail that Extraordinary Organics gets here is that the fruit is properly chilled. This makes a huge difference in the refreshing department.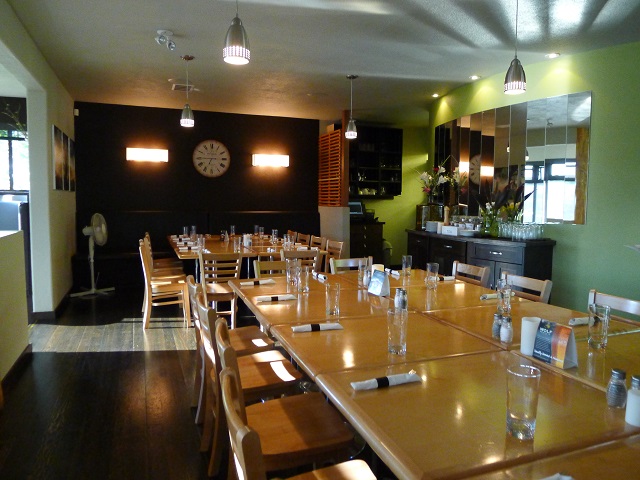 Service is young, prompt and very eager. I receive multiple quality checks throughout my meal and the tables around me did as well. Each table on the patio tonight has a different server and, from my observations, the service is consistently attentive.
As the name says, Extraordinary Organics' food is all organic. The server at the next table informs that with exception for the rice wrappers everything is certified organic and, when possible, local as well. Also, everything is made to order without the use of microwaves or deep fryers. Way to go Extraordinary O!
Extraordinary Organics website click here
Extraordinary Organics Facebook click here
Locations
Extraordinary Organics Restaurant
77 Skinner Street
(Corner of Skinner and Benson Street)
Nanaimo
,
BC
V9R5E8
Canada