Hello Sushi - Nanaimo, BC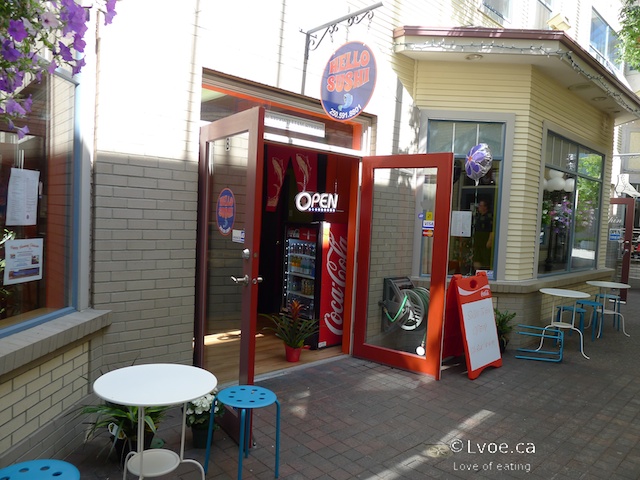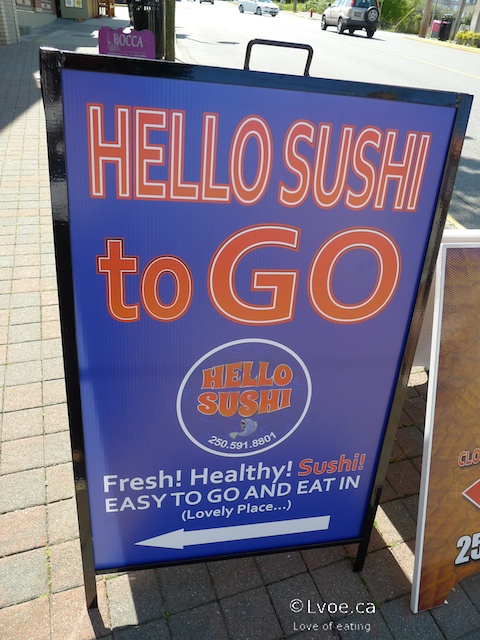 Oh my goodness. I am so behind in my work. I have an assignment due in a few days. I hope I make the deadline. This is making me a little sweaty and stressed.
But I gotta eat right? So I take a break and go for something quick.
Why hello there, sushi...
Hello Sushi is another new eating option in Nanaimo. The rolls-to-go focused shop is nestled in the Old City Quarter just inside Fitzwilliam Gate, about two shops down from the Bocca Café (Click here for my Bocca Café visit.)
Hello Sushi specializes in basic take-away sushi with a smattering of Korean flair. If you care for a fast grab n' go snack, they offer some of the more popular pre-made rolls from their cooler display case. You can also get made-to-order items, and eat them in their lime green dining area.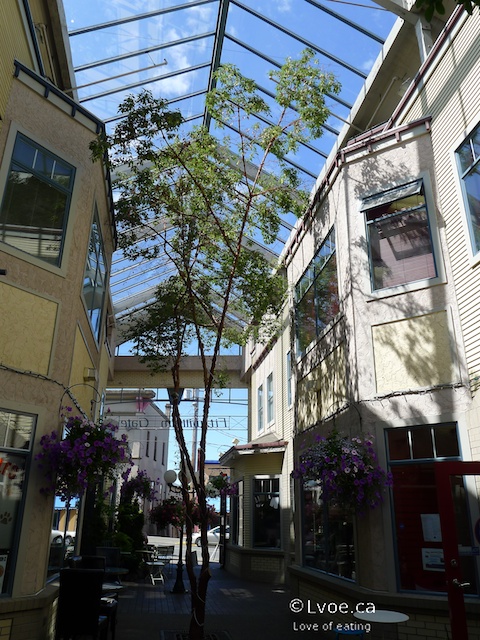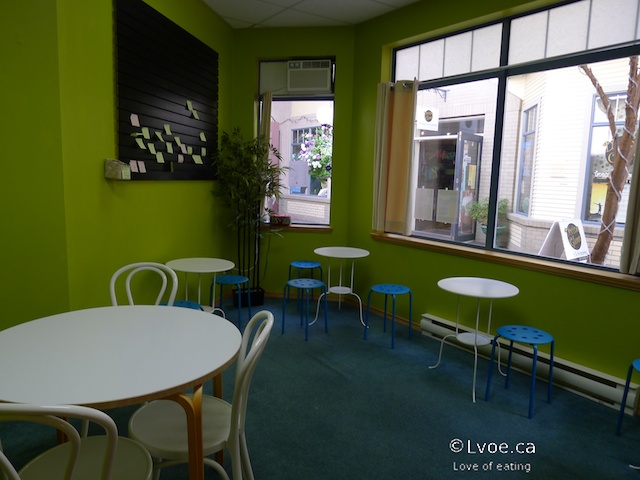 I've never been a fan of grab n' go sushi that's been sitting in a cooler, so I opt for some made-to-order rolls for dining inside their petite eating area.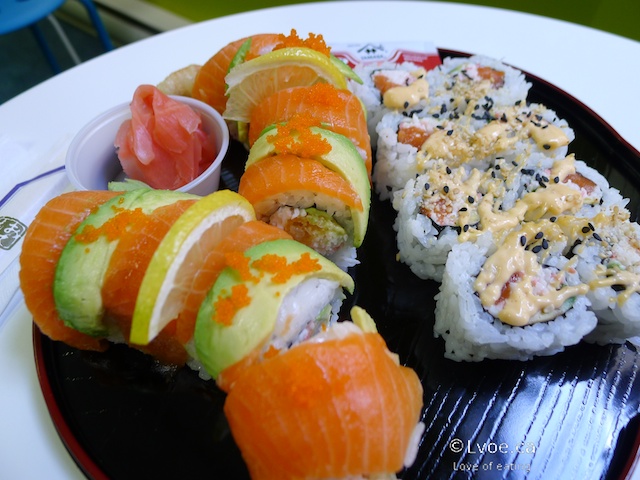 Today, I'm trying to keep my meal simple and light, as I want to head back to work on my assignment as soon as I can.
Hello Special Roll ($8.99)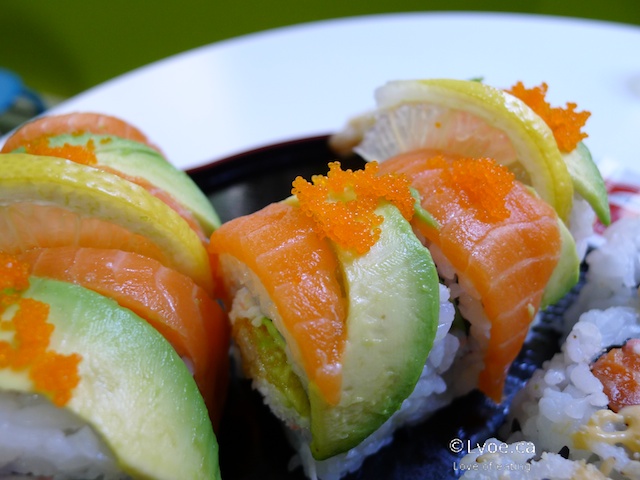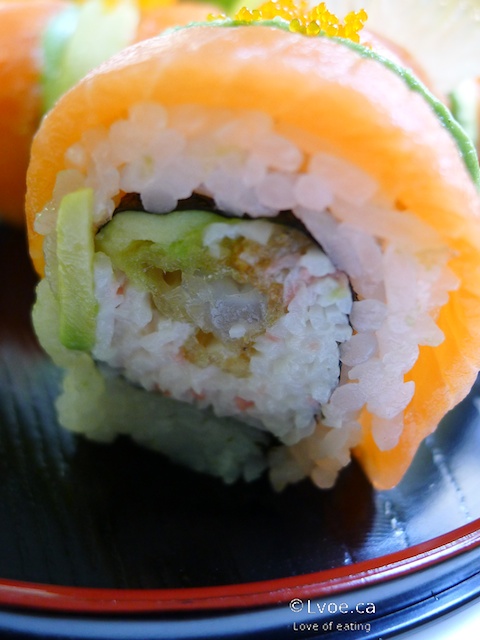 Initially, I order the Sashimi Bibim Bap, but I am told this is not available. They didn't mention why it is unavailable today, but the result is: no sashimi bibim bap for me. My second choice is the Hello Special Roll. The Hello roll has tempura prawn and imitation crab rolled inside; then avocado, spring salmon and tobiko on the outside. So basically the Hello Special roll is a dynamite roll cloaked with avocado salmon, and tobiko.
Salmon Roll ($3.99)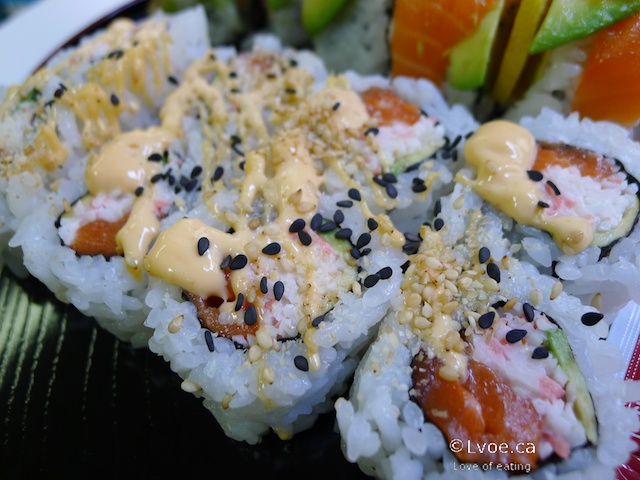 I suspect this particular roll, is premade and pulled from a cooler; then sliced and plated at the time of order. 'Cause it's cold. I notice the zippy sauce on top is room temperature, but the entire roll of rice, sockeye, avocado, and crab, is teeth jarringly cold. This salmon roll has such a stark temperature contrast to the Hello Special roll above. I tried to eat pieces of the cold roll by rotating it in between bites of the Hello Special roll and sips of my warm miso soup.
Miso soup


The young man that took my order offers some complementary miso soup, while I wait for my maki order.
Hello Sushi's counter service is friendly and typical of a takeout sushi joint. The shop seems like it is family run, with a husband-wife team running the kitchen and their young-adult son manning the front counter. But this is just a guess; those three people in Hello Sushi today may not have any affiliation with one another other than they work at the same sushi shack.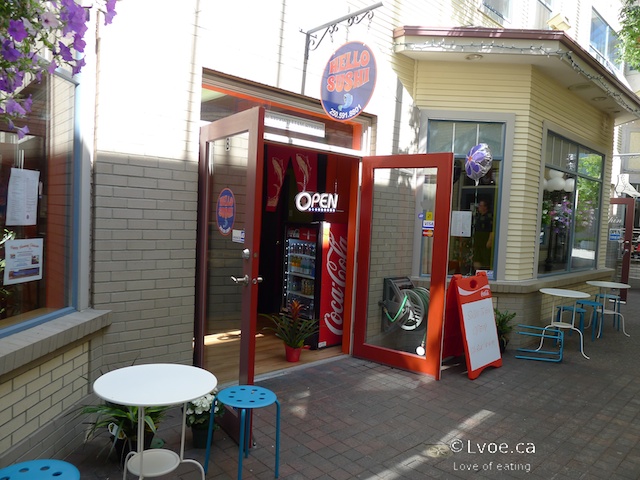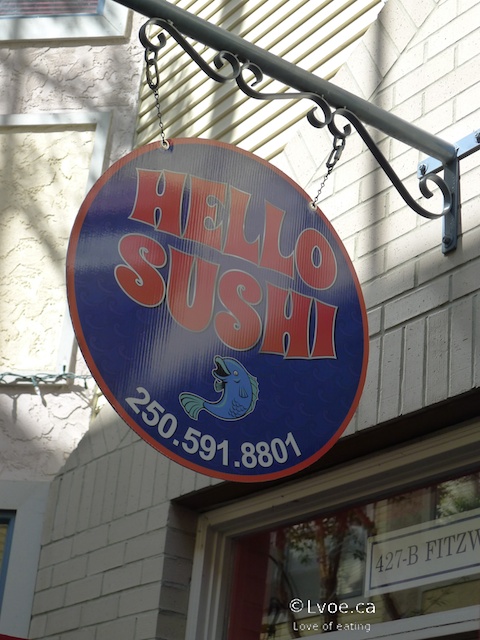 The pre-made maki selection in the open cooler is small but I think varies from day to day. If you are tight on time and only have a few minutes to grab a roll and go, then Hello Sushi might be the answer. I am tight on time, but due to my procrastinating nature I sat my butt down and killed additional precious time that should have been dedicated to my assignment that is expected to be at a certain stage in a couple of days.
There are so many distractions that lure me away from what I'm supposed to be doing. I hope I can finish my project in the expected time frame. We shall see. I'll have to tell you about my distractions in a later post. Some of them are so ridiculous.
...I bet you folks are not at all surprised about this, right?
Locations
Hello Sushi Take Out
427 - B Fitzwilliam Street
(Old City Quarter - Fitzwilliam Gate)
Nanaimo
,
BC
V9R 3A9
Canada