Desert Hills Ranch Farm Market - Ashcroft, BC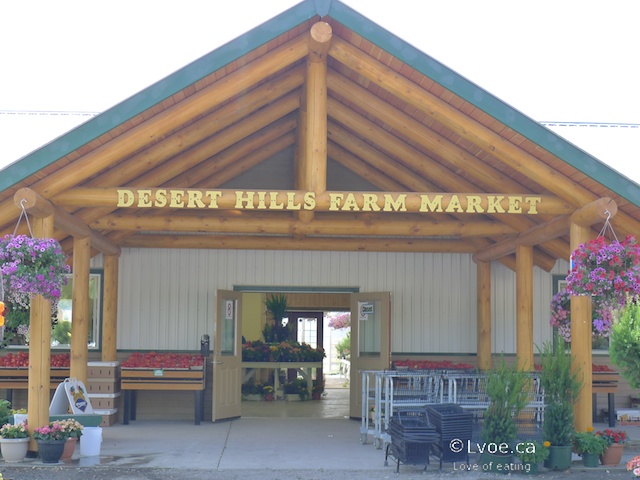 I interrupt my adventures in Nanaimo to bring you a quick trip that's closer to home. Some of you have been emailing me about Desert Hills Ranch and their yellow watermelons. Well my friends, they are now at The Wagon! Desert Hills produce wagon is one of my favourite stops during the summer and early fall.
(For my past visits to Desert Hill's produce wagon click here and here.)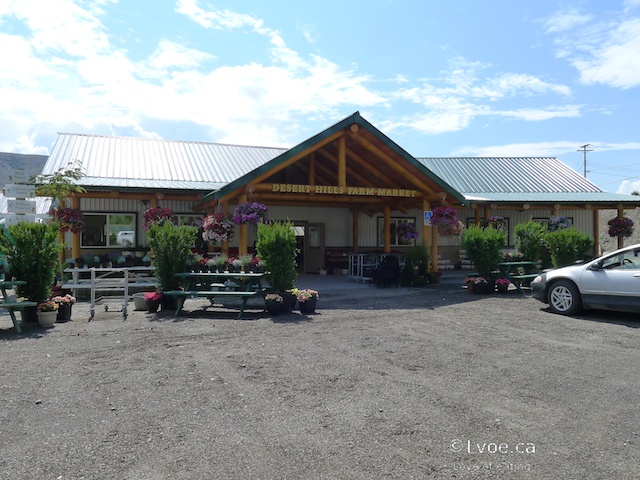 What's this? My produce wagon has upgraded into a full blown...building??
Yes, Desert Hills has grown their little wagon into a proper storefront that is attached to the original greenhouse area. So, do I have to refer to it as the Desert Hills Ranch Farm Market now, instead of The Wagon?
Ice cream cones and coffee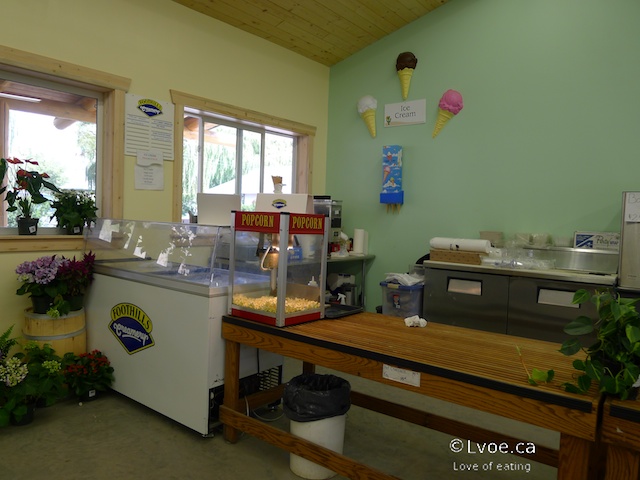 This corner wasn't here during the Wagon days: Snacks!
The market offers a snack area if you're feeling peckish. (Thumping melons can leave one famished.) You can get a coffee, bag of popcorn or a scoop or two of Foothills ice cream while you meander around the grounds.
Greenhouse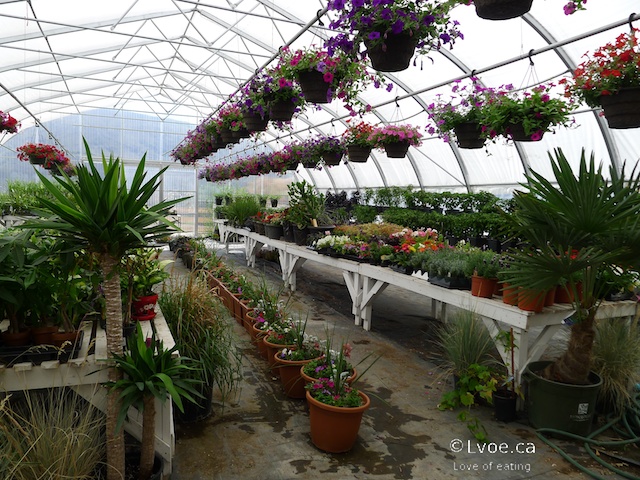 I meant to tell y'all about the Desert Hills greenhouse earlier this year, but I procrastinated that away. This past spring I bought an unbelievable amount of plants for super-cheap at Desert Hills.
I know this gardening info is not helpful at all, since it is almost the end of August. But if you're in the Ashcroft area next spring consider coming down to Desert Hills nursery, because back in May I thrift shopped strawberry seedlings for 40 cents each, geraniums for 50 cents, hanging baskets for $5, a flat of marigolds for $6 or was that a flat of petunias? I can't recall. I'm not a flower-garden type of person, but at those prices I thought, "Well heck, lemme give it a go."
Please behold the bounty that is Desert Hills Ranch Farm Market...
Tomatoes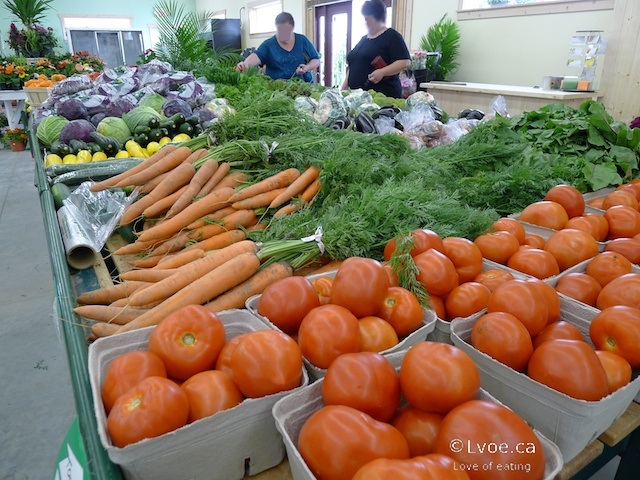 Last weekend Desert Hills had 25lb cases of tomatoes for $10 a case. Ten bucks! As of yesterday they are now $15 per 25lb box or 60 cents per lb. Still a deal, no?
Peaches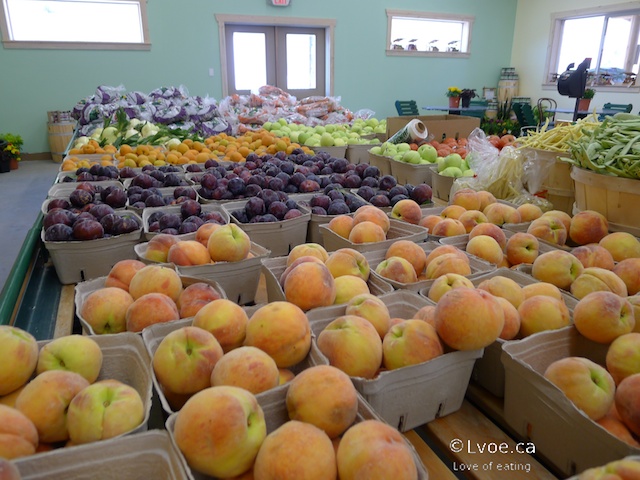 A case of peaches (similar box size as the tomatoes) is $20. I don't buy peaches in that quantity. Ever. So I don't know if I should get excited about that price. But if you need a whack of peaches for the city's biggest cobbler or something, there you go.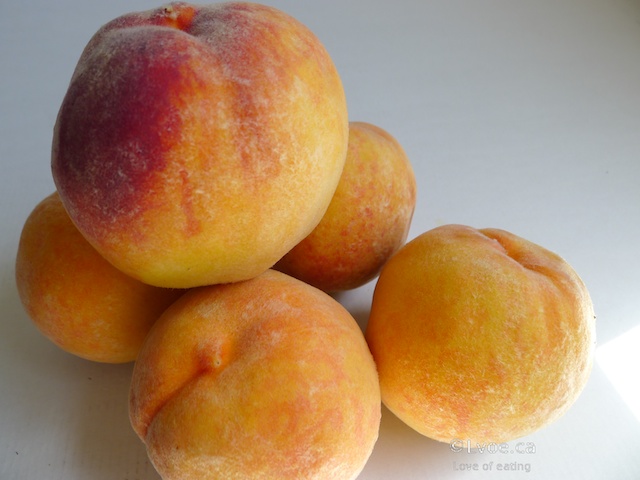 I picked up about half dozen fuzzy orbs. These ones turned out to be clingstone.
Transparent Apples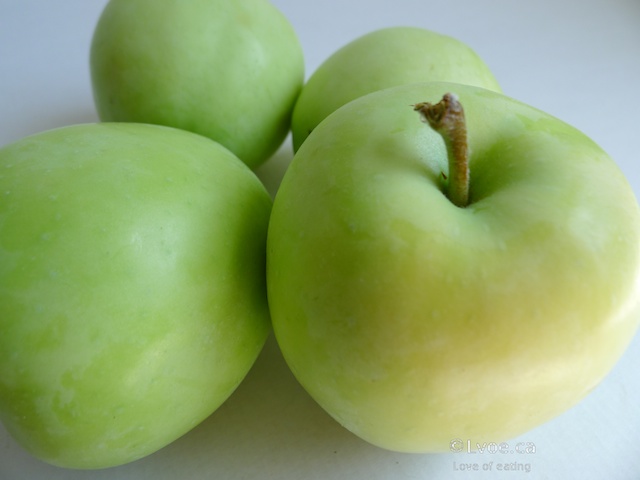 I never see transparent apples in regular grocery stores. These apples are from earlier in the season. I know transparent apples are popular for cooking, but a few of these come home with us for eating. If you like things tart, these are tart!
Bell Peppers, mushrooms and miscellaneous greens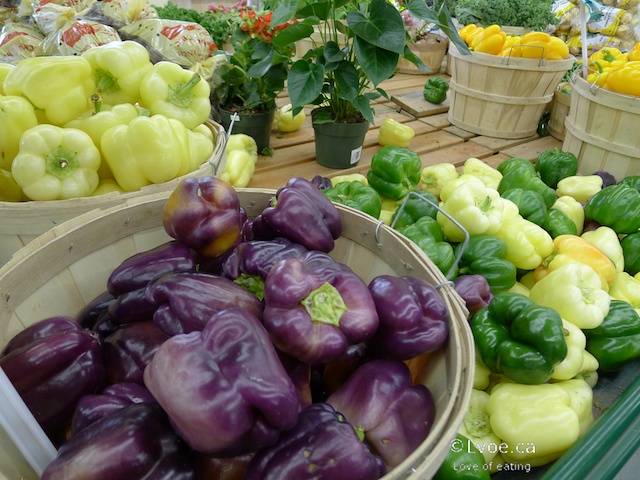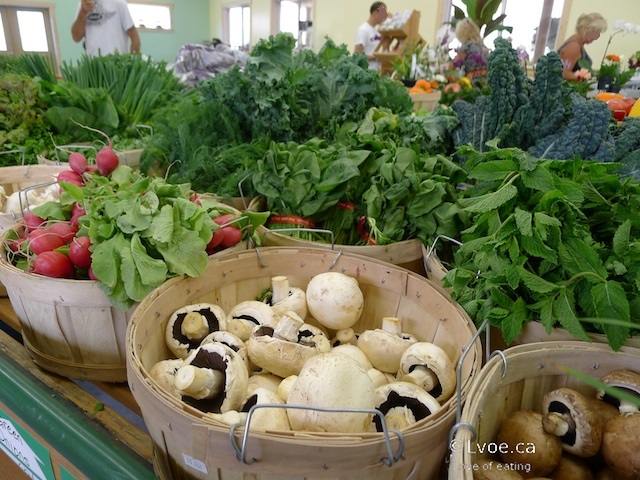 Berries!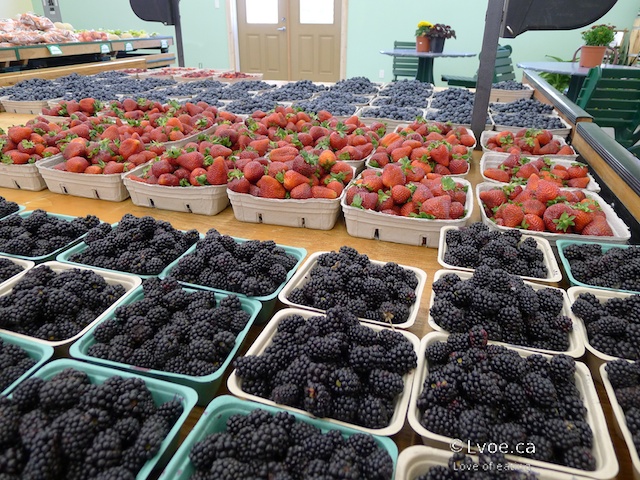 Blueberries ($2.00 per pound)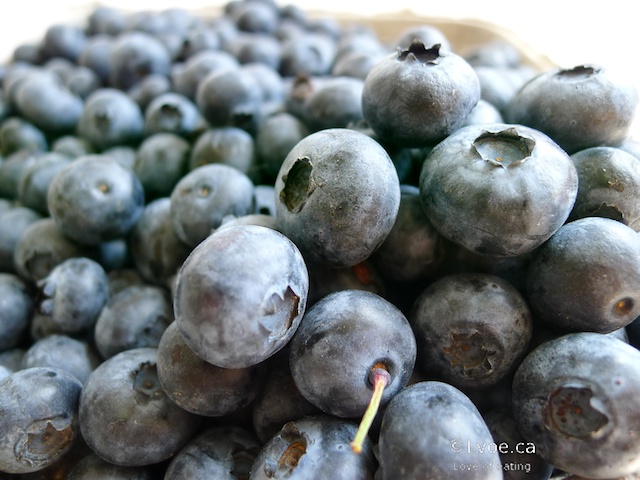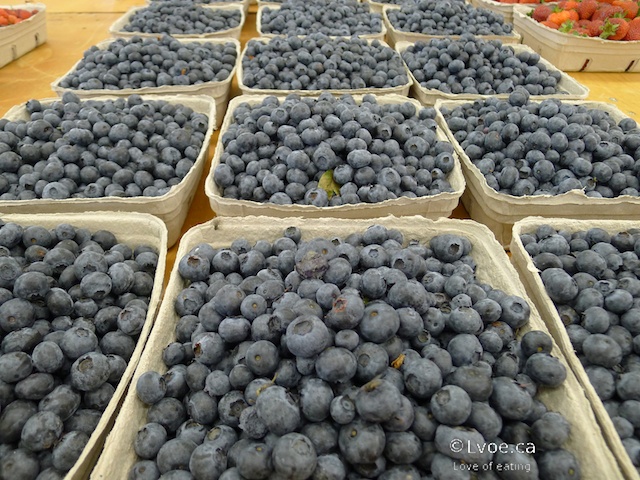 I snagged the above during the peak of blueberry season. I love Desert Hills Ranch blueberries. They are so plump and sweet.
Strawberries ($2.99 per pound)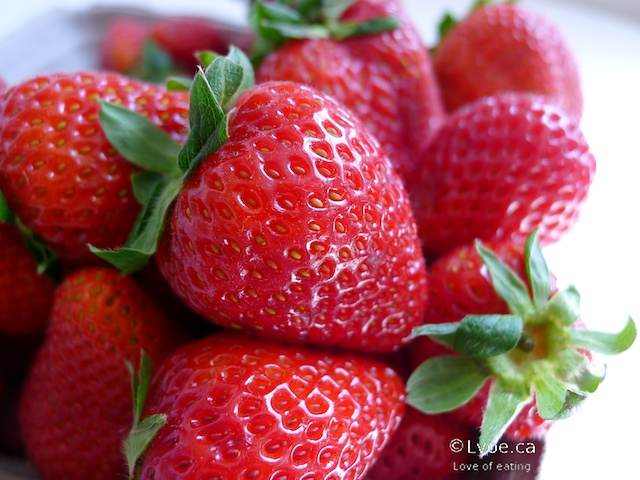 My little strawberry patch at home is coming along, the berries in my patch come from plants that came from Desert Hills nursery last year. It sure is easy to bring home a pound or two from the farm market though.
Blackberries (3.49 per pound)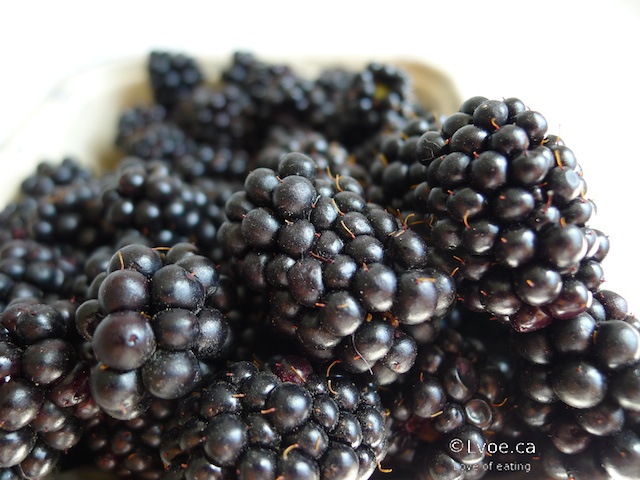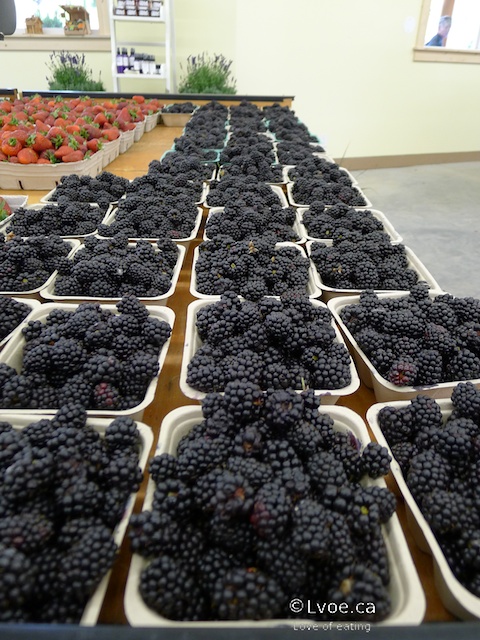 If you like to pick your own berries, there are U-Pick raspberries right now at Desert Hills. My berries above are from earlier in the berry season. There are still some blueberries, strawberries and blackberries left at the market, but selection is smaller than during the peak. See? You have to get your butt out there during berry time or you will miss out.
Speaking of not missing out... the whole purpose of this post is so that you don't miss out on Desert Hills yellow watermelons. I missed out a few years ago and that was no fun.
Mini Yellow Watermelon (40 cents per pound)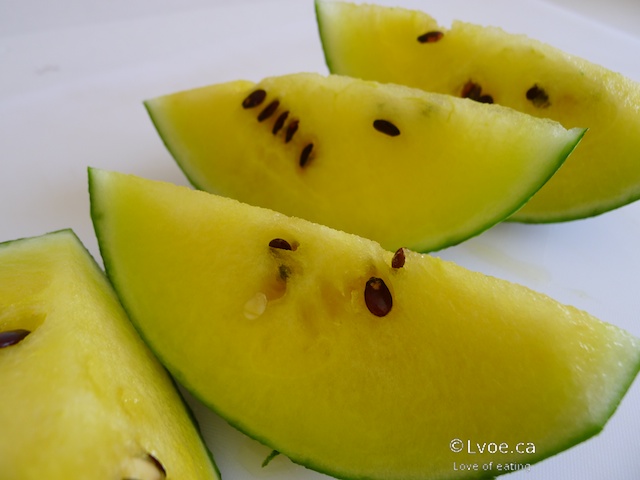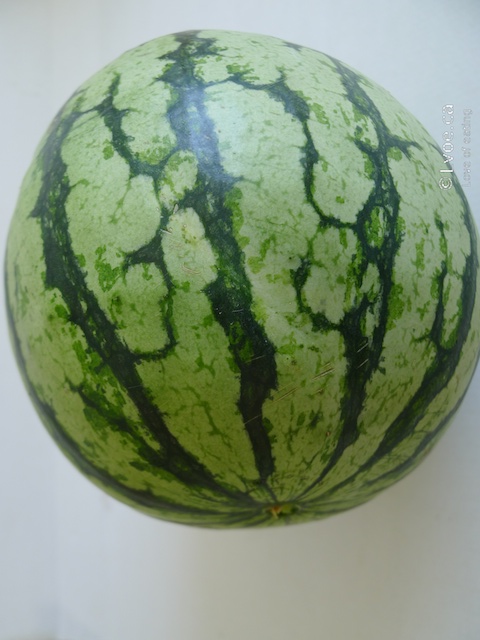 I think that the yellows are so much crisper and sweeter than the reds. However, this could be all in my head. Now, for the last few years I've only been able to find the mini seeded version of yellow watermelon at The Wagon. In the past they used to have a seedless large yellow watermelon. Which is the most awesome watermelon ever! (Click here for the time I was lucky enough to snag a big seedless yellow watermelon.) The mini seeded melon is still great. They have a thin rind so they're easy to cut, and there's more flesh to rind ratio. I still miss the big seedless yellows. Is it just bad timing on my part? How did I miss the big yellow ones every year?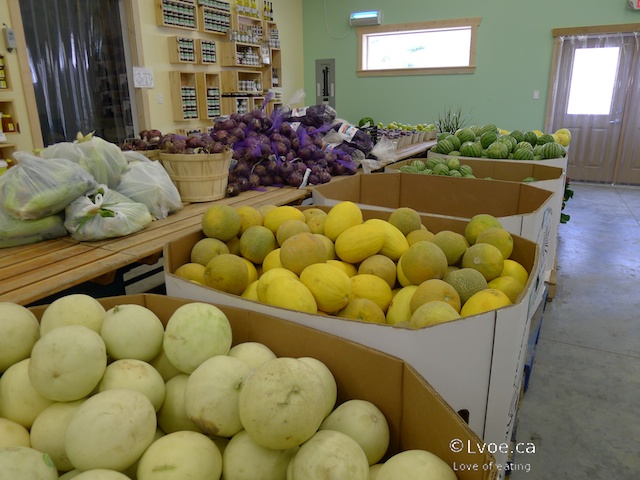 If you prefer cantaloupe or canary melons they have those too for about $2 each. Yeah, two bucks. Just grab one from the bin.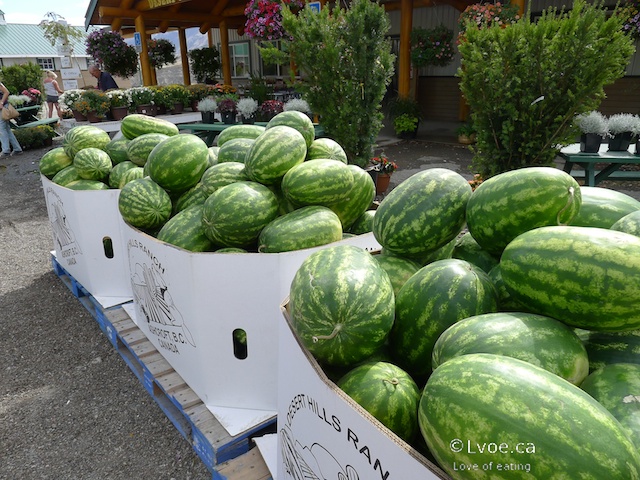 It's melon time at Desert Hills and this weekend, August 24 and 25th they are having a Watermelon Festival. The festivities include a watermelon eating contest for all ages. Family fun. In addition, I see from their weekend advert that their mini melons will be priced at a thrifty Macklemore approved...99 cents!
Desert Hills Ranch Farm Market website click here
Desert Hills Ranch Facebook click here
Locations
Desert Hills Ranch Farm Market
3 Old Mill Road
Ashcroft
,
BC
V0K 1A0
Canada