Two Chefs Affair - Nanaimo, BC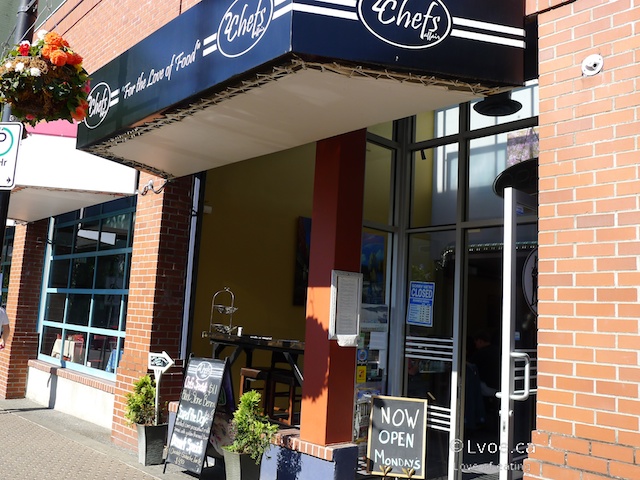 After a detour to Ashcroft for produce I am back to the regular scheduled programming...Do you see what I mean about procrastinating?
2 Chefs Affair is a casual breakfast-lunch eatery located on Commercial Street just across from the Nanaimo public library. I am still working on a project that was due days ago. However, I have secured an extension. Thanks god.
I hit up 2 Chefs Affair as soon as they open, in order to get working straight away.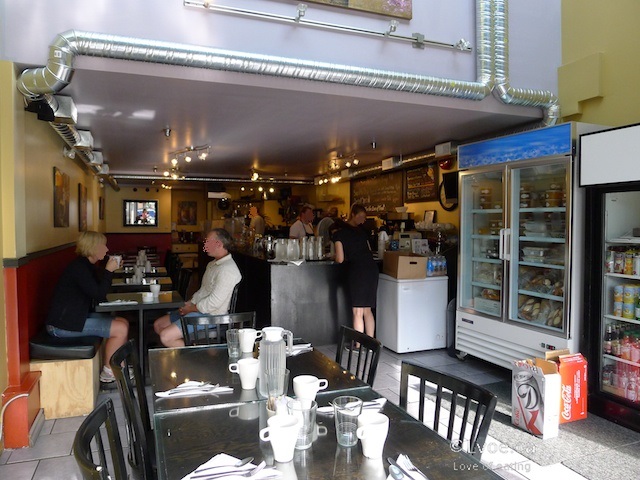 It's quiet this morning, there are only two other people in the restaurant at this time.
I am torn between the Love at First Bite French toast and the Blackstone Benedict. The server suggests the option of having half orders of each. Brilliant! (I never request half orders unless they are clearly offered on the menu or in this case, offered from the server.)
Blackstone Benedict ($6.00 half order)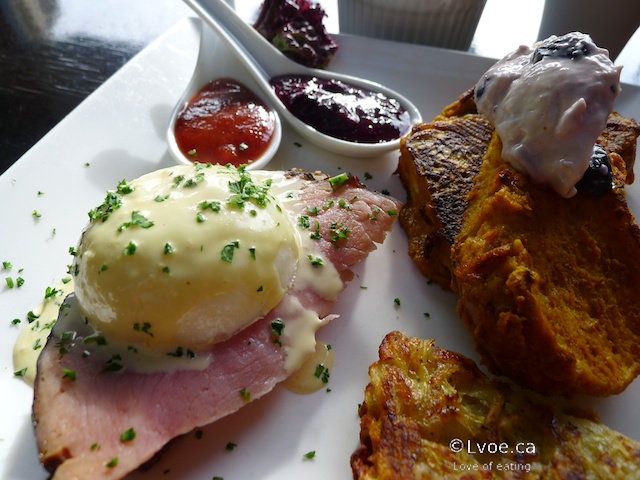 The server asks to what done-ness I would like my eggs poached.
Soft, please. There are a some issues with this Benny.
First they forgot that a Blackstone Benedict has tomatoes in it. After a few moments pass, someone realizes they sent out my Blackstone without tomatoes. How does 2 Chefs remedy this? My server comes around with sliced tomatoes on the side. Build my own, I suppose.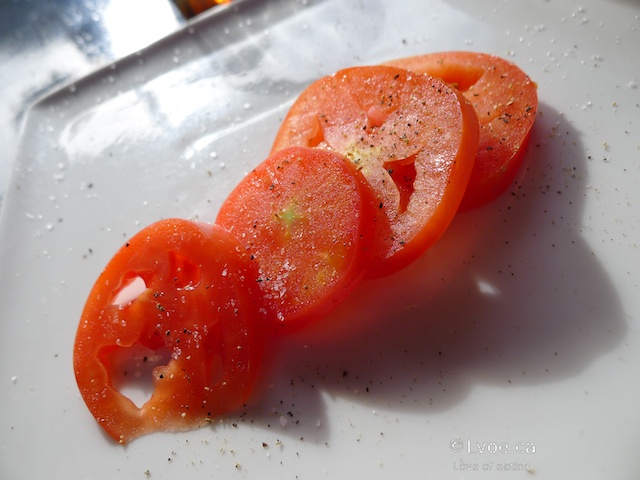 Secondly, the egg is not poached soft. It's medium with hard edges. This is annoying, but not the end of the world.
Hmm...2 Chefs and no one working the line can poach an egg?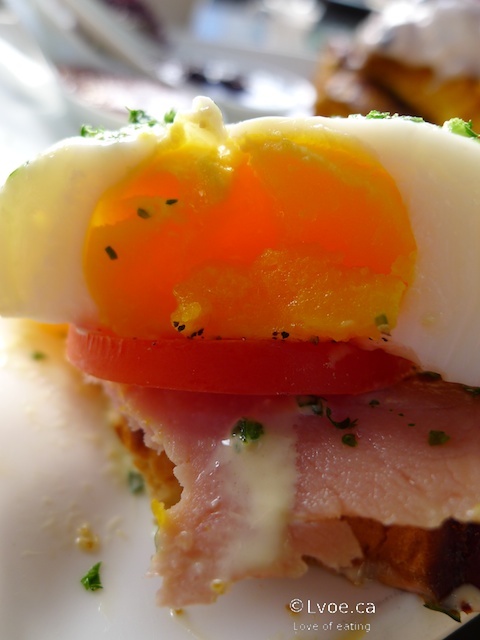 I know you are looking at the photo and thinking, "Doesn't an Eggs Blackstone come with bacon; not ham?" 2 Chefs tried to pass off a regular Eggs Benedict as an Eggs Blackstone. What I have here is an over poached regular eggs benedict...with a side of tomatoes. The irony of all this is Eggs Blackstone was today's "breakfast special."(???)
I wish I could say that the 2 Chefs kitchen was swamped and totally in the weeds, but this isn't the case. My order was the first to go in this morning and there are only two other patrons that came after me. The staff outnumbered the customers during my visit.
So, I'm not sure what happened here.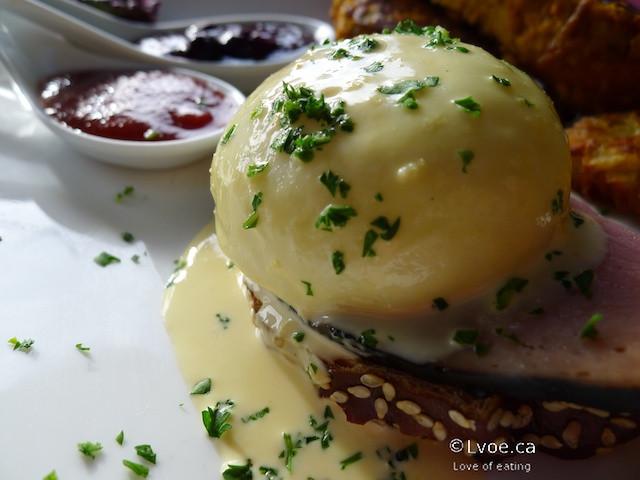 Now having said all that, the flavours in my breakfast at 2 Chefs Affair are a bit more sophisticated than the average diner. The hollandaise is velvety, even in texture and colour, and leaves me with a subtle tang. The mild seasoning lets the natural flavour of the ham, tomatoes, and egg shine through. Yes, even the egg.
Presentation is lovely, isn't it? I think it's one of the prettiest Benedicts I've had in a while.
Pumpkin French toast ($4.50 half order)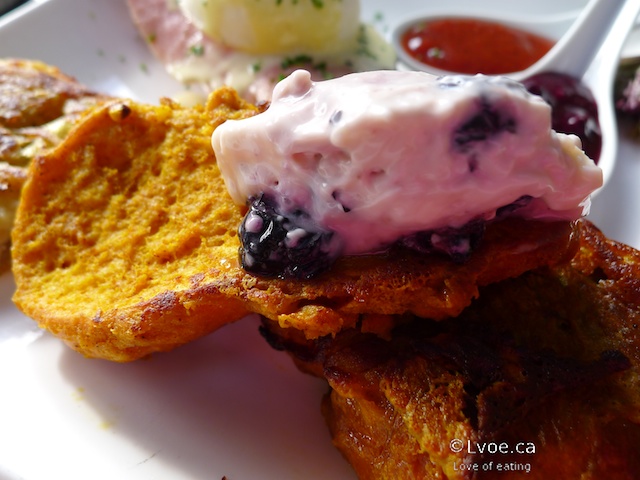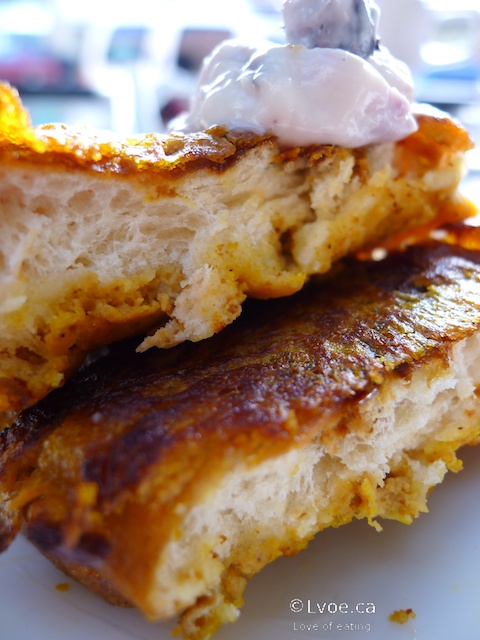 This is fabulous. I think I'm on a bit of a pumpkin kick lately. Whenever I spy pumpkin as an ingredient in something, I am compelled to order it. The slices are fluffy, yet dense, with hints of pumpkin pie. I didn't need much of the berry compote or sweet cream cheese, as this toast can stand alone.
Berry Compote and jazzy ketchup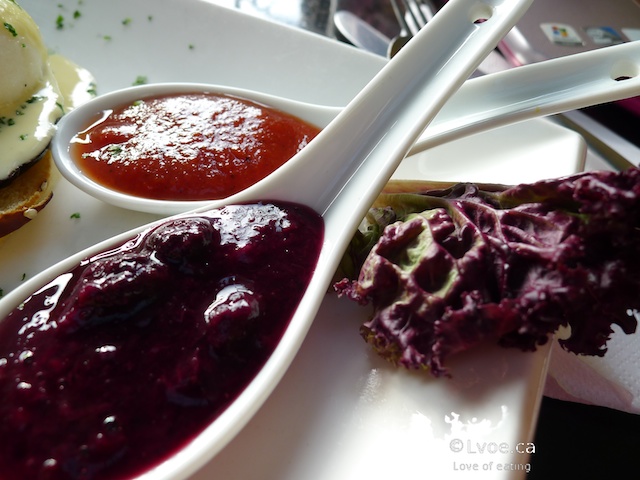 Service is a bit weird or inexperienced, I'm not sure which. My server was friendly at first, but after I mention that my egg missed the mark, she just shrugged and never came by my table again. Seriously, never again. Not even for a quality check, coffee top-up, or the final bill. I have to seek out another sever in order to settle my bill.
Oh well.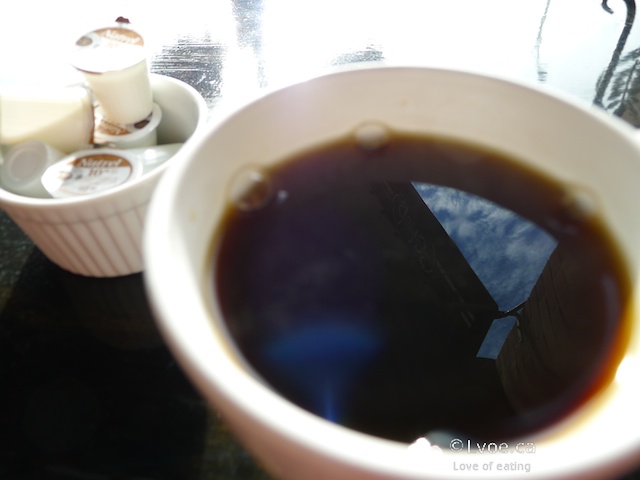 Despite the Benedict fiasco and absentee server, I still appreciate the effort of the flavours in the breakfast selections this morning. Enough so, that I am curious about the straightforward simple lunch menu. Perhaps I will have time before I leave Nanaimo to swing in and try their French onion mushroom tart, doesn't that sound tasty?
Two Chefs Affair website click here
Two Chefs Affair Facebook click here
Location
2 Chefs Affair
123B Commercial Street
Nanaimo
,
BC
V9R 5G5
Canada