Baby Salsa - Nanaimo, BC

I hope you enjoyed the holiday festivities last week, and are ready for more tonight. I recovered from my bout of feeling under-the-weather just in time for the holiday. Sinus-y? Do the nasal flush thing, trust. It works.
2013 was busy. So busy that I haven't been able to write on Love of Eating as much as I normally would. I only have a few more things to share from Nanaimo, before I resume posts closer from home.
Here is Baby Salsa. I noticed this Mexican restaurant when I came to visit Lee's Famous Chicken a while back. Click here for my Lee's Chicken post.
Baby Salsa serves Mexican style food, and is located at the University Village Mall on the corner of 5th Street and Georgia Avenue in Harewood.
Iced Tea ($2.50)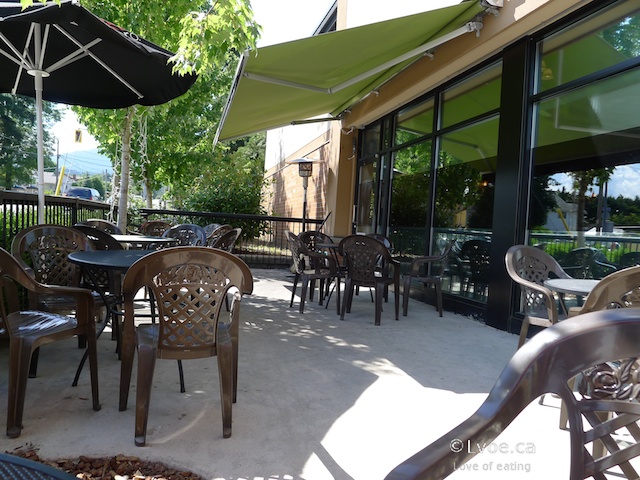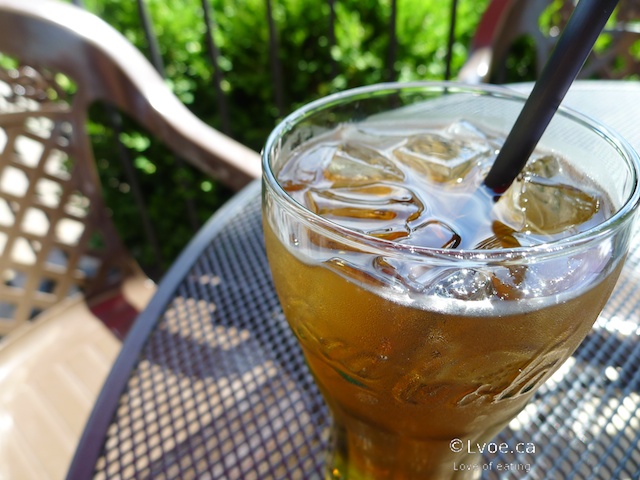 Ahh, refreshing iced tea on their patio.
House chips and salsa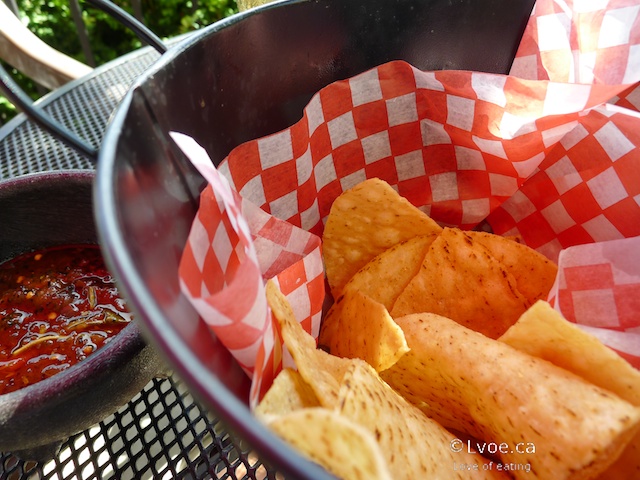 As I am perusing the menu the server brings out a bucket of warm chips and house made salsa.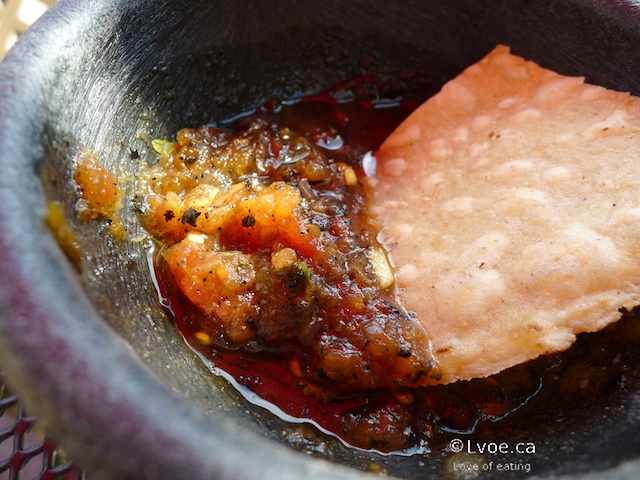 For me, salsa is like miso soup. I can take it or leave it. I don't love it or hate it. Typically, I would let both salsa and miso soup linger, taking up space on my table to be pecked at only due to boredom. Now, I don't know what is in this salsa, but it's surprisingly delicious. There's a lot going on in here, a bit of tang, a bit of a kick, and I like that the texture isn't chunky. Flavours are bright and fresh, like a summer garden blitzed together.
This little bowl of goodness is easily my favourite part of the meal today.
Mexican Sampler ($13.99)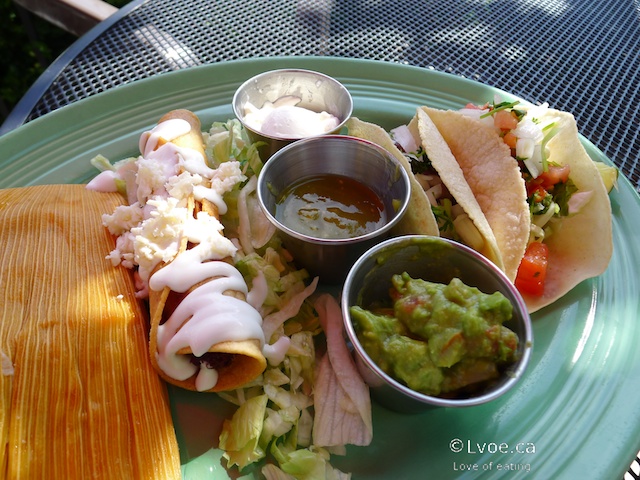 I figure getting the sampler would be an easy way to try a variety of what Baby Salsa has to offer. The plate gives me one each of a snapper taco, a flauta, tamale and a street taco.
Snapper Taco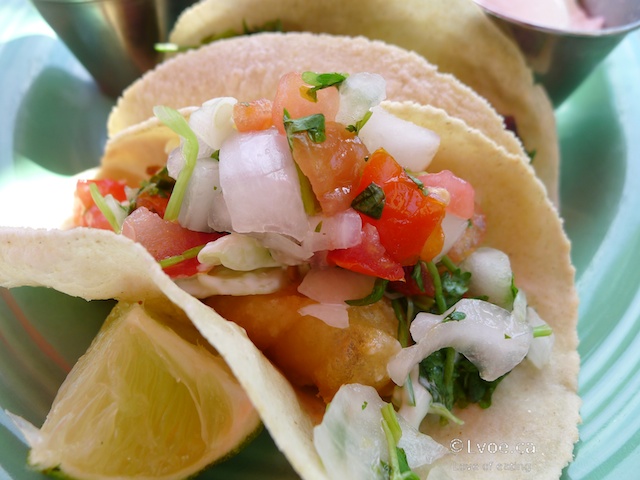 The deep fried chunks of snapper are generous. A bit soggy and messy to eat, but the flavours are clean.
Chicken Flauta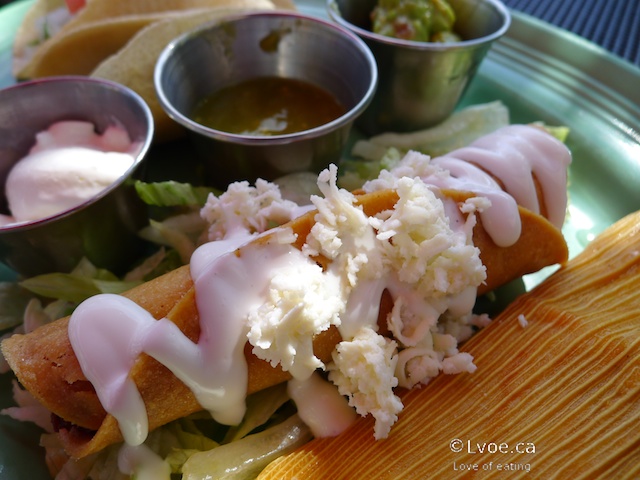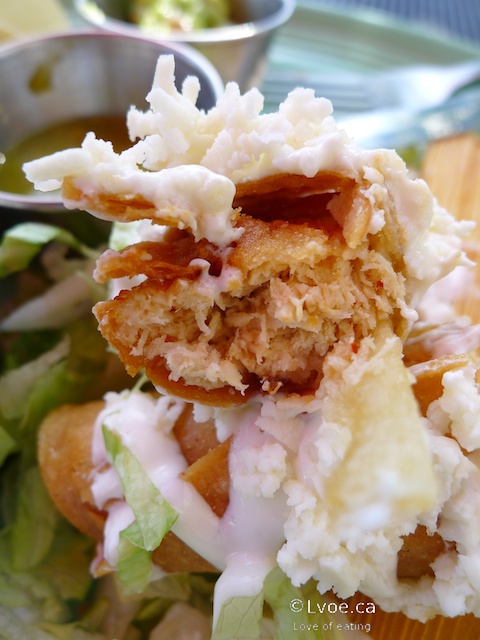 I have a choice between chicken and pork. Since my taco selection will be in the pork realm I thought it'd be best to go with chicken. The flauta is deep fried and covered in sauce. Of course it's tasty. It's deep fried and covered in sauce!
Pork Tamale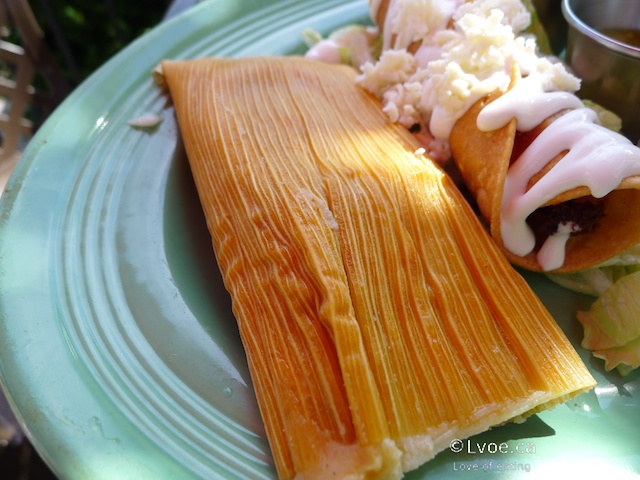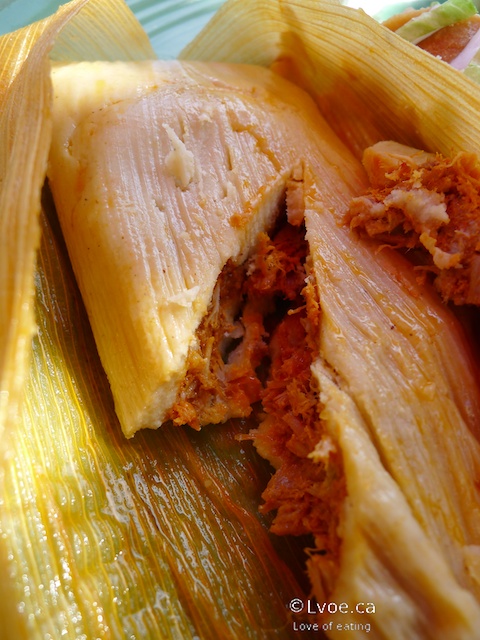 For the tamale I have a choice of chicken with green tomatillo salsa or shredded pork with red guajillo chili salsa. I go for pork. Now I don't tend to eat many tamales, but I'm pretty sure they're not supposed to be cold and hard. This is cold and hard. Cold like refrigerator cold. And hard, like I had to employ a firm grip on my knife to chisel through it.
My server eventually comes around to do a quality check, and I mention the frigid tamale. She offers to put in another tamale order, which is great, but then she proceeds to signal out and blame a kitchen staff trainee. I'll never know if there really was a trainee, or if that's just her go-to line.
Maybe it's just me, but I've worked both the kitchen and front end of restaurants and jeez, I would never throw a co-worker under the bus. (In all honesty though, this is probably because I knew my ass would be kicked if I attempted these types of floor shenanigans. Seriously, kitchen brigades have subtle shades of Sons of Anarchy.)
Carne Asada Taco


This is my second choice. Initially, I ordered a lengua taco, but sadly there was no tongue to be had today. The aroma of the grilled steak mingled well with the raw onions and cilantro. It's simple and does the job.
I'm not sure why I thought the Mexican Sampler wouldn't be enough, but I ordered some extra tacos too. I'd like to put the reins on this type of gluttony in the New Year.
Shrimp Taco ($2.99)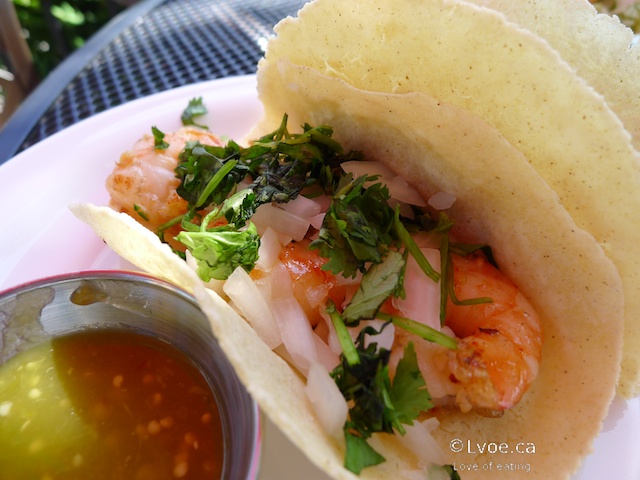 I've always enjoyed the combination of shrimp with cilantro.
Pork Carnitas Taco ($2.99)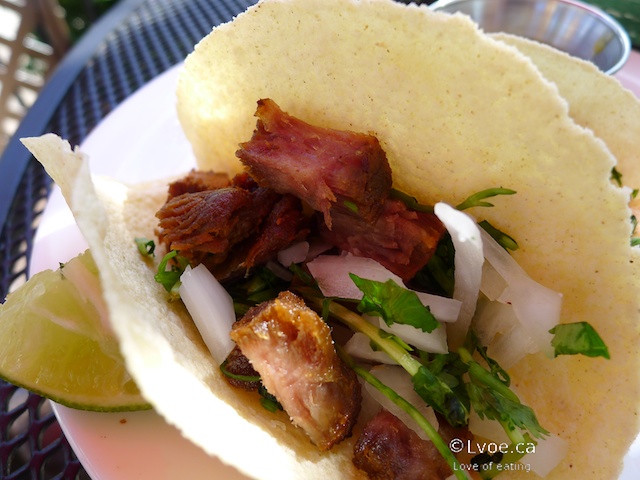 This is okay. I've only had the shredded pork version of pork carnitas in the past, so this is interesting. The chunky pork bits give this a bit of a chew.
The tortillas on all the tacos are quite dry and hard especially around the edges, but this may be due to the fact that I'm a slow eater and didn't get around to them until the tortilla edges became dry.
Pork Tamale (again)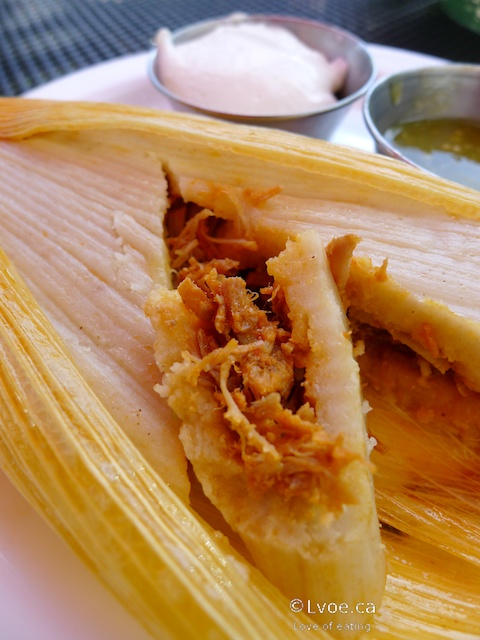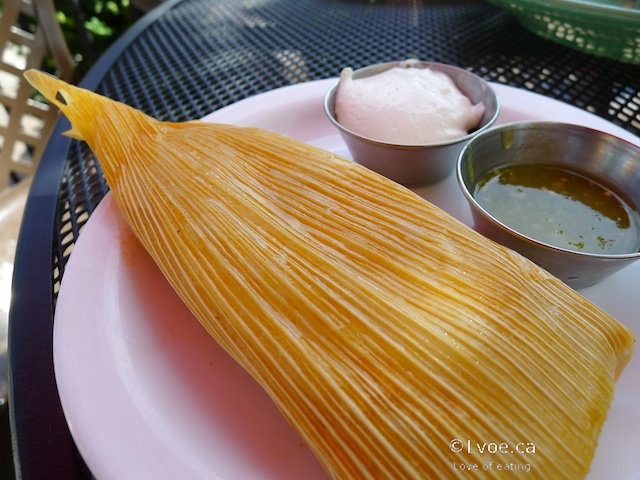 This second tamale isn't cold, but it's not warm either. Oh well.
So, I know tamales have structure, but this is still really dry and hard. I guess I'm just not a tamale type of person because I couldn't get past the firmness of this corn dough.
Will somebody please educate my sad self about tamales? Is this what they are supposed to be like? Let me know!!
So that's Baby Salsa. Although, I discovered tamales just aren't my thang, there is a general brightness to the flavours at Baby Salsa, which I haven't found at other restaurants in town that serve similar cuisine. I'm also happy to see that the diversity of cuisine around Fifth Street and the surrounding area is really coming along. Perhaps there will be more to come in the New Year. I hope your celebrations are jovial and safe tonight as you ring in 2014!
Baby Salsa hours:
Monday to Saturday 11:00am - 9:00pm
Sunday 11:00am - 8:00pm
Baby Salsa website click here
Baby Salsa facebook click here
Locations
Baby Salsa Mexican Restaurant
Unit 205 - 550 Fifth Street
(University Village Mall)
Nanaimo
,
BC
V9R 1P1
Canada