Chilli King - Kamloops, BC
Chilli King is a Malaysian restaurant located in the same shopping complex as the Canadian Tire on Hillside Drive. The space at one time was a seafood market; there are still some "fresh halibut" signs in the window and a nautical theme inside.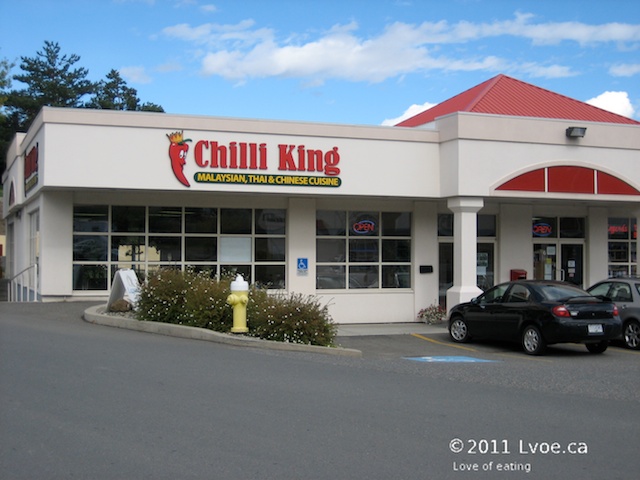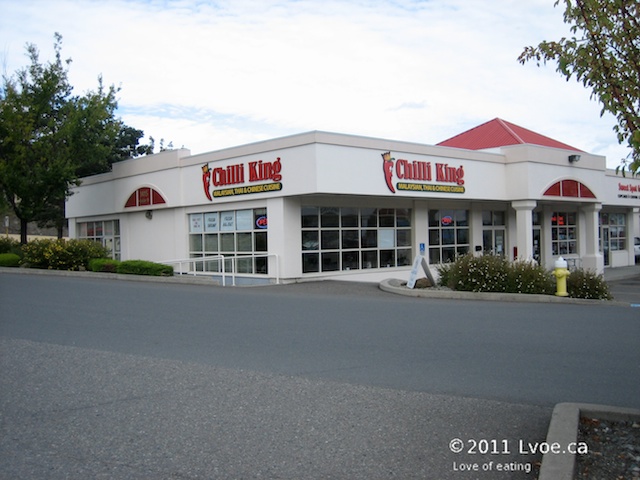 The people that own the Chilli King in Kamloops used to run a tasty set up in the Richmond Public Market. They had a stall in the food court area that served ice kacang (among other malaysian delights.) Nothing is better than ice kacang in warm weather. I used to live in the hub of Richmond, just off of the perpetually congested No. 3 road. In the summer my roomate and I would make the 2-3 block stroll to the public market to visit this food court gem. (Asian food courts in Richmond are some of the best places to get good eats.) Ice (or Ais) kacang is essentially shaved ice. But a snow cone, my dear friends, it is NOT. The ice is shaved so thinly that it is fluffy, soft and almost creamy in texture...but not. Of course this being an asian dessert it has to include some beans and corn! Ice kacang is literally "ice beans" or "ice nuts." I headed to Chilli King specifically for ice kacang. I could almost taste the palm seeds in my mouth...When I went to order it our server informed me that when they sold their business in Richmond, they sold the ice shaving machine along with it. Aiya! Say it ain't so! He went on to say that they haven't yet been able to get one in for the Chilli King restaurant. Ice kacang is on their menu for $5.95 so I assume it's will definately be a menu item when they locate one of these ice shavers. Can't wait!
In the mean time I had to settle for regular lunch fare.
For thirst quenchers we had
Lychee/Longan drink with Grass Jelly ($3.95)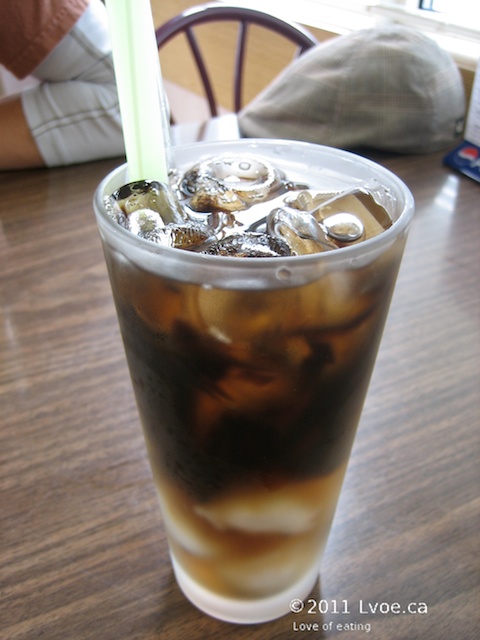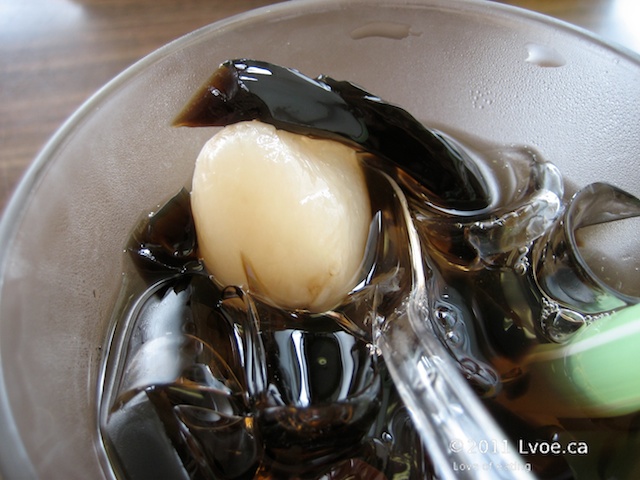 Now when I first saw this on the menu my brain automatically thought it meant I will get lychee and longan with grass jelly. But when I got the drink it must've meant that I had a choice between lychee or longan, because my drink was empty of longans or the taste of longan. That's fine, as next time I will know to order it with longan instead, as I prefer the taste of those more. It's ice cold and nicely sweet with the canned lychee adding extra sweetness here and there. They didn't skimp on the jelly and it doesn't have a strong taste on it's own. Usually when it's in a drink, the purpose is more for texture than taste. Grass jelly, you may be wondering? It's very common in asian cold drinks to contain an element of chew. Yeah, it's all about texture. There's nothing like a little chew with your sip. The only caution with these sip n' chew drinks is that they are very filling. If you drink bubble tea and the like, you know what I'm talking about; all those extra tid bits add up. One drink is really like having a small meal. *Note: I found two prices for this drink: on the main menu it's listed at $5.95; however on the table menu (the little plastic stand menu with the "combos" listed) it's $3.95. The charge was indeed $3.95.
Iced Lemon Tea drink ($2.95)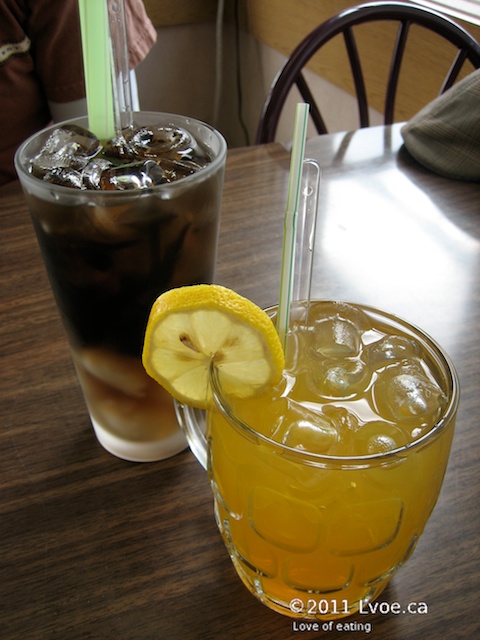 This sweetened iced lemon tea isn't a black tea with lemon in it. It's more refreshing and has mild tea-ness to it. Mild like what an iced chamomile tea might be. Both the drinks were very large and sustained us throughout the meal and beyond.
Roti Canai with Curry Sauce ($6.95)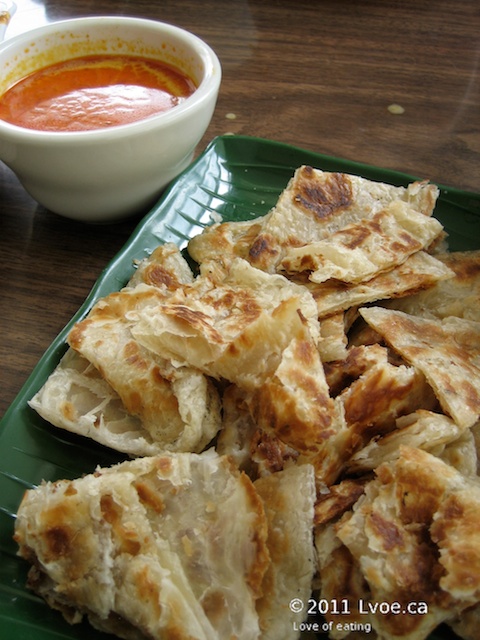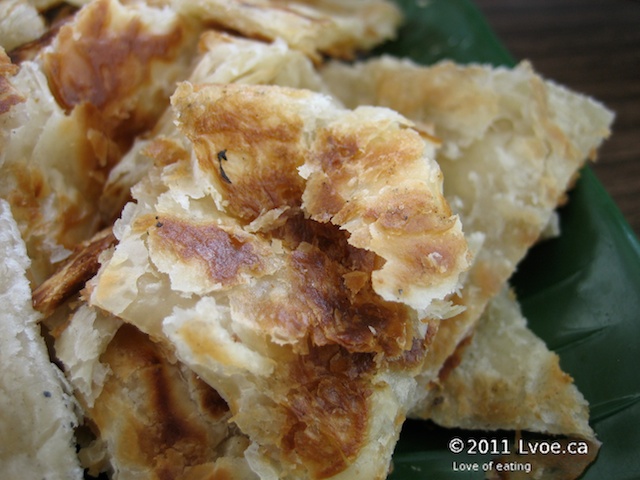 The roti canai was wickedly flakey and not greasy or oily. I really enjoyed this. The bread also came out fresh and hot. The coconut based curry was extrememly subtle, almost non existent. This will appear on the "appetizer" section of the menu, but don't expect it to necessarily come out first. The food just comes out when it's ready, and this selection happened to come out last.
Curry Laksa ($9.95)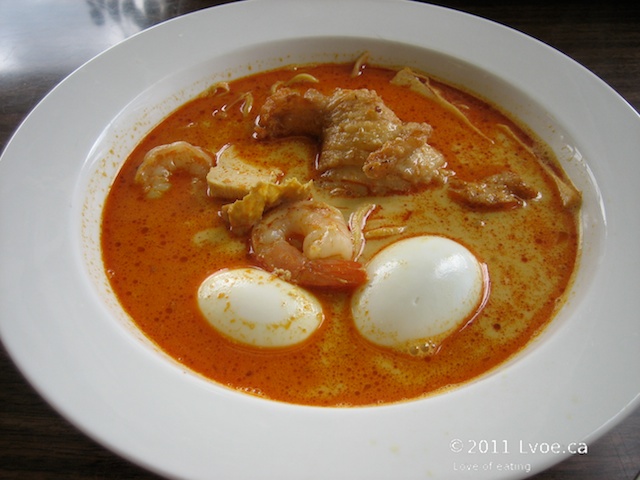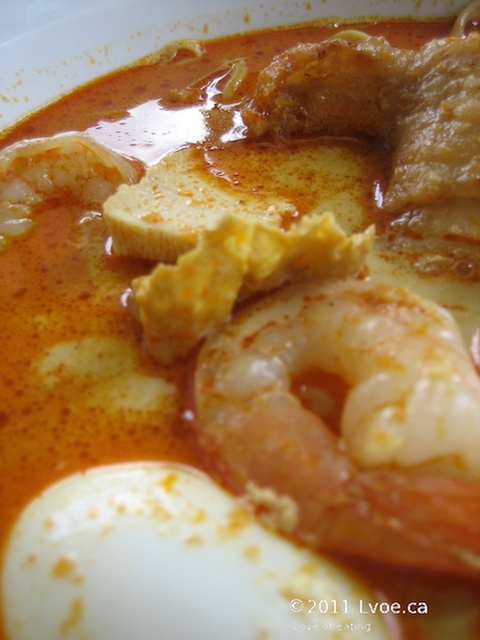 If a restaurant is serving Malaysian cuisine, I imagine laksa would be one of those benchmark dishes. We forgot to specify what kind of noodles we wanted with our laksa, and by default we were given noodles instead of vermicelli. The noodles were perfectly al dente, and a pleasure to eat. I heart skillfully cooked noodles! The laksa contained a generous helping of fried fish, prawns, one sliced hard boiled egg (very hard boiled I might add...), tofu slices and a couple tofu puffs. The coconut based soup was quite thin, luke warm and contained no spiciness at all. Why does it have a chili pepper next to the description on the menu? Hmmm...I'm by no means an expert on laksa but all the other versions I've had contained at least a bit of a kick. Even without the kick, the soup was a bit flat in my mouth. The flavours in the laksa lacked complexity. I can only compare it to other laksa I've had, and I remember those soups to have layers of flavour; the kind of depth that makes me roll the soup around a bit in my mouth to seek out the identity of those layers. Not so much with this soup. I didn't hate it; I was just expecting a bit more. Oh and they need to crank up the serving temperature on their soups.
Nasi Lemak with Curry Chicken ($11.95)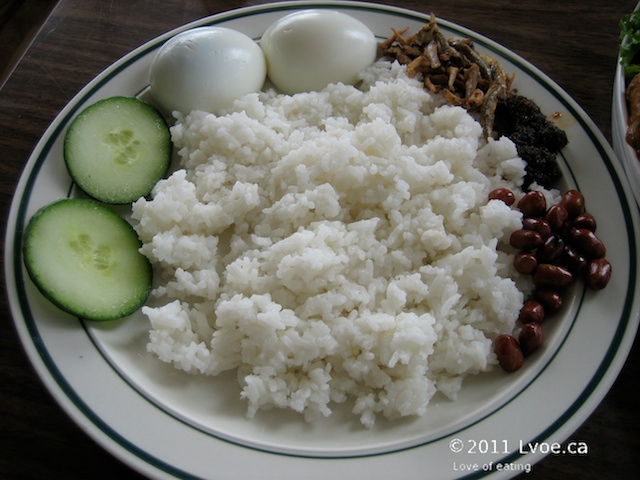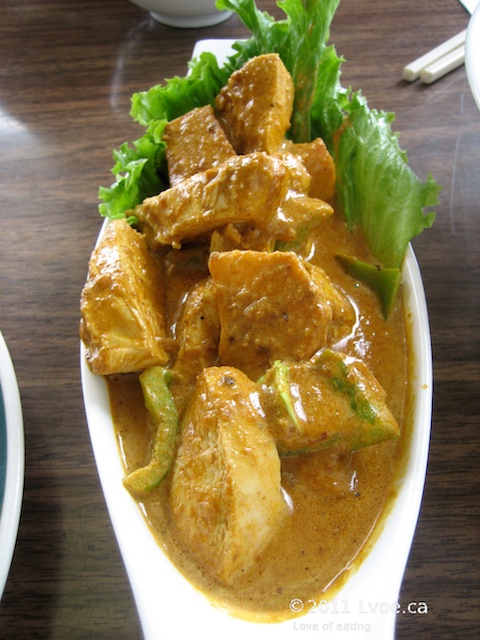 Wow I just noticed as I'm typing this we had a bit of a curry theme going here. This is essentially coconut rice with chicken. The rice looked over cooked, but the texture was alright carrying a strong aroma of coconut. The little sides that surrounded the rice were cukes, a boiled egg, dried anchovies, roasted peanuts and sambal. The sambal was sweet rather than spicy. I've never had sweet sambal before. I've only had sambal with various amounts of heat. Is there such thing as sweet sambal? Let me know. Or did Chilli King just edit their spice thermometer for Kamloops? That being said, I was lovin' life eating this dish.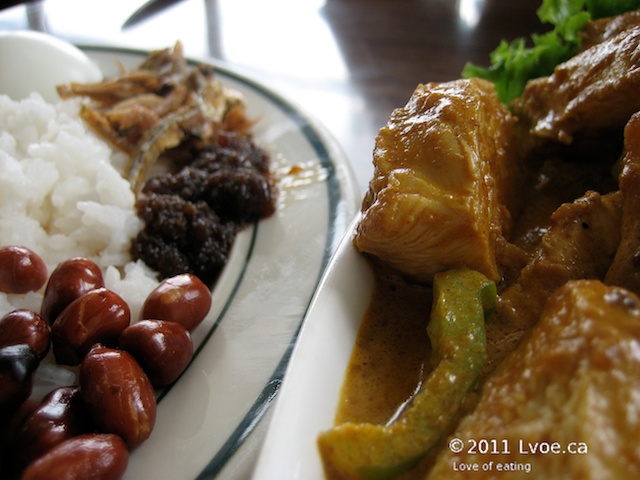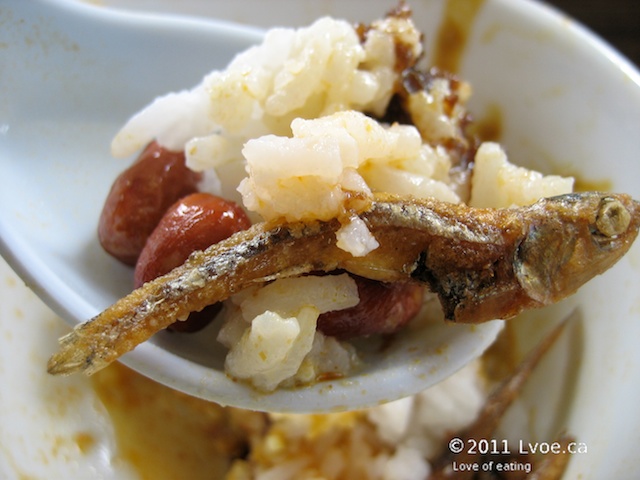 The smokey roasted nuts, together with the sweetness of the sambal and the crunch of the anchovies made my spoonfuls delectable. As I've said before I'm a total sucker for sweet and savoury edibles. The mild curry was thick enough to cling on to the huge pieces of chicken breast. The chicken was tender and plentiful.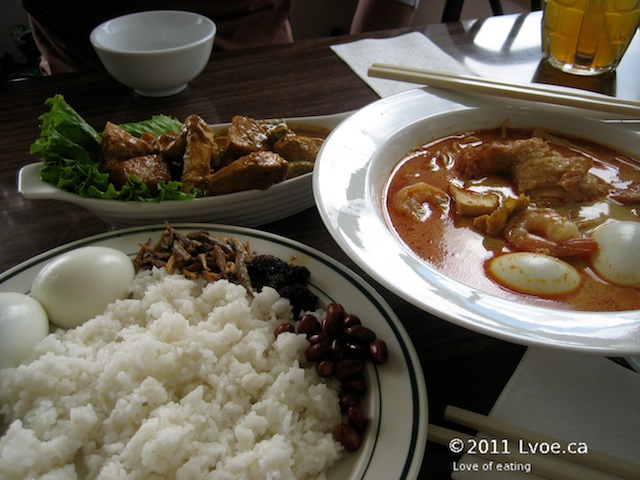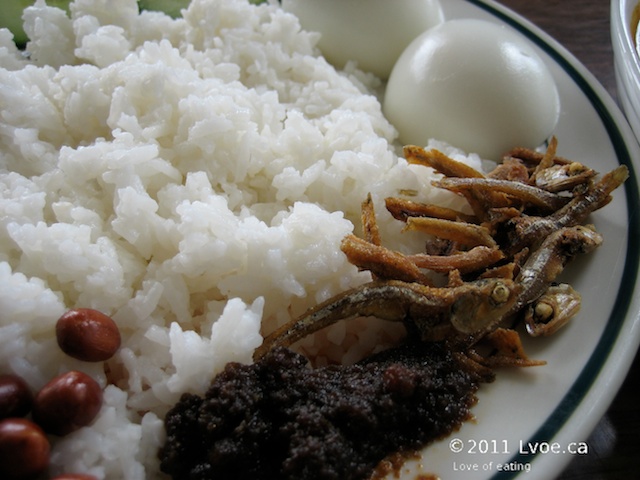 It slipped my mind to take pictures of the interior of the restaurant. (I think I was still in a tizzy after realizing that I would not be getting my ice kacang.) It is a fairly large restaurant with approximately 20 tables, mostly 4 tops, with some random booth seating and hospital cafeteria style seating. The value was solid as the above came to $40.04 with generous portions. I will definately be back when they get that darn machine set up. Sheesh. They are open until 11pm. I hope they are busy enough to continue to be open later, as it could be a great place for uni studnets to go for "late night snacks." Ahhh....fond memories of UBC and the Congee Noodle House at 2am... Hey Chilli King could become the Congee Noodle House for TRU students! I'll start by dropping by after my night class this week.
Menu: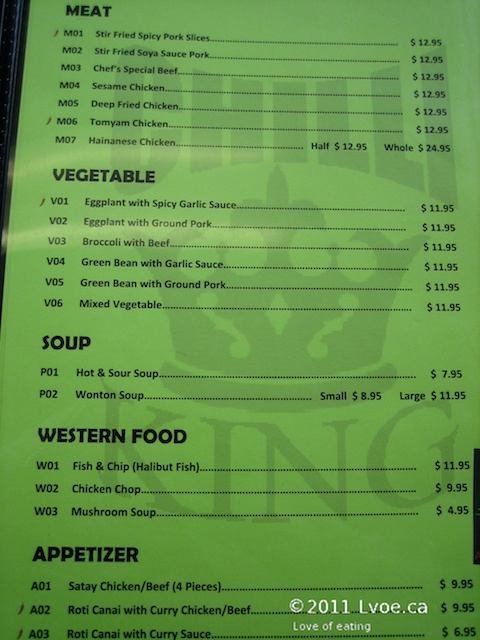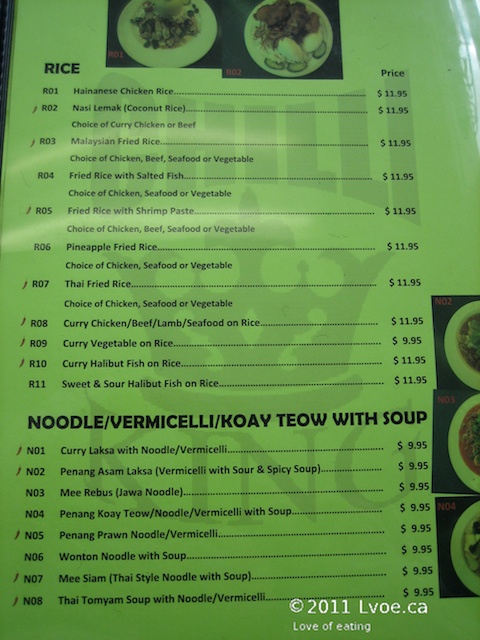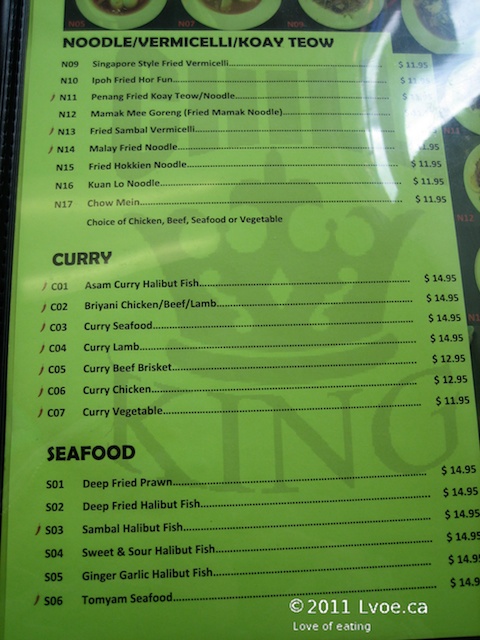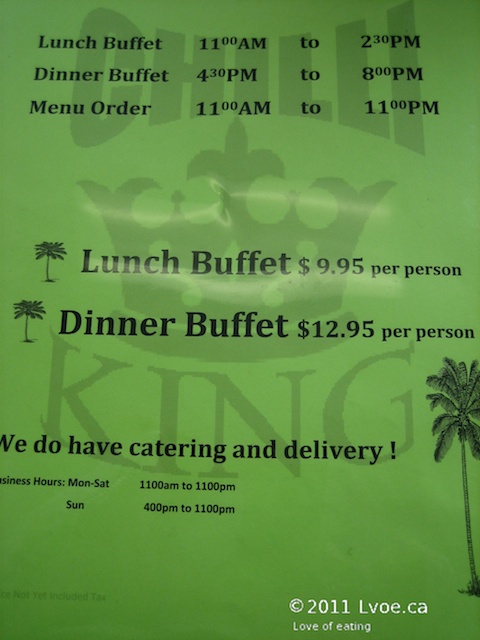 *Note: when you click to read the above menu you will need a screen bigger than that of a netbook ;)
Locations
Chilli King Restaurant
2-1415 Hillside Drive
Kamloops
,
BC
V2E1A9
Canada