Chris' Under the Bridge Restaurant - Ashcroft, BC
**UPDATE 2013**
This Ashcroft restaurant is under new ownership. Currently, the name is Riverside Restaurant. It now serves westernized Chinese food and burger fare. The below 2010 blog post refers to a visit under the previous owners.
Happy eating,
L.
This restaurant is relatively new in Ashcroft. It literally is under a bridge that you need to cross to get into the village.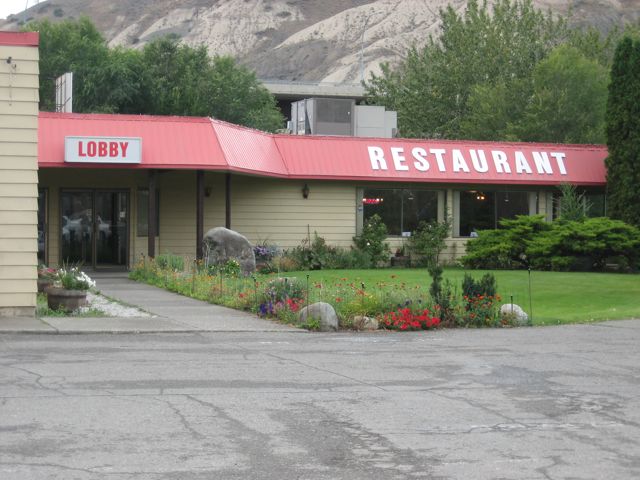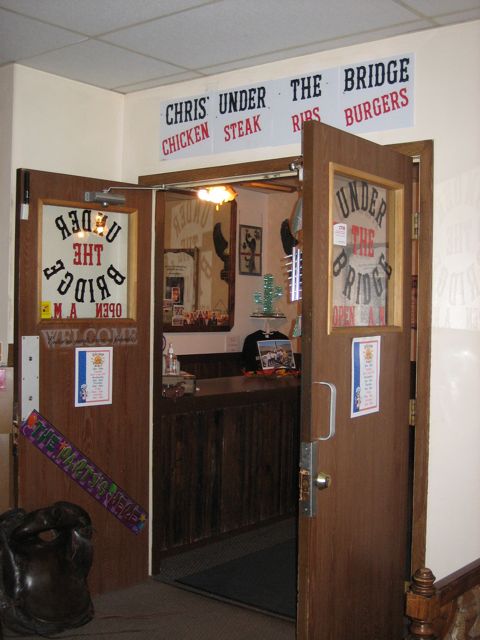 I'm not gonna lie, it's a DDE. A few years ago I took a wrong turn and accidently drove down to it (when it was a western-chinese joint) and from the parking lot the place looks pretty sketchy. Across the foyer is a pub, referred to as the Riv, that apparently is a popular local watering hole.
I first heard about this revamped restaurant, that is now called Under the Bridge, from a colleague that raved about their taco salad. Really a taco salad? So I found myself there for lunch several weeks ago and yes, the taco salad was good. I guess what made it rave worthy was the fact that the tortilla that the ingredients live in, is deep fried and fun to eat. Esthetically it looks great too coming to the table. But realistically, it was just a taco salad. IE: some chicken and some lettuce, tahdah! Don't get me wrong, I would order it again for a light lunch. It wasn't an appropriate time to snap pictures of my food so I had to wait to come back at a later date.
Under the Bridge is profoundly a western themed eatery. There are even stools up at the diner counter that are saddles. Do adults actually sit on these? It's reminiscent of the rodeo themed Mickey D's in Cloverdale, BC on the Fraser Highway.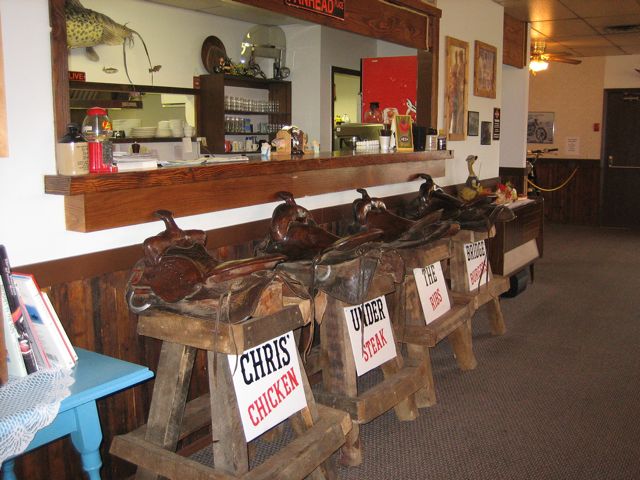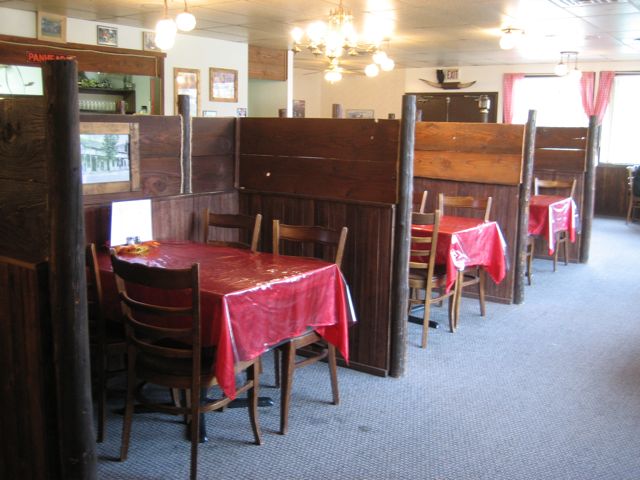 Of course today when I went for lunch, I didn't want to have the taco salad because I've already been there done that. Part of me wanted to order it just to get a photo. From my last dining experience here the waitress had told us the soups were house made, and the chicken and meat they use in their burgers were fresh and not frozen. Today, I asked if they used any local meat? They don't. And they didn't volunteer where they get their fresh, never frozen meat from. I'm hoping that they grind their own chuck where ever it comes from (more on that later*.) I also asked for our server to recommend the best item on the menu. She confessed to being a noob and hadn't tried very much on the menu yet. She recommended the ribs. Unfortunately, I'll have to wait until I'm more hungry to take on ribs.
Ashcroft Armadillo Eggs ($7.50)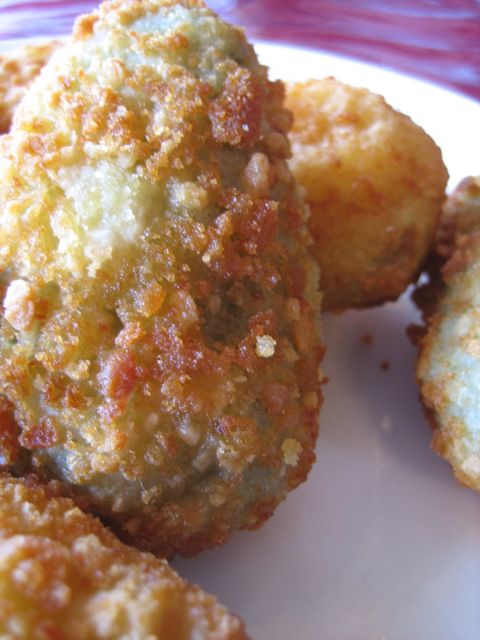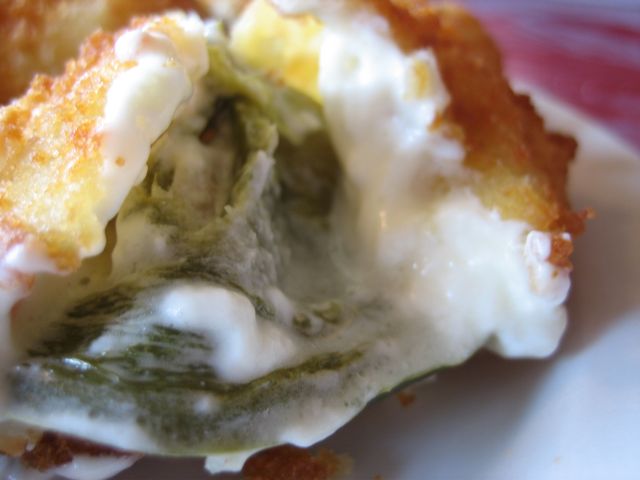 Standard pub tapa. These were jalepeno poppers with cream cheese. I didn't get a chance to ask if these were made from scratch or not. I felt that they could have easily made these with local jalepenos. Why not? I mean The Wagon was selling their Ashcroft grown jalepenos for dirt cheap this fall. The cream cheese filling was indeed velvety and the breading had a good crunch.
Chicken Quesadilla ($8.95)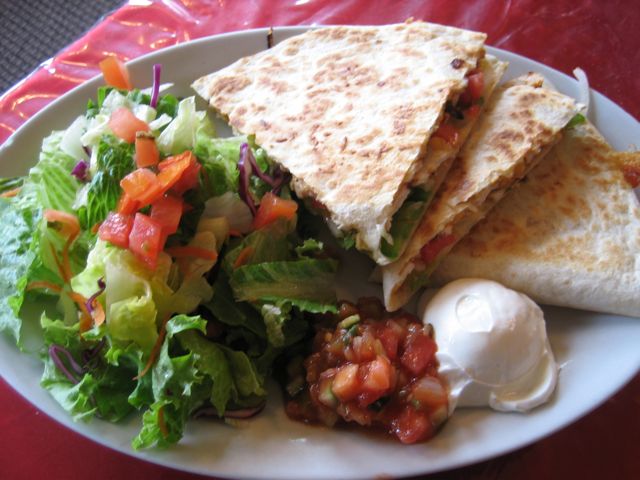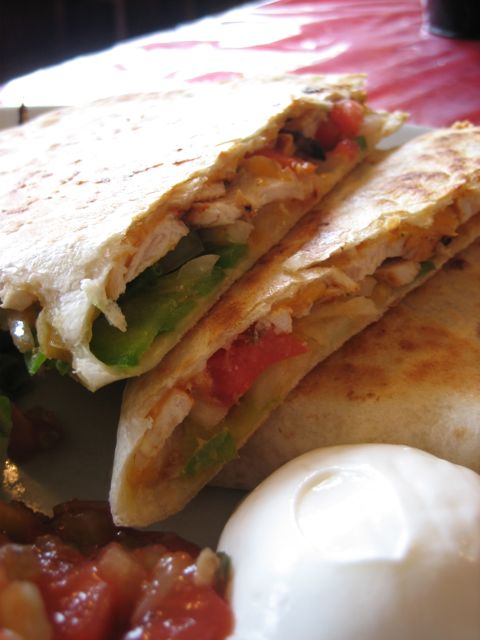 The indgedients here were flavourful and decent but it was a tad dry. It needed more cheese or some extra salsa and sour cream. The homemade salsa was lovely and left you wanting/needing more than the spoonful that was given. Some spicy kick would have been appreciated in either (or both) the quesadilla or the salsa. The salad was standard, but the house dressing was interesting in a yummy way. I forgot to inquire about the dressing, but it had some mustardy, tart, orange juicy sort of flavours going on there. Overall it was an enjoyable, light lunch with fresh vegetable flavours.
Bigger Bridge Burger and Fries ($7.75) add cheese and mushrooms ($2.00)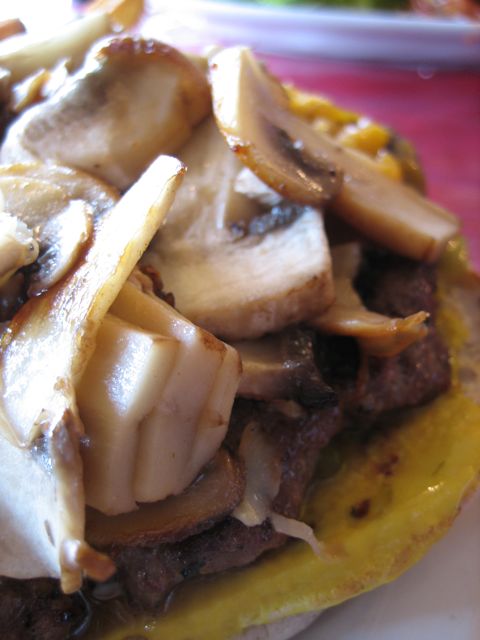 The toppings were shredded iceberg and a slice of tomato. I added the cheddar, and mushrooms. The mushrooms were big, plump and so happily covered the patty that I could barely see the cheese. When I flipped the top half of the bun on the burger I was a taken a back a bit by the bun. It was a lighter coloured herb bun. I've never had this kind a bun for a burger before. It was very soft and the juices from the meat almost soaked straight through. The burger was well seasoned and the texture and taste of the fresh mushrooms really made the burger. The meat was slightly "loose" and juicy.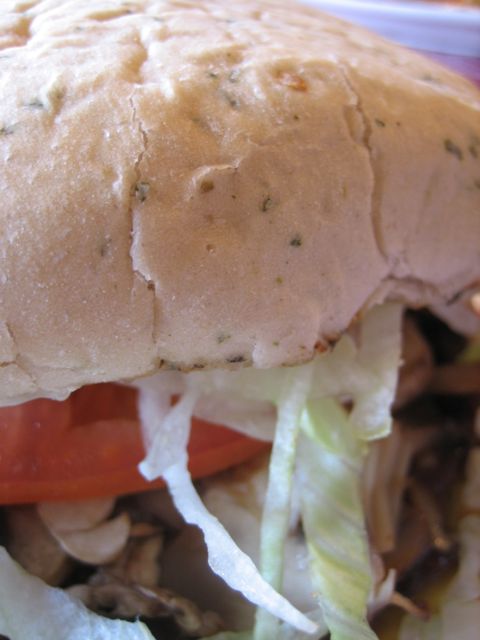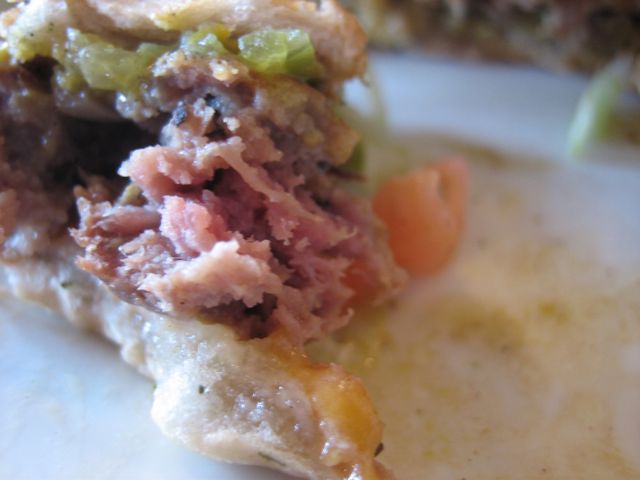 *I do need to point out a little note about the hamburger meat. As I was nearing the end of my first half of the burger I noticed the meat was getting progressively pink as I was eating. Until it was, well... kinda raw (click photo above.) Did I freak out? Did I panic about possible Ecoli?
Nah. Why? Because when I eat burgers south of the border or at places like the Hamilton Street Grill, I'm given a choice as to how I would like my burger cooked. I tend to order them medium rare. I make them at home rare to medium rare, however I grind my own chuck. I thought I would mention it because something like this may be a concern for some, and quite possibly a liability for the restaurant.
The fries. I must say, these fries are kick-ass. As I've mentioned before I love potatoes in any form; so it doesn't take much.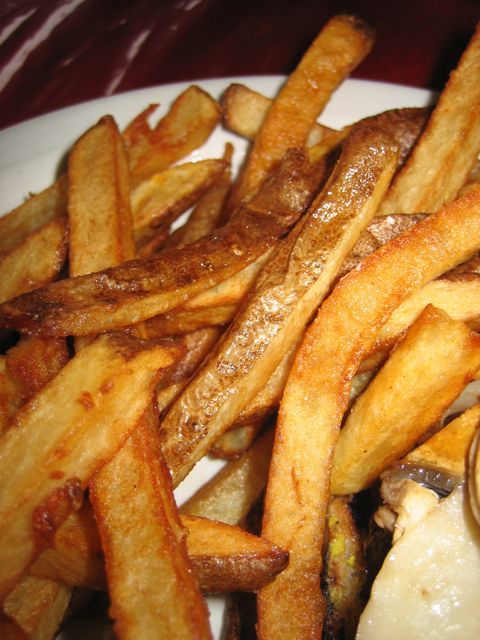 The spuds were suprisingly crispy on the outside and had flakey potatoey-ness on the inside. I love when restaurants do their own fries, but I often have pretty low expectations when the fries are handcut or homemade. In my experience the crispyness often ranges from wet noodle flacid to play-doh soft; never reaching the adjective of crispy. Not only are they suspiciously crisp here; they cut the fry with the skin still on the russet. I love the texture the skin gives and it makes the fry look more interesting too; like as though it has freckles. Under the Bridge may just have the perfect homemade fry.
Under the Bridge serves up a decent casual meal in Ashcroft. They are also open for breakfast.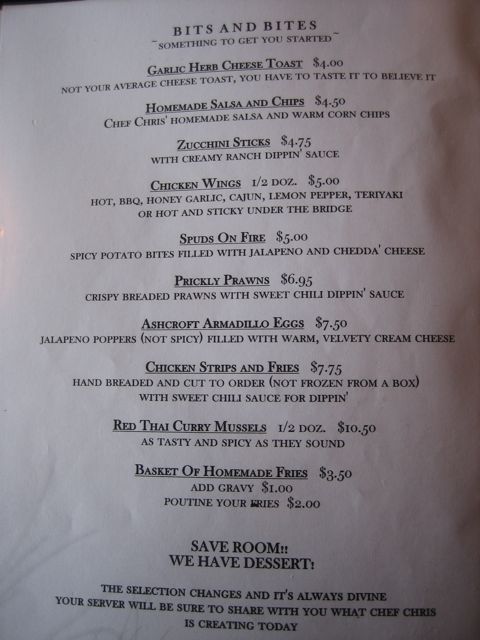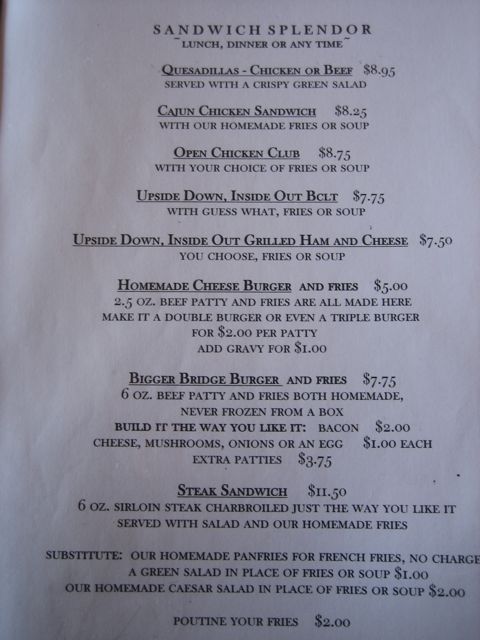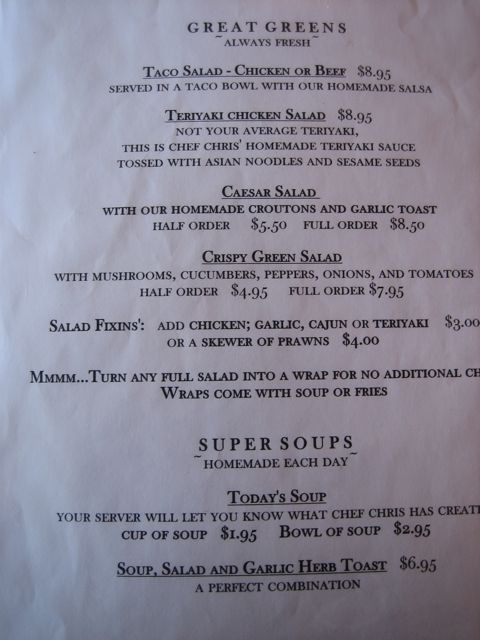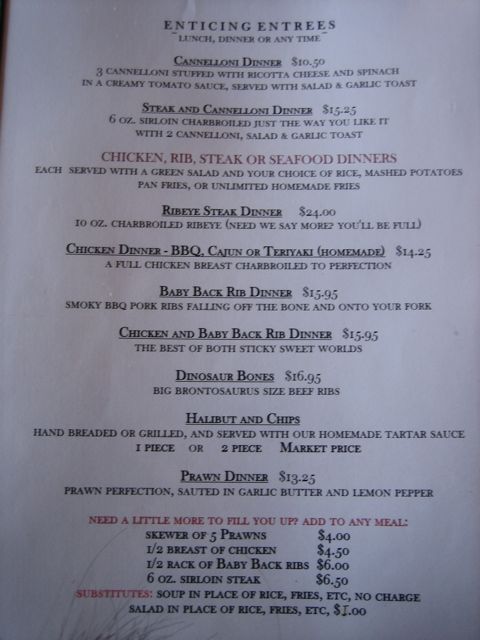 Locations
Under the Bridge Restaurant (Ashcroft River Inn)
50 1st Street
Ashcroft
,
BC
V0K 1A0
Canada