SalaJai Thai Restaurant- Kamloops, BC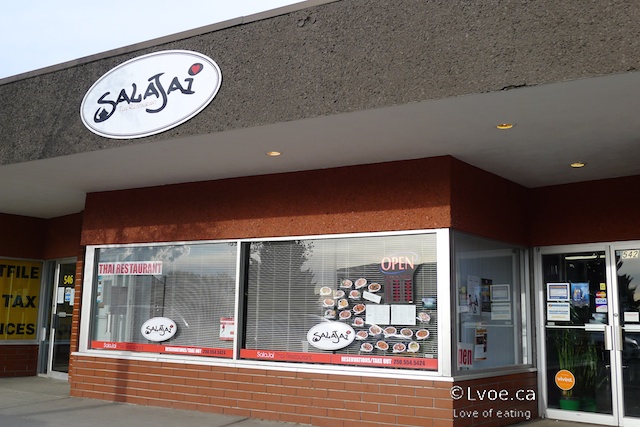 Let's try Thai today. SalaJai is a restaurant on Tranquille Road that offers Thai fare. I have to pick up a couple of items for the gardening season nearby and Salajai just happened to be in a handy location. Have you started anything garden-wise yet? I spy my neighbours have been diligently prepping and cleaning out their garden beds for the past couple of weeks.
Pork Satay ($9.50)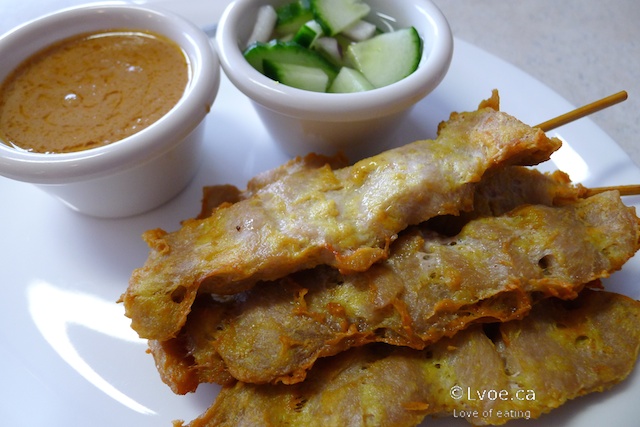 Slightly dry but very tasty! The marinated pork sticks are accompanied by peanut sauce and some refreshing cucumber salad.
I decide I will take it easy with gardening this year, as last year I got a little too ambitious. If you recall, I was very excited to try out my new tomato seeds I purchased from Sunshine Farms (Click here for my tomato seed post.) Well, I ended up tending to 30 tomato plants last year. This is a ridiculous number of tomato plants if you happen to remember that I "garden" in two little strips of dirt. I had to hastily create two other makeshift garden beds by my fence to accommodate the over flow plants.
Gang Kiew Waan with Chicken ($14.95)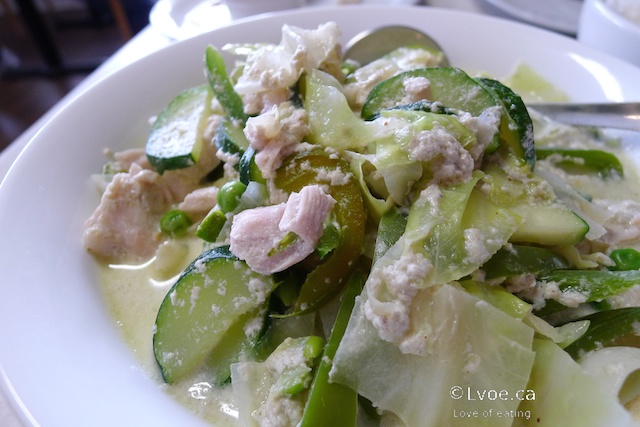 You can choose from chicken, beef or pork. All SalaJai curries are made mild by default. I heard our server ask the two other tables behind us how spicy they would like their dishes. However, he never gave us an option to incorporate a preferred spice level in our curries. After the dishes were served to our table he then offered hot sauce as a condiment. Although the severely mild curries are still enjoyable, I think the dishes would have been more so if we were offered the option to customize heat levels.
Y'know how you're supposed to start multiple seeds of one variety and only plant the strongest seedling? Well I couldn't bear to discard the "weak" seedlings, and I thought I should have some back-ups on reserve, since I have a dark history of inadvertently killing garden plants. So that's how I ended up with 30 plants in the ground.
Hot sauce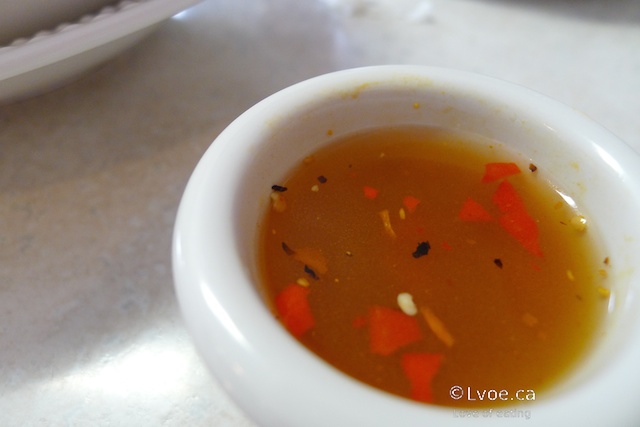 This is a mix of hot, tangy, fishy…and it's great. I'm going to rename this: Awesomesauce.
Gang Dang Nor Mai with Chicken ($14.95)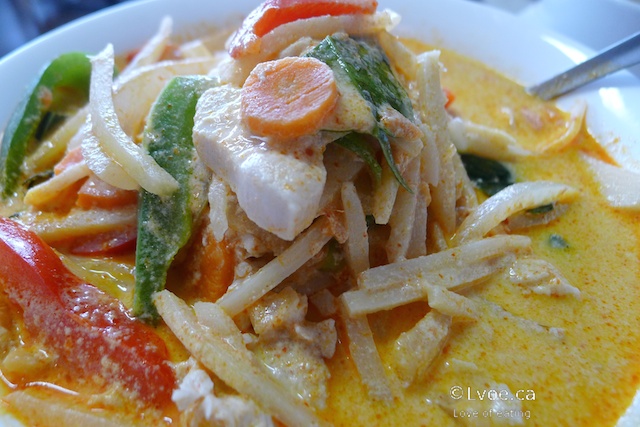 I didn't want two chicken dishes tonight, but my initial order of Barbequed Duck Curry was a no-go when the server came back to inform me that there is no duck. Apparently Salajai lacks quack.
So Gang Dang Nor Mai is my second choice. I think this red curry is the favourite between the two with a much needed healthy splash of Awesomesauce. It seems to have a deeper, heady fullness to it. Oh and DL likes bamboo shoots.
At this time, I am only starting six varieties of tomatoes. I hope my trial and error adventures in gardening remain simple this season.
TRU has a course for wannabe gardeners like me: it's called Grow Your Own Food. For those that are interested in learning about growing your own eats, and actually looking like you know what you're doing. Unlike me. I'm a prime candidate for this course, no?
Coconut Rice ($3.50)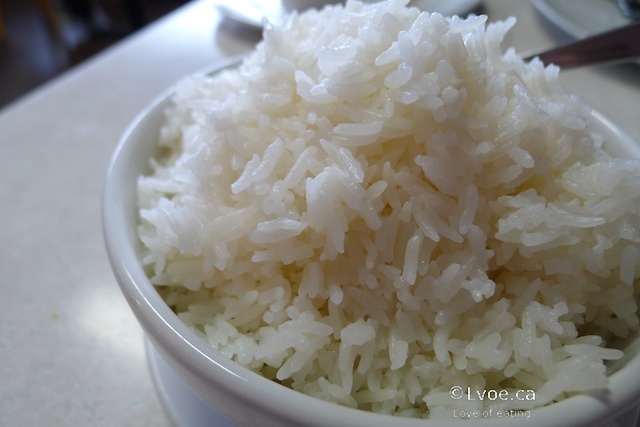 I forgot how aromatic coconut rice can be. I think I may have to start making this at home again. The coconut aroma really adds a little something to the plain white grains.
I might try growing food in containers again this year. I gave up on container gardening a few seasons ago, as I couldn't be trusted to water regularly. This of course meant certain death for tomatoes, flowers, herbs, peppers...etc. Seriously, I think if plants had feet they'd run screaming from me.
Thai Iced Coffee ($3.50)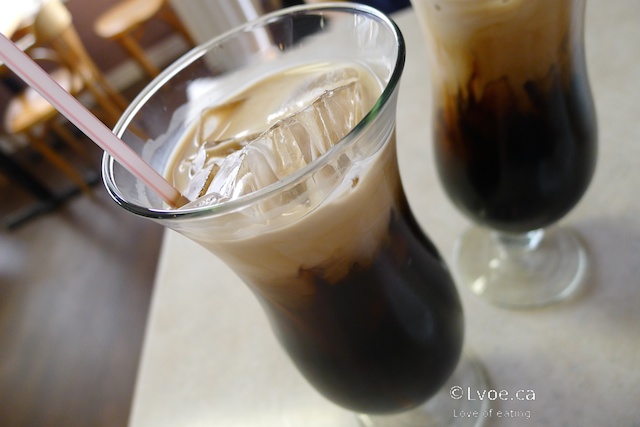 I'm too full for dessert so I opt for a refreshing iced coffee instead.
Salajai seems to have a steady stream of customers during my visit. My fellow diners seem pleased with their dinner time choices as well. The dish selections are family style and the serving size is generous enough for me to make a few future lunches with tonight's dinner.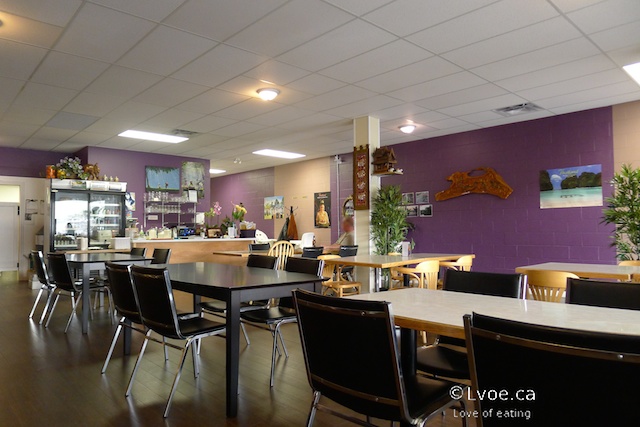 Salajai Facebook Click Here
Salajai website Click Here
Locations
Salajai Thai Restaruant
542 Tranquille Road
Kamloops
,
BC
V2B3R4
Canada