The Grand Bay Cafe: Sunday Brunch - Kelowna, BC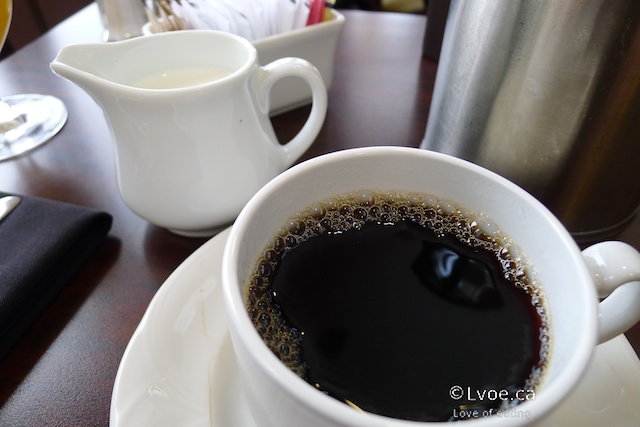 It feels like I've been everywhere for the past little while, except for Kamloops. I'm in Kelowna for a couple of days of conferencing and then a meeting on Monday. I didn't want to drive back and forth, so I chose to stay through the weekend. The Grand Bay Café is located inside the Delta Grand Hotel Resort in Kelowna.
The Grand Bay Café has a Sunday Brunch set-up conveniently down stairs in the lobby. Breakfast is just an elevator ride away...
Buffet style dining is rarely my preference. I enjoy seeing the food that I'm about to eat, looking its best before I eat it. Buffet style dining is seldom conducive to this. Since I have this weirdo issue about not wanting to see my food picked over before I eat it, I hop in the elevator shortly after brunch service begins.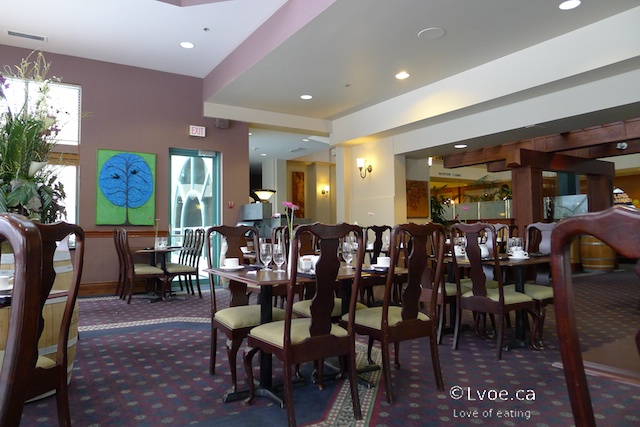 The Grand Bay Café is empty when I arrive, which means all the tables by the windows are available and the food is untouched. (I secretly fist pump.) Brunch is always better when dining by a window with a view, right?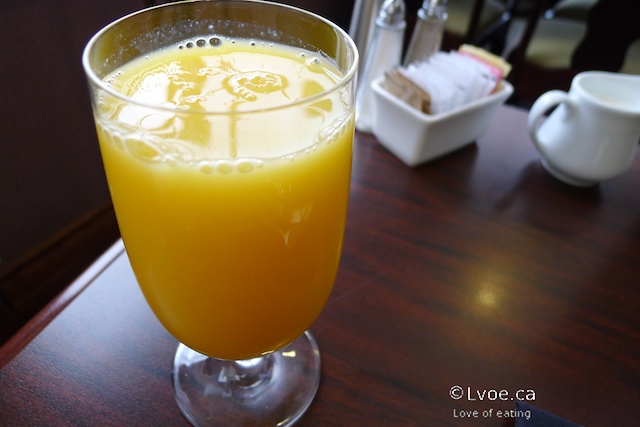 I sip some squeezed orange juice while I peruse the options. The Sunday buffet is set up in the middle of the hotel foyer directly opposite the main hotel entrance.
Cheese and Fruit table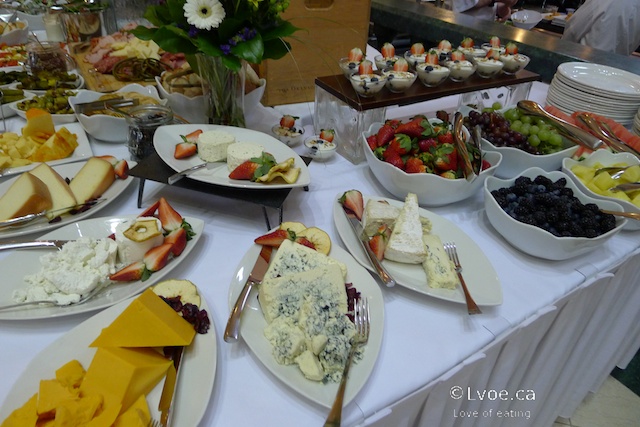 I start with some fruit...
Charcuterie table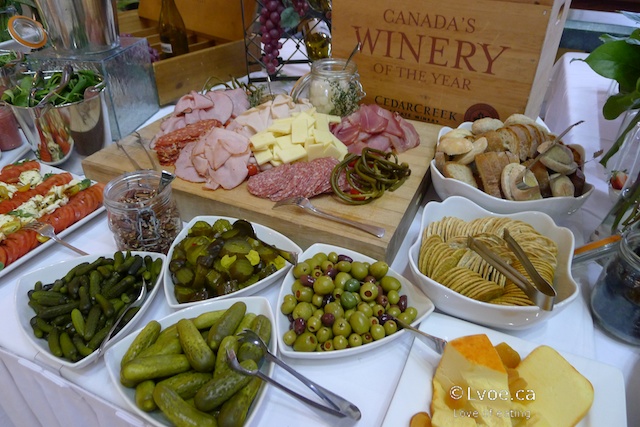 ...and made myself a little plate of pickles, cheese and cured meats.
Vegetable and salad table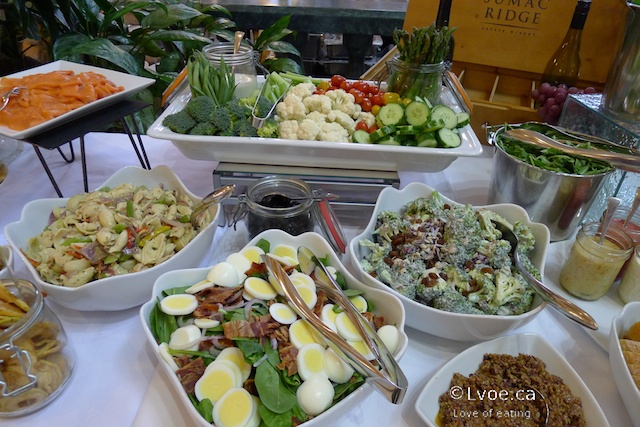 I didn't want to ruin it for all the lettuce-leaf-salad-lovers that will soon show up for brunch, so I didn't disturb this table of health. (However, I did double back and scoop a spoonful of tapenade...)
Cold Seafood selections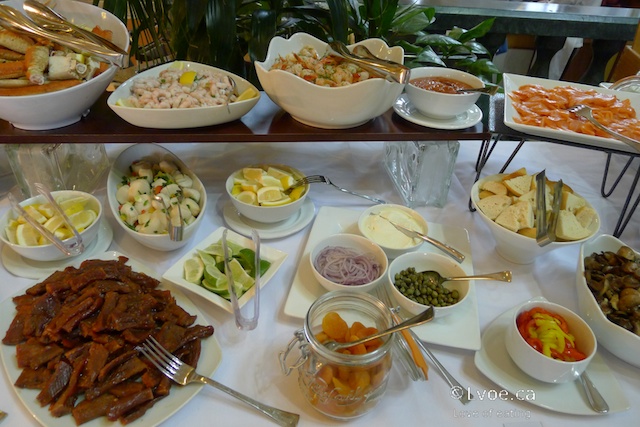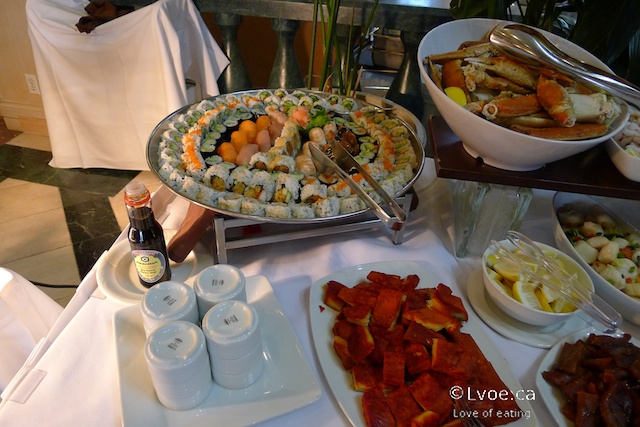 Standard selection of crab legs, shrimp, lox, scallops and smoked fish and sushi. I liked the lox the most on this table. The crab legs have a decent meatiness, but I have a hard time loving cold crab meat, the scallops were a bit "seafoody," the smoked fish I incorporated into my charcuterie plate, and I can't comment on the sushi because who comes to Sunday Brunch to eat sushi?
Carving Station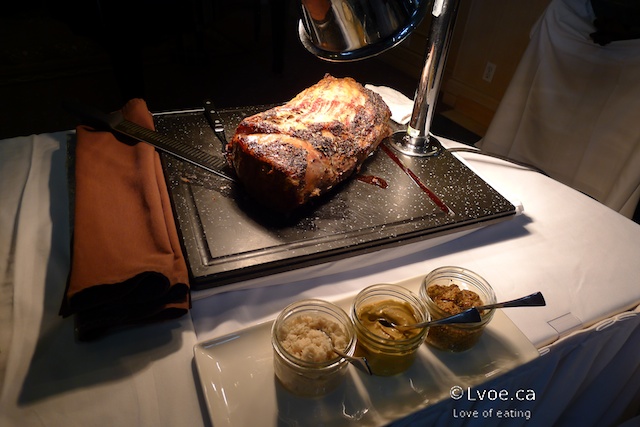 Omelette Station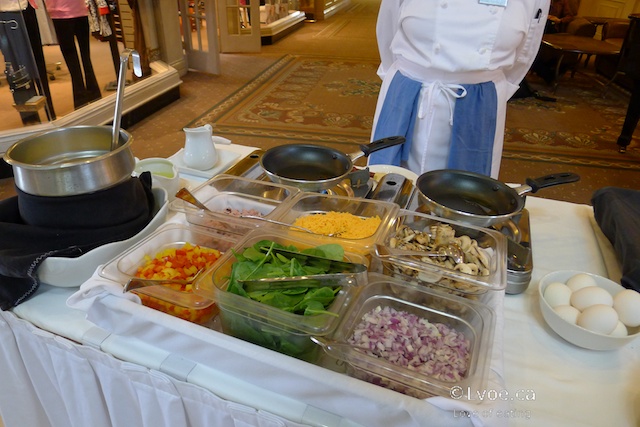 Hilariously, the person making the omelettes commented that it's a good idea to take photos of the food now, before more diners arrive, as the displays will not be as photogenic later. My thoughts exactly...
Sausage and bacon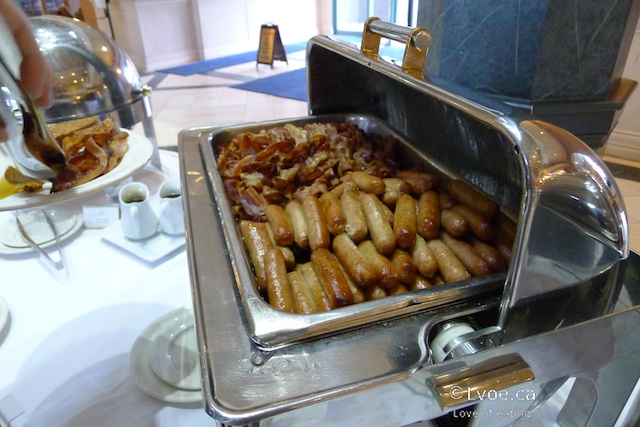 The stand-by breakfast meats.
Eggs Benedict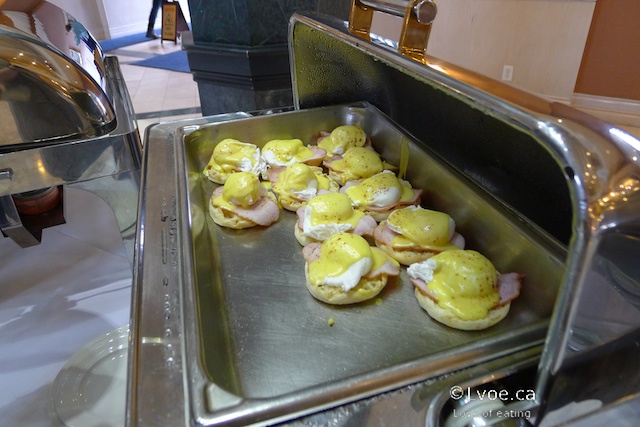 Not the greatest but not the worst.
Potato Patties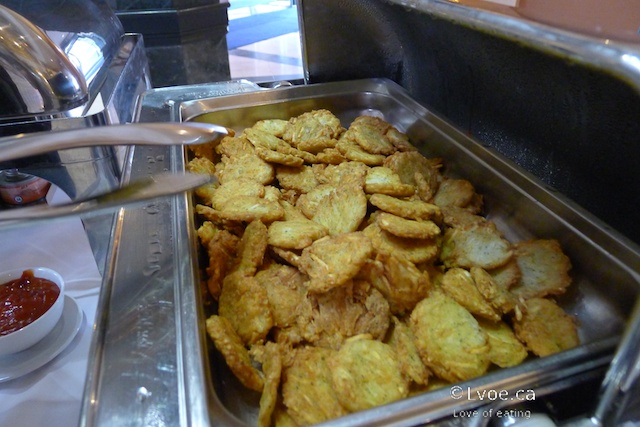 These circular spuds are a little dry. Super crisp, but a little dry.
Chicken Cacciatore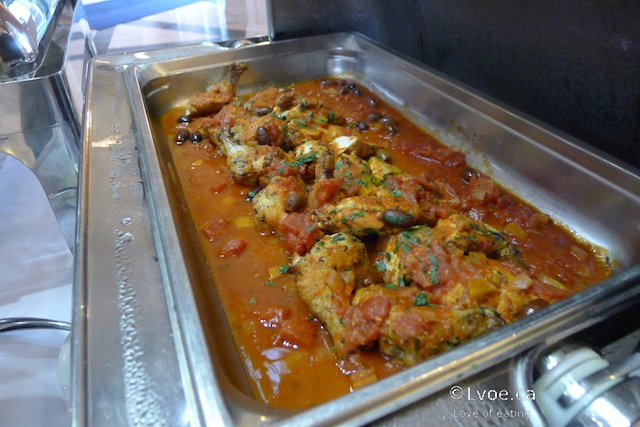 I don't know if the Grand Bay Café actually calls this chicken cacciatore, but the flavours reminded me of a milder cacciatore recipe. It's not bad, the chicken is moist and the tomato base helping my dry potato patties.
Arctic Char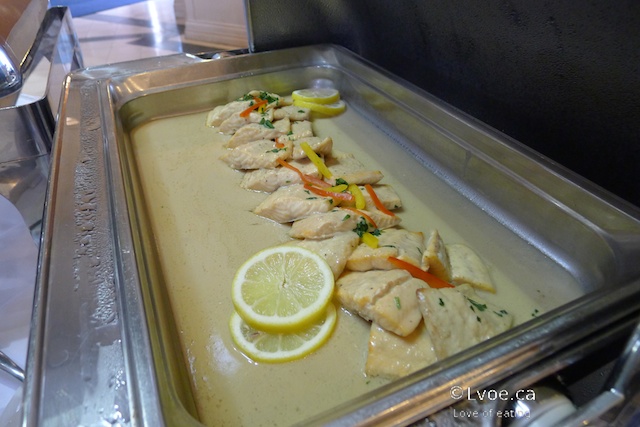 Surprisingly, this is pretty tasty. The fish is tender, nicely seasoned within the mild silky sauce.
Ha Gow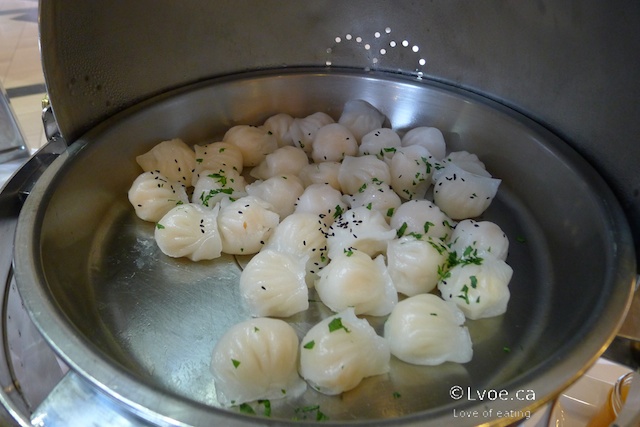 Every part of the Common-Sense-Me said, "No. Don't do it." But I did. The Ha Gow skin is very thick and the prawn filling lacks seasoning.
I really think it's great that hotel Sunday Brunches are experimenting with more diverse selections, but sometimes variety for variety sake isn't always variety.
Breakfast pastries and French toast toppings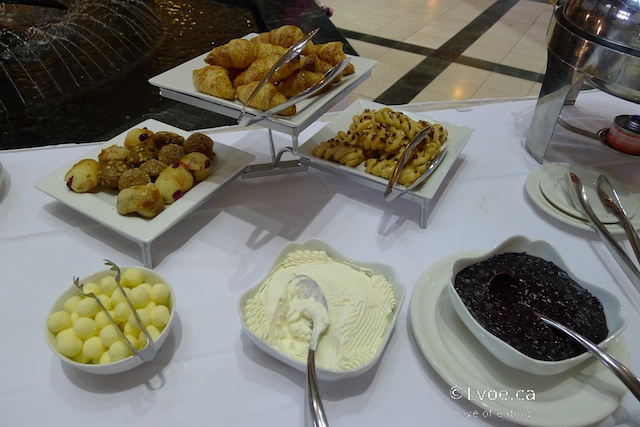 French toast with blueberries and whipped cream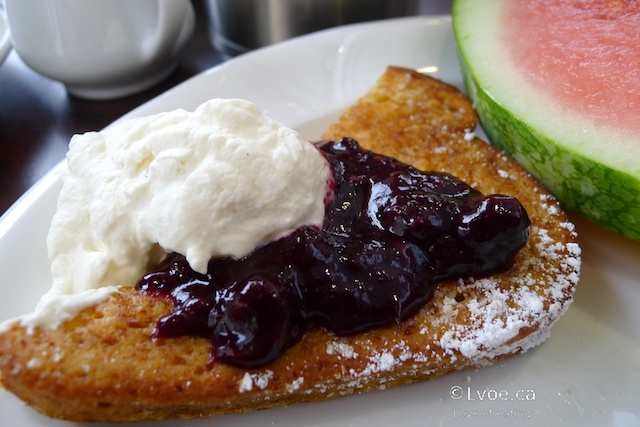 Chocolate mousse tart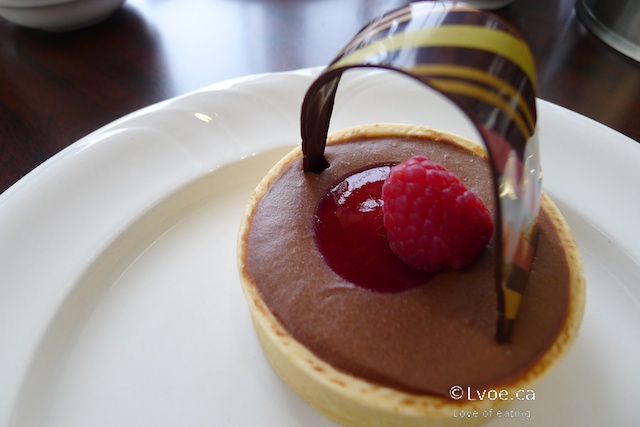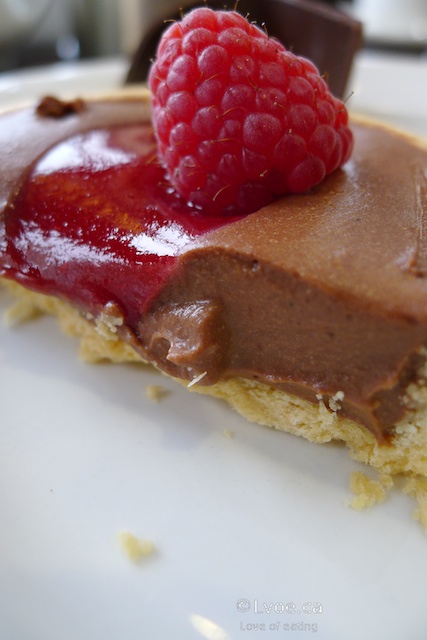 The tart shell isn't exactly delicate but I the filling is creamy rich with fluffy chocolate goodness.
Tiramisu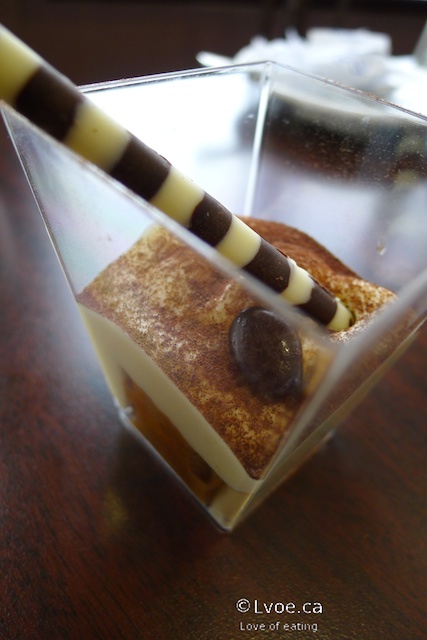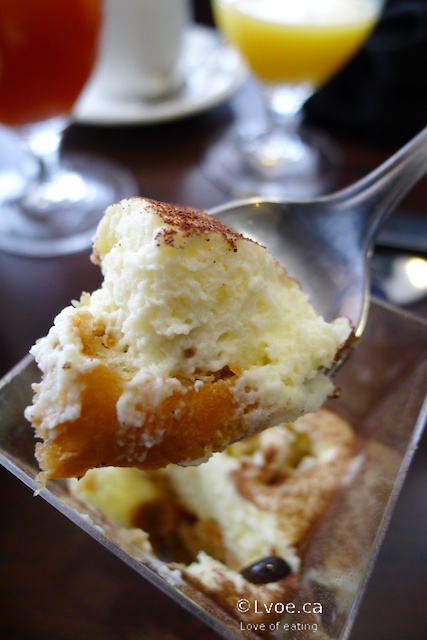 Both the desserts are just slightly sweet, which is my preference for any sweet ending to a meal.
Apple Juice


This is seriously my favourite part of the Grand Bay Café's Sunday Brunch. Their pressed apple juice is the best! Doesn't it look great too?
The Grand Bay Café's Sunday Brunch serves pretty standard brunch fare. Service staff are attentive and efficient, even as the room filled up and became fairly busy. Although they make an effort to provide variety, some of the items were lacking in flavour and texture. I don't mind paying more for a superior spread, but at $32.95 per person (before taxes and gratuity) I think this Brunch is a little spendy.
Having said that, I have to admit that if I fail to find a comparable pressed apple juice like the kind served at the Grand Bay Café then I may have to plan a another Sunday Brunch. Would it be rude to go again and just suck back their apple juice?
Locations
Grand Bay Cafe
1310 Water Street
(Inside Delta Grand Hotel Resort)
Kelowna
,
BC
V1Y9P3
Canada