Las Tortas - Vancouver, BC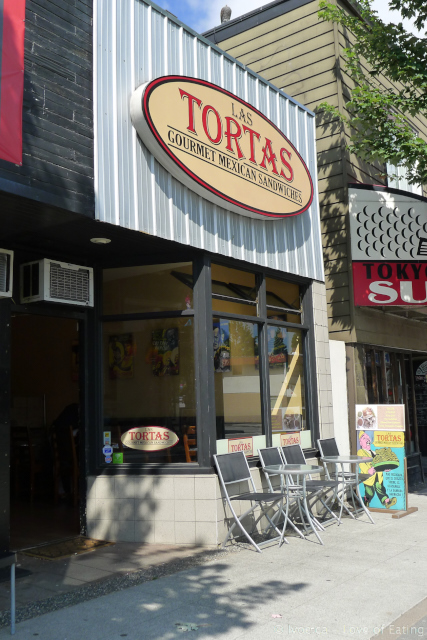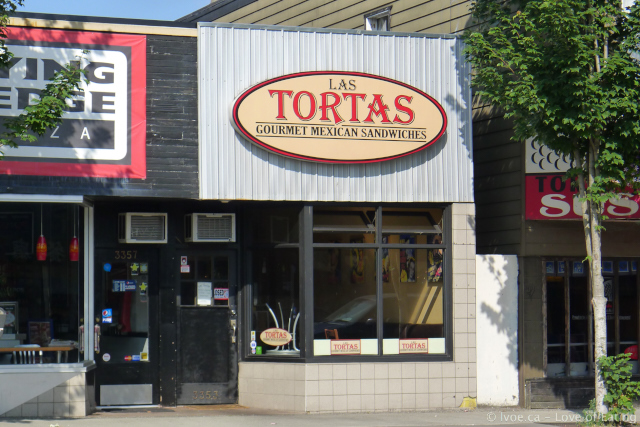 I'm still hanging around Vancouver for a while. I've been lucky with the weather as it's been agreeable for my entire stay so far. I've been able to walk pretty much everywhere. A short walk from my temporary digs is Las Tortas. (The last time I blogged about this substantial Mexican sandwich was at Aca Las Tortas in Bothell, Washington.)
Today Las Tortas opens closer to 12 noon rather than the 11:30 posted time. I walk by and spied a young pony-tailed employee trying to catch the attention of someone inside to let her in. Since there is a bench nearby, I decide to wait for Las Tortas instead of meandering further south on Cambie. It is closer to 11:50 before someone lets the Pony Tail Girl enter; it only takes a few additional minutes before the door open for customers.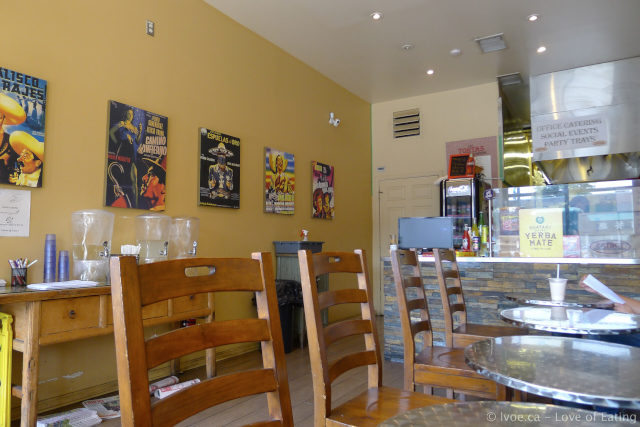 When eating out, DL is often waiting for me to decide. It doesn't matter if I've been to an establishment numerous times…I'm indecisive, especially at times when I don't have the stomach capacity to take on several items. Hence we both appreciate eateries that have an order form. Las Tortas provides a Tick-Off-What-U-Want style form. This lets people like me, time to pour over the options before getting into line. The queue is reserved for those that are truly ready to order, and thus, moves extremely quickly.
Tamales ($4.75)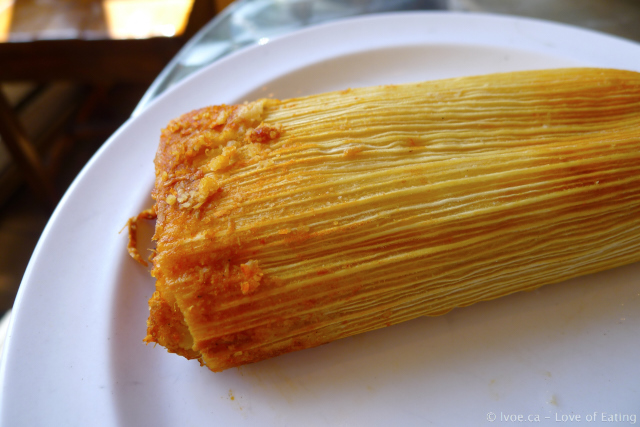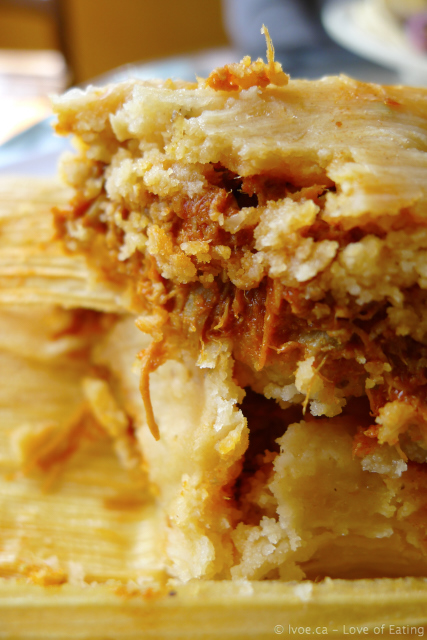 I don't know why I keep ordering tamales. I've never been a fan of steamed corn dough, and tamales always seem "dry", yet I always want to give tamales another shot when I see them available. DL, who enjoys drier foods, doesn't have issues with corn dough. This tamales,fat with chicken filling, garners a satisfied smile from across the table.
Los 3 Cochinitos ($11.50)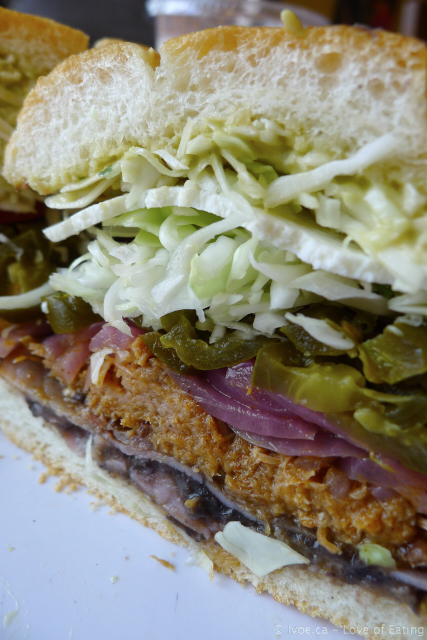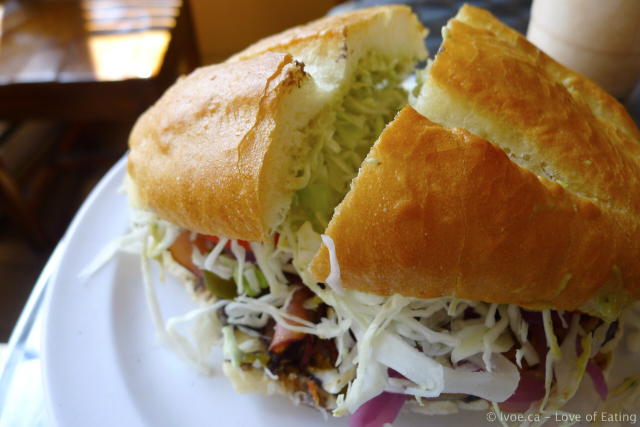 The Los 3 Cochinitos torta wears a triple pork dress of bacon, ham and pulled pork. Then their tortas are generously accessorized with guacamole, refried black beans, jalapeños, red onions, cabbage and tomatoes. It's not a dainty sandwich, so you'll need napkins.
Jarritos ($2.85)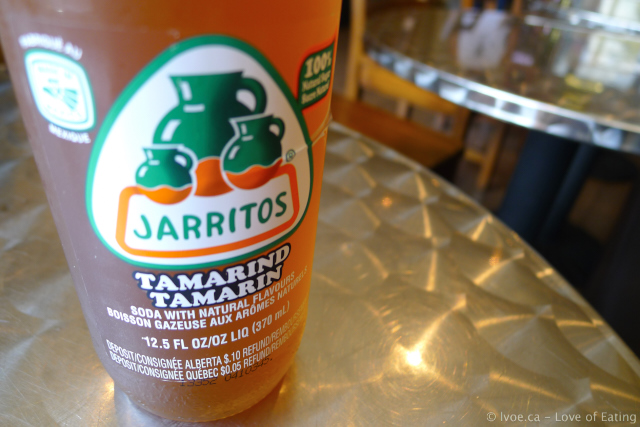 I make my torta a "combo" meal for an additional $3.95. The combo allows you to choose a side and a drink. I went with these awesome potato chips and a tangy Tamarind Jarritos. I included the individual prices just in case you were curious.
Holy lunch time rush! The narrow space fills with customers for take-away orders and some of those forced to take-away as the dine-in area is occupied quickly by the first dozen people to get their order into the kitchen.
House made Potato Chips ($2.25)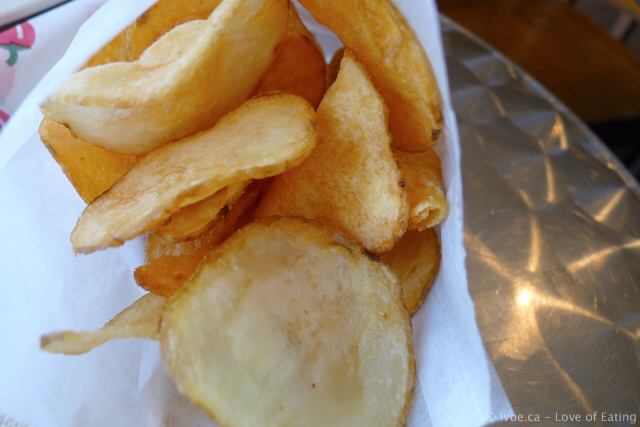 The thin spuds are light and non greasy. The chips arrive at the table as they are pulled from the fryer. Piping hot! Some slices are super crispy and others are slightly tender. When eaten hot and fresh at our table, these are some of the best potato chips I've had in some time. I doubt they'd be as good when they've cooled…
4 Tacos ($9.50)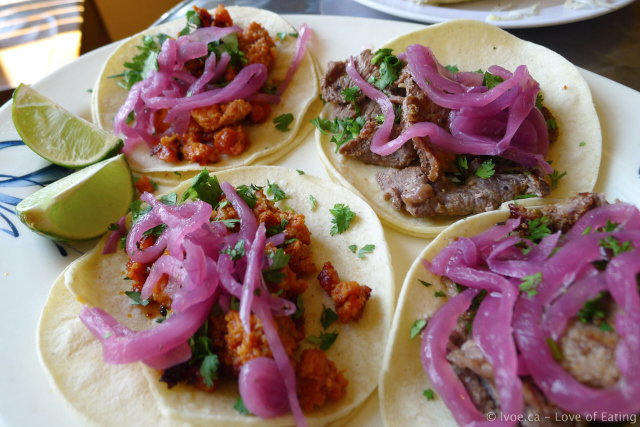 For the tacos in my four tacos I went with two filled with chorizo sausage and two filled with asada steak.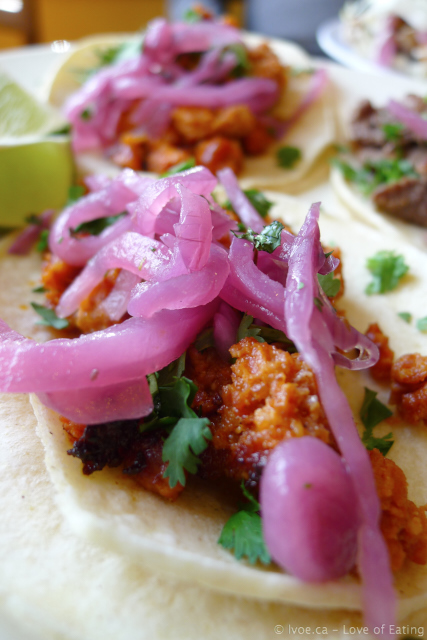 I'm very pleased that the steak is tender, and the chorizo adds a punch of saltiness to this open faced lunch choice. The tacos are made with corn tortillas and Las Tortas lists several items on their menu as gluten-free for those of you on certain specialized diets.
Horchata ($2.85)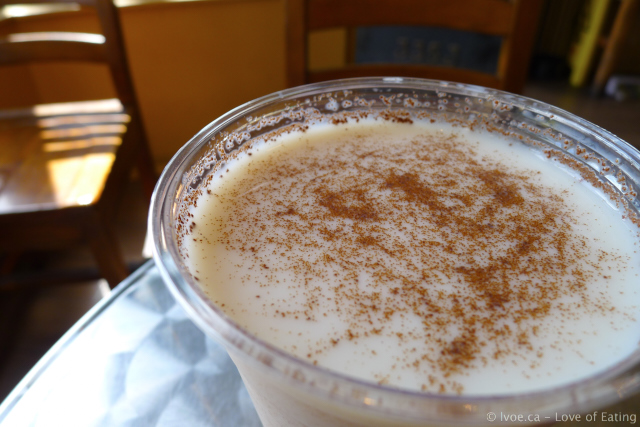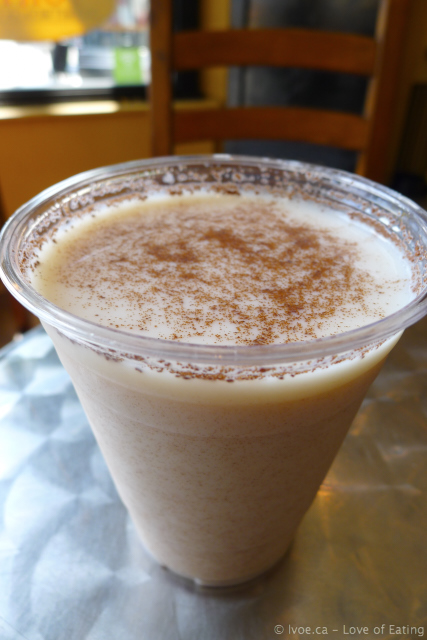 I combo'd the taco entrée with a horchata and churros for an extra $3.95. Las Tortas' version of the rice-y drink is smooth and not very sweet, which is my preference. Horchatas always remind me of a scene from the short lived comedy Suburgatory. Where Alan Tudyk's character "Noah" is attempting woo his housekeeper Carmen by making assumptions of what she'd like to drink. I know it doesn't sound funny out of context, but it was a pretty funny episode:
Noah: What'll it be Carmen? You want a horchata or margarita? Sangria? They also have a variety of Caucasian beverages.
Waiter interrupts with: Actually, sir we just switched over to our winter drink menu...
Noah: If Carmen wants a horchata-
Carmen: Diet soda, please. No ice.
I'm not sure how this became a run-on joke in my household, but one of us will inevitably quote this when we cross paths with the cinnamon creamy rice beverage.
Churros ($1.90)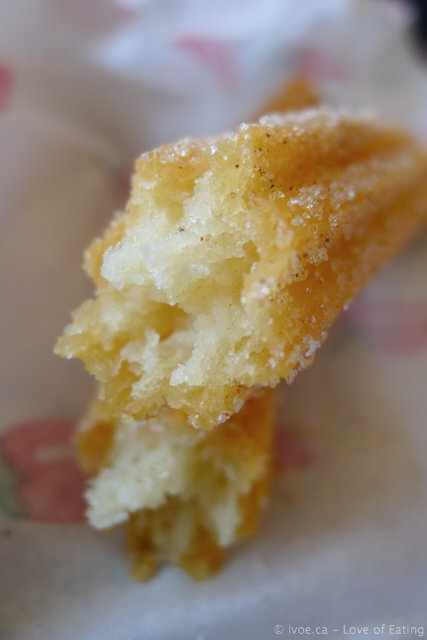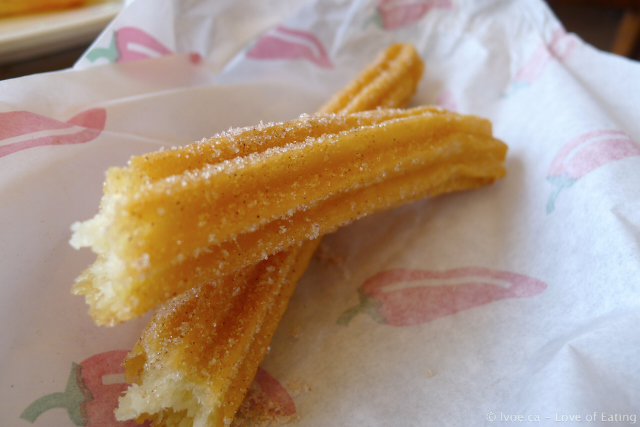 Fried dough is always good. Just like the bag of potato chips earlier, the churro is wicked hot and crispy, as it is dropped off at our table by Pony Tail Girl.
Despite the late opening, the service is fast and efficient considering everything is made and prepared to order.
Although I'm enjoying all this walking about during my stay in Vancouver, I can't lie... I still hope I'm back home by the time the rainy coastal weather arrives. Has living in the dry interior made me into a rain wimp?
Las Tortas website Click here
Locations
Las Tortas
3353 Cambie Street
Vancouver
,
BC
V5Z 2W6
Canada