Fresh Dates at Osaka Supermarket - Richmond, BC
Fresh Dates ($1.69 per pound)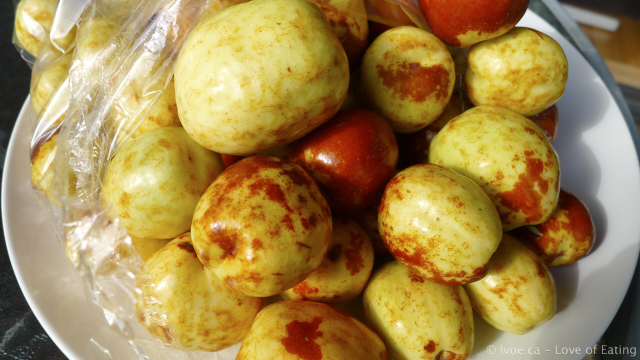 There is still a pile of these fresh dates at the Osaka Supermarket (a.k.a T & T Supermarket) in Richmond today. I initially found these treats a few weeks ago at the Yaohan Centre location. I'm on my third bag in three weeks. Have you tried?
The season for fresh dates is short. I think it runs September to October for the Red Dates above; which are also known as Chinese Dates or Jujubes.
I had no idea what fresh dates even looked like three weeks ago; I'm more familiar with dried dates than fresh ones. When I was a kid, there would be various "healthy soups" that contained these dried jujubes. I remember becoming straight-up annoyed to learn that these "Jujubes" were not of the confectionary variety I had imagined in my eight year old mind. I have since gotten over that deception.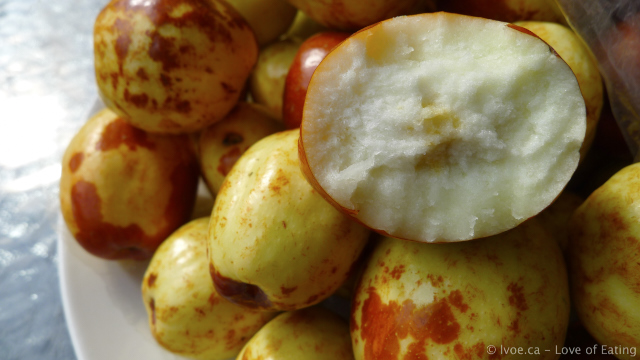 Fresh dates are ideal for snacking. They taste nothing like dried dates. I eat these like mini apples. They are crisp and only slightly sweet, with the flesh being somewhat dry and "airy." I'll definitely look for these again next Fall.
How do you eat your fresh dates?
Locations
Fresh Dates can be found seasonally at Osaka Supermarket
3700 No. 3 Road
(Yaohan Centre)
Richmond
,
BC
V6X 3X2
Canada