Lemonade Gluten Free Bakery - Vancouver, BC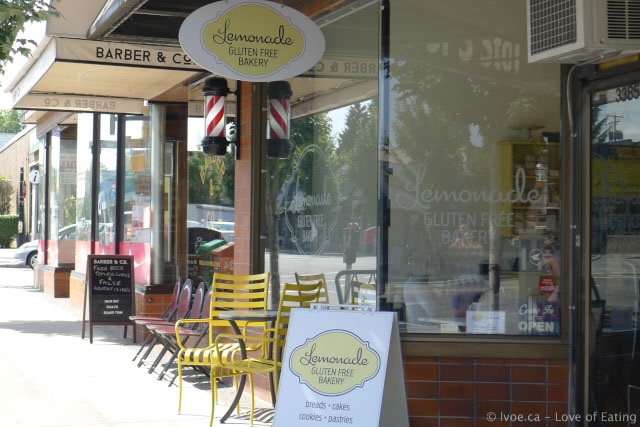 My temporary apartment happens to be in quick walking proximity to Cambie Village and its various shops. Here's some of the gluten free goodness I found at Lemonade Bakery on Cambie Street. It's just a few doors down from Las Tortas.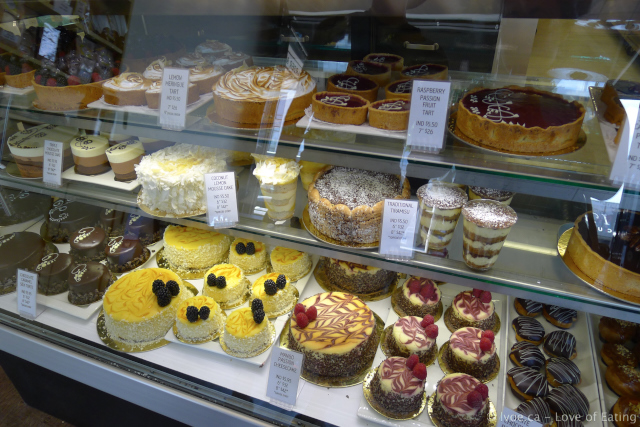 Lemonade Bakery is a dedicated gluten free bakery. If you live with Celiac disease in the lower mainland, I'm sure you already know about Lemonade. The shop is always busy each time I visit. They also have a wide assortment of dairy-free and egg-free items for those of you on other specialized diets.
I have to pick up a cake today, but I thought I'd share with you some other bakery goods while I'm here.
Coconut Lemon Mousse Cake 6" ($32.00)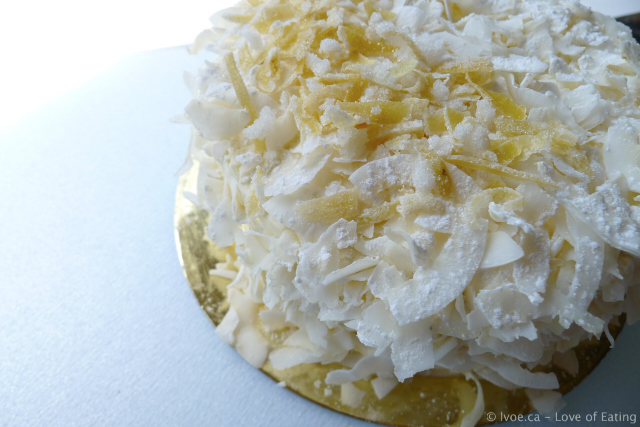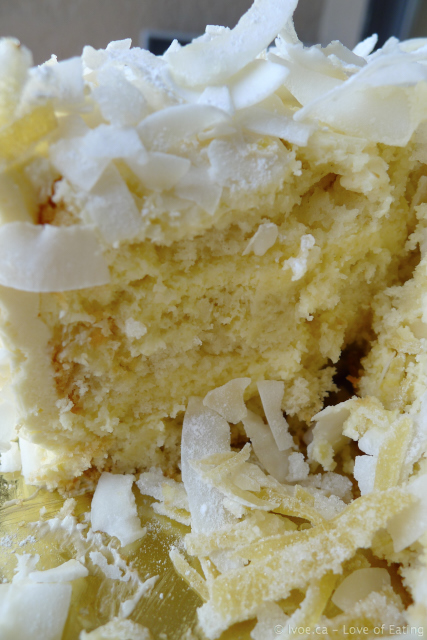 The chiffon cake layers are light, sweet and moist, but most importantly the lemon mousse is tart n' tangy! The coconut shavings are ample, and at times the thick coconut makes the cake tricky to cut cleanly. (This is only significant if cutting a slice "cleanly" is important to you.) I've actually purchased this cake a few times since moving into my apartment, and sometimes I can get clean cuts and other times not. But then again, I tend to grab whatever cutting utensil is the closest to me...even if it's a stubby steak knife.
Campfire Cupcake ($3.50)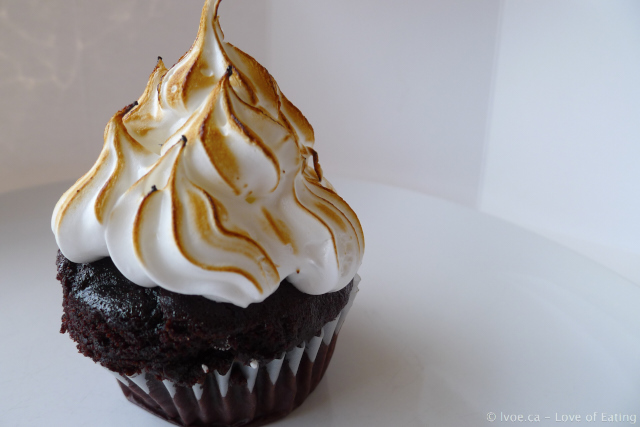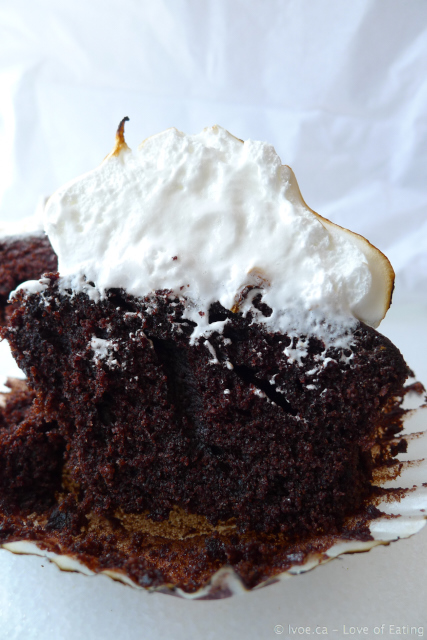 The Campfire is a deeply satisfying dark chocolate cupcake topped off with toasted Italian meringue. The meringue gives it a marshmallow-ish vibe and fuzzy feelings of S'mores washes over me.
Cookies
A selection of Lemonade cookies followed me home today too. Lemonade Bakery offers solid gluten free versions of the classics. All of them have the texture and taste of regular cookies, you would never suspect they were "free" from anything.
Quinoa Chocolate Chip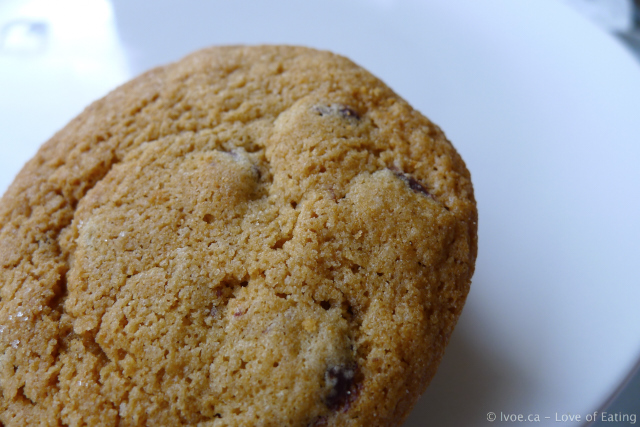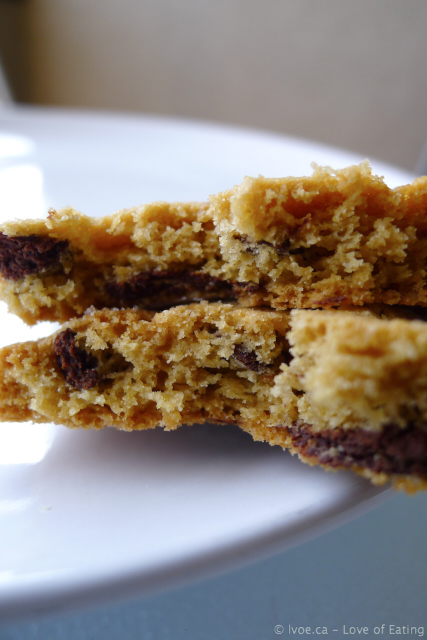 This is a straight forward chocolate chip cookie. There's a little run on joke in my household whenever I see quinoa as an ingredient. I'm reminded of the cross-Canada Quaker Harvest Quinoa Bar commercial with a snippet of two wet-coast-weather-beaten girls on Jericho Beach in November. The girl on the left takes a bite of the bar and exclaims,
"Is there quinoa in this?!"
Like she's been tricked, shocked and beside herself that she couldn't taste the individual grain in the granola bar! (??) Her friend on the right can't help but laugh hard at Quinoa Girl's ridiculousness. This commercial snippet makes me eyeroll, so when anyone in my household eats quinoa, we excitedly ask, "Is there quinoa in this?" Like a vegetarian that was just tricked into eating a ribeye.
Peanut Butter Chocolate Chip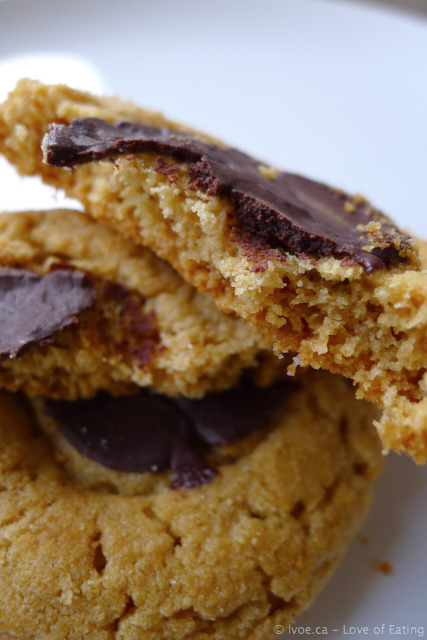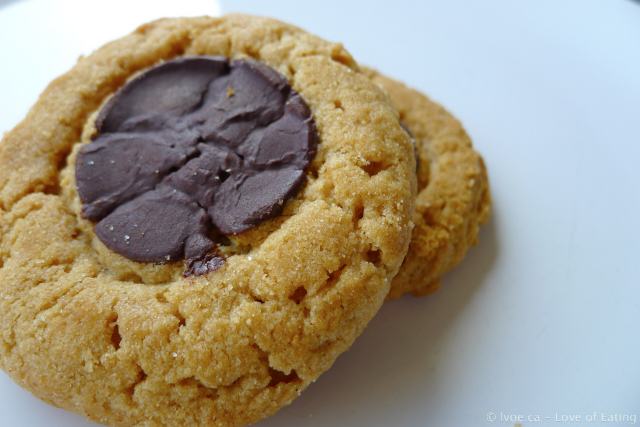 This is DL's favourite of the bunch. It's just peanutty enough with a dollop of chocolate.
Chocolate Almond Sparkle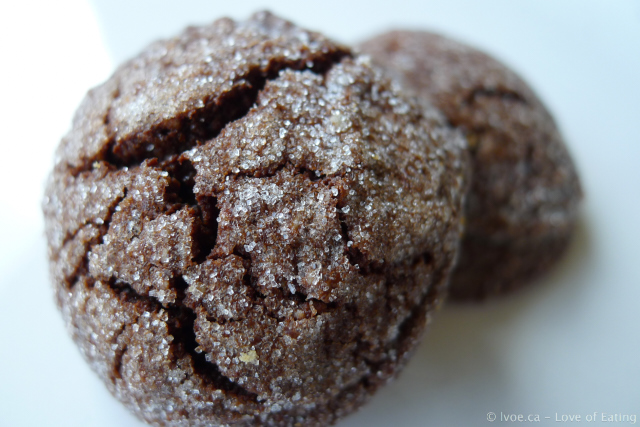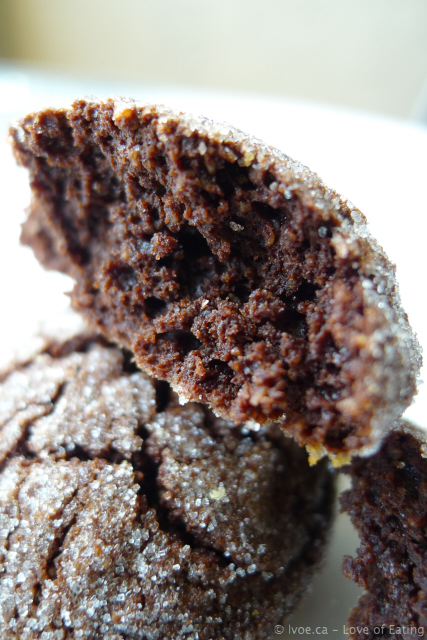 This cookie is also dairy free. Seriously, I don't know how Lemonade Bakery does it, but they really know how to make gluten and dairy free taste good.
Vanilla Shortbread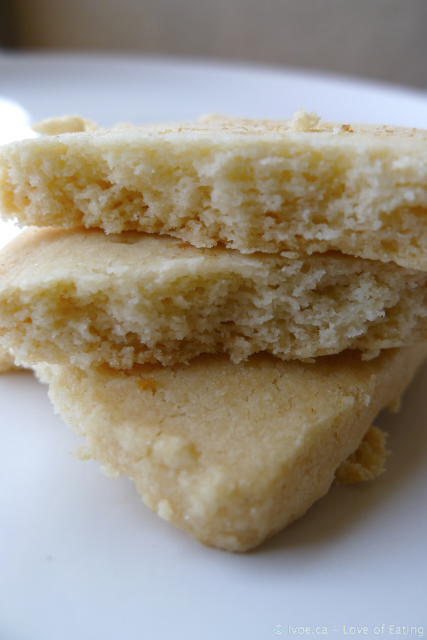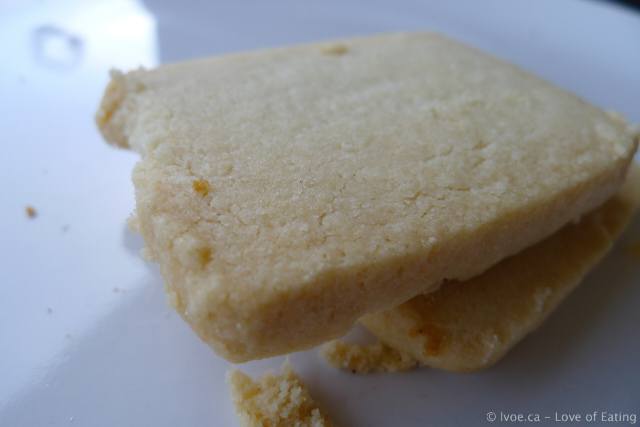 I'm not a huge shortbread fan, so for me, this is okay as far as shortbread goes. It doesn't taste like it's heart stopping buttery, and it's a bit more crumbly than regular shortbread.
Double Ginger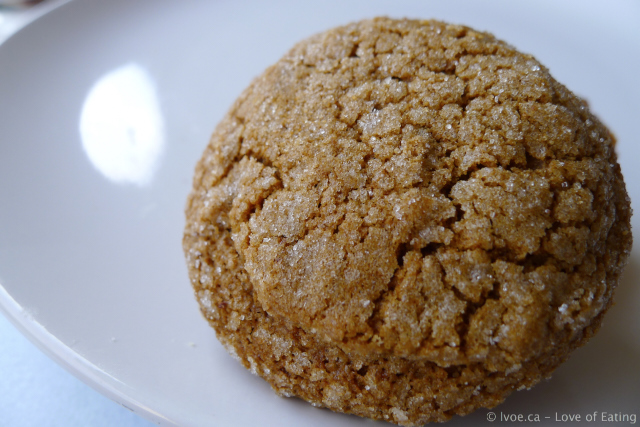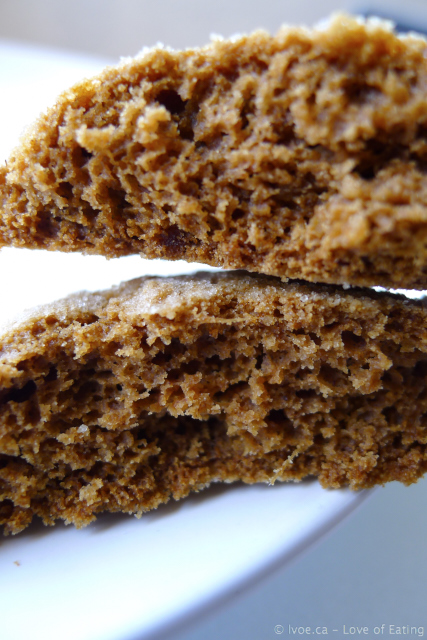 I think the Double Ginger cookie is my favourite. It's a soft cookie, like the Chocolate Almond Sparkle, and it reminds me of the winter holidays.
Oatmeal Raisin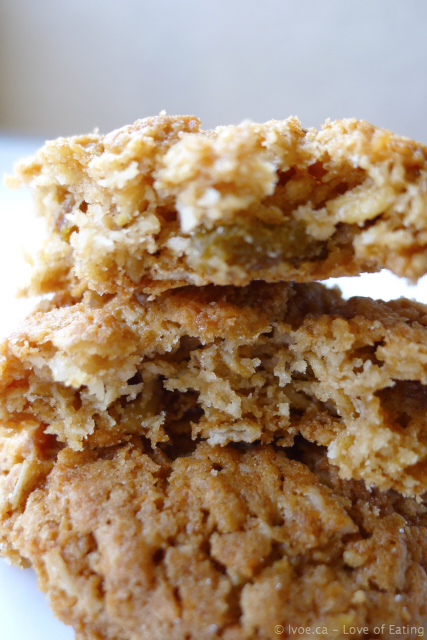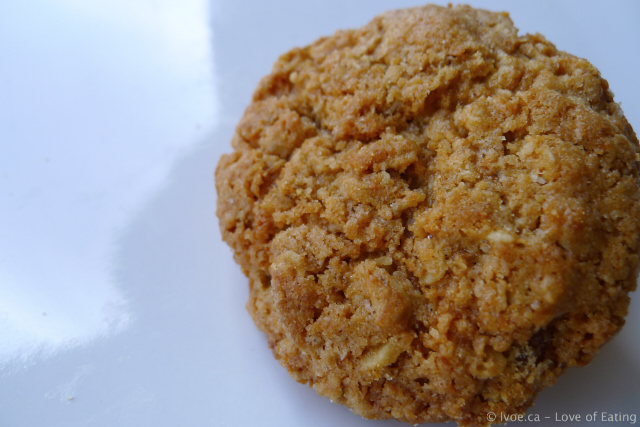 Good ol' oatmeal raisin. The yellow sultanas blend right in the cookie and are hard to see but they are present.
Cinnamon Raisin Loaf ($7.50)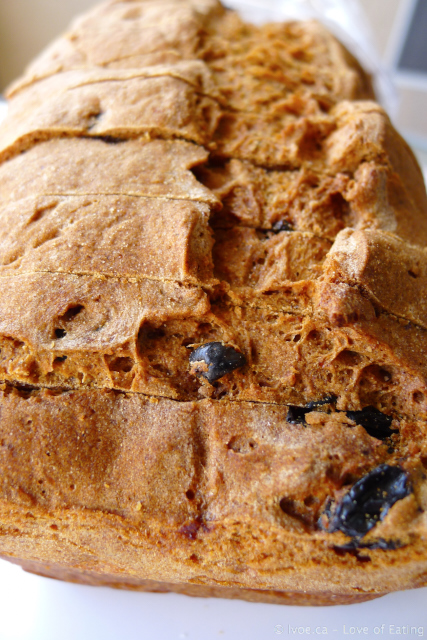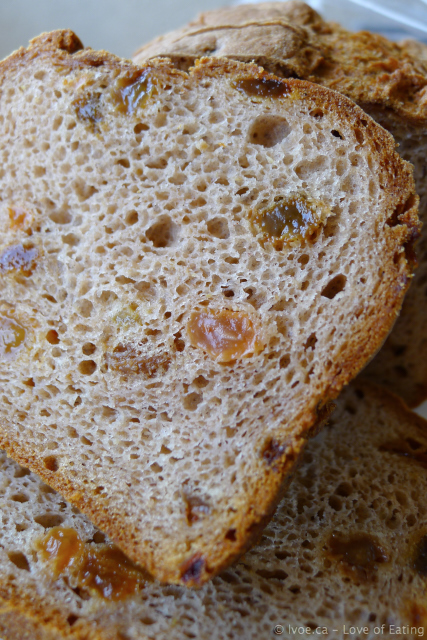 Speaking of raisins, I also picked up some cinnamon raisin loaf. Lemonade's gluten free loaves are the closest in taste and texture to "regular bread" that I've come across so far. But with all bakery items they are best eaten fresh, within a day or so. I have a sliced home-style loaf on my kitchen counter right now that I really should have finished two days ago. The loaves just get a little firm if I wait too long.
No photo, but my favourite loaf from Lemonade Bakery has to be their Fruit and Nut Loaf. I don't even know if it's called fruit and nut loaf or if I just made that up. It is loaded with dried figs! I try to snag a still-warm loaf from the bakery each weekend. And I fight with myself every weekend to not eat the entire loaf in one sitting. It's the best!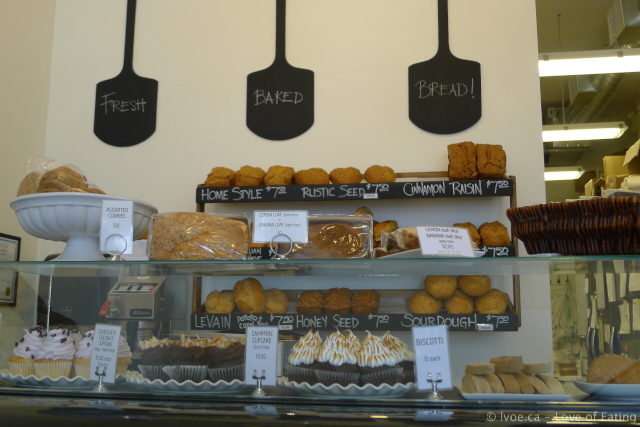 Lemonade has become a regular stop while living in Vancouver, mostly because of its proximity to my apartment, but also because some people in my life live with Celiac disease. Of course, I don't want to be a jerk and leave them with no options when they hang out with me. Enter Lemonade Bakery; their items keep both gluten free and gluten friendly folks happy.
Lemonade Bakery website Click here
Locations
Lemonade Bakery
3385 Cambie Street
Vancouver
,
BC
V5Z 2W6
Canada