Shiro - Vancouver, BC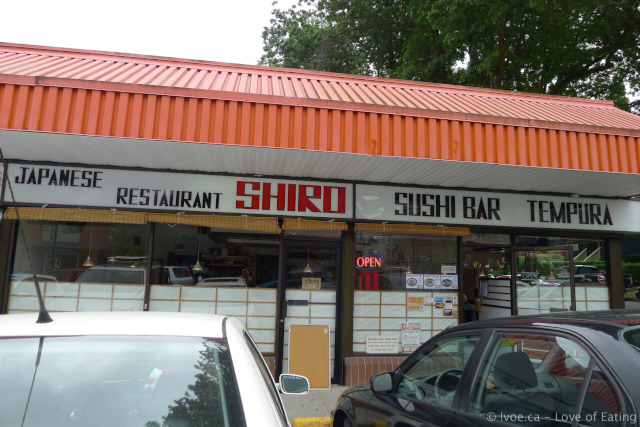 After a morning of grocery getting and mindless window shopping, I find myself ravenous, and in need of lunch quickly. Oh, Shiro. Shiro is always handy for a generous lunch. So here I am. Me and my little red senior's cart.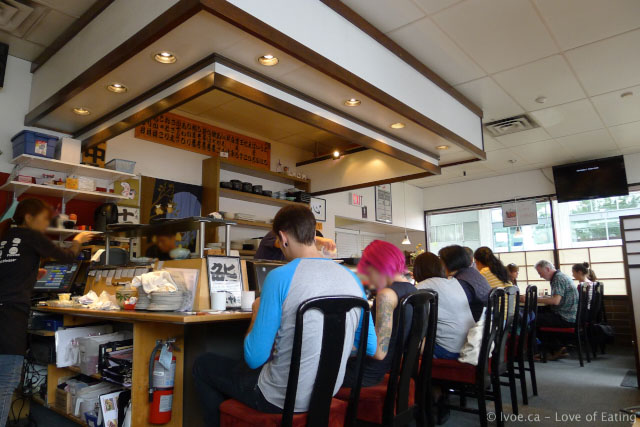 Shiro Japanese Restaurant is a little sushi place on the corner of Cambie and 15th. It's been around for a while, but has also changed ownership in the last few years. I don't think Shiro's food is going to blow your mind, but it's decent and dependable. Also I like that they use real grated wasabi and not the reconstituted stuff.
Shiro has some pretty sweet deals at lunch time, look at this:
Lunch Box G ($12.95)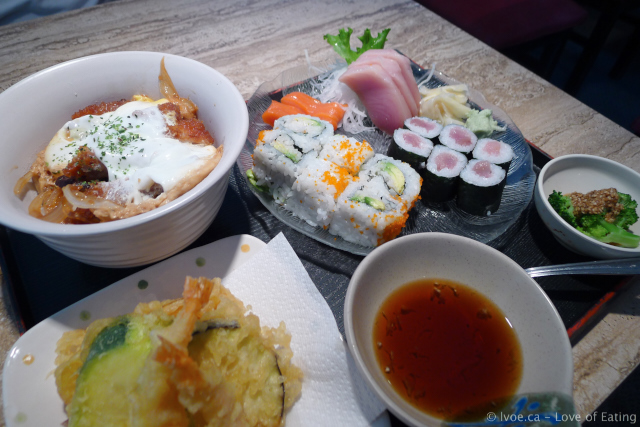 I'm thinking to myself, "How does one eat all this, and go back to work alert?"
Oyako Don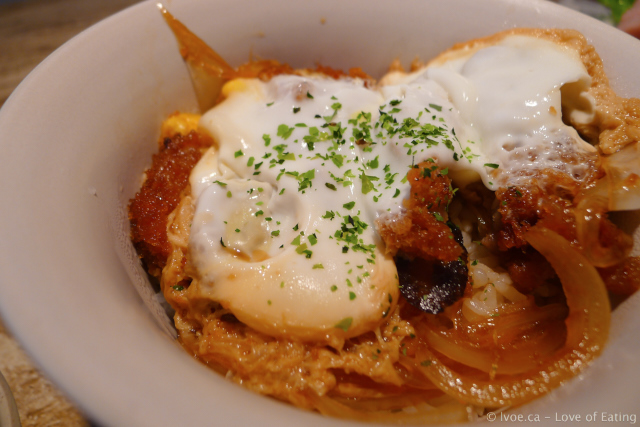 This chicken n' egg rice bowl could easily be enough for lunch. The lightly breaded chicken is still crisp and crunchy being sandwiched between all that steamy egg and saucy onions.
When I found my apartment, I knew the location would allow me to do all my household shopping in a five block radius. I cannot justify using a vehicle for such short distances. Walking is a great idea when just running out to the corner grocery for a couple of things. However, when I made trips to the supermarket and farm markets, trying to drag back bags of heavy fruits and vegetables, I knew I needed some help. Hello, red Granny Cart.
Tuna Maki and California roll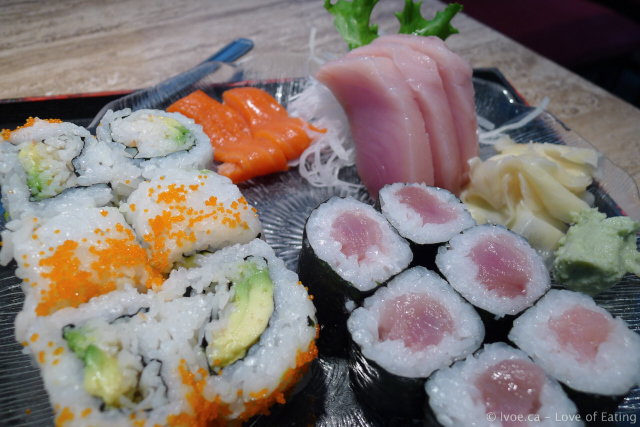 Shiro's Lunch Box G is supposed to come with a BC Roll but apparently BC Rolls are not available today. They substitute with a basic California roll. This works out perfect for me since I don't care for Shiro's BC Rolls. (The last BC Roll I had here had super dry salmon skin, as in, there was no way I could eat it without liquids.) Curiously, at the bottom of Shiro's lunch menu it states that substitutions are NOT permitted. I guess that only applies to customer requests.
Tempura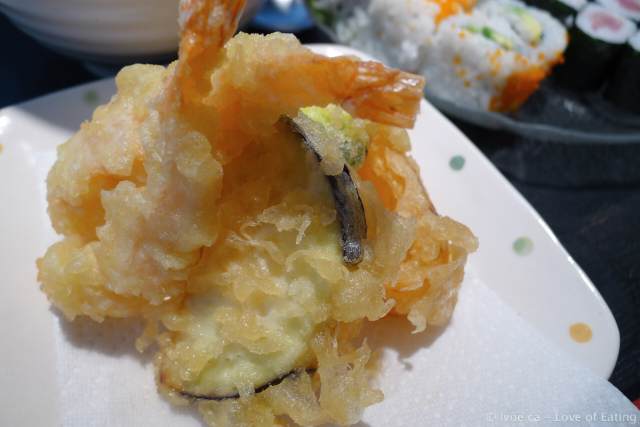 HOT! Fresh and crispy.
I know you know what kind of cart I'm talking about, because when I went to the home centre all I said to the clerk was,
Me: "I'm looking for a Granny Cart."
Clerk: "Aisle 29. Way in the corner. There are two kinds. Blue and Red."
And that's how I procured Little Red.
Tuna and salmon sashimi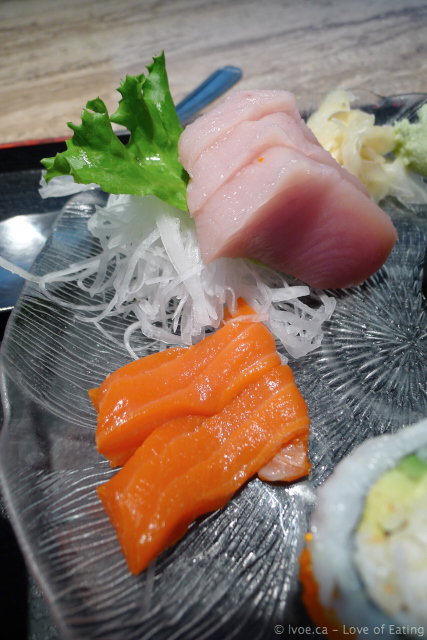 Fresh wasabi with this sashimi makes such a difference.
And this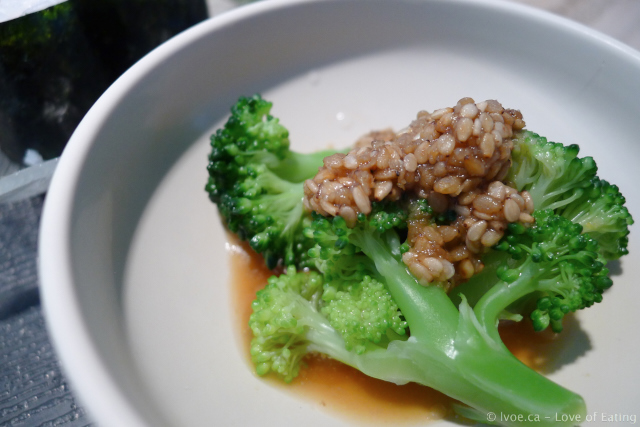 Broccoli. I'm too full to eat it.
Shiro Special Roll ($12.00)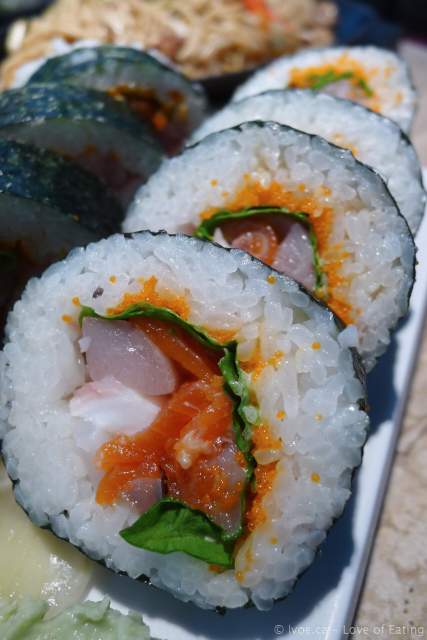 Can you believe this roll basically cost the same as my entire lunch box above? The menu lists this roll as having: tuna, salmon, yellow tail, mackerel, squid, octopus, lettuce and radish sprouts. You'd think with a content list like that the roll would be enormous. This was okay but a little heavy on the rice.
Yakisoba with Chicken ($7.95)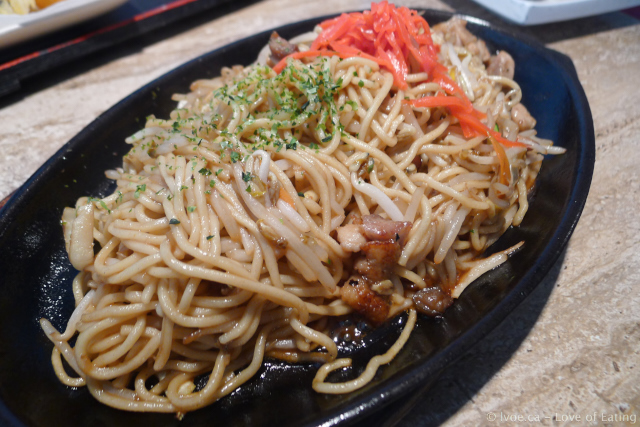 So as I continue to order a yakisoba dish after Lunch Box G and a Shiro Special Roll, the server stopped writing on her little paper pad and food shamed me.
Server: "That's a lot of food."
Me: "Ah, yes...Actually, there is another person coming to meet me." (This is not a lie, DL will show up later.)
Hilarious, right? It's humorous to me because I've been food shamed several times since moving out here. Is this going to be a thing? Should I take it personally? I hope when I move back home, I won't have developed a complex.
This meal ended with some leftovers, and I placed them securely in my little red cart. My Little Red is a life saver. If you're a person that walks to the store, you will need a Little Red of your own. Trust. Those elderly folk really are wise. They've been keeping these carts all to themselves! Now, if I want to, I can haul up to 66 pounds of groceries with ease. Fist pump.
Shiro website Click here
Locations
Shiro Japanese Restaurant
3096 Cambie Street
Vancouver
,
BC
V5Z 2V9
Canada