Honey Tom Chicken - Kelowna, BC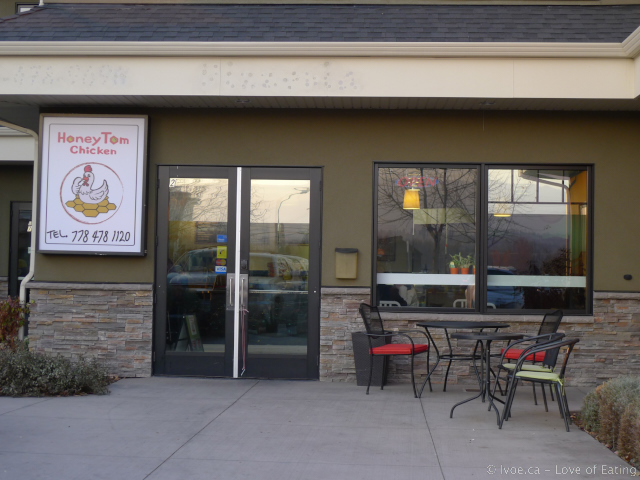 I'm on my way out of Kelowna and I had to share with you Honey Tom Chicken before it's too late. Honey Tom Chicken is KFC. No, not the Colonel, but rather KFC as in: Korean Fried Chicken. The little shop is on the corner of Benvoulin Road and K.L.O. Road. If you like Korean style fried chicken this the place to get it in the interior.
It's a one man show when I enter and the people ahead of me are more than willing to wait 15 to 20 minutes for fresh-from-the-fryer chicken. The fact that everything is fried at the time of order makes a huge difference in the finished product. Hot, juicy and crispy. Honey Tom Chicken already has a loyal following.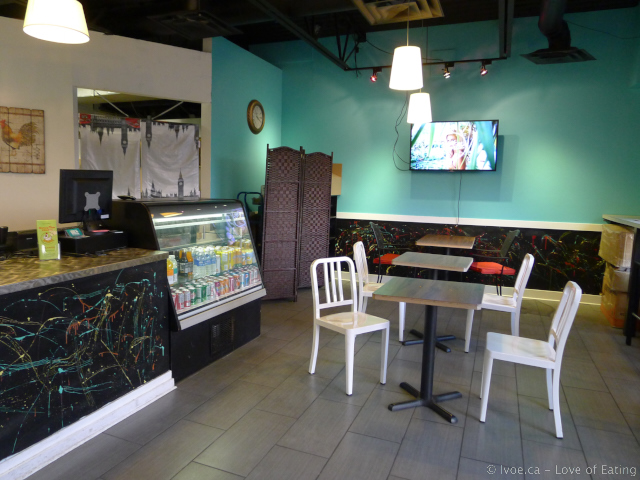 On this day, the shop was intermittently closed at random times for the operator to make home delivery orders. The regular delivery driver was a no-show today. I witness more than one party of people wait outside in the cold for the operator to return from delivery, not even knowing how long the wait may be, for their chance at having Honey Tom Chicken! I overheard one guy beg his partner to wait, "Please, please, please lets wait... it's so good!" That's a pretty loyal following, no?
Family Set ($33.65)
The Family Set contains 14 pieces of chicken with french fries, popcorn chicken, pickled daikon, and small salad and two beverages.
Balsamic Green Onion Salad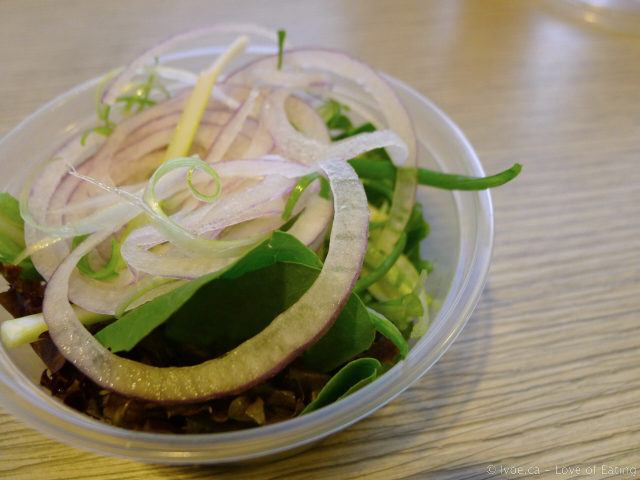 Lets just get the salad out of the way first. For those of you that need vegetables, it is indeed fresh and the inclusion of salad makes me feel better about ordering a "Family Set" of chicken when I know darn well my "Family Set" is only for two gluttonous people.
Popcorn Chicken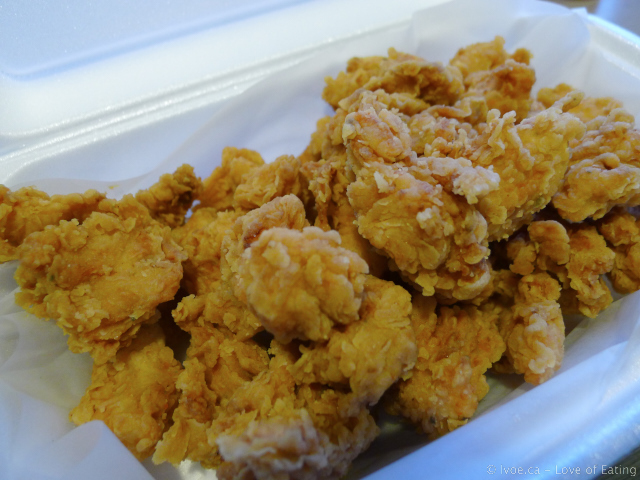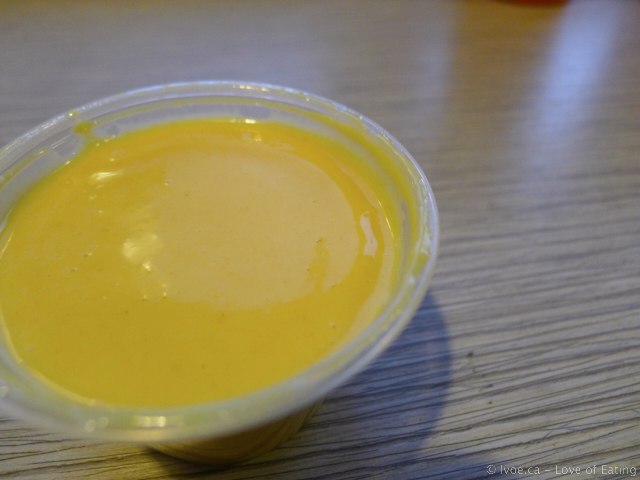 From my observations of the orders that went before me, Popcorn Chicken is popular. Unfailingly crispy, and the pieces are all boneless white meat. The popcorn chicken is seasoned very mildly, but comes with dipping sauces. I quite like their honey mustard concoction for dipping.
Fries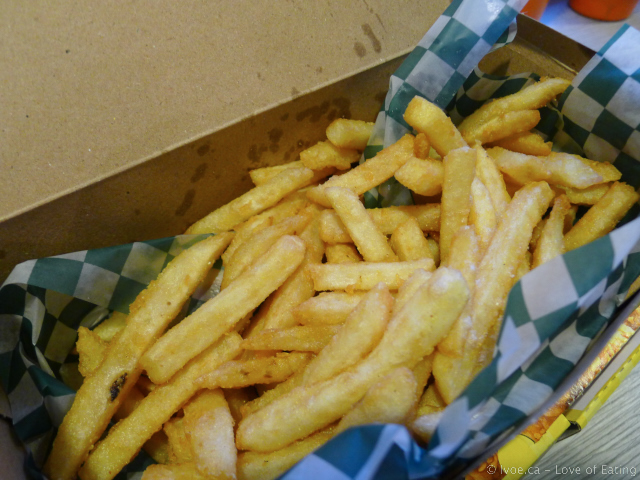 The fries have a lightly salted crisp shell and fluffy potato innards. I like their fries, but as with all fries they are great only when eaten immediately.
Chicken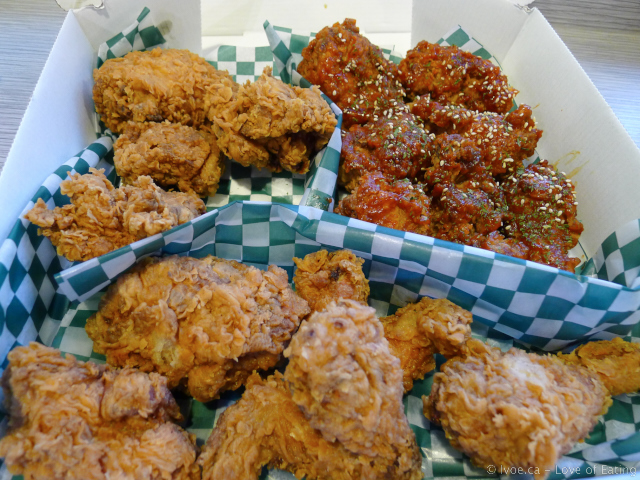 There are three flavours of fried chicken: Original Chicken, Curry Chicken, and Spicy & Sweet Chicken. You are supposed to chose one. I can't decide on just one, so I ask for a selection of all three. If you are indecisive, like I am, and want all the flavours it may incur a small extra charge.
Original Chicken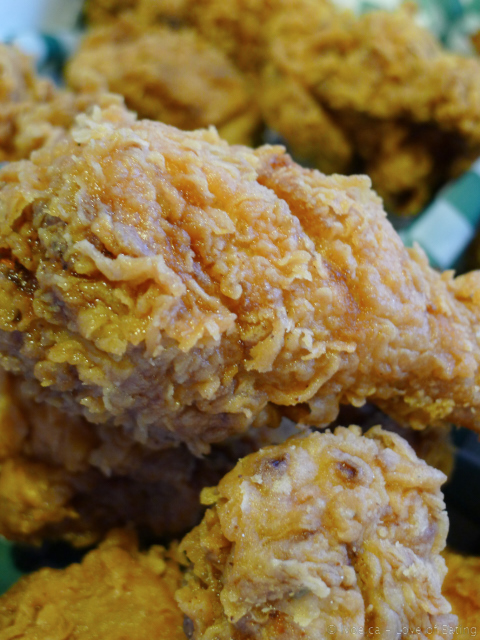 Straight from the fryer HOT! Super crunchy without wearing a too thick coating. The poultry pieces are seasoned well and did not need any accoutrements.
Curry Chicken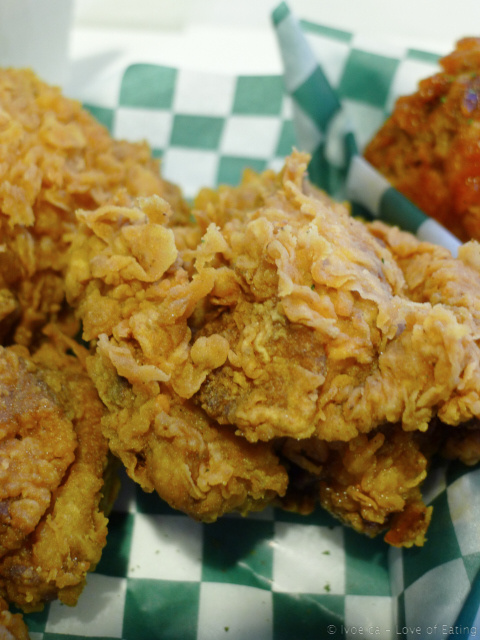 Again, extremely crispy and juicy. This time with subtle hints of turmeric within the breading and chicken. It's hard to tell from the photos, but the curry pieces have a distinctive turmeric tinge to them.
Spicy & Sweet Chicken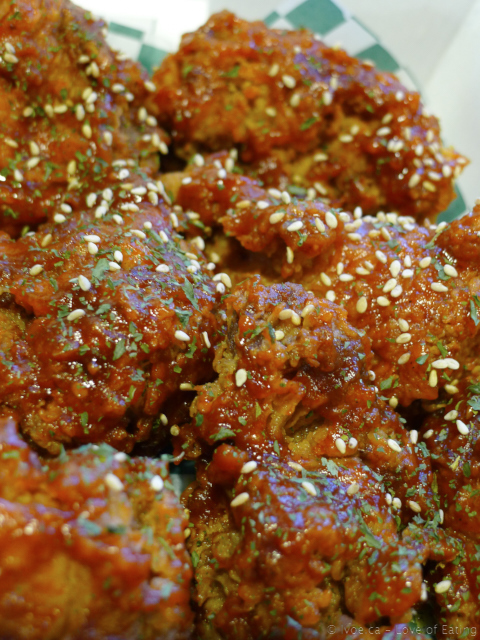 I really thought the curry or original would be my favourite, but I'm leaning towards the spicy sweet chicken. I'm so surprised at how the breading remained crunchy under the sweet and spicy sauce. And also there is a definite hit of lingering spice to the chicken which I like. I'm not going to lie, it is a bit like eating typical Korean hot wings, but there's breast and thigh pieces mixed in.
There are some differences in this style of fried chicken versus the typical North American fried chicken. Firstly, the pieces aren't huge. You will not find half of a chicken breast the size of your entire hand. It is mostly, thigh, drumstick, wings with breast pieces quartered.
Secondly, the whole bird is chopped up and used, so you may find pieces in there that may be a "surprise." For example: chicken back pieces. Warning, you might get some chicken back pieces.
(I hate getting back pieces, this tends to happen to me when I order wonton noodle soups with duck. There's always one piece that's a bony back piece! I don't mind back pieces when cooking at home, in fact one of my favourite childhood dishes was all about chicken backs and celery, but when I'm out at a restaurant I feel it's like pulling a fast-one. Y'know what I mean?)
I think if you want to avoid the back pieces perhaps ordering the 2 Piece Chicken with Fries is a safer bet. I imagine that would be the standard thigh and drumstick combo. Even with the questionable back pieces Honey Tom Chicken is far tastier than any current take-away fried chicken I've tried in Kelowna.
Pickled Daikon


This radish pickle is just a little reminder that we're enjoying Korean Fried Chicken and not Colonel Sanders, y'all.
So here is the urgency of this post:
On my way out, the owner/operator/One-Man-Show-Person mentions that he is considering moving to the coast to be with his friends, and Honey Tom Chicken in Kelowna may be for a limited time only. What!?? But Honey Tom Chicken just opened seven months ago?? Why!??
I don't live in Kelowna so I can't go there everyday and beg him not to leave. So if you already know about Honey Tom Chicken you should go a few extra times this month because it might not be there in the new year.
Or perhaps Kelowna folks, maybe y'all can convince him not to go.
Honey Tom Chicken Facebook Click here
Locations
Honey Tom Chicken
1790 K.L.O Road
Kelowna
,
BC
V1W 3P6
Canada