Donair Express - Kamloops, BC
Is this for real? Is the donair really Canadian? Apparently back in the '70s someone in Halifax put some "sweet sauce" on a gyros and a donair was born. I have no idea if this is accurate.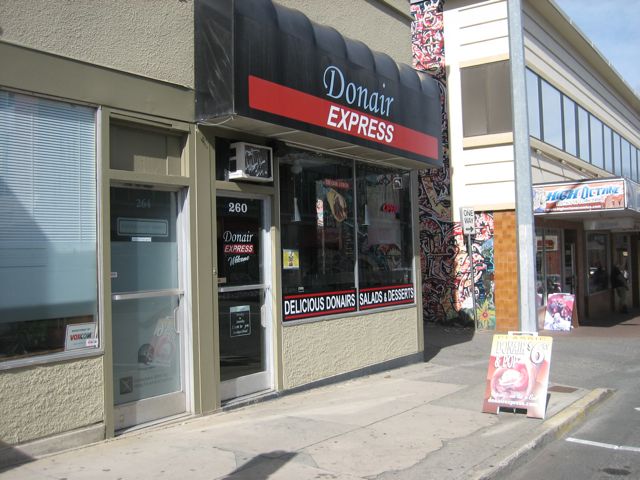 Back in my clubbing days, when I lived in the UK, very few places would be open after my friends and I left the clubs, but the gyros and shawarma places were always ready to serve. I remember we referred to them as "kebabs," and we had them fairly regularly in the wee hours of the night/morning. When I was in France I remember ordering a similar thing in Paris' Latin Quarter, but it was wrapped on a bed of frites. All good eats by my recollection. I haven't had gyros again, until today at Donair Express, and I've never had it with this Halifax born "sweet sauce."
The place is called Donair Express but they also refer to their wraps as gyros. The owner-operator behind the counter shared with me that they used the term "donair" in the name because they felt it would be more recognizable than the term "gyros." Inside, there is counter space down the length of the diner and at the window where you can sit and eat.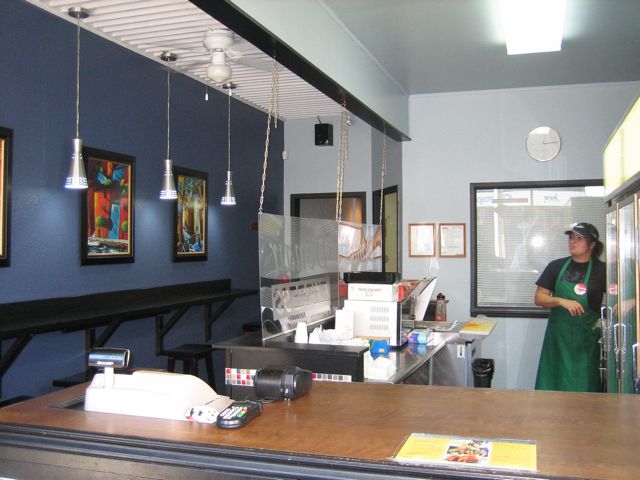 I came upon Donair Express while I was waiting for the other half to exit the comic book store. Yeah, you read right, the comic book store. Where grown men play with tiny figurines. I'm not casting judgment here...really. The owner insisted that we give her the low down on what the hell she's been observing at High Octane Comics & Collectables located next door. She couldn't wrap her head around the fact that "big adults were playing with these little dolls". Her quote kills me! I had absolutely no part of this conversation as DL sheepishly attempted to explain War Hammer and Dungeons and Dragons. He also made it clear that he was only there for a certain comic series he collects, and not the gaming with figurines. Bwahahaha! Snort. This little scenario was the favourite part of my day.
Classic Donair with tzatziki sauce ($6.49)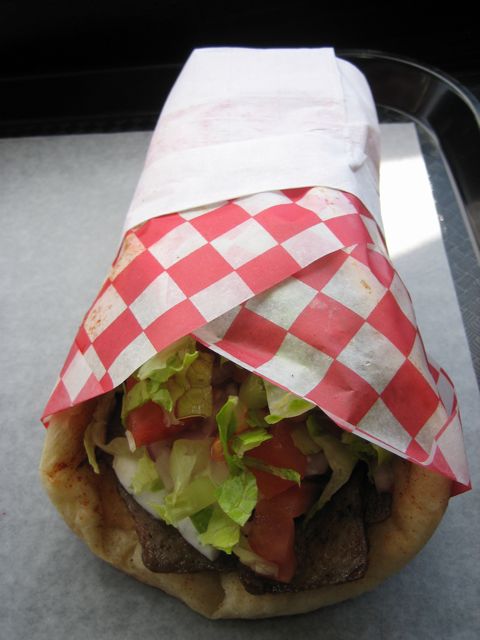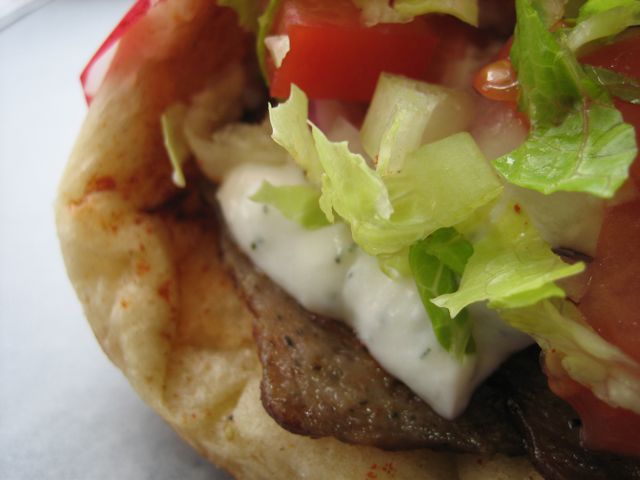 Classic Donair with sweet sauce ($6.49)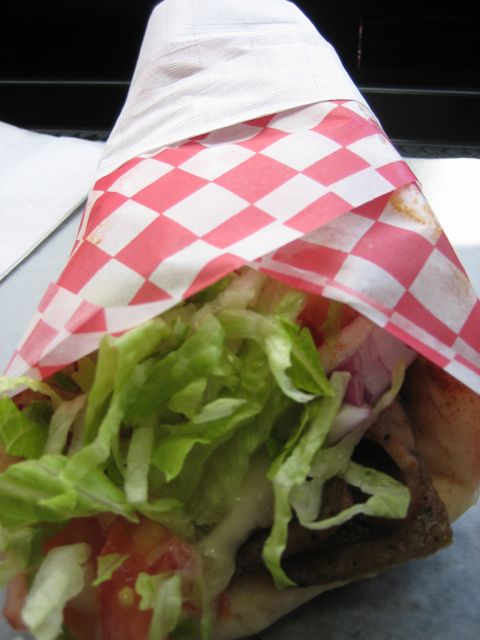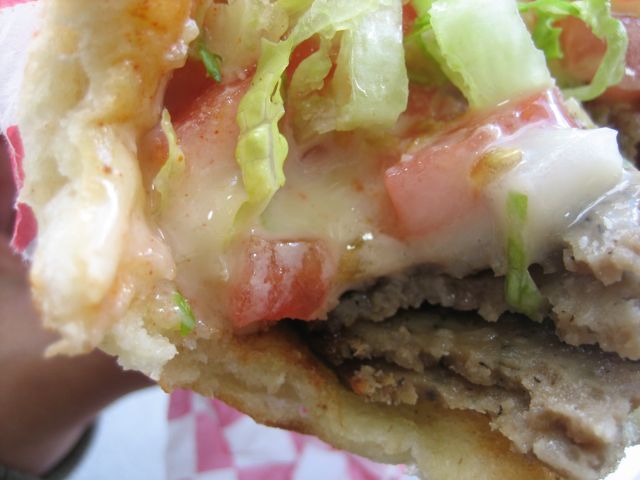 These included a choice of beverage.
The donair was wrapped in a soft but chewy greek style pita. The meat was not the kind where it's sliced from a revolving spit by a dude with an enormous knife. It's the meatloaf sliced kind. I've had this type before in mall food courts. The slices of processed meat were heavily seasoned*. I think Donair Express would reel in many "walk-by-smell-and-see" customers if they had that revolving piece of combination meat in the window. I know I can't resist mystery meat in a window. The tzatziki was tangy and garlicky. Both the gyros were garlicky which I'm okay with as I adore the pungent bulb, but it may be a bit much for some. (I still had the taste in my mouth by bedtime.) The lettuce, tomatoes and red onions were fresh and the sweet sauce was...well sweet. I do love me some sweet and savory, but I'd have to say I prefer the donair with the tzatziki instead. It just made more sense.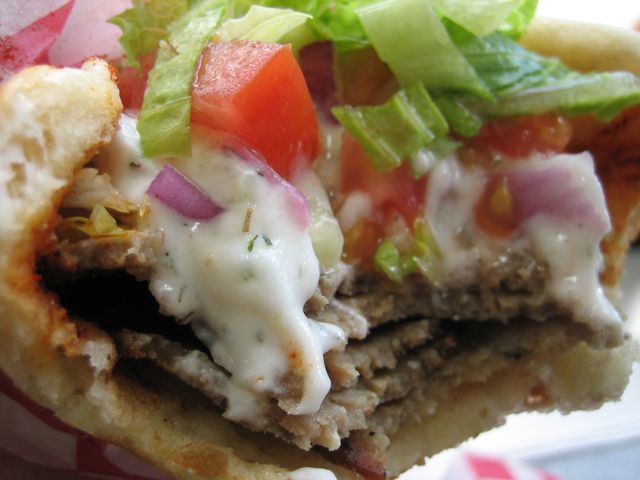 *Note: After our donair lunch, we were both ridiculously thirsty. I'm going to go ahead and allege there is a mega dose of "flavour enhancers" in there. I would imagine it's difficult for an establishment to really control this detail when the main ingredient is brought in pre seasoned.
Donair Express is a friendly little eatery offering something a bit different in Kamloops. It might be just me, but I associate donair, gyros, shawarma and kebabs as late night guilty pleasures. It's the perfect "after-the-party-pub-club" food; after you just danced your ass off for 4 hours. I don't know what the pub/club scene is like here in Kamloops, but I know most people are famished after the clubs flick on the lights of reality. Donair Express is open 11-5 mainly serving the lunch crowd. They too have an active FB page that includes a look at their menu. (You have to dig for it in their photos on their wall posts-not the "photos" section.)
Donair Express is fast food, make no mistake. I don't eat a lot of fast food, but if given the choice among Donair Express or traditional fast food chains I'd rather support a local business and have another gyro.

Locations
Donair Express
260 Third Avenue
Kamloops
,
BC
V2C 3M3
Canada