The Press Box / Zhen Zhen Restaurant - Kamloops, BC
**UPDATE: Press Box/Zhen Zhen is now closed."
I initially wanted to go have lunch at Sanbiki but they were closed for lunch on Saturdays. Oh well. I decided to pick up some cat food for the beast, and head home. As I pulled into the Total Pet parking lot I noticed a sign that said, NOW OPEN. It was in the window of a place called The Press Box Zhen Zhen Restaurant. I kid you not, look at the picture. Well hey, who am I to pass up a new restaurant.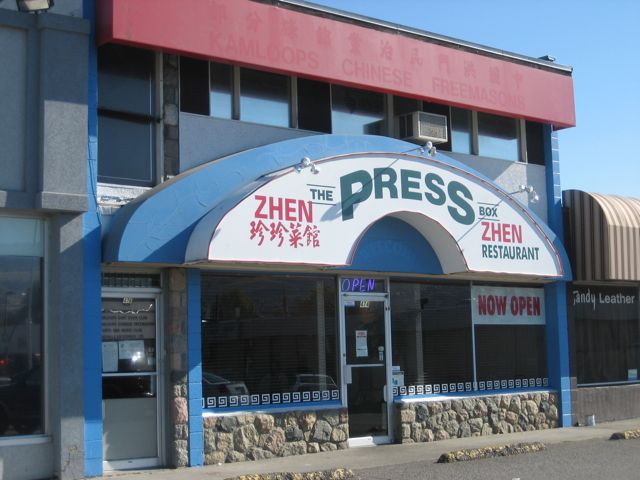 I didn't really feel like western chinese food for lunch but I was getting the growlies at this point, and I didn't want to drive around trying to decide on a place. It looked very DDE on the outside and when I entered, my suspicions were confirmed. It had an interesting smell. It smelled like old cigarette smoke and 1973 carpet. I was befuddled. To our the left there was some regular tables, and some round banquet tables; then on the right hand side of the restaurant there sat typical Denny's diner booth seating. I looked at the whiteboard sign welcoming me to the Press Box. Um, okay. My eyes darted around trying to decipher if I misread the outside awning. Was Zhen Zhen upstairs or something? Am I in the correct establishment? We seated ourselves as directed by the camp-style burned wood sign that greets you in the foyer.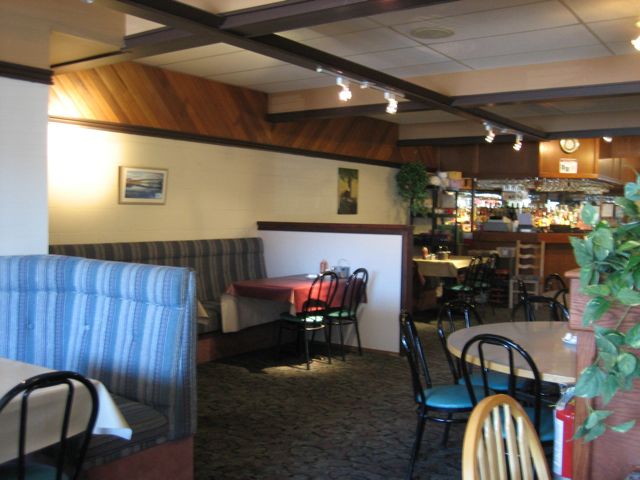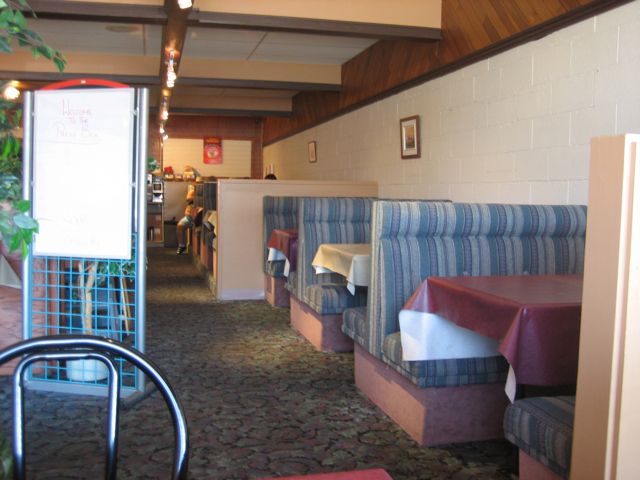 When the server came to give us our menus, again, we were confused. It was a Press Box breakfast menu, and they did not serve lunch until 12:00. Okay, to be fair, it was in fact a little before noon (11:35 to be exact.) I was so baffled, nowhere in the decor or menu did this place hint that it was a Chinese restaurant. I was also miffed at the fact I would now have to order breakfast. I had already eaten breakfast today. I love breakfast food, but I felt like having lunch food.
I asked the server to shed some light on this place. It's complicated.
The restaurant is not new. I have no idea why there is a Now Open sign out front. The Press Box and Zhen Zhen Restaurant share the same space. Huh? The Press Box serves diner style North American cuisine 7 days a week until 2pm. Then the servers and kitchen staff changes out, and it becomes Zhen Zhen Restaurant that serves Cantonese style food from the hours 4pm to 11pm. Y'still with me? It continues... between 4pm and 8pm during Thursday, Fridays and Saturdays BOTH Press Box and Zhen Zhen share the space and serve both cuisines, with each restaurant using separate staff and different menus. Crazy, no?
Breakfast Special ($4.95)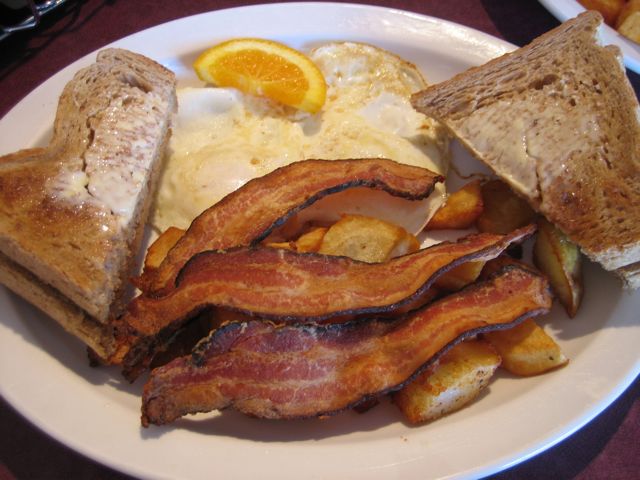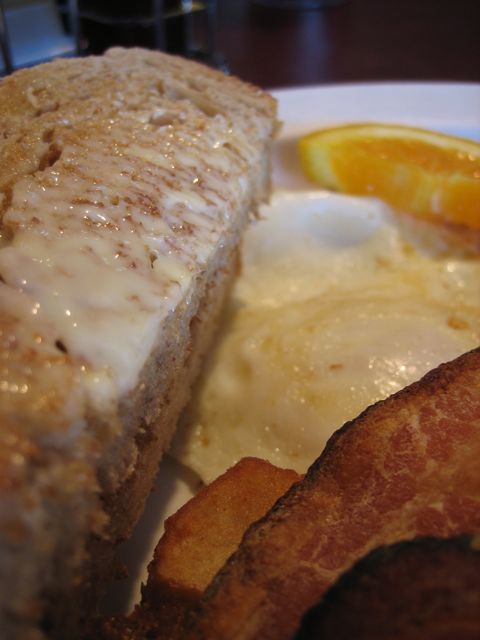 The eggs were perfectly over easy. The hash browns looked and tasted very deep fried. The toast had a liberal spread of margarine, and it could have been more toasted in order to withstand the amount of spread on it. Now the bacon was literally something else. I've never had deep fried bacon before. Truth be told, I didn't confirm with our server that it was indeed deep fried, but c'mon it had to be. It was insanely crunchy, to the point where it kind of disintegrates into powder in your mouth. The texture was like eating crackling from a rib roast dinner. Sure I like crackling, but not for brekkie.
Breakfast Burger ($5.95)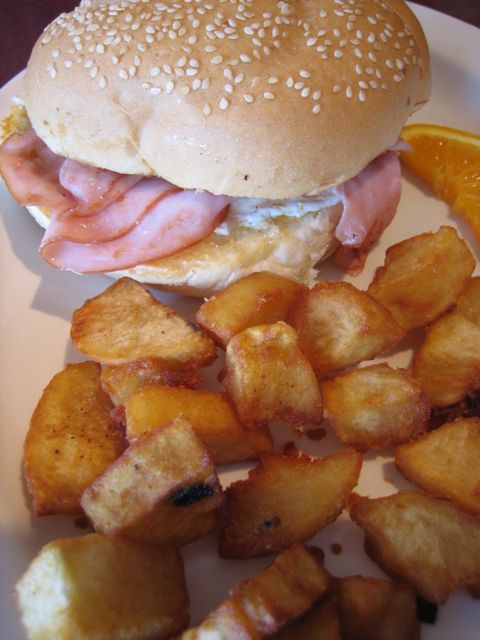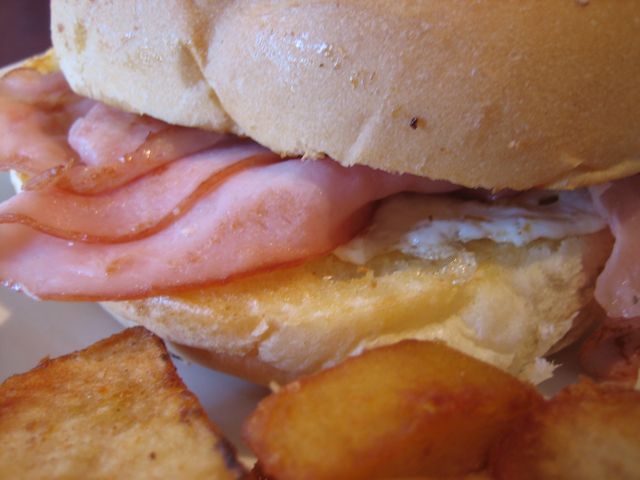 The eggs were again perfectly cooked to a medium, so when you bite into the sandwich the yolk doesn't run down onto the plate or your fingers. Processed cheese and some thin sliced sandwich ham rounded out the sandwich. It tasted very much like a Ham n' Egger from A and Trouble-U. The breakfast at the Press Box was pretty meh.
It's a DDE for sure. I had to share about this meal because I was fascinated by how these two very unlike restaurants share the same kitchen and dining space. Is this normal in Kamloops? Are there other "slashy" restaurants out there that share the same space but are completely separate in name and staff?? I don't even know how to title this entry on my site. Is it the Press Box or is it The Press Box/Zhen Zhen Restaurant. So bizarre.
*Update 2011* The Press Box / Zhen Zhen restaurant is now closed. If they have re-opened elsewhere please let me know, and I will update my info.
Locations
The Press Box / Zhen Zhen Restaurant
474 Tranquille Road
Kamloops
,
BC
V2B 3H2
Canada