Taka Japanese and Korean Restaurant - Kamloops, BC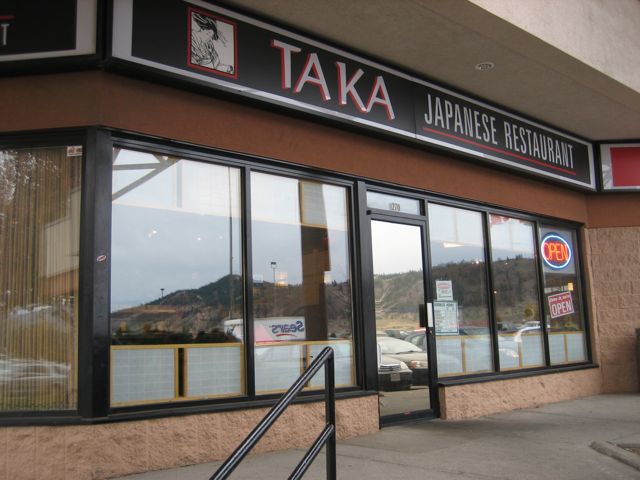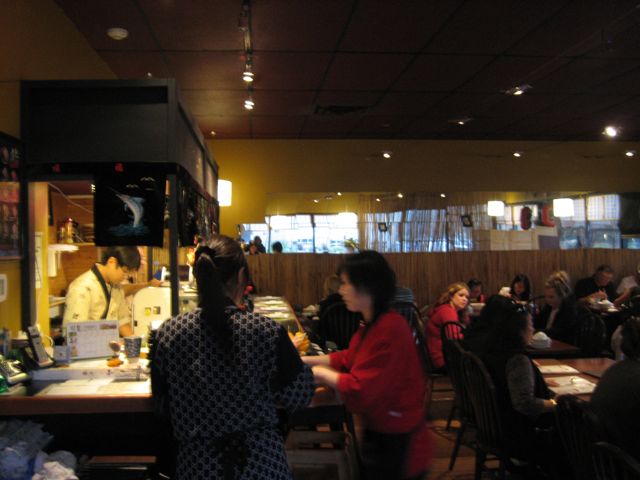 Before my class started, I needed a snack. Taka was relatively close so I swung in. I was looking for slinkys* at the various dollar stores around town, and spotted Taka tucked in the corner of the Columbia Place Shopping Centre. For easier reference this is the same complex that has the Save On Foods and Signature BC Liquor Store.
*I toiled over the pluralization of slinky. The i-e-s ending just didn't look right.
Toro nigiri ($2.45 each)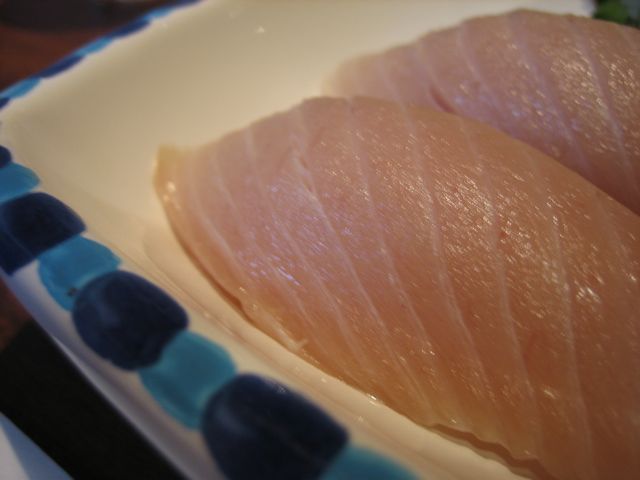 Not bad, I've had fattier tuna belly but it was alright.
Ikura nigiri ($2.75 each)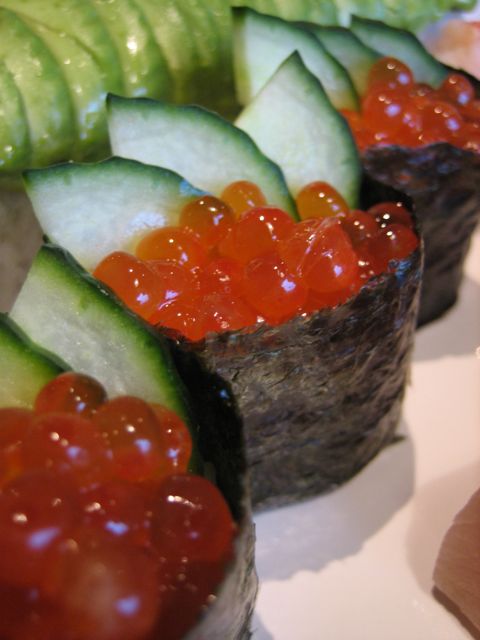 Ikura is one of my favourites and its decent here at Taka. A bit scant on the salmon roe however. Sure the cucumber slices make it pretty, but it's taking up real estate on the nigiri that could be used to house more ikura!
Tuna and salmon sashimi ($13.95) *Sockeye was not available at Taka.


This was a complete fail for a few reasons.
1. When the server brought the dish to us she says, "uh, the salmon was just taken out of the freezer, so it's still frozen...just eat the other stuff first and then eat the sashimi" WHAHHH??? You want me to wait for it to thaw out? Sure most sashimi seafood is frozen at sea at x temperature for x amount of time, but it sure as hells is not served frozen. If it's not ready to serve, then don't serve it. It's really just that simple. I was completely taken aback by this. This would be the equivalent of a server saying, "Uh, here's your clam chowder, its cold but it might warm up while it sits on the table, just eat your oyster crackers while you wait for the soup to warm."
Very. Poor. Form.
2. Okay, so I take it to go and I wait it out. (Yes, of course I did. I had to, at least, try it.) Both the tuna and the spring salmon tasted "watery." Very far from melt-in-my-mouth with regards to texture. Finally, there was no tuna or salmon "flavour" to the slices. Spring salmon sashimi has a more delicate taste than say sockeye, but the flavour here was seriously non existent. In a word: blech.
Ebi nigiri ($2.25)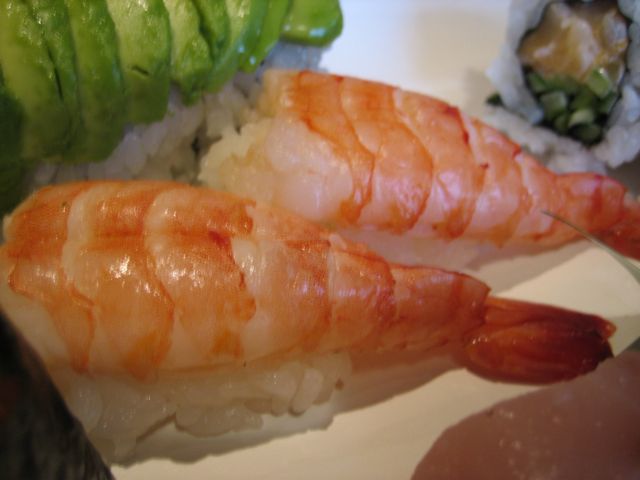 I meant to order ama ebi (sweet prawn) nigiri. I'm not sure why I ordered this, as I never order ebi. However, the prawns were nicely done without being rubbery.
Chopped Scallop Roll ($4.50)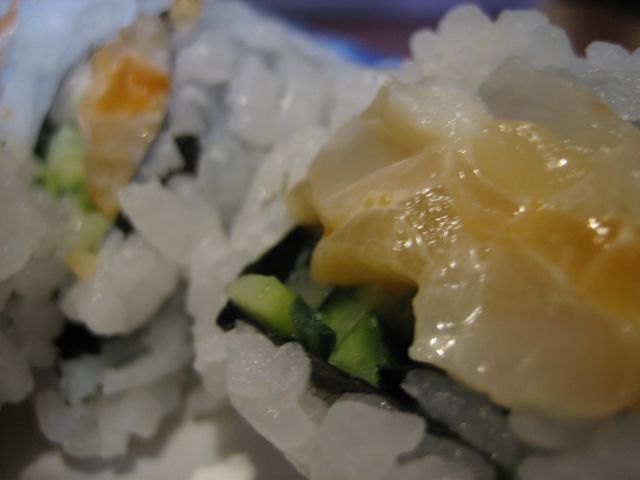 Standard chopped scallop roll. The roll held together firmly and the rice in general was sufficiently seasoned and exhibited good texture with separate but sticky grains.
Caterpor Roll ($8.50)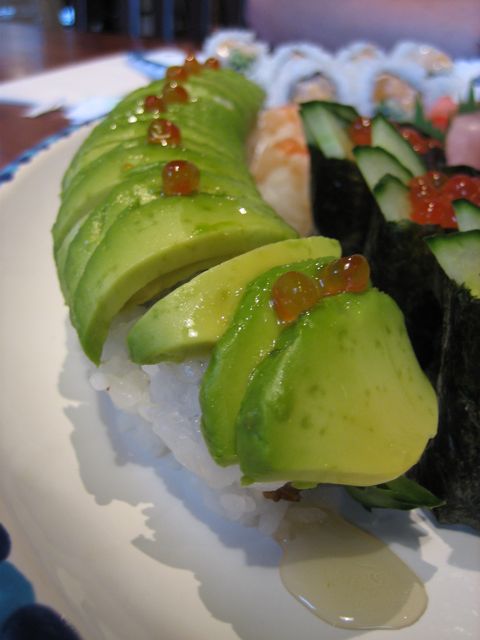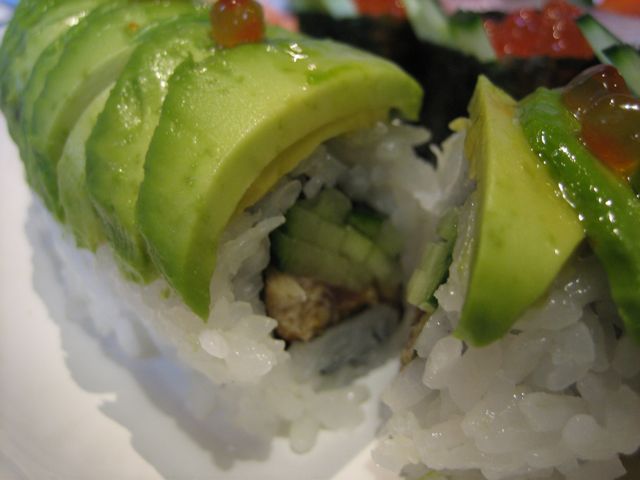 Tee hee, I'm assuming Taka meant to spell this as a "Caterpillar Roll" on the menu. It's basically a bbq eel roll with avocado wrapped around the top with a handful of salmon roe placed on as detail. This was a fun roll. We both enjoyed it. It had a bit of sweetness to it due to a drizzle of honey as garnish. I often order unagi rolls when snacking on sushi (and it's an easy one to make at home.) I relished the added smoothness to the roll by way of the ripe avocado. Nice.
My pre-class snack came to a total of $49.95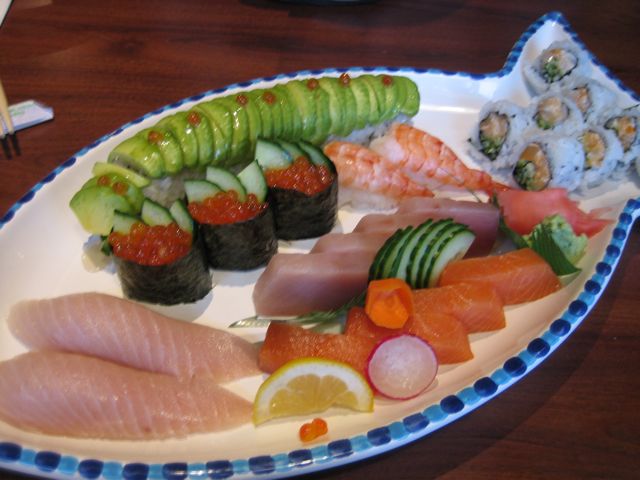 Taka is a Korean run restaurant serving Japanese cuisine. There are hints of the Korean-ness as you can order bibimbap too on the menu. I notice that recently they were still looking for a "full-time ethnic Korean chef," and referred to themselves as Taka Japanese and Korean Restaurant. I suspect they may be moving towards a combination-focus of Japanese and Korean selections. Who knows?
There are other places in Kamloops where you can get a maki roll or two. I would be inclined to check the other places out before considering a repeat visit here. Although the rolls are adequate at Taka, the gelid sashimi incident was a deal breaker. Disgraceful.
If they thought it was acceptable to serve that to customers (and instruct them to wait for it to thaw! WTF?) it makes me wonder just how low their quality bar really is? Do I want to find out? I'd rather take my dining dollar elsewhere.

Locations
Taka Japanese and Korean Restaurant
#270-1210 Summit Drive
Kamloops
,
BC
V2C 6M1
Canada