Goldie's Flavours of India - Kamloops, BC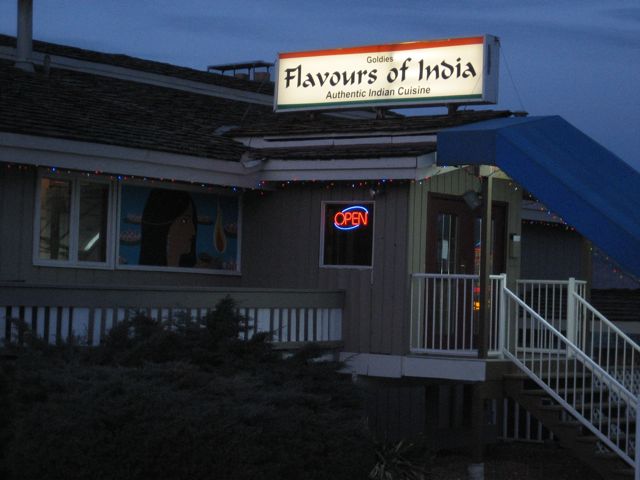 Goldie's is a south asian restaurant that sits on the same lot as some motel (the name of the motel escapes me at this time.) It looks to be a family operated business, with all members of the family multitasking as servers, bussers and front end staff. This is my second visit to Goldie's since moving from the eating heaven that is Vancouver and it's surrounding areas.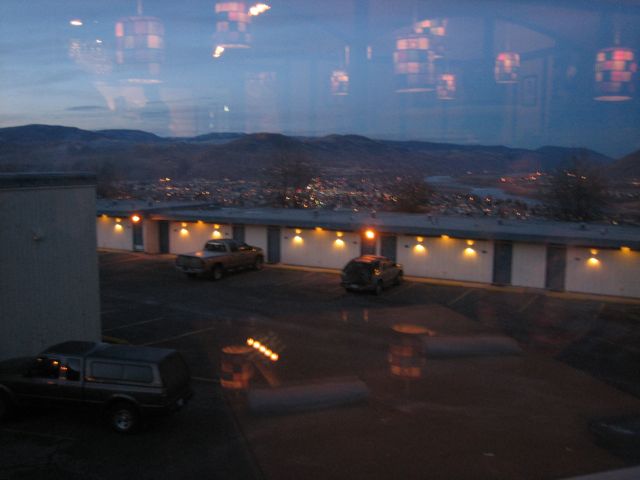 We were greeted promptly by our young server and given a window seat. The view is of the north side of Kamloops, if you can ignore the the motel in the foreground.
The restaurant is licensed, however we opted for water, ice tea and chai masala for drinks.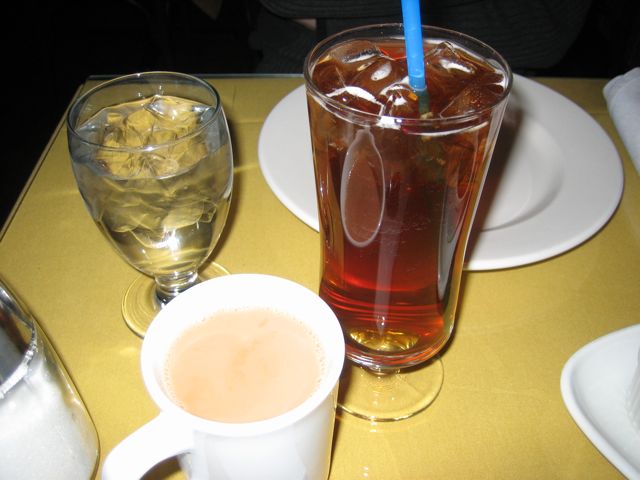 As we waited, the empty restaurant started to fill up fairly quickly, within a few minutes of our arrival. The restaurant has about 20 or so four top tables.
Looking around the the room I noted there is a buffet set up. This was not open for dinner, not that I would be interested. I am a highly judgemental person. When I see a buffet option, especially those where the public goes up to the steam heated troughs like cattle, I tend to think a little less of the establishment. To each their own. Buffets aren't my thing. There are exceptions to this rule, but that can be another post. It's a quality control issue.
We ordered Paneer Pakoras with chutney ($10.95). They do not look too appetizing in the picture, I know.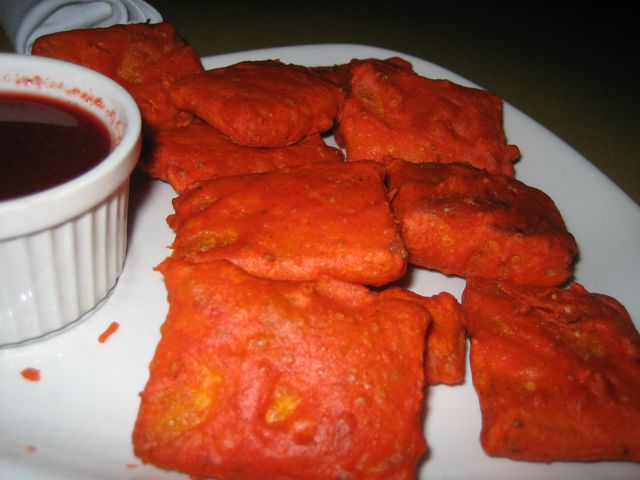 This is not something I order regularly so I really have nothing for comparison. It had a subtle savouriness to them and didn't necessarily need chutney. They were not greasy, and the batter was thin and "flakey crispy" if that makes sense. Perhaps someone with more knowledge in pakoras could chime in about how these look?
The meat dishes were Butter Chicken ($14.95) and Lamb Korma ($15.95), these are my "measurement dishes" for South Asian restaurants. I tend to order the same specific dishes for the purpose of comparison when trying out new-to-me restaurants. These dishes are then used to compare restaurants in the same cuisine category. (Side note: At this time, the most enjoyable Butter Chicken and Lamb Korma I have experienced is at Mirch Masala on Scott Road North Delta.)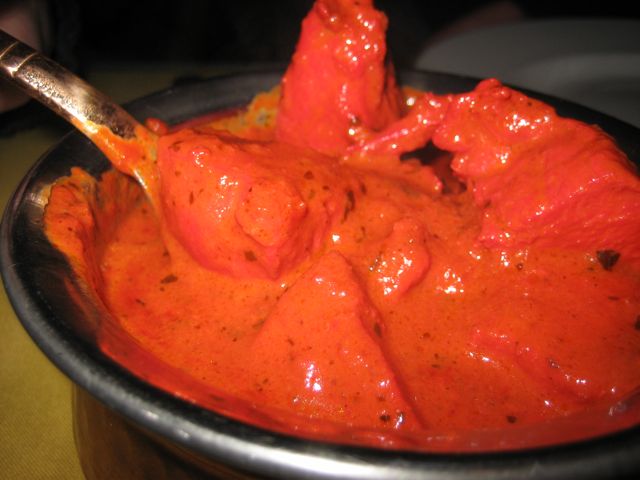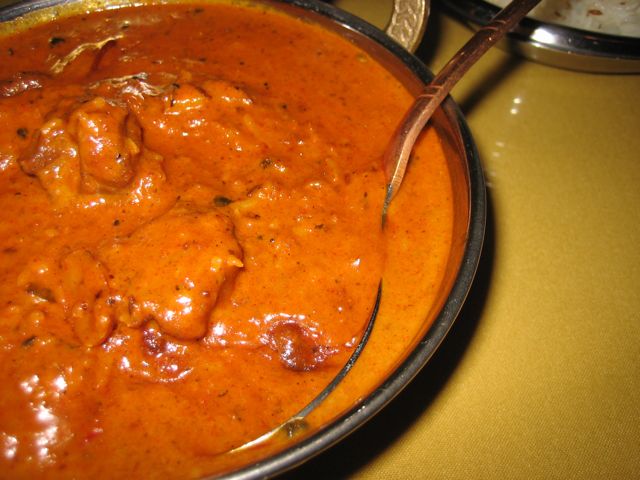 Now, I'm more of a savoury foods kind of person rather than sweet. So I don't mind salty things, but I'm not sure what's up with the saltiness of the dishes here. They were VERY salty on both occasions when we dined. After the meal we were both parched for hours and no amount of liquid seemed to quench our thirst! Although, it says on their take out menu "MSG and Gluten Free." I suspect there may be a liberal use of "flavour enhancers" and/or salt in their dishes, non?
The overwhelming saltiness made it difficult to taste the natural flavours of the chicken, tomato, cream, and spices in the Butter Chicken. Likewise in the Lamb Korma it was a challenge to taste the flavour combinations a chef would have intended diners to enjoy.
The naan was pretty decent. Hot, fresh and slightly charred.

Peas Pulao. This did it's job as a solid filler. It's rice. You'd have to be a pretty crappy restaurant to screw up rice. (More on those establishments later...)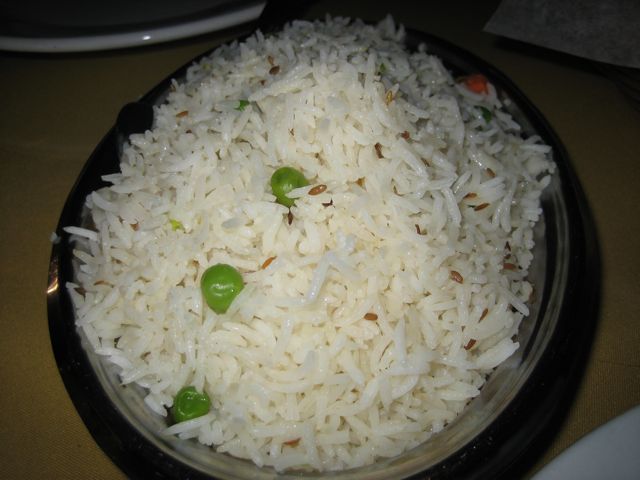 The service at the restaurant is very welcoming and prompt. The room is a bit dated but it looks comfortably clean. The space looks like it was a pub in it's former life as the bar takes up a large portion of the first level. A lot of wood detail, kind of early 90's decor. Goldie's does not seem to be wheelchair friendly. There is a short flight of steep stairs to enter and I noted no ramps or alternate entries. Bathrooms were eye clean and usable.
The value is a bit sketch. The above came to $55 before tip. In my experience, this is a tad pricey for what you get. However, I have noticed in this area due to the, "where-the-hell-else-can-we-go-for-X-food?" factor, menu prices are more dear without justification. When in Rome...
There isn't a lot of choice in this area if you are looking for south asian cuisine. There are a handful of places in Kamloops which I will eventually get to blogging about, but I will have to go with the mind frame of... "Toto we're not on Scott Road anymore."

Location
Goldie's Flavours of India
550 West Columbia Street
Kamloops
,
BC
V2C 1K6
Canada