Talylor's Breakfast Nook and Lunch Counter - Ashcroft, BC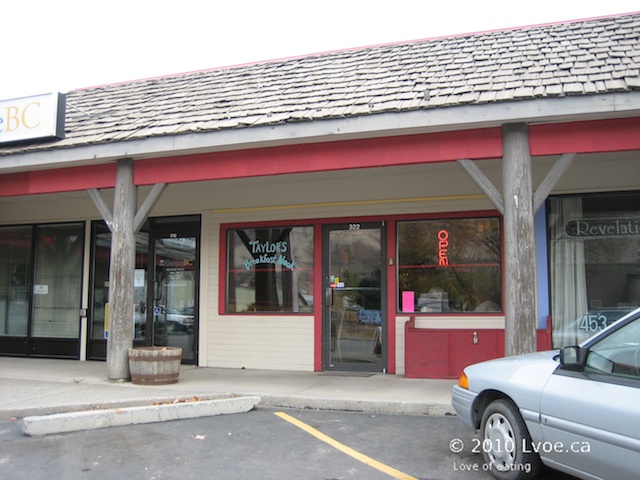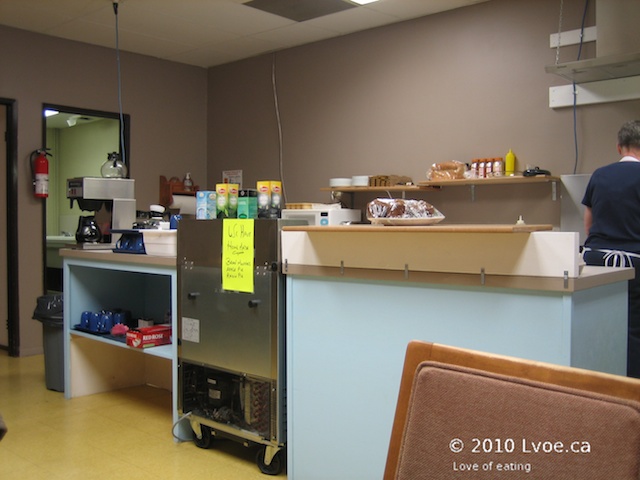 **UPDATE: Taylor's Breakfast Nook is now April's Bistro.**
On occasion I find myself in Ashcroft's downtown core. I noticed a hand painted window for Taylor's Breakfast Nook several weeks ago. I finally found myself back on Railway Avenue this afternoon to try it. It's definitely a nook! The restaurant houses less than 10 tables with a cozy open kitchen. This small home-style diner is run by a lovely couple.
It was noon when we stopped by, and the place filled up to capacity within minutes. It seemed to be packed with local Ashcroftonians enjoying their lunch. Y'know sometimes when you walk into a small town diner and everybody stares at you for a second, because they've never seen you at the local PAC meeting or Fall Fair? It's weird. I've experienced a lot of this since moving out this way. Not so much in Kamloops, but in these smaller rural restaurants it happens a lot. I try to ignore it now. Well, obviously I'm not ignoring it entirely, as I feel the need to write about it just now.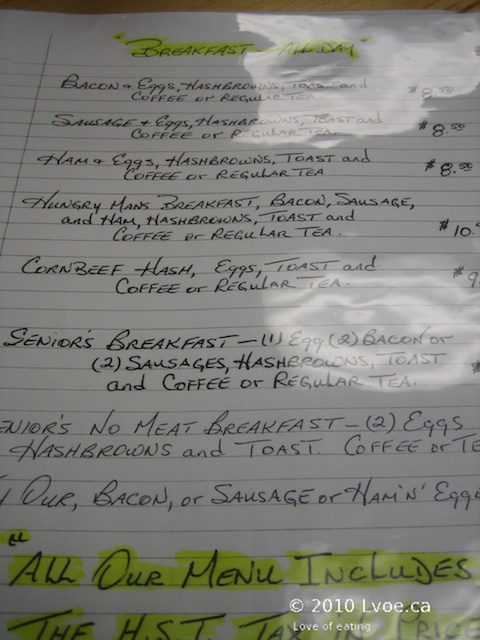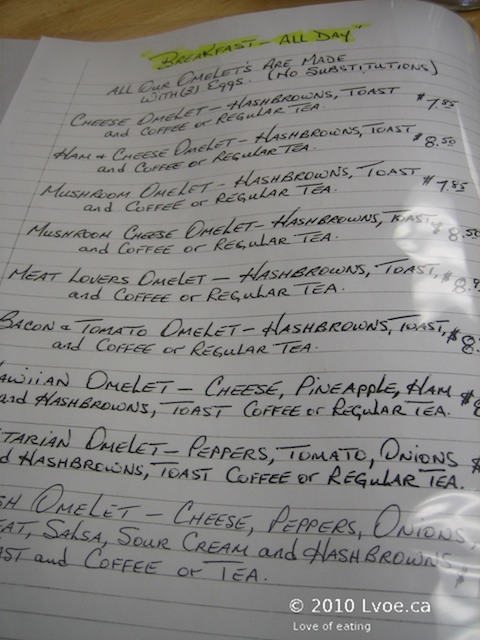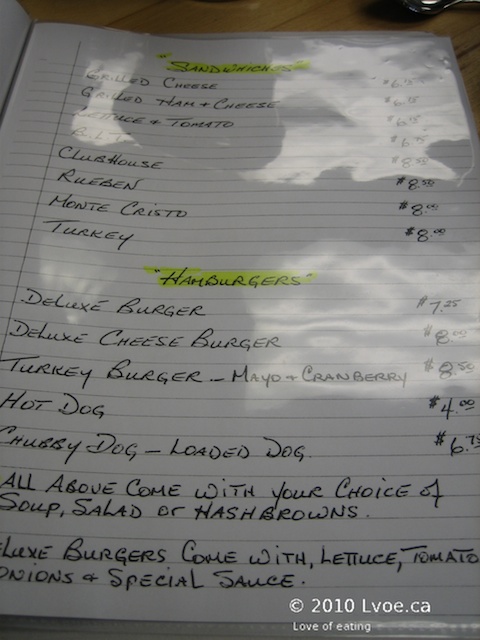 Their menus are endearingly handwritten on loose leaf, photocopied and placed into standard issue classroom supply duo tangs. This made me smile. I know this wouldn't fly in the larger centers, but it really suited this restaurant. It reminded me of the oil stained handwritten recipe cards that are passed down from one generation to another.
Turkey Burger ($8.50)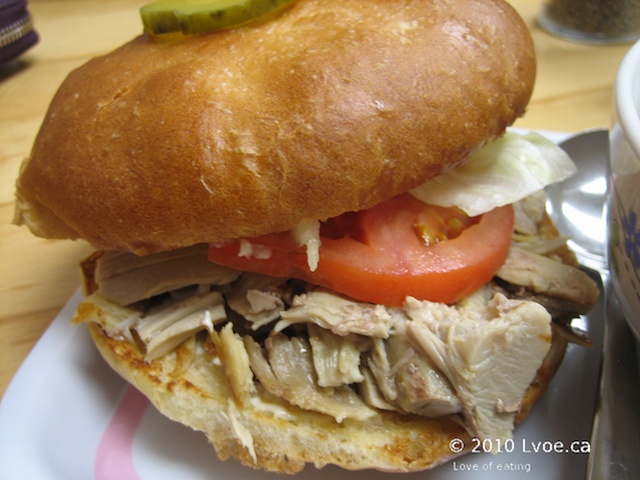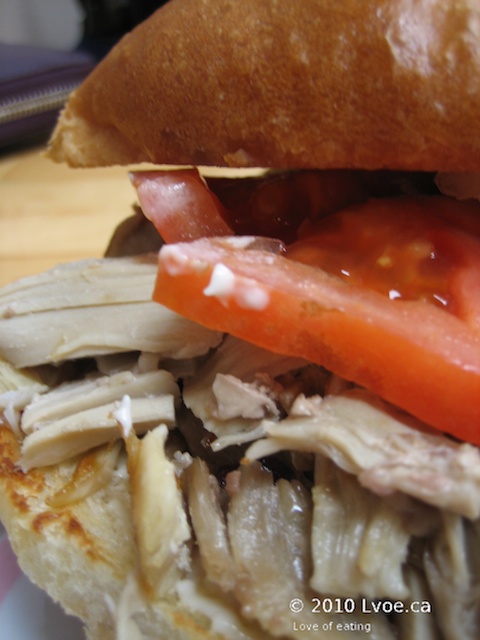 This tastes like something I make with turkey leftovers after Christmas or Thanksgiving dinner. It's moist and crammed with chunks of dark turkey meat. The chunky meat and iceberg lettuce made this slightly messy to eat. Ask for extra napkins. In the middle of the sandwich is a dollop of cranberry sauce which helps it all slide down the gullet. I know some people have hatred towards cranberry sauce, because of traumatic memories of that gelatinized substance in the shape of a can quivering on the festive holiday table. I don't mind the stuff, homemade or otherwise.
Vegetable Beef Soup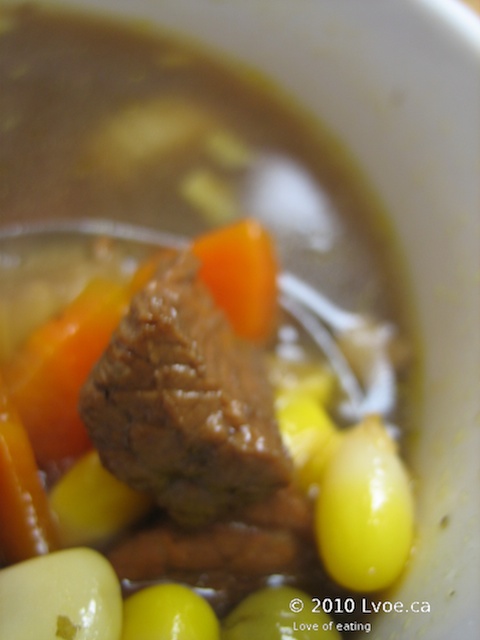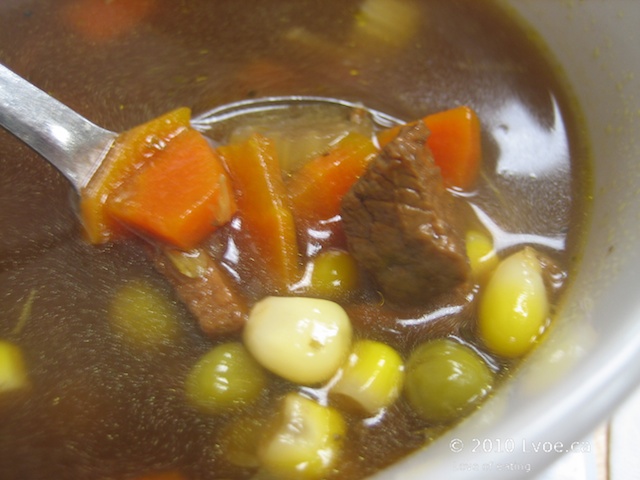 All the burgers and sandwiches come with choice of soup, salad or hash browns. I've never had a choice of hash browns before! I like it. However, our server shared that the soup is homemade, so I went with the soup de jour. Their vegetable beef contained peas, corn, carrots and celery. The beef was very lean and a bit dry, the broth and veggies were for the most part okay in the beginning, but I stopped two thirds of the way through as the broth was a tad salty.
Monte Cristo Sandwich ($8.00)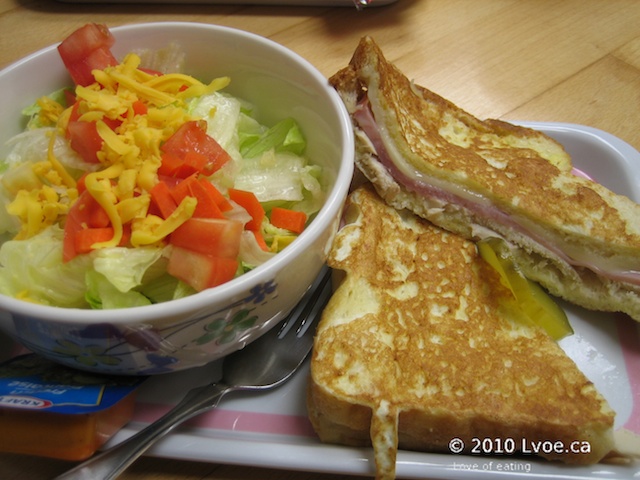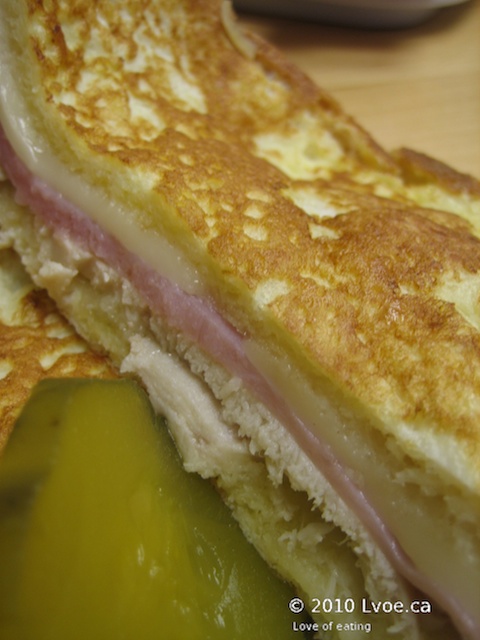 This tasted better than it looks. It looks soggy, no? It wasn't. This eggy bread sandwich was actually crispy and non greasy. This sandwich contained the standard Monte Cristo fare: slices of sandwich ham, turkey breast and Swiss cheese. Nothing fancy. It was a good honest sandwich. The Monte Cristo has always struck me as a rich sandwich. I mean its breakfast-style French toast with meat and cheese packed in between and grilled. Can you imagine the deep fried version? I've actually have yet to encounter the deep fried version in a restaurant…grilled only so far. Perhaps something to look forward to??
Apple pie ($3.00)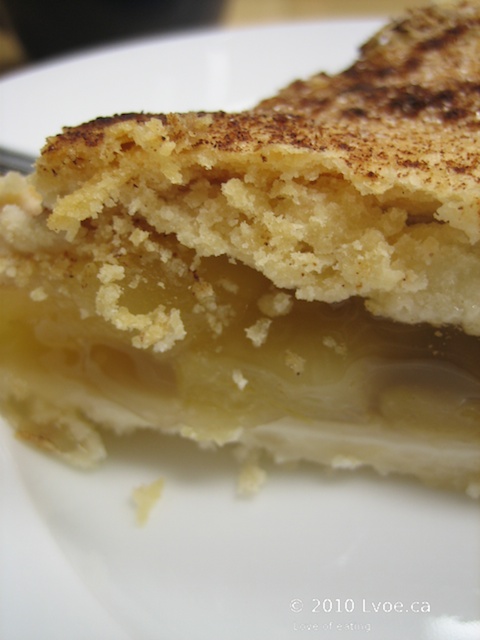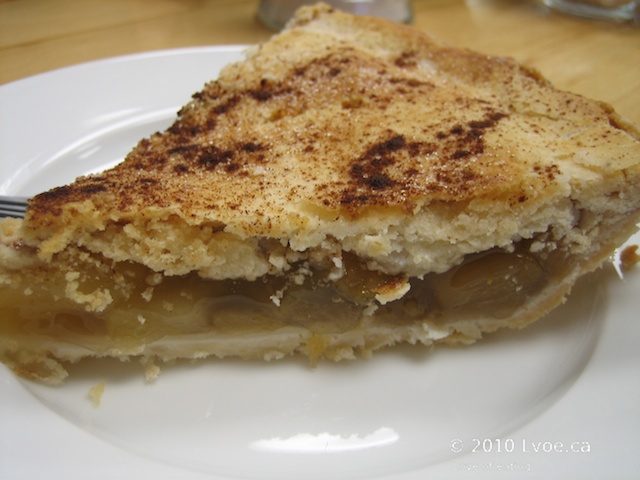 Raisin pie ($3.00)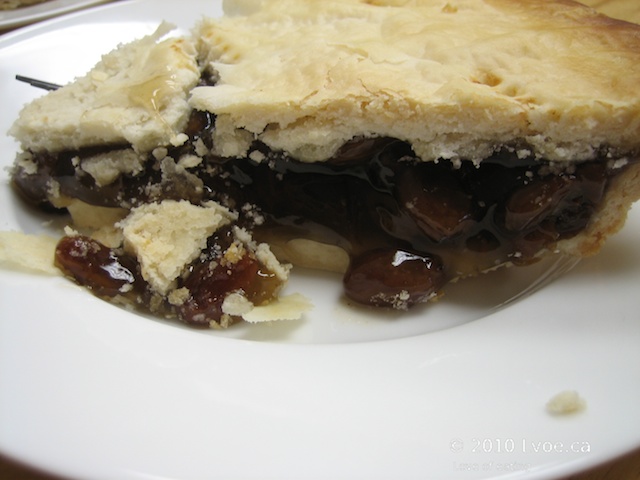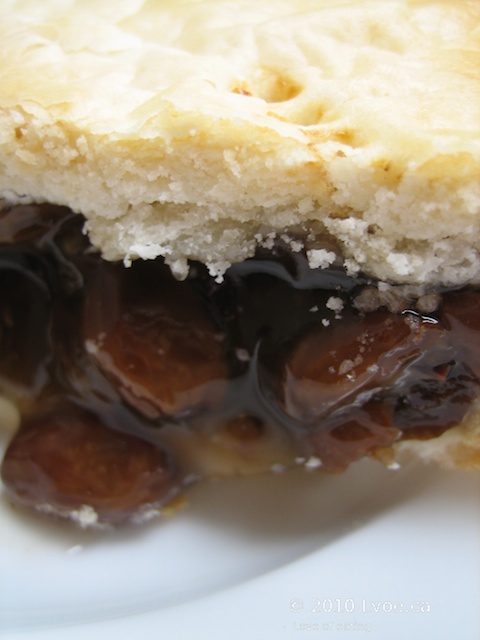 If you like butter tarts, you'll like Taylor's raisin pie.
Both slices of dessert had a decent homemade crust. The pies were made by our server/owner the night before; he came by to check up on the quality of the crust. We gave him the thumbs up. The crust isn't as flakey or golden as say, Anie's crust, but that's like comparing apples to oranges. Taylor's crust is flakey enough to be "light," not soggy or heavy. Totally respectable. He shared that the filling is store bought, but puts a lot of effort into the crust. Both pies came straight from the fridge and were served cold. Me? I'm a room temp' or warm pie kind of person. Cold pies are a bit startling to my mouth. It was still a nice sweet end to our lunch.
Service was typically Ashcroft, friendly and genuine. Some things took a little longer than usual, but you could see the server/owner was making his darndest effort to multitask. Coffee was topped up very efficiently. Although the space is small and very busy, we never felt like we were being rushed out.
My only wish is that they look into a better or stronger ventilation system. My hair is like a sponge for food aromas. It makes me crazy. If I merely stand in the same room as a Crockpot; I will walk away smelling like whatever is bubbling in there. I know, this is minor in the grand scheme of things, but I couldn't get the fragrance of eau de hash browns out of my clothes and hair. Thanks god they don't have a deep fryer!
Since it is called a breakfast nook, I really need to go back and sample the namesake items. The tables around us seemed to really enjoy them, and the comments at the cash desk confirmed my suspicions.

Location
Talylor's Breakfast Nook and Lunch Counter
322 Railway Avenue
Ashcroft
,
BC
V0K 1A0
Canada