Pure Cuisine - Kamloops, BC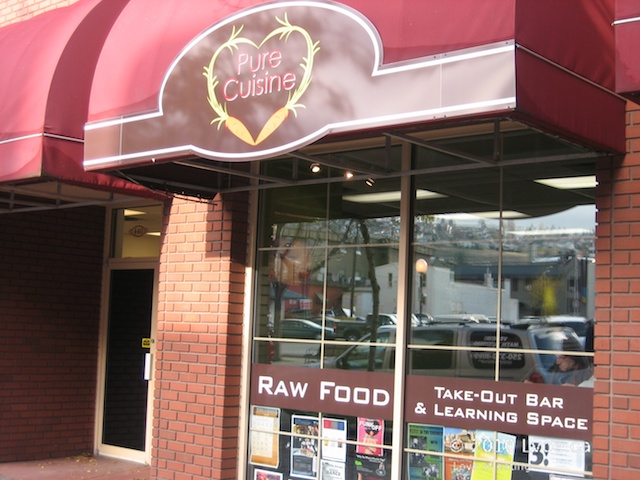 **UPDATE 2012: Pure Cuisine is now closed.
Before heading down to the Contruction Sites Identity and Space exhibition at the Kamloops Art Gallery, we headed to Pure Cuisine for a light lunch. This particular exhibit runs until the end of the year if you're interested. Pure Cuisine specializes in raw food.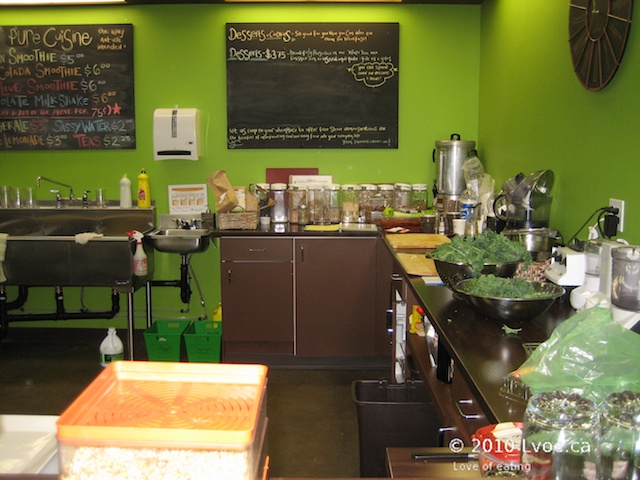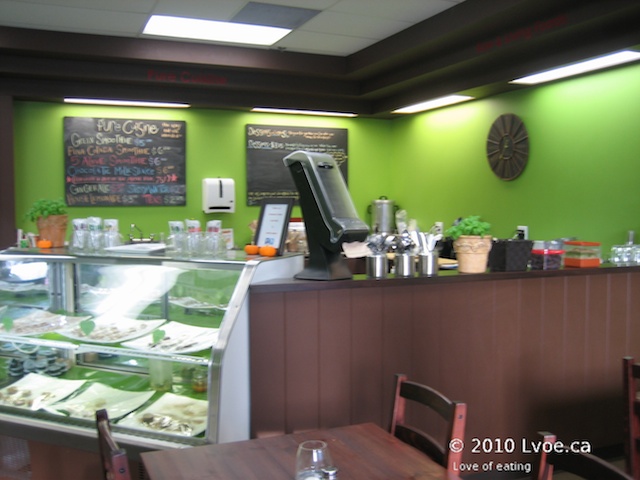 I love the green walls! The space is small, having only a few tables and bar seating at the window. There is a large open kitchen were you can watch all the food being prepared.
Hot Chocolate ($5.00) and Pina Colada Smoothie ($6.00)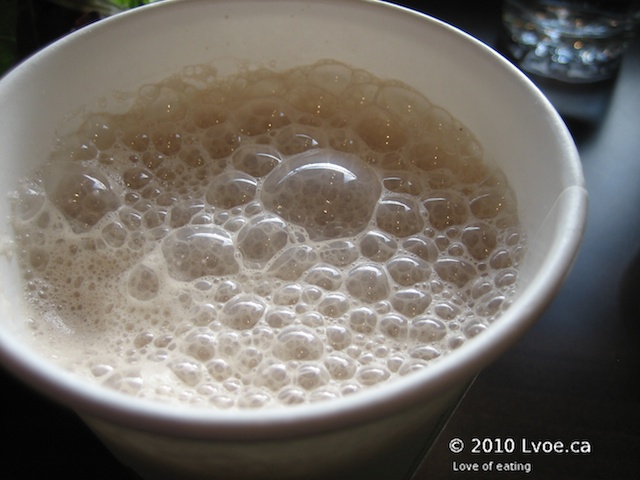 The hot chocolate is made with almond milk, cocoa powder and agave (nectar? I assume as a sweetener.) In keeping with the raw philosophy, the hot chocolate isn't really hot per se, but warm. I drink a lot of milk alternates. So, I often have hot/cold chocolate drinks made from rice milk or soy milks. This version tastes quite similar. It is warm and just sweet enough. The smoothie is stuffed full of bananas, spinach, pineapples and dates. The texture and taste is thick with bananas. The coconut flavour didn't shine through as much as the bananas, but the smoothie is still very delightful...and filling.
Warm Macaroni Cheese ($10.00)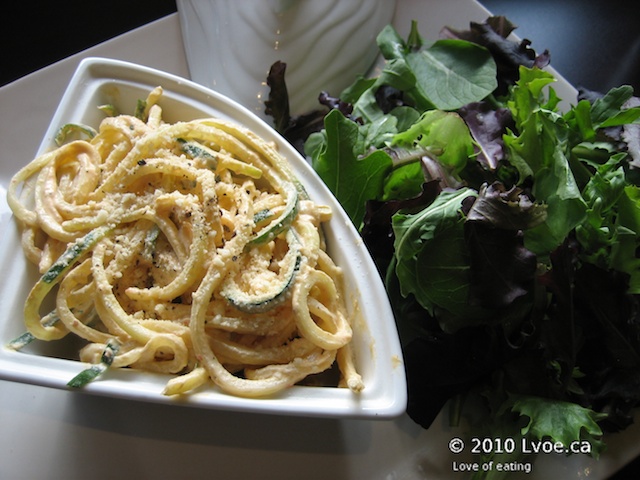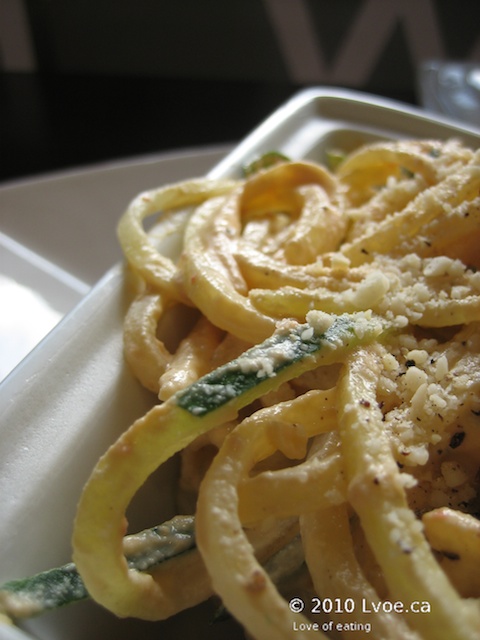 Elbow pasta this is not. The noodles are made by running raw zucchini through a hand cranked machine to create spaghetti-like strands. Genius. The "cheesey" sauce is made with a cashew base. The texture of the sauce is very much like that of a cheese sauce. It is wickedly creamy and the sauce is able to hang on to the noodles like a stage-5-clinger. There is ample amounts of this rich concoction to cover every inch of the noodles. It also bears a very subtle spice to it, which makes it a pleasure to eat. Side salad was fresh and pretty standard.
Burger ($10.00)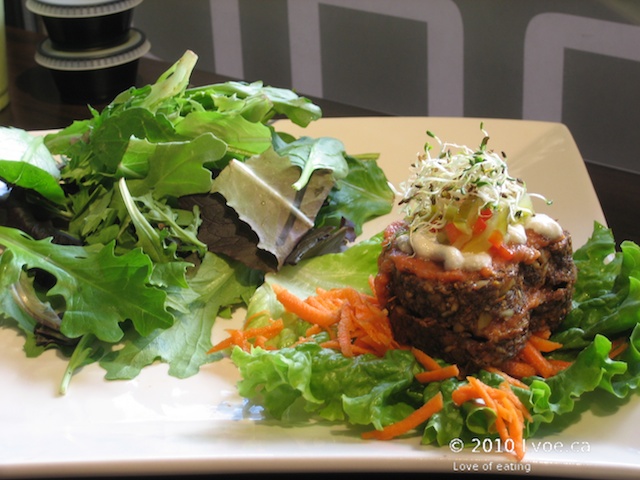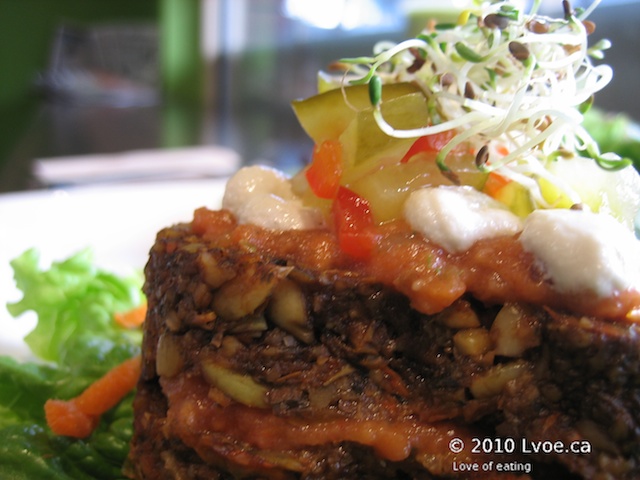 The patties contain pumpkin seeds, walnuts and carrots. This is really moist and full of texture and taste. No it doesn't look like your average veggie burger, nor does it taste like it. But I think the point is that it's not supposed to taste like something else. It's taste exactly like the ingredients it is made with. The sundried tomato sauce and sunflower mayonaise added yet another layer of flavour to the patties. How does one make sunflower mayonaise? My interest is piqued.
Pure Cuisine is a learning space as well. You can take food courses in all things raw food here. I have a feeling I'll be taking one of those classes in the future. I admire that Pure Cuisine is going balls-out in Kamloops with its focus on raw. They seem to have already built a solid fanbase of regular diners. I will be back to try the cinnamon buns. Apparently I have to watch their facebook page closely to know when those are available.
Location
Pure Cuisine
442 Victoria Street
Kamloops
,
BC
Canada