Ashcroft Bakery and Coffee Shop - Ashcroft, BC
Ashcroft Bakery and Coffee Shop is located in downtown Ashcroft, BC. It's not officially winter yet, but slowly the chilly weather is creeping in. I love the dry-cold weather out here. I prefer it so much more than the cold-damp of the coast.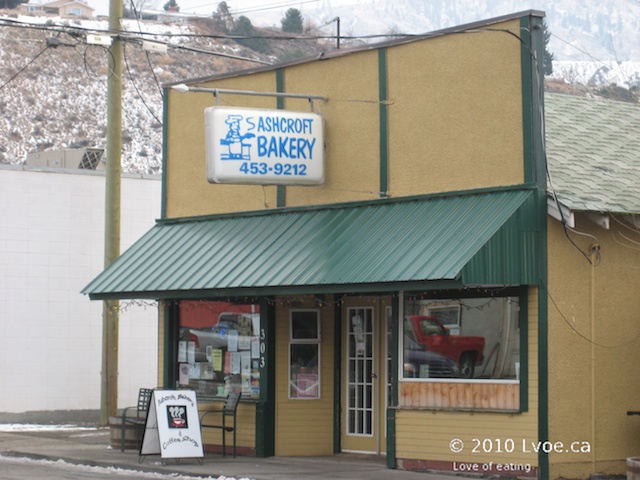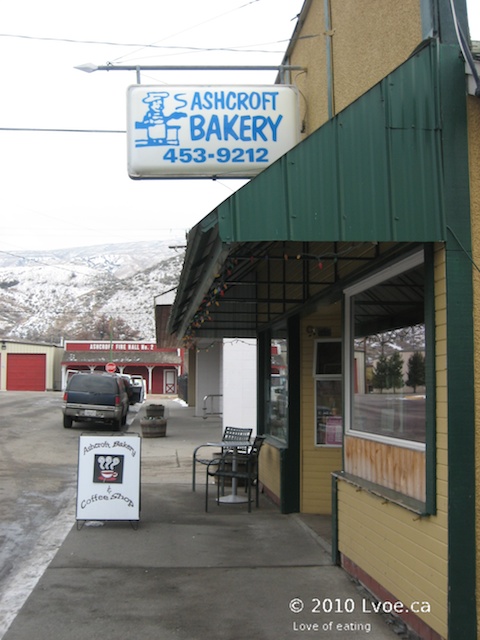 I am pretty excited upon entry as the show cases are much fuller than I imagined they would be.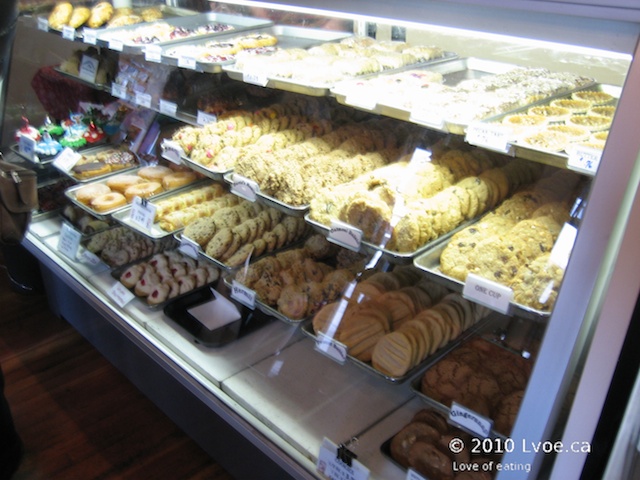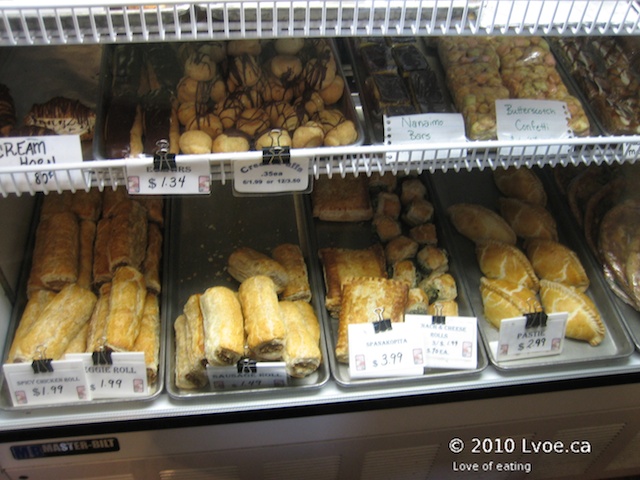 The bakery space is roomy but the dining area is cozy with about a half dozen cafe-sized tables. I imagine they do a lot more take away orders rather than sit down eat in. After having a large breakfast this morning before venturing out, we decided to choose a few savoury and sweet items for a make-shift light lunch.
Starting with the savoury goodies:
Steak Pie ($2.99)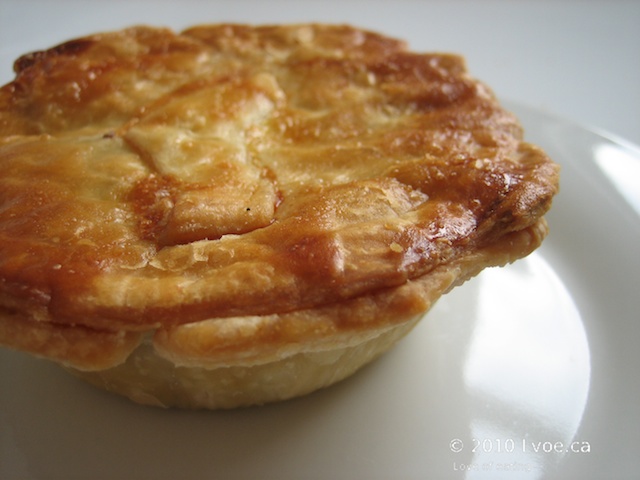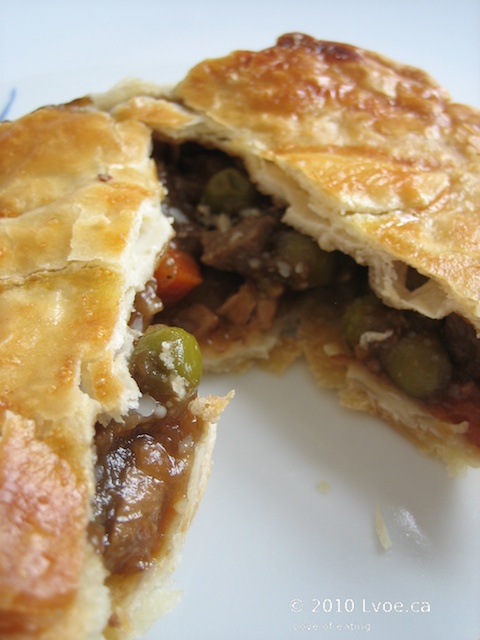 Who can resist meat pie? The pastry is flakey and nicely golden. The filling contains a decent amount of beef, what looks like frozen veggies and some liquidy jus. The filling is very mild in seasoning and may make a nice pairing with zestier soup. I had wanted to eat-in and check out their soups and sandwiches, but within a minute of entering the little café, a flood of high school athletes came in and there was nary a seat to be had in the Ashcroft Bakery. Next time.
Sausage Roll ($1.49)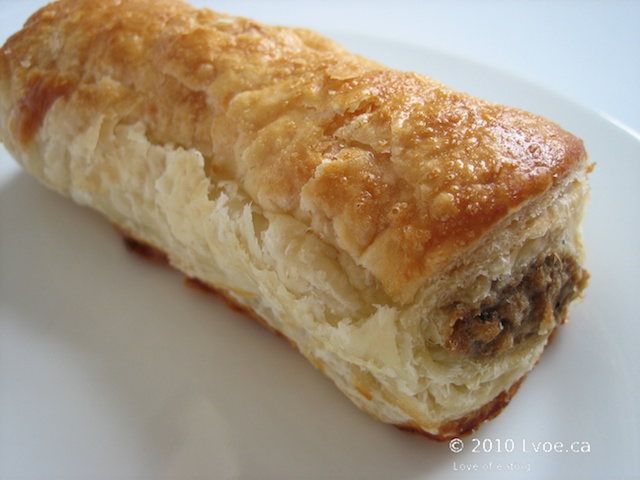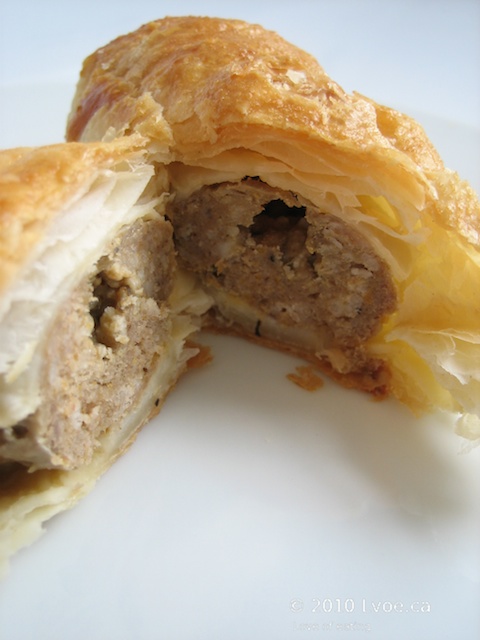 Sausage rolls:I do enjoy them. However, it's one of those items that you don't want to over think. If you've ever made sausage rolls or have watched them be made you'll know that the stuffing is well, interesting. The consistency and visual of yet-to-be-stuffed filling reminds me of some very unsavoury things. In any event, these rolls are solid. The pastry is flaxen, flakey and light. I must say, Ashcroft Bakery is doing something right pastry-wise. The filling is again mildly seasoned and the texture is springy. I like warming them a bit in the toaster oven or microwave.
Ham and Cheese Croissant ($1.49)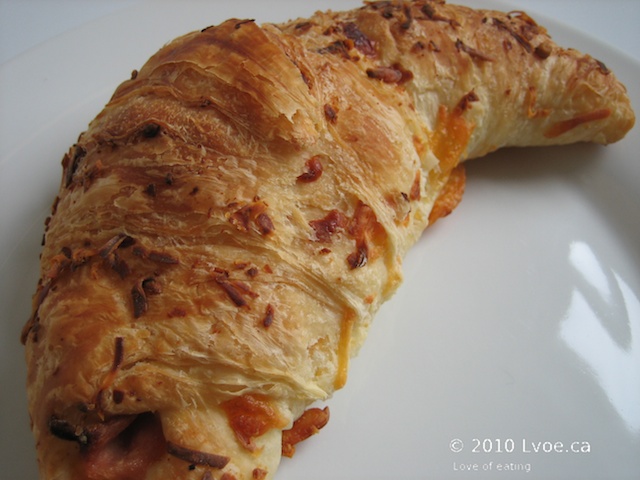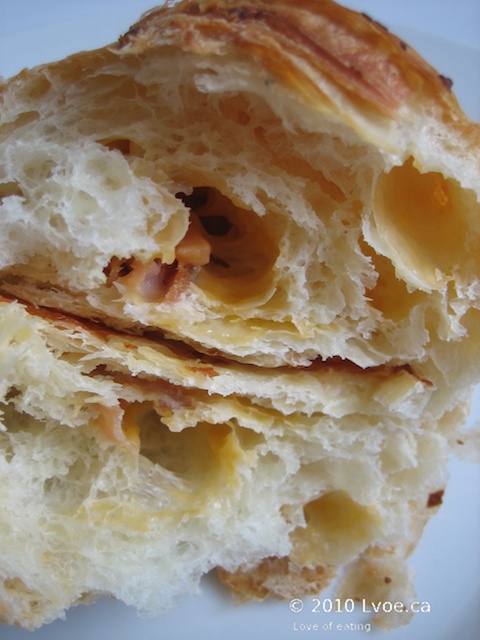 This large croissant is pretty flakey and buttery. The ham and cheese part is a tad scant. There is some cheddar and what looks to be standard deli ham tucked in one spot in a lil' crevice inside (see photo.) I know it's not supposed to be packed like a samosa, but I was still expecting bit more hammy flavour to come from the ham and cheese inside. Still a nice croissant. Good size for making sandwiches.
Curry and Sunflower Multi-grain Flat Bread ($2.00)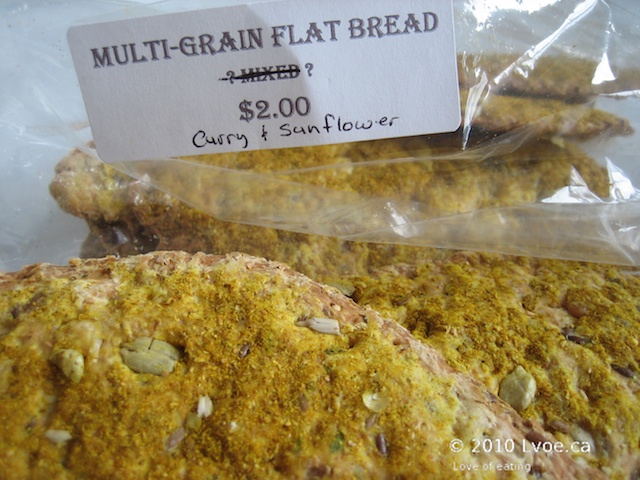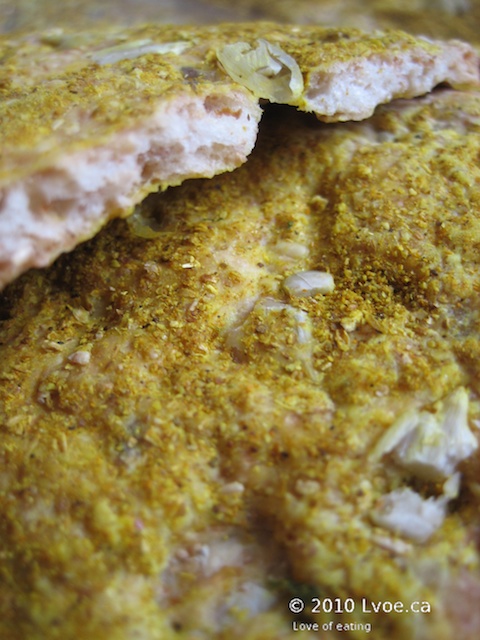 This is a great alternative to Wasa or crackers for your next cheese platter. Not that I put together cheese platters, ever. For you holiday entertaining-types, the curry flavour make this flatbread distinctive from your average supermarket Ryvita. The sunflowers and multi-grain give it a hearty texture and nutty taste. "It's a bit nutty."
On to the sweets…
Chocolate Chip Cookie ($0.65 each)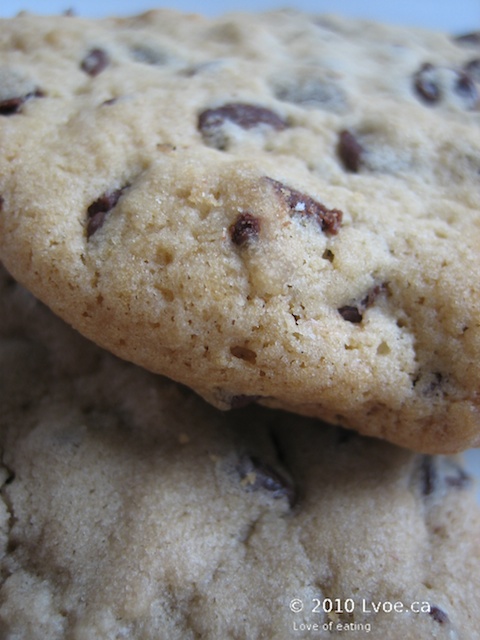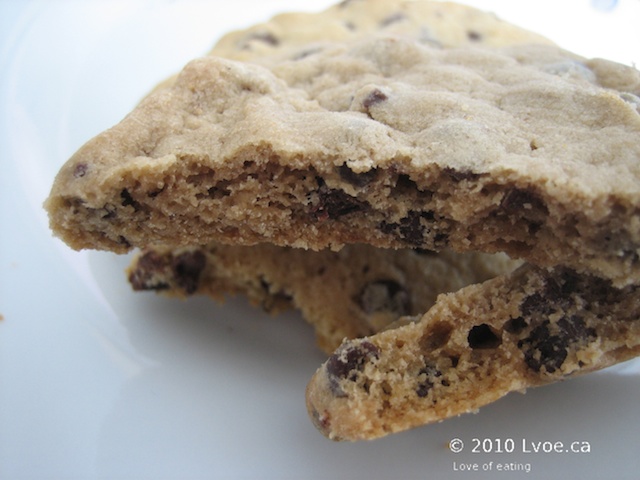 Epic fail. I'm not sure if you can tell from the photo but these two cookies are two very different shades of cookie-beige. This struck me as strange. I thought maybe they were just from two different batches. They did have a LOT of chocolate chip cookies on that tray. When I attempted to break one in half to snap an internal shot...my suspicions were confirmed. I almost cut my hand trying to crack this cookie in half. How many days old is this?? Sheesh, it's about a 7 on the Mohs scale. I didn't want to ingest these so I enlisted DL to try them out. The little rock patty is teeth jarring. I kinda let out a giggle when I heard that hollow pop sound DL's canines made, when the teeth finally cracked this bugger. The other desiccated cookie was not as impenetrable, but it was dehydrated to the point of almost being sand. After a bite of each (thanks for taking one for the team DL,) these were promptly escorted to the rubbish bin.
Butterscotch Confetti Square ($1.47)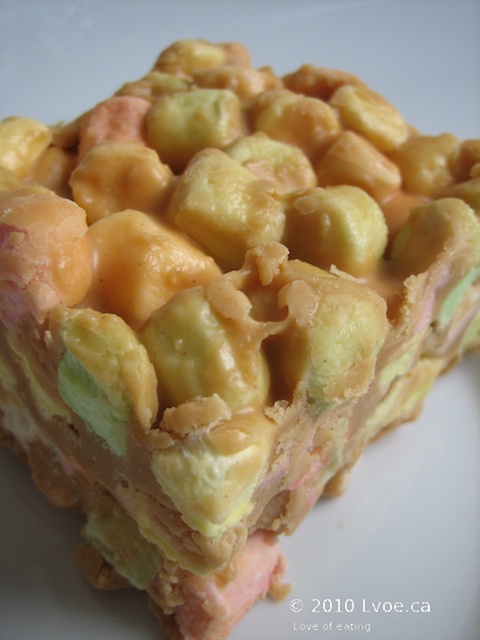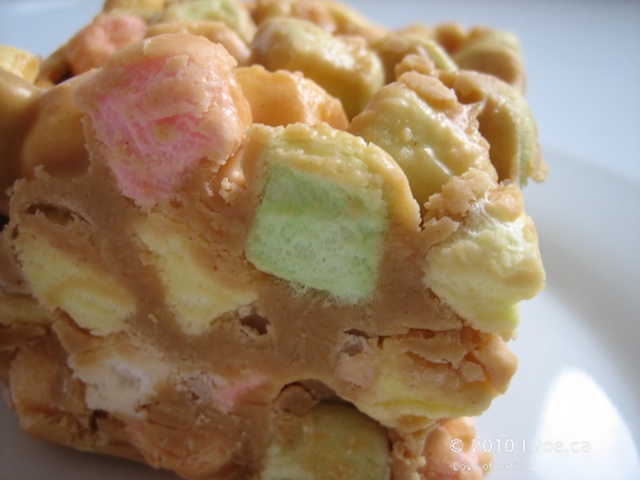 The Butterscotch Confetti squares are wrapped in cling flim so initially they didn't look that appetizing to me. (I have a pet peeve about items swaddled in plastic on display. I whinged about this in another post here.) In elementary school my best friend's mom would make Peanut Butter Fudge, which we gorged on at recess time. They looked very much like the above, but of course it had a thick fudge foundation. DL's grandmother also made a sweet that looked exactly like the above, and she made an additional chocolate version too. This little confetti gem carjacked us down memory lane. I had to have one. It's lighter than Mrs. T's coveted recess snack, and it contained more marshmallows. It is blissful. DL is convinced that it tastes exactly like what grandmother made. The label on it was Butterscotch Confetti, but there is no mention of peanut butter. So I don't know if I am just delusional with my nostalgia, but I tasted pb in there. Sugary, creamy, and peanut buttery(?), yet light and bouncy in the mouth due to the marshmallows. Sigh...Is that Duran Duran playing in the background? Are we in Grade 3 again? Fond memories through food association. Wouldn't that make a great board game? The confetti square is substantial and wicked sweet; we sliced it into five manageable portions. So good! So dangerous.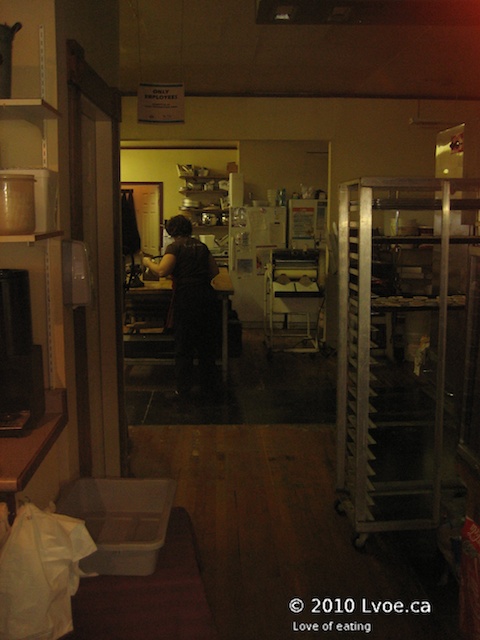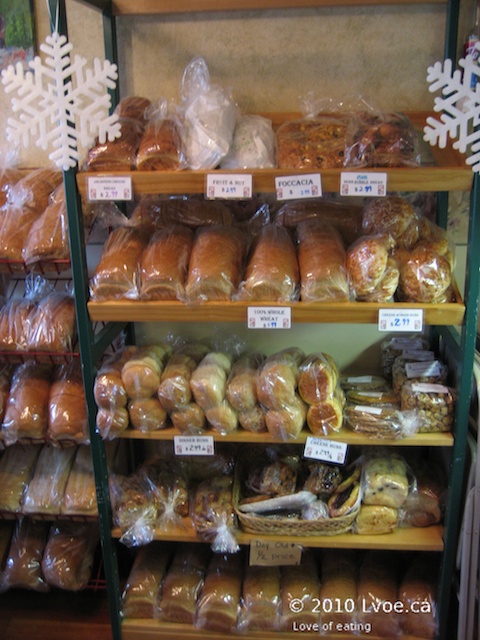 There is a lot of variety at the Ashcroft Bakery & Coffee Shop. It is under new ownership and I hope the cookie issue is just one of the kinks to be worked out. I would still to go back and give the other items a go. Simply the allure of an old school bakery in a sleepy village is enough for me to return and try out their coffee and perhaps, a cream horn.

Location
Ashcroft Bakery and Coffee Shop
303 Third Street
Ashcroft
,
BC
V0K 1A0
Canada