Hello Toast - Kamloops, BC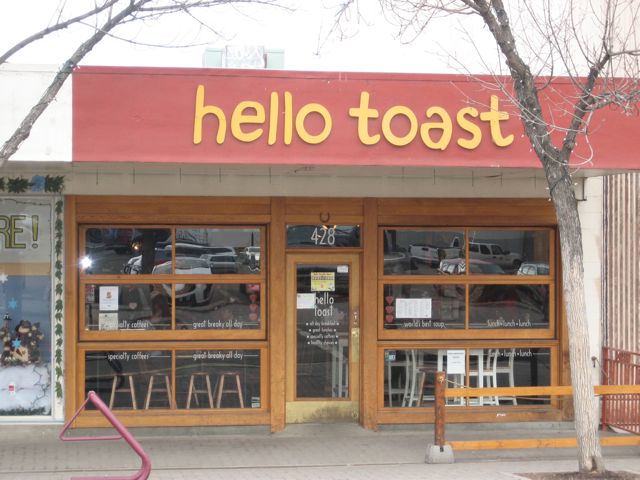 Late brekkie today at Hello Toast. Hello Toast is a causal home style cafe in downtown Kamloops. We were greeted promptly and customers may seat themselves. The atmosphere was very warm and welcoming.
Traditional breakfast ($9.75)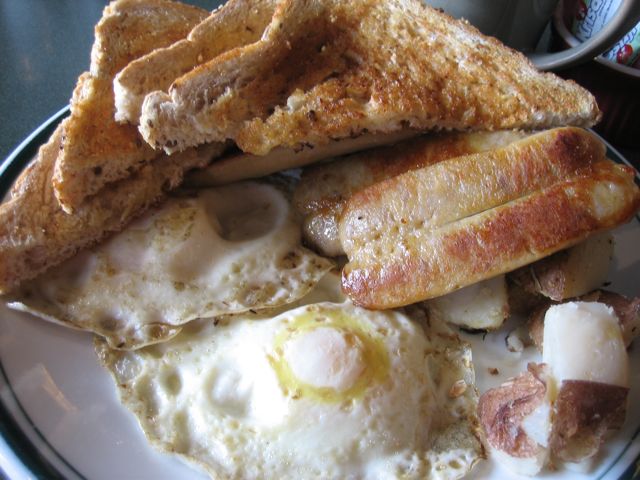 This came with 2 eggs, 3 sausages or bacon, roast potatoes and 2 slices of multigrain toast. If you're really hungry, you have the option of an extra egg "free." It's a lot of food, so 2 eggs would be more than enough for me.
Breaky burrito ($9.75)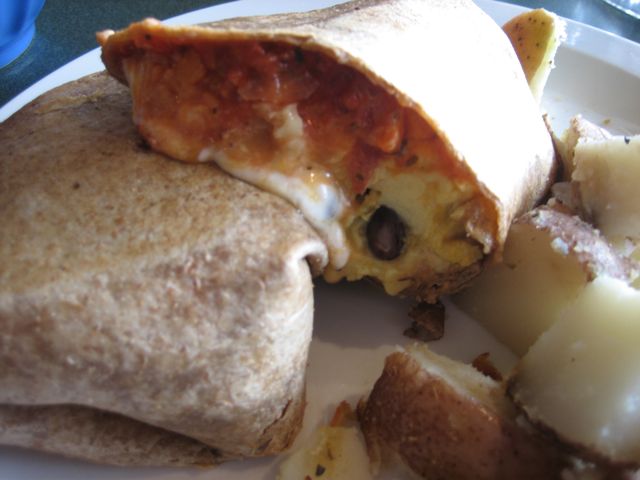 This is 3 eggs scrambled with black beans, salsa, real cheddar cheese and sour cream, wrapped up in a whole wheat tortilla.
Generally the food was well made and made with care. The roasted potatoes were not greasy by any means and you could actually taste the potato-ness of them.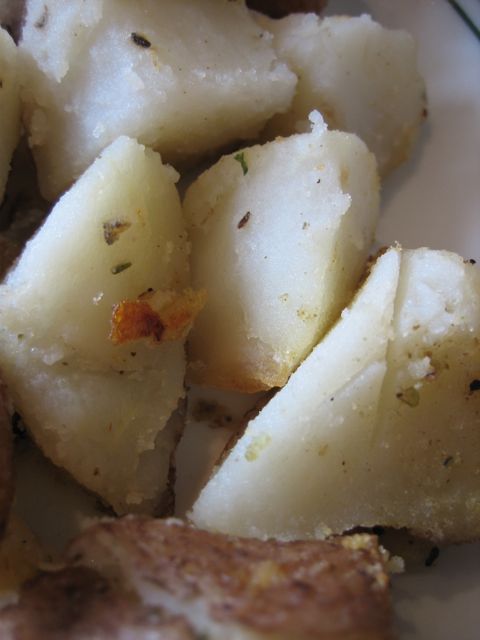 So many breakfast places pan fry the life out of their spuds leaving you with just crispiness but no tater flavour, or they are served limp and soggy. I ordered the eggs over medium-ish, and they did a good job with that. The yolks were oozy but not runny. The sausages were meh. They weren't bad, just pretty standard. I did notice that I didn't feel the need to use any additional condiments in my meal. The sausage added a bit of saltiness to the potatoes and eggs and the seedy toast was good on its own.
We often make breakfast burritos at home, and Hello Toast's burrito tasted just like home (but bigger...and no clean up afterwards). The ingredients were nicely balanced as you could taste the flavour of each of the fillings. Flavour balance is a significant factor for us when we eat. Too often salsa and/or cheese can overwhelm the other ingredients and you feel like your eating a block of cheese or a caldron of salsa.
The restaurant seats about twelve 4 top tables with a few deuces, and some stool seating at the window. They seem to have a loyal following as tables turned over fairly quickly when we were there. The space was decorated with drawings and paintings on one side and photography on the other. All the artwork looked to be personal. It's a nice touch.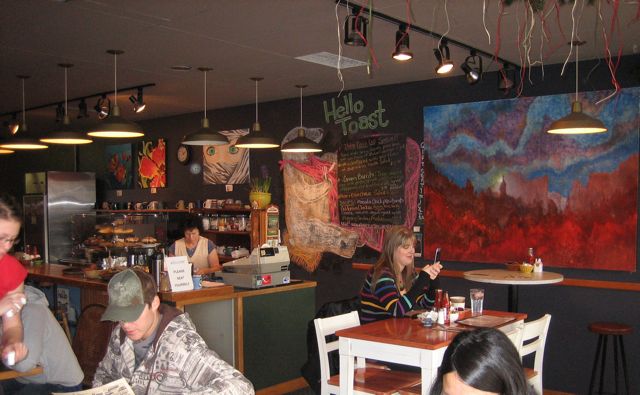 The service was friendly, but it's not really a place to grab a quick bite if your time is limited. Our meals took awhile to come out, and we never saw our server since receiving our coffee and water. I was able to leisurely finish my coffee a long while before the food came. Surprisingly there was no quality check done by our server after we began eating. These issues weren't a big deal to us at the time, as we had time to kill and we didn't really need anything else when our food arrived. However, it's worth mentioning, as quality checks and customer wait time are factors in what many people consider good service.
The value was pretty solid. It's about what you'd expect to pay at a place like this. The ingredients are of very good quality so in fact the value may be a little better than average.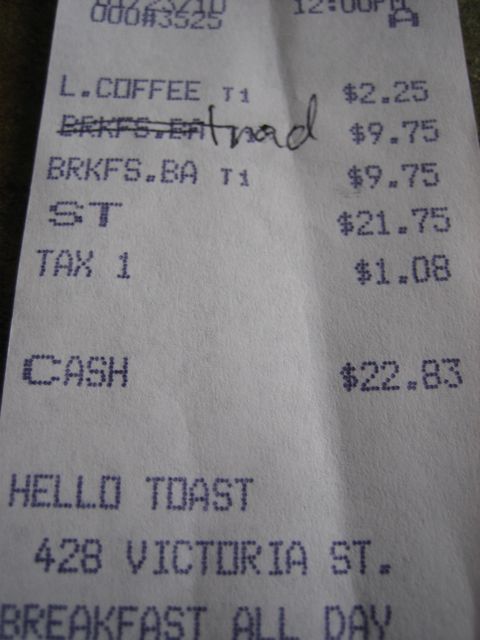 We enjoyed our visit and would recommend Hello Toast for a good quality homemade meal.
Hello Toast website click here
Hello Toast Facebook click here
Locations
Hello Toast
428 Victoria Street
Kamloops
,
BC
V2C 2A7
Canada