Fresh Healthy Café - Kamloops, BC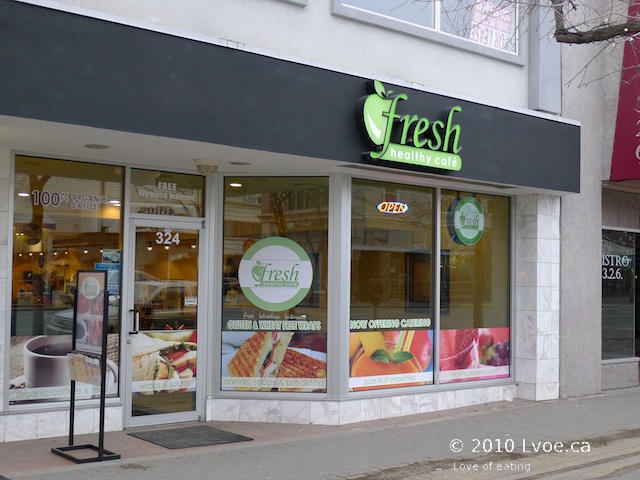 **UPDATE September 2012: Fresh Cafe is now closed.
I found breakfast this morning at Fresh Café. I wasn't sure what I wanted from a "healthy café" for breakfast. I'm not feeling a granola craving today. Hey, I figure that if Pure Cuisine can bang out tasty, inventive, healthy raw meals, then Fresh can surely provide some brekkie. Truth be told, I wasn't searching for anything healthy this morning. I wanted some bacon.
I visited two other possible breakfast cafés in the area this morning, but they both were taking advantage of the holiday break. Fresh Café was one of very few places I found open at 8:00am. It's a franchise operation that makes wraps and Panini to order and they have a menu of smoothies and juices to choose from. In some other locations in the world they also go by the name Juice Zone. I don't usually bother to blog about franchises and chains, but seriously, the downtown core was deserted this morning. I really appreciate the fact that they were open, and the counter service was stellar.
Pineapple Delight Smoothie (with bone blend calcium fortifier)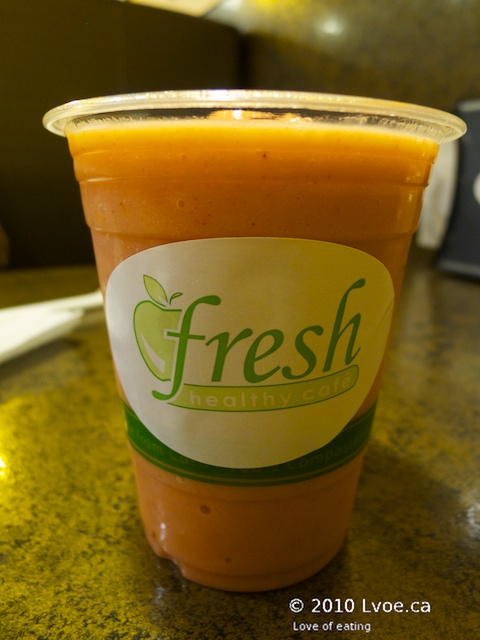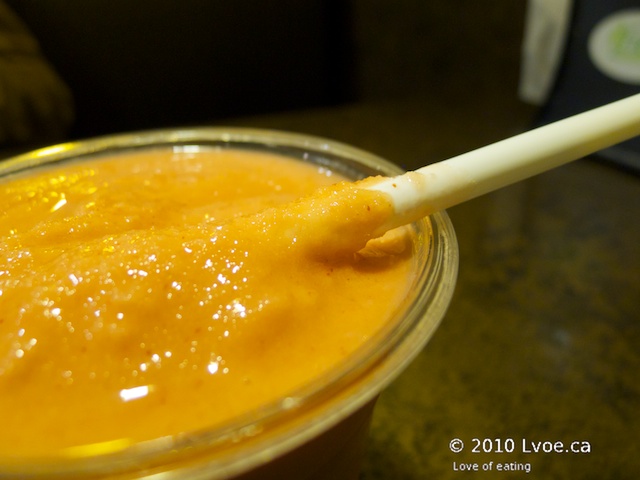 I'm not sure why we chose to have smoothies when the temperature outside is -5 degrees. This is a decent smoothie. It's a blend of pineapple juice, yogurt, frozen yogurt, pineapples, strawberries and coconut. With all the yogurt I thought it would be creamier. The pineapple and strawberry flavours came out to play, but the coconut was lost. I added the Bone Blend fortifier to this drink just for fun. I believe it's a calcium boost. You have a choice to add a "fortifier" that is included in the price of the all the smoothies. This sweet and tart concoction would be super refreshing for the summer.
Avocados and Cream Super Smoothie (no added fortifier)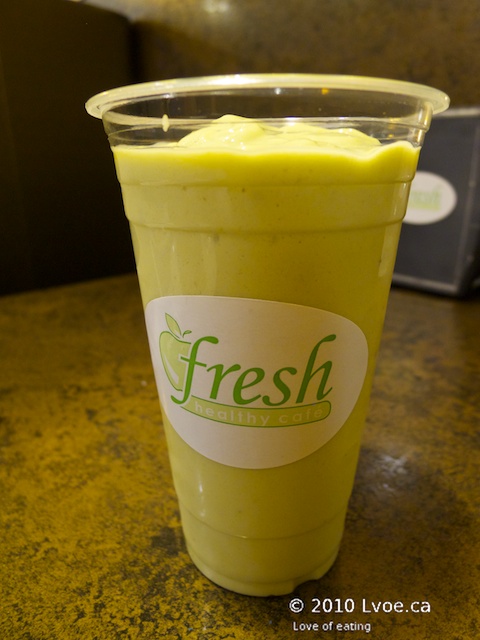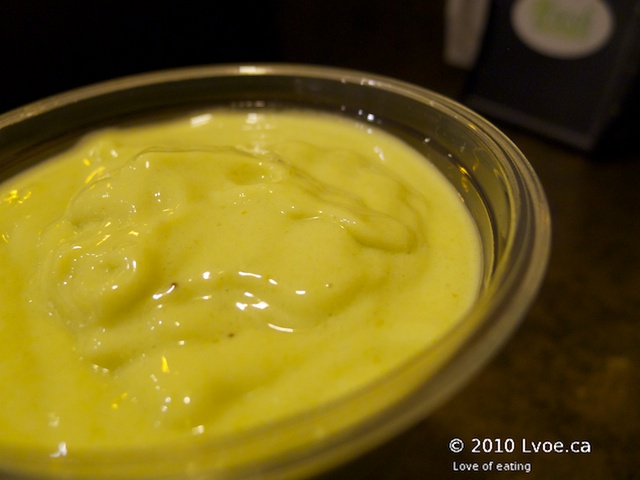 Oh. My. Goodness. This is so creamy. "Very, very creamy." Do you remember that Cadbury Crème Egg commercial?? I thought this would be just like my usual avocado bubble tea slush I normally get at Dragon Ball Tea House on the coast. But no. It's so much more. Soy milk, frozen yogurt, avocados, bananas, coconut cream, and agave nectar. It's thick and extremely smooth like an ice cream shake. Not overly sweet with a hint of avocado. If there is an option of extra avocado I think that would make it perfect. I didn't expect to come in here and find something I may buy on a regular basis. However, I'll have to wait for warmer weather; I discovered I'm a wimp with cold smoothie drinks when the mercury is below zero. I was fine inside the cozy café, but as soon as I took the green smoothie outside. Brrrrr.
Healthy Start Breakfast Wrap ($11.99 includes a large smoothie)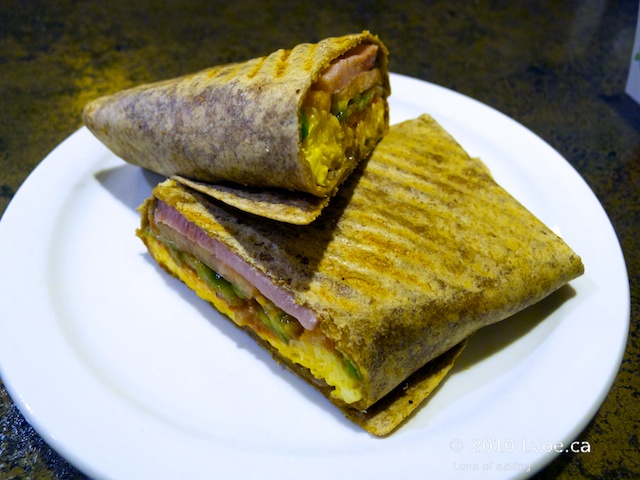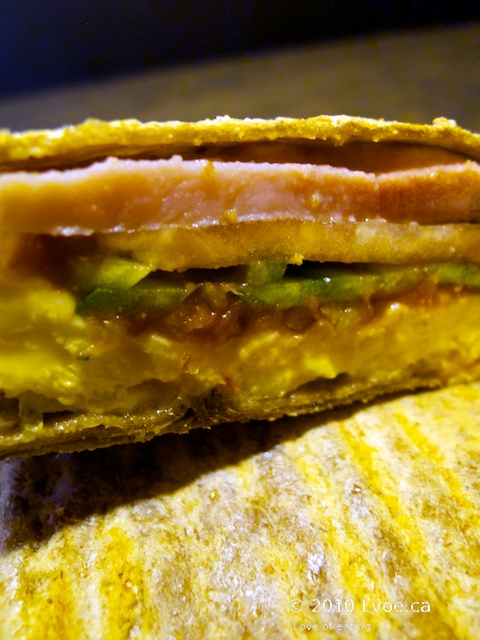 This is a pretty complete breakfast sandwich. The veggies tasted fresh and included tomatoes, red onions and green peppers. There is a lot of liquid that comes from the salsa. A LOT. It leaves the tortilla a tad soggy near the end. This wrap requires your best hover-over-the-plate eating technique to avoid the squirt and stream of salsa liquid. This technique looks similar to the standing-eating-a-chili-dog technique, but there is no need to thrust the buttocks out as you are in the seated position. The proteins are a thick meaty slice of ham, cheddar and scrambled eggs. Together the flavours are breakfast burrito-ey and good. However, the scrambled eggs have that unnatural poufy texture, which reminds me of eggs that come from a carton.
Turkey Bacon Avocado Panini ($10.99 includes a medium smoothie)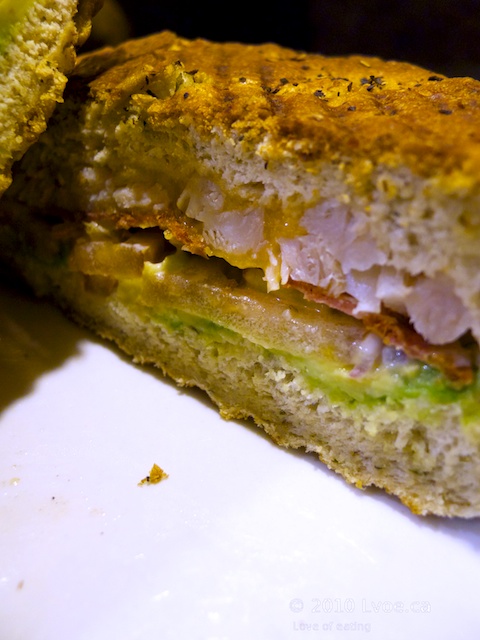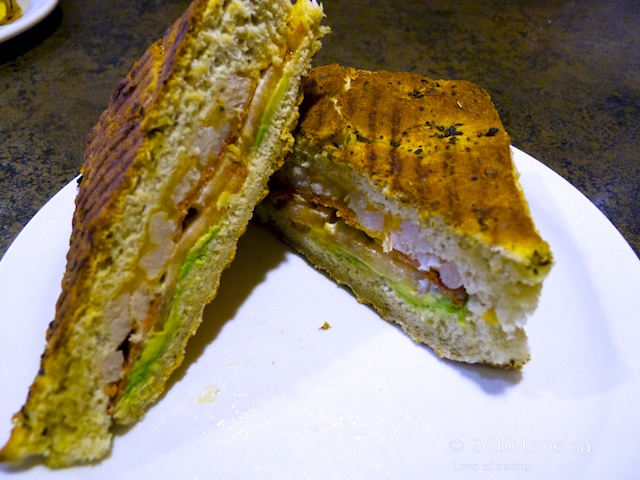 I really enjoyed this. It's stuffed with turkey breast, turkey bacon, cheddar, avocado, lettuce, tomatoes, red onions and ranch dressing. The grilled focaccia has a good crunch, but still soft and squishy in the middle. Ranch dressing can be very overpowering but the swipe of dressing is just enough to give the sandwich a bit of tang. The turkey is moist and the avocado added that velvetiness in contrast to the crackle of the bacon. Turkey bacon. I don't give this stuff enough credit. It really is satisfying when done right. The bird bacon here is crisp, and salty with some smokiness. Good combination of flavours.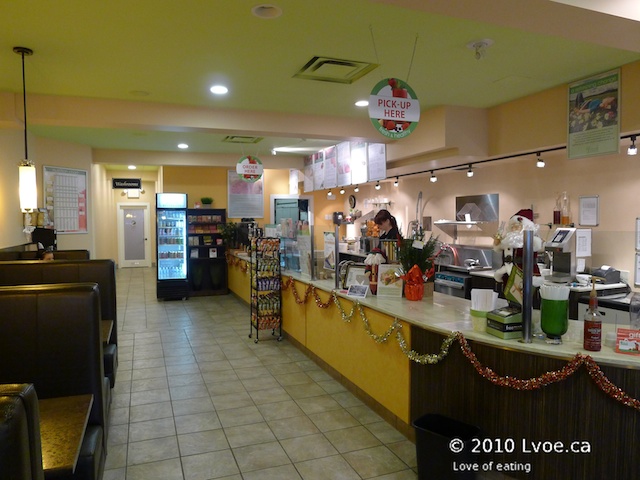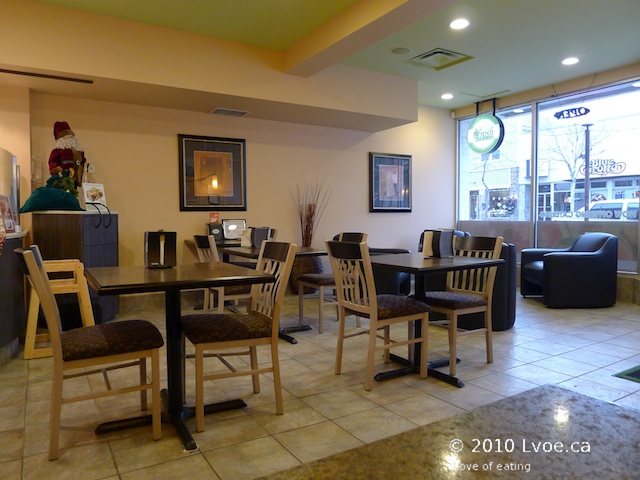 The dining space is very clean, modern and uncluttered. There's booth seating along the wall and three deuces in the front. I must comment on the loos. I always breathe a sigh of relief when I push open the door to reveal a restroom that looks like it's been attended to regularly. Both the men's and women's washrooms are spotless, not used as extra storage, and nicely appointed with attention to details. Artwork, proper vanities, coordinating wall colours, finished trim…etc. I'm not one to loiter in public washrooms, but if you need to catch up on local news you can head straight to the men's room. There's a 27" flat screen (measurement approximate) above the men's toilet. The boob tube is curiously absent from the ladies WC.
Decent light lunch fare can be had at Fresh Café. They serve regular refreshments as well if you're not into smoothies. I got my bacon after all.

Location
Fresh Healthy Café
324 Victoria Street
Kamloops
,
BC
V2C 2A5
Canada