Crush Sauté and Grill - Kamloops, BC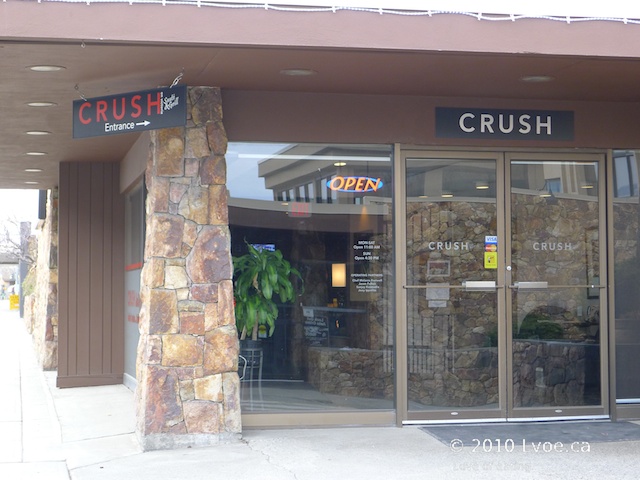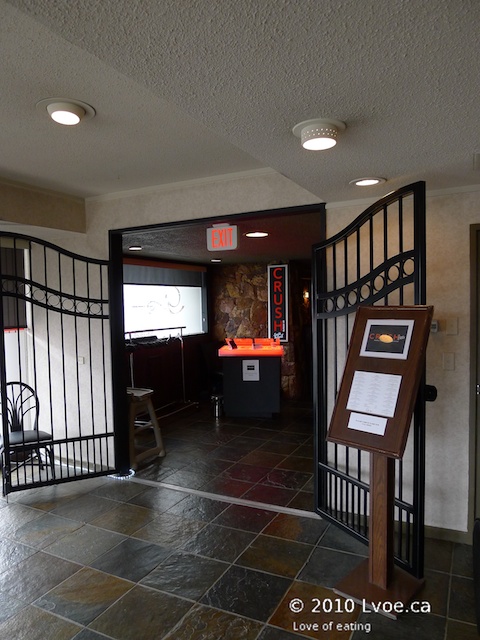 **UPDATE 2014: Crush Saute and Grill is no more. Vittorio's Downtown Italian restaurant now occupies this space within the Kamloops Conference Centre."
On a very quiet afternoon we rolled up on Crush Sauté and Grill. We may have been the only patrons in here during our entire meal. Crush is housed in the Thompson Hotel and Conference Centre on Victoria Street. It is one of two restaurants in the conference center, the other being the Noble Pig Brewhouse.
I was having issues with the parking meter taking my American coins. I only had American with me today. I know normally the grey lollipops will take USD, so I'm not sure how we ended up at this temperamental meter. I exchanged my 75 cents at the hotel, and reception gave me a quizzical look like I was a hyper anxious tourist that was afraid of putting foreign coins in the meter.
Arancini ($8.99)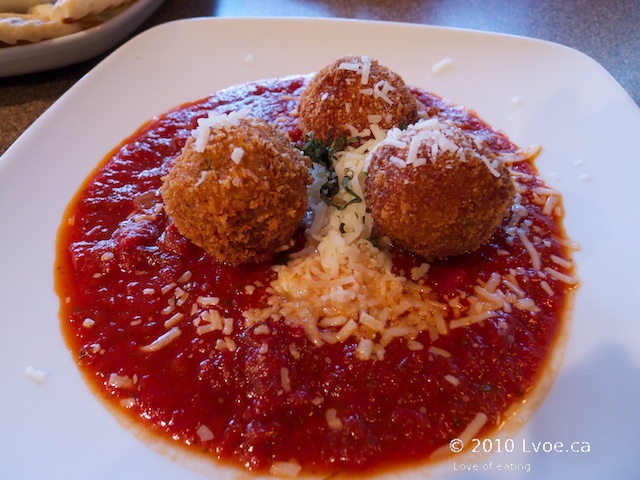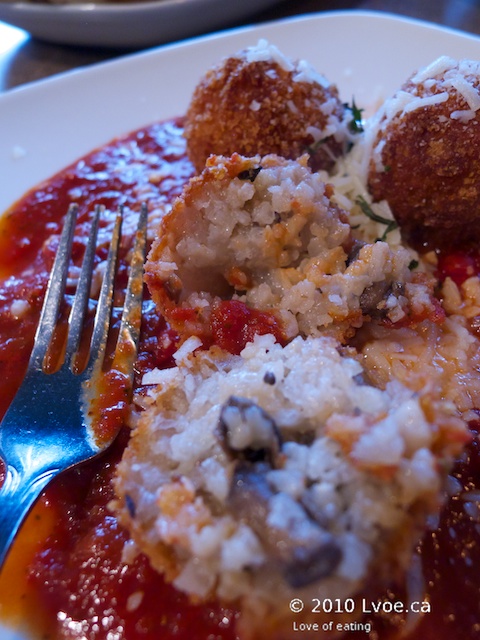 I used to make and take onigiri for lunch quite often. Super convenient and tidy to eat. Rice balls are such a comfort food. Come to think of it, I guess balls of any kind are comforting. (Tee hee.) Meat balls, fish balls, popcorn balls, rum balls, Matzah balls, *sweet and sour chicken balls...etc.
Arancini is a Sicilian version. This is listed as one of Crush's signature dishes. The crust is very golden brown, maybe a tad too brown… The Arborio rice is a little dry on the inside. I enjoyed the addition of wild mushrooms inside the rice ball; it added a meaty texture to the dish. The marinara sauce is abundant and strong, with a sharp tomato tang and a bit of garlic. The cheese in the rice already adds quite a bit of seasoning so I only needed a smidgen of marinara, if any, for each bite.
*S&SCB: We all had these at some point in our lives...don't lie! Did you know they're a Canadian thing?
Baked Goat Cheese and Fruit Salsa with naan and crostini ($10.99)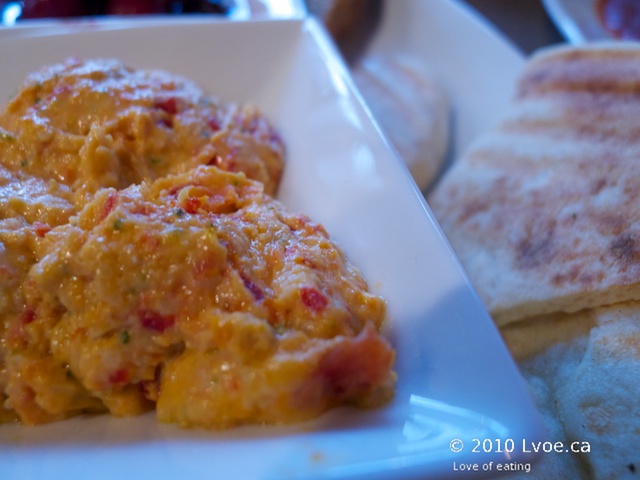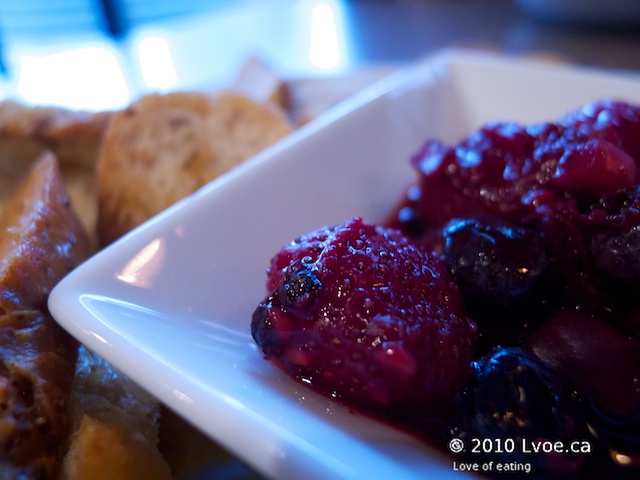 I love the strong pungent flavor of goat cheese. I was hoping this fromage would be a lil' wheel of goat cheese. The cheese is actually blended with sundried tomatoes, garlic and basil, giving it a hummus-like consistency. The fruit salsa is sweet and similar to macerated berry compote in texture. The bread is listed as naan, it's not the kind that you would eat with a vindaloo but it's more like a pita. It works. I mean, the bread has to be structurally sound enough to get the heavy cheese and fruit to the mouth. I found placing a spread of goat cheese on the crostini, then a dollop of the salsa, actually created a husky blend of sweet and savoury.
Sundried Tomato and Roasted Red Pepper Penne ($12.99)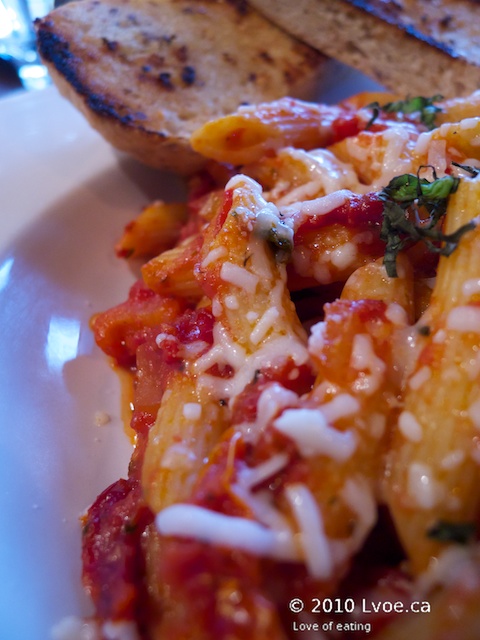 I only tried a bit of this. The sauce and the sundrieds merged to develop a potent tomato flavored dish. DL is quite pleased with today's lunch choice. What can I say, DL loves pasta and tomatoes. My partner in crime was having little party for one across the table while using the garlic toast to scoop the penne, sauce and parmesan cheese into the eating oriface. The toast and cheese created a familiar and consoling taste combination. DL hearts tomato based sauces with strong in-your-face flavours. This plate delivers that punch.
A huge draw for me to Crush is that they feature locally grown and produced ingredients. However you would never know it. Maybe it's because we're in the middle of winter and there's not much local goods being used at this moment? Surprisingly the menu didn't highlight any local suppliers or feature where certain ingredients came from. The server, although efficient and straightforward, didn't play up that aspect of the restaurant either. Too bad because I'm a total sucker for this kind of marketing! If informed, I will almost always choose an extra selection from the local choices on the menu. Is Crush just being très low key about it?
Crush's menu isn't unlike other restaurants in Kamloops, other than their focus on local products. I tend to revisit restaurants that make efforts to use ingredients that are sourced close to home. So having only tried their lunch fare today, I probably will be back sometime in the future to check out their dinner mains.
High five! I got back to the vehicle with a minute to spare on the grey lollipop. It's no lie, I celebrate the small things in life…

Locations
Crush Sauté and Grill
650 Victoria Street
Kamloops
,
BC
V2C 2B4
Canada