Sleepy Hollow Diner - Kamloops, BC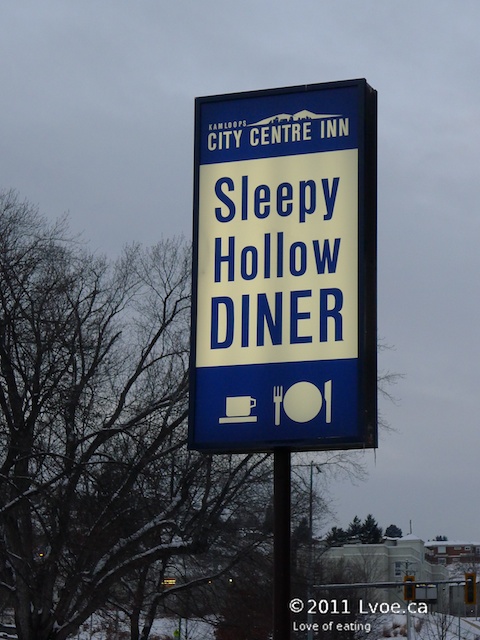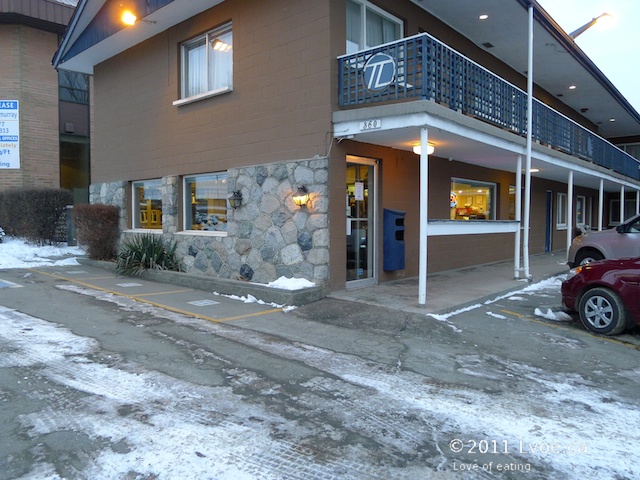 I drove by this tiny diner early one morning and I was attracted to it purely because of the name: Sleepy Hollow Diner. Cozy, with only a few tables and a bar stool seating.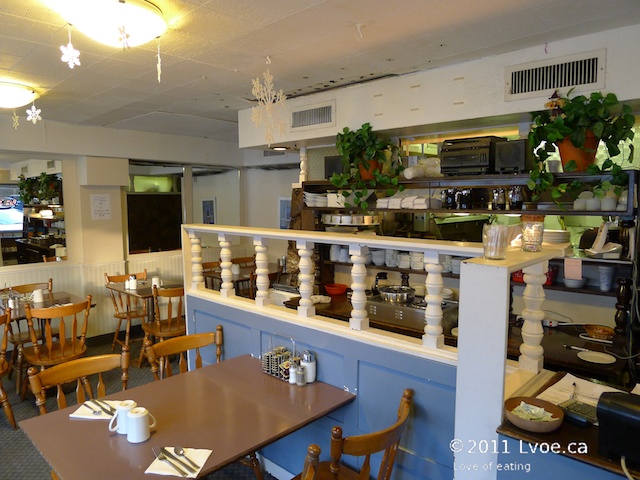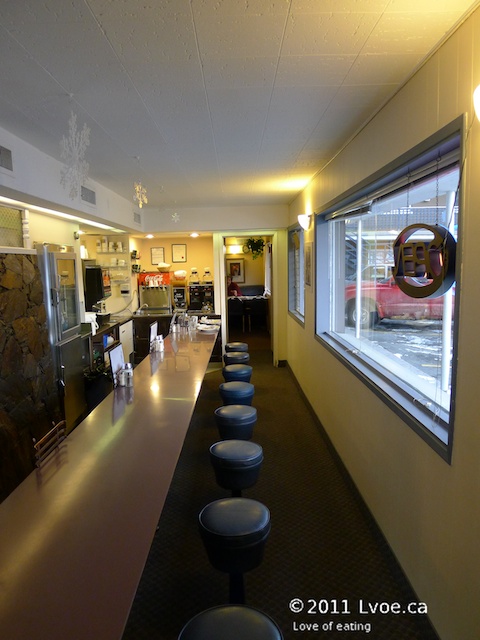 This feels like a typical diner. There is a lone server that knows every customer by name and one kitchen person slogging it out in the back. Within a few minutes this DDE filled up with loyal I'll-have-the-usual-type patrons. We were made to feel like one of the regulars as the server chatted with us and shared some of her own stories.
Hungry Bear Breakfast ($10.99)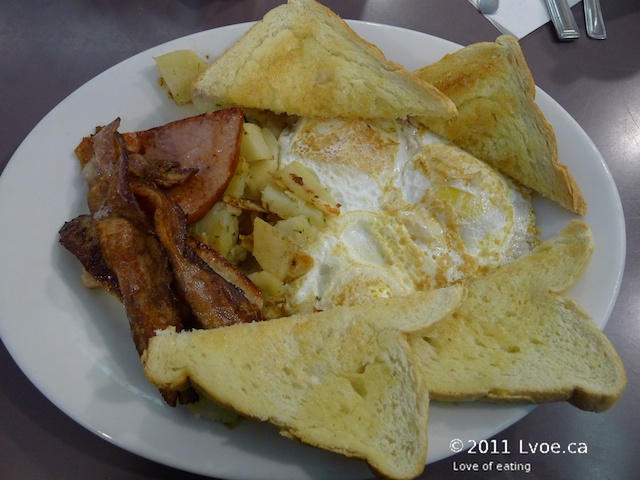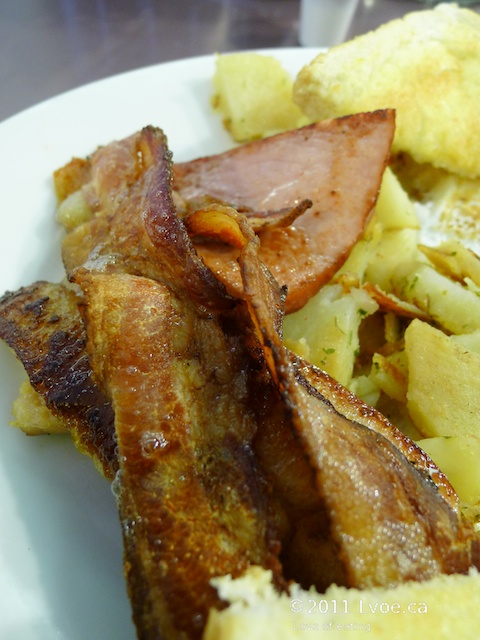 This is a bear size breakfast indeed. The Hungry Bear included three eggs, quarter slice of ham, two crunchy strips of bacon and two split sausage links for proteins; two slices of toast and a scoop of hand cut hash browns. The eggs were perfectly over easy and not overly oily. I prefer the sausage cooked whole and not split. I've always felt this split method dries the meat out too much. But overall this is a pretty good diner breakfast.
Big Bear Breakfast with beef sausage ($9.99)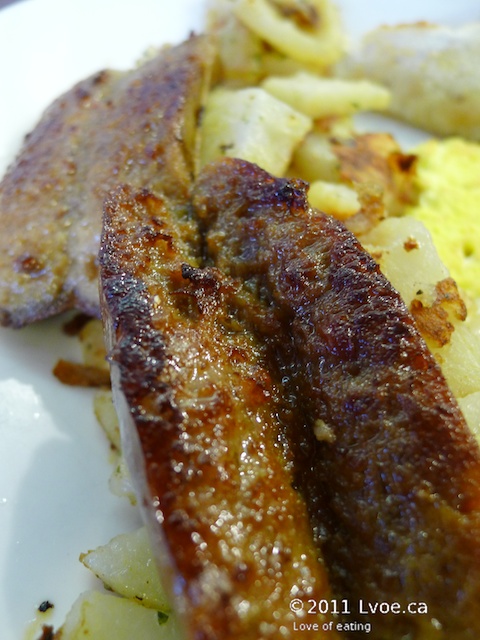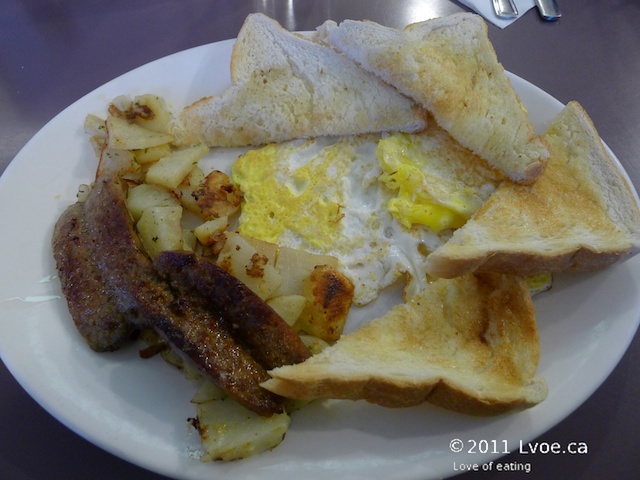 This smaller breakfast contained two beef sausage links, 2 eggs, hash browns and toast. The moo links were very flavourful. DL is a fan of the split sausage cooking method, liking the added texture this gives to the meat. Again, another decent diner breakfast.
At home for breakfast I usually just have a soft boiled egg on half of an English muffin. So when I go out for these platter sized brekkies, it's quite a treat. Oh I do love me some breakfast foods!
The Sleepy Hollow Diner has great genuine casual service and humble diner fare.
I kept thinking about our experience at Sleepy Hollow for some time afterwards. I felt really positive about it, and it boggled me. Why? The food was good but it wasn't mind-blowing. Hell, it was just bacon and eggs! Upon further pondering I realized what really made our visit to the Sleepy Hollow stand out was the server. She had the ability to make us feel like long time customers: comfortable, relaxed and trusting. Not very many servers and hosts at restaurants have the knack to do this and make it feel genuine. Sure there are lots of places that can give good text book service, but it's given superficially and it feels that way. This is different. It feels different. The service we enjoyed at the Sleepy Hollow Diner, is what many front-of-house managers try in vain to do themselves or train floor staff to execute. The Sleepy Hollow server has it, and she's probably not even trying. I relished the conversation and I can see how this diner has accumulated so many regular clients.
If Washington Irving only knew...

Location
Sleepy Hollow Diner
360 Columbia Street
Kamloops
,
BC
V2C 2T2
Canada