Hu Ahyi Bubble Tea Place - Kamloops, BC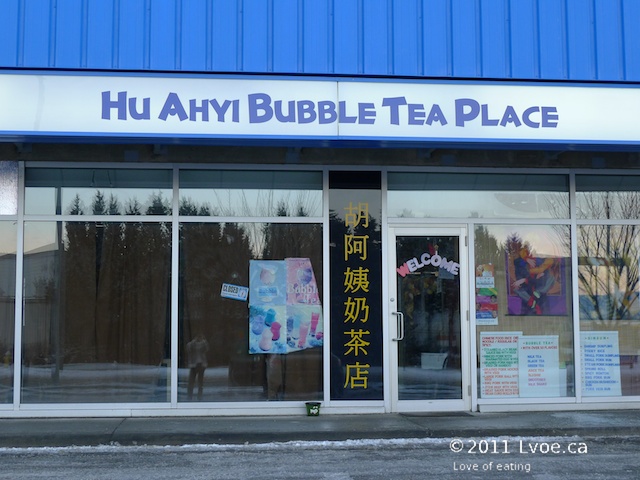 Hu Ahyi Bubble Tea Place is a Taiwanese style café. Is this the place that used to be inside Superstore? I've been there in the past, but I've never bothered to take note of the name. The furnishings look very similar. It's a DDE home-style eatery.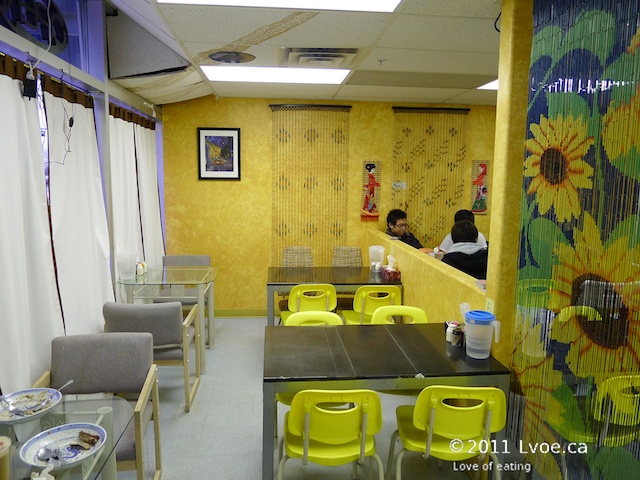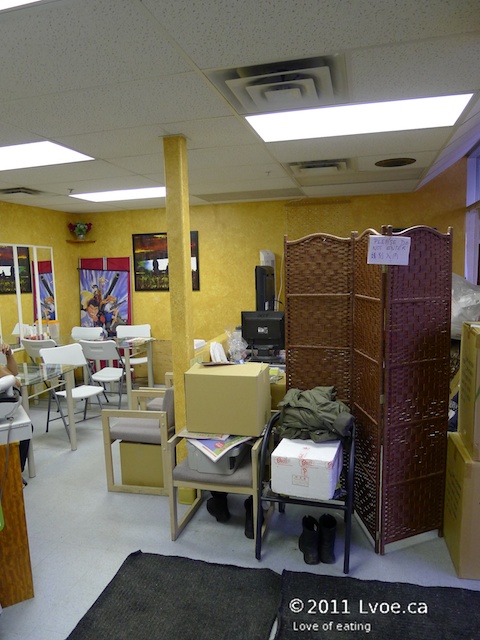 I can't emphasize home-style enough. Not just the food but the space. When you enter, it's a bit like Eric Forman's basement. There's a mish-mash of tables and chairs. Some pieces look like they're left overs from expired dinette sets, some from office surplus sales, and some of the chairs are from a Grade 4 classroom circa 1984. Random items are in every nook and cranny. Bead curtains galore! I secretly love bead curtains…
Braised Pork with Bamboo Shoots on Rice ($6.95)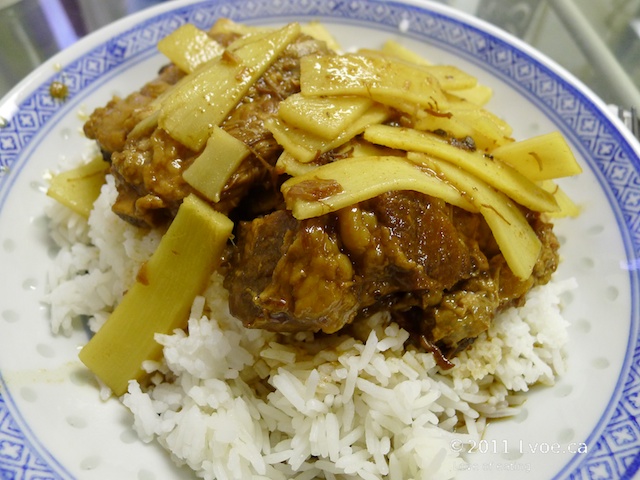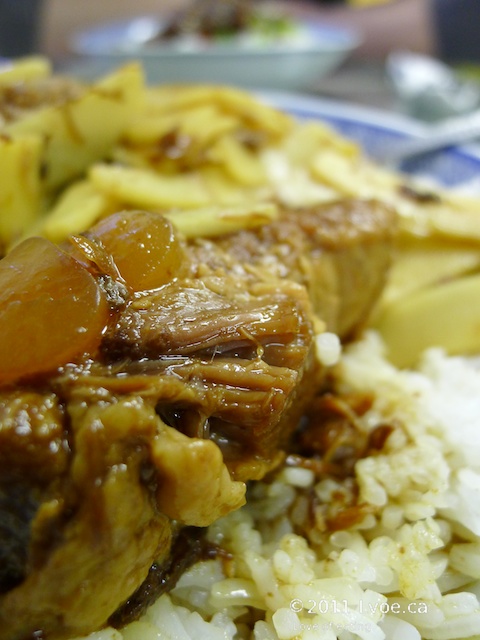 This pork is everything I want in a braised meat: tendony, meaty and fatty. The porky goodness easily falls apart with a little nudge from my fork. Strong flavours of soy throughout. The meat must have been pressure cooked or braised for a hella long time, because the bones are soft enough to bite through. How do bones become like this? Bamboo shoots added a slight crunch. Super.
Stewed Beef on Rice ($6.95)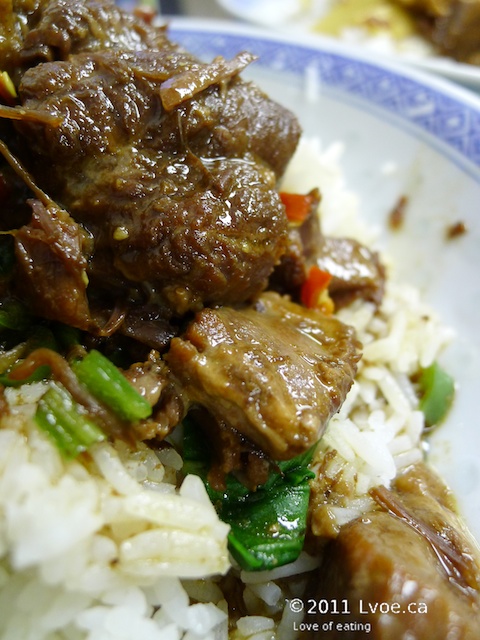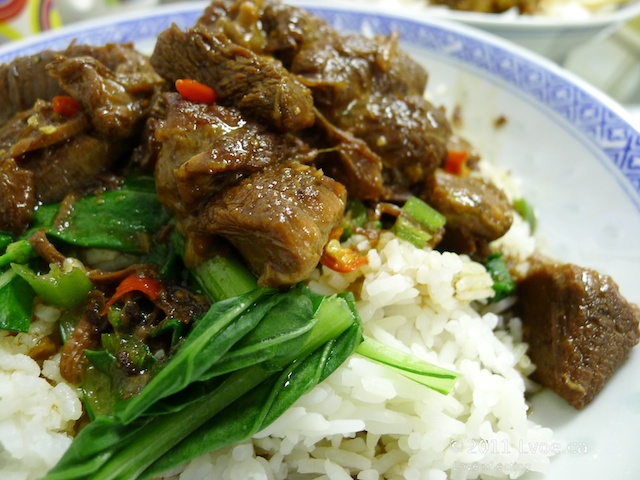 Beef here is crazy tender. We had the option of making this spicy. DL went for spicy. The flavours are rich and beefy, with a progressive heat from the chilies. The dish is rounded off with some Chinese greens. Another very good home-style plate.
Bubble Teas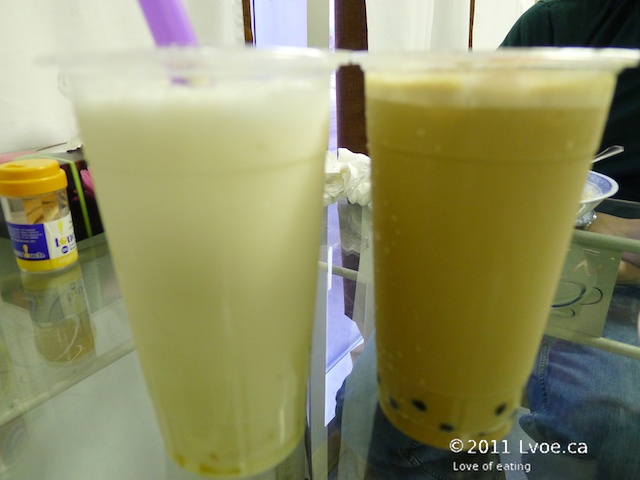 Coconut and Pudding Milk Tea with Coconut Jelly ($3.25 add jelly $0.50)
Their bubble tea is sweeter than I like. Hu Ahyi uses powder flavours in this milk tea and not fresh flavours. So there's that. I like to order pudding specifically for the added texture. This may be an acquired thing, as having pudding in a drink feels like sucking up chunks of jello through a straw. I love pudding in my milk tea drinks, but it's useless if they are using powders. It just had some aroma of vanilla pudding from the powder flavouring; there wasn't much of a coconutty taste either. The additional coconut jelly I ordered was sweet and chewy. Considering they don't really have competition for bubble tea around here I guess Hu Ahyi can coast along with what they have...
Yuen Yeung or CoffTea with pearl ($3.50 add pearl $0.50)
If you're not familiar with this drink, it's basically coffee and milk tea blended together. DL added tapioca pearls to the drink. The pearls are surprisingly well made. Soft and chewy with a little bounce in your mouth. The cofftea here is just as good as ones I've had elsewhere. Thumbs up to Hu Ahyi for getting the pearls right. It's not that easy to get consistently good pearls at many bubble tea joints.
Yes, you may raise an eyebrow when you first walk in. Yes, it looks like you just walked into your batty aunt's kitchen...but Hu Ahyi Bubble Tea Place is an example where a DDE can serve some super decent eats for cheap.
It took every ounce of self control in me not to part the sunflower motif bead curtains with my arms extended; walk through with an air of grandeur and throw my arms up with a quick flick of my wrists à la Mrs. Roper.

Locations
Hu Ahyi Bubble Tea Place
Unit 106 - 910 Columbia Street
Kamloops
,
BC
V2C 1L2
Canada