The Roadhouse Café - Savona, BC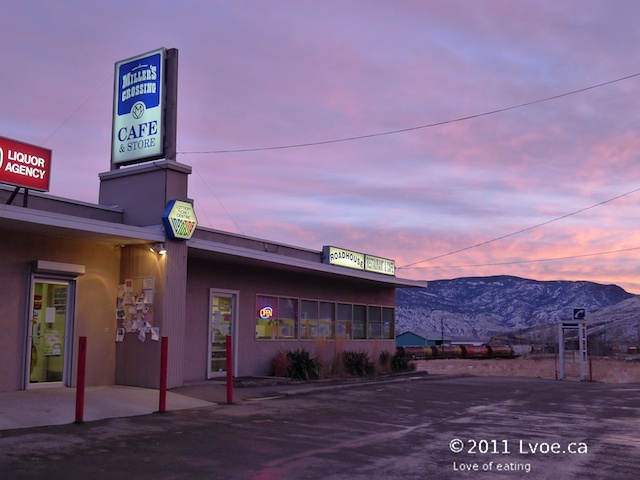 Lately, I've found myself out and about quite often in the early hours of the morning. So naturally I've been hitting up a lot of diners and...well anything I can find that opens before 8am. The Roadhouse is located in Savona, BC. A colleague had a fantastic time with an omelette here recently, so I promised myself I would stop for a meal the next time I went through Savona.
The Roadhouse Café is part of Miller's Crossing. Miller's Crossing is the Marky Mark Wahlberg* of shops. This little Savona establishment is a convenience store, gas station, liquor store and café. Much like the actor-singer-model-dancer, Miller's Crossing is a quadruple threat of sorts, I guess.
*Yes, go to YouTube and re-live Good Vibrations. You'll be glad you did. Oh, the fontrum of the 90's!
Communication...it's so important. As I perused the menu I noticed they had the aforementioned Roadhouse Omelette on the menu. I assumed my trusted eating partner would order this item, as DL usually orders the namesake items. With the server waiting, I quickly order the Eggs Benedict. I'm content with my order. The server turns to DL. "I'll have the two egg breakfast with bacon." What?? My mouth drops and my brow is furrowed. Bacon and eggs? I'm a little panicked. If DL wasn't going to order the namesake item, then I would have. Gah! I am visibly annoyed. I know...Total. Over. Reaction.
Two Egg breakfast with Bacon ($8.25)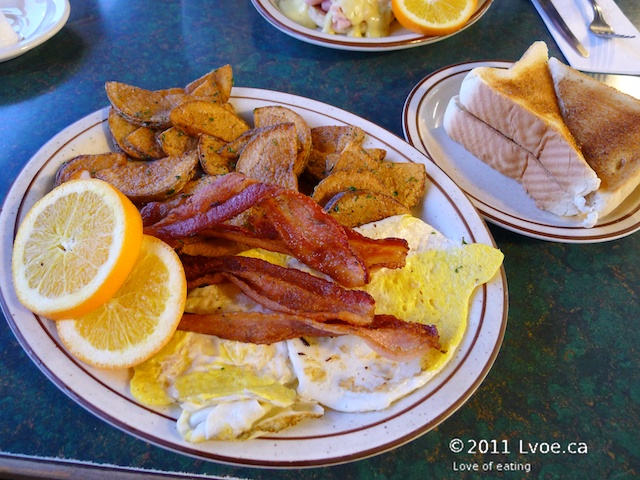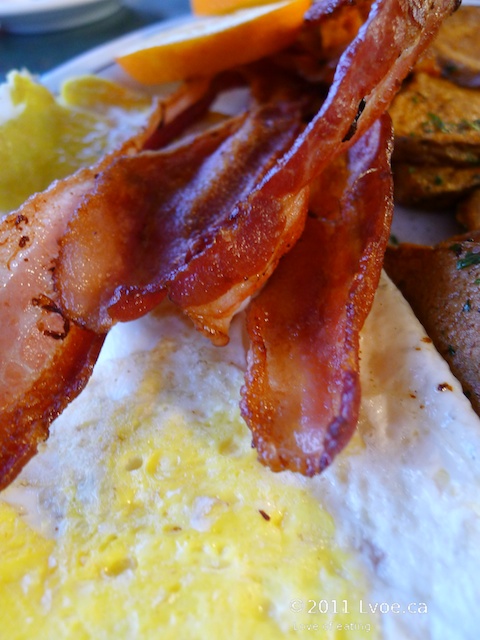 Huge hearty breakfast. The hash browns look really brown, but they are actually pretty tasty. There is a sprinkle of herbs on the potatoes which added some additional aroma. The bacon here is a "stiff" crispy, y'know what I mean? I know everyone likes their strips of salty pork a different way, and there is such a variety of ideal bacon characteristics. I like crisp bacon, but I like a more "malleable crispy." Both dishes are subtly seasoned.
Eggs Benedict ($9.75)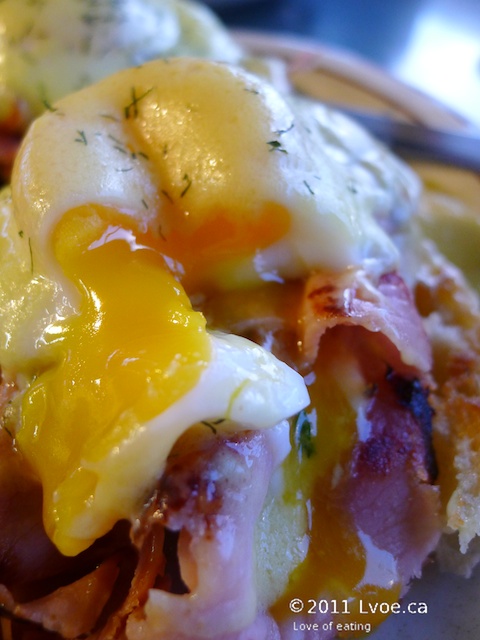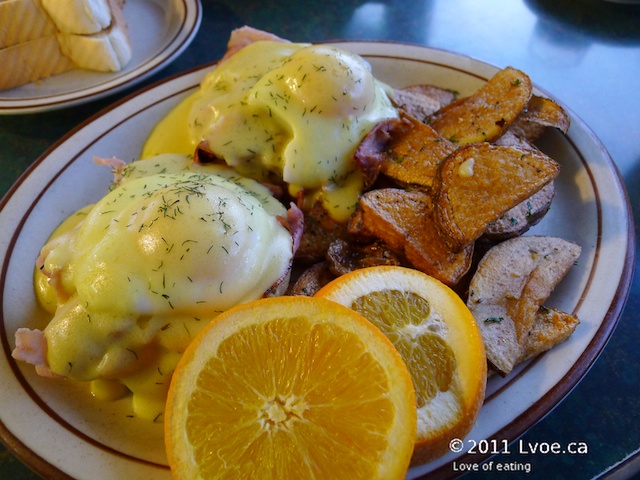 Hollandaise. For years I avoided hollandaise sauce in restaurants. I won't go into it now, but having worked in food services for many years, there are certain things I've learned to take a pass on. Hollandaise was one of them. Such a conundrum as I really enjoy a good bennie. Thanks god, I've relaxed about certain things, because I may have missed out on some kick ass Eggs Benedict. The eggs are perfectly plump and supple. The runny golden yolks easily ooze over top of the pile of thin sliced ham. Golden yolks! Not the unnaturally bright yellow ones. The ham is good too. It's not just one thick slice, but a loose pile of thin sliced meaty ham. SO happy I ordered this.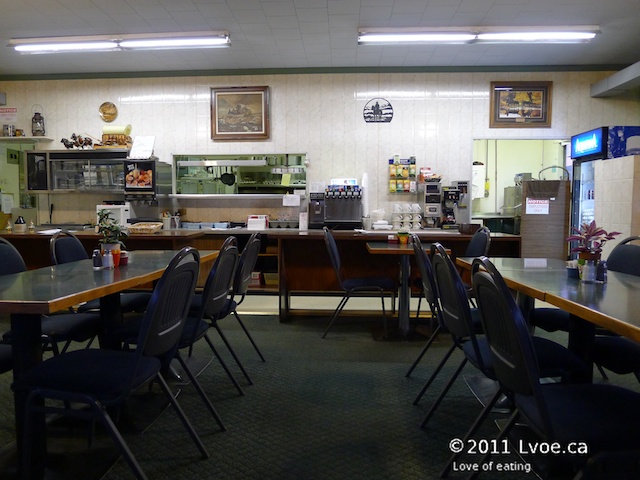 The diner is spotless and well appointed with a homey feel to it. I'm not sure if we were the first customers of the day but our server offered to make whatever I ordered to be the "Breakfast Special." So my Eggs Benedict became this morning's whiteboard special for $8.75. What a deal! Now, I know that a great breakfast doesn't always translate into equally good lunches and dinners. However, the Roadhouse does serve a very good breakfast, so this has me curious about the rest of their diner grub.
I'm also curious about what ever became of the Funky Bunch?...

Locations
The Roadhouse Cafe at Miller's Crossing
1171 Trans Canada Highway
Savona
,
BC
V0K 2J0
Canada