Romann's Swiss Pastries and Chocolates - Kamloops, BC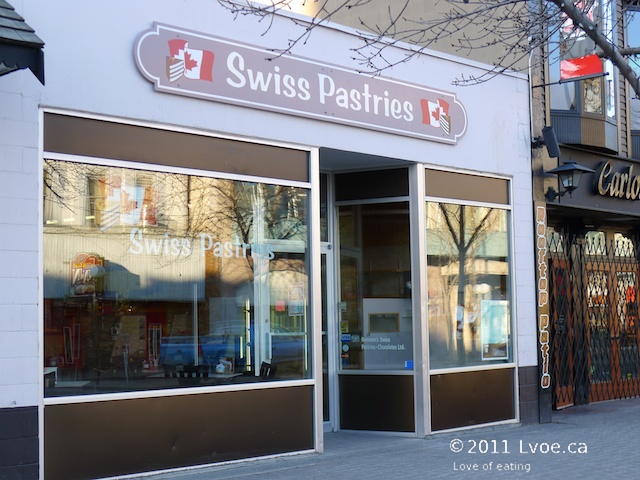 Romann's Swiss Pastries and Chocolates is an unassuming bakery and chocolate shop in downtown Kamloops. I've pondered what kinds of pastries are Swiss?? I tried to recall pastry from my days in Lucerne, but all I can remember eating was bread and cheese. Yes, the budget was tight. I've often stolen quick glances into Romann's as I sped pass on my way elsewhere. I had let this little bakery café slip off my radar. Then along comes A.L. Smithey and her big pretzel...
Oh yeah, the Swiss Pastries place.
Hazelnut Roll ($1.90)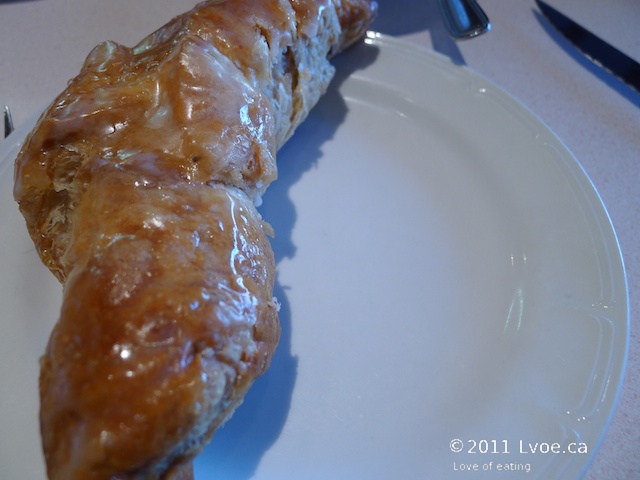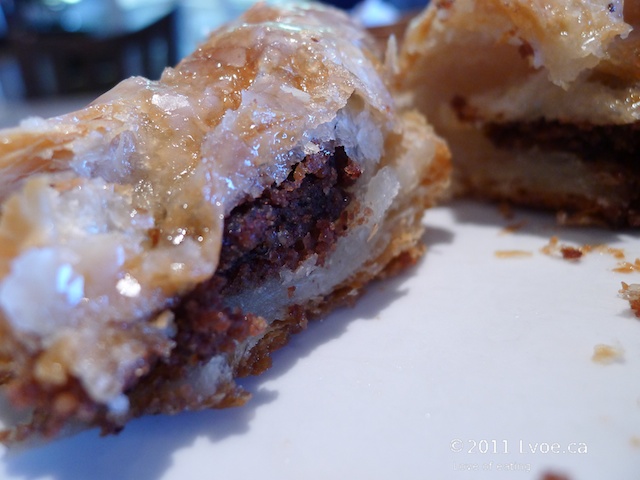 Flakey. Hazelnutty. Sweet. The ample hazelnut filling stretched from one end of the roll to the other. It's a very sweet pastry but goes great with their coffee.
Coffee ($1.90)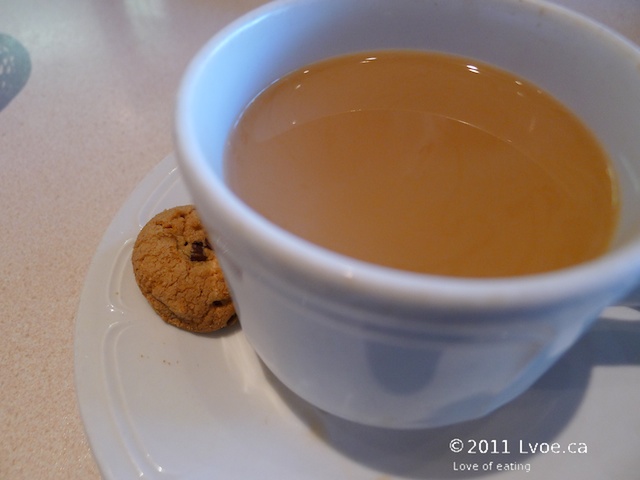 Romann's has a solid selection of specialty coffees. I just went with the standard today. Their basic coffee is rich and our friendly server is prompt with keeping the cup refilled. It's the kind of coffee that will make you linger a little longer.
Florentiner ($2.45)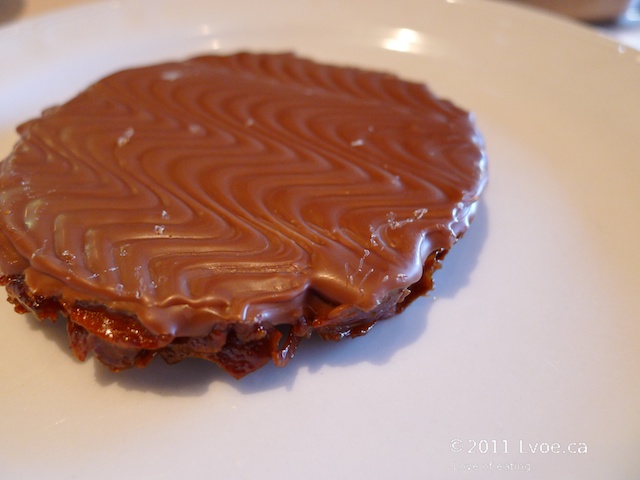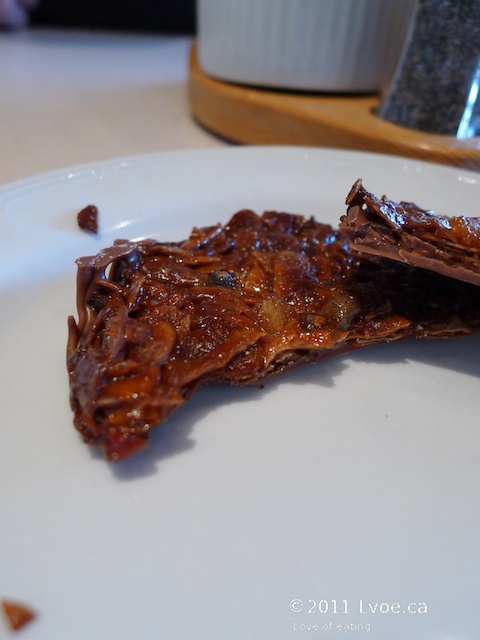 The Florentine. Is it a cookie or a candy? Nutty and crunchy. Super sweet. The Florentiner is made with either milk or dark chocolate; DL went with milk chocolate. Romann's Florentiner is quite a bit thicker, but not as chewy as Erwin's Florentine. The two cookie-fectionaries are very different. If you like thick and crunchy then: Romann's. If you like thin and chewy then Erwin's.
Buendnerfleisch with butter on white bread ($5.35)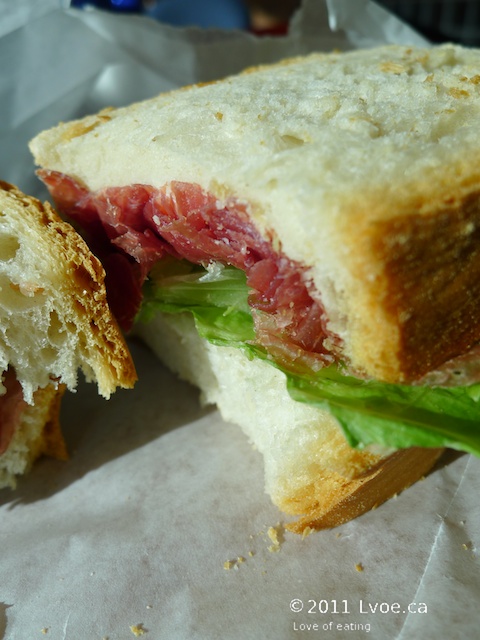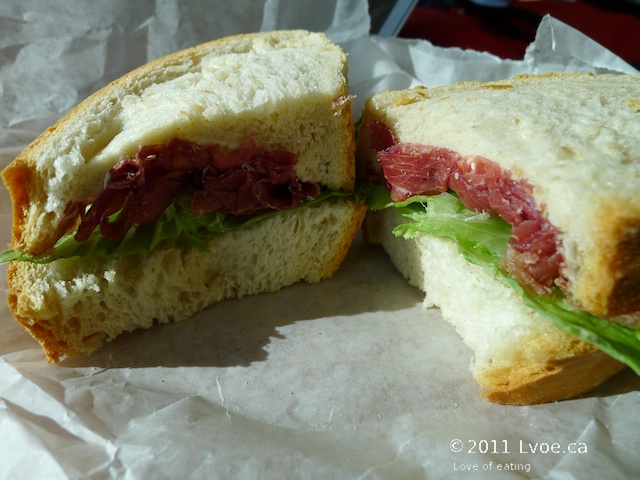 Damn, this bread is fresh. Some people love a good crusty bread. Crusty bread is always a little too crusty for me. I have this issue of chewing like an infant, which leaves the roof of my mouth raw and absent of skin. This did not deter me from enjoying this dried meat sandwich. The buendnerfleisch is lean and subtle in seasoning. The white bread is so soft and dense that not much is needed. A slather of butter and a few paper thin pieces of buendnerfleisch. Really satisfying.
Salami and Swiss cheese on white bread ($5.35)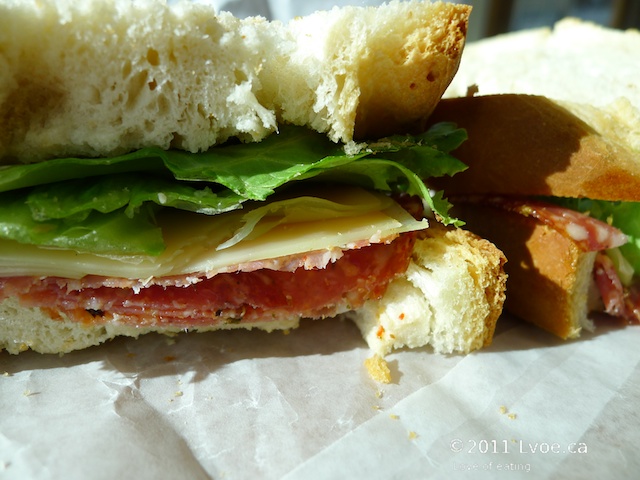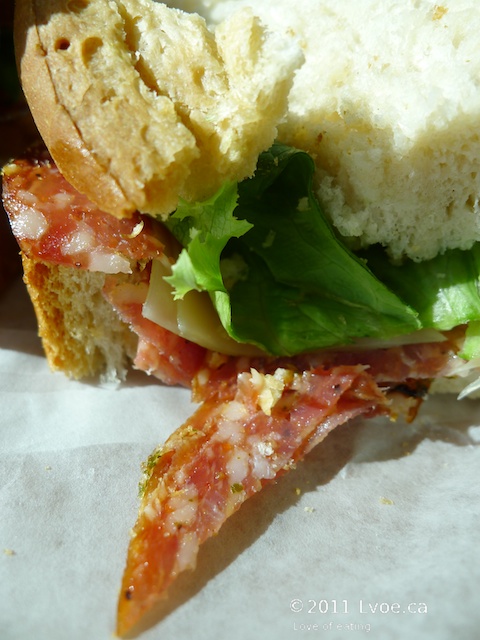 The only bread available on this visit is the white. I was hoping to try a sandwich on their Sovital but it was not yet available today. Argh. This happened to me with the Sovital at Erwin's too. The salami had a little savoury kick to it, as most salami does. Again, this bread could be enjoyed with just a schmear of good quality butter. The addition of a little meat and cheese turns it into a filling lunch.
Some sweets for the road…
Romann's hand crafted chocolate truffles ($7.95 per 100g)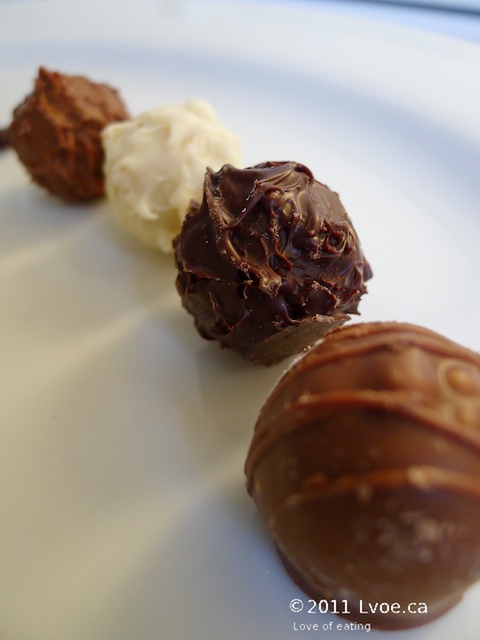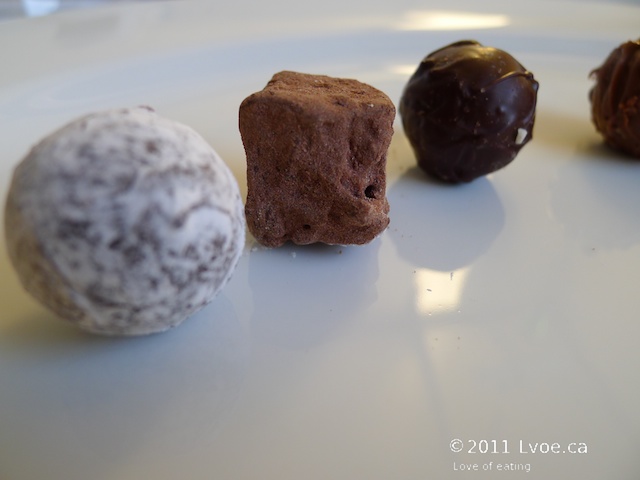 We tried all the flavours of truffles they had on display today. The first photo depicts the following truffles from foreground to background: Caramel, dark chocolate, white chocolate and milk chocolate. The second photo has the champagne truffle, whiskey truffle and rum. Rum is my favourite of the truffles. It is dark chocolate (so not that sweet) and the essence of rum hangs around in my mouth for awhile.
Chocolate covered candied fruit ($7.95 per 100g)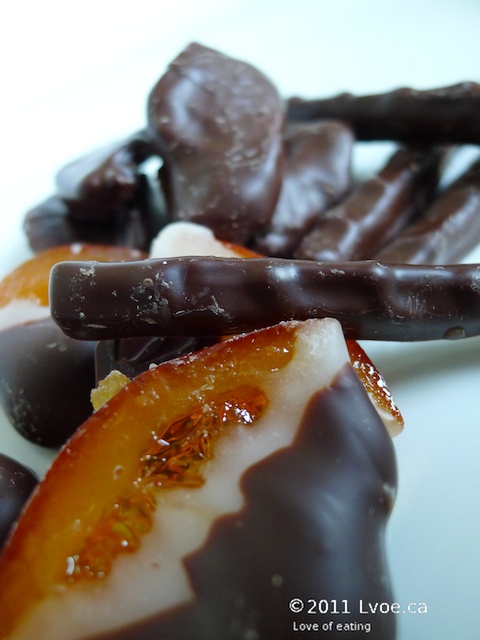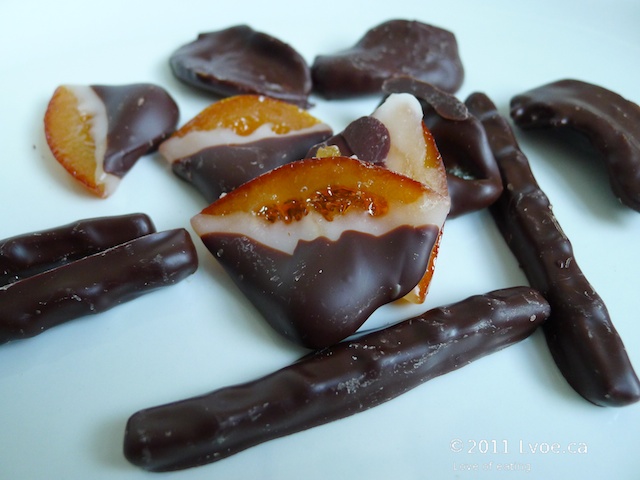 I love chocolate covered orange slices! They have been a little hard to find lately. I used to get them from Purdys years ago, and then they discontinued them. Godiva will only have them available for special occasions, but never regularly. Rogers Chocolates and Bernard Callebaut only offer the peel. I am thrilled to see that Romann's makes candied orange slices. Jumpy claps! I also picked up lemon peels and ginger. I will certainly make a return visit for the orange and lemon. I like ginger, but I prefer the soft chunky Australian kind that is almost like eating a ginger flavoured jubejube.
Lemon Tarte ($1.95)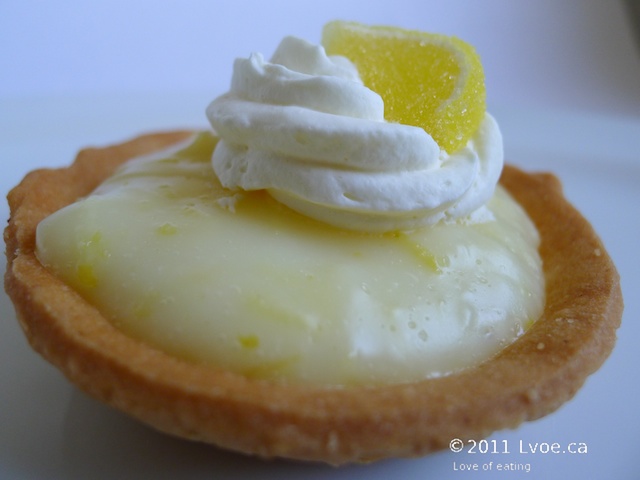 Love this. The lemon rind flecked curd is puckering tart with a hint of sweet.
Romann's is such a cute little space. Spotless eating areas and fast stellar service. Perfect place to sit to enjoy a coffee and a house baked treat.

Locations
Romann's Swiss Pastries and Chocolates
359 Victoria Street
Kamloops
,
BC
V2C 3N3
Canada