Mervo's Coffee Shop - Kamloops, BC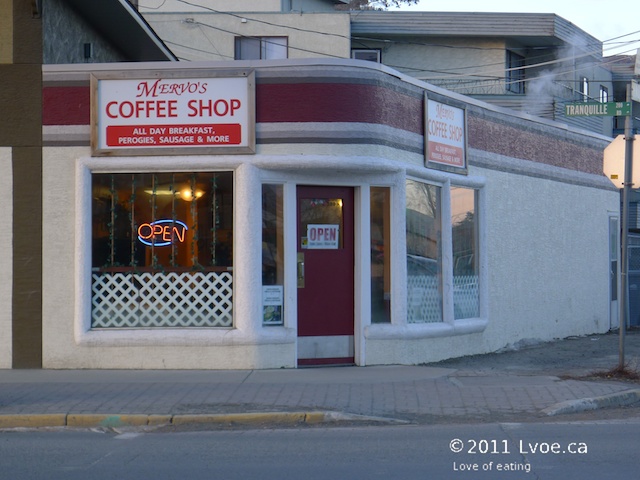 Mervo's. I dig the name, don't you? I wanted to come here because it looked SO old school. The menu is small, but crazy. From pancakes and sandwiches to perogies and pad thai??
Pancakes and Coffee ($4.09) with a side of sausages ($1.70)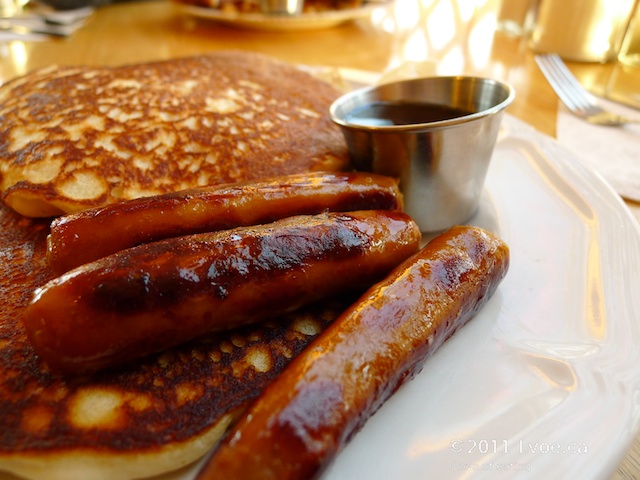 The food came out very quickly. I suspect that there may be some pre cooking of the proteins here, but that's just a guess. The pancakes are crumbly and a little dry. Admittedly, I am not much of a pancake person but I could only eat one of these. They didn't hold together well. The sausages have a pretty thick skin and innards are a tad dehydrated.
Bacon and Eggs with Hashbrowns and coffee ($5.91)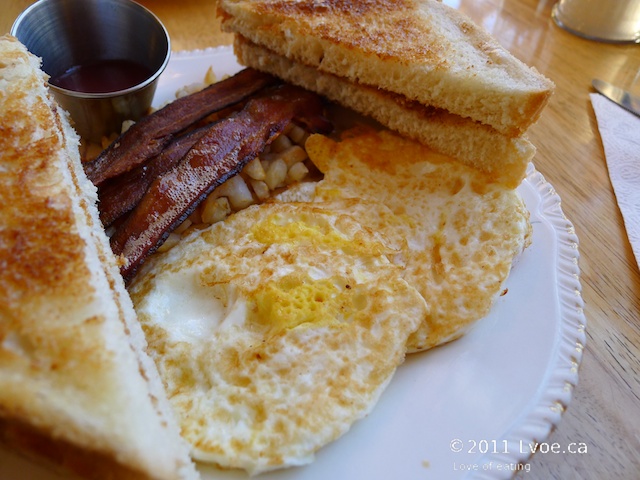 I had mentioned back in my Bear's Claw post that I have not encountered frozen McCain hash browns for some time. I had spoken too soon. The diced hash browns are a bit overdone, as they shriveled to the size of lentils and are dry. Super crispy bacon, if you like the stiff kind. Eggs are decent. The one thing that stood out was the toast. The slices matched. They weren't just 4 random pre toasted half slices placed on the platter. This is a small detail that I tend to notice. The toast is big, thick, and held up to the spread. The jam is weird. The only option is strawberry and it's runny. Runny, like salad dressing. The preserve is served in a little metal condiment container on the side. Odd.
Très DDE.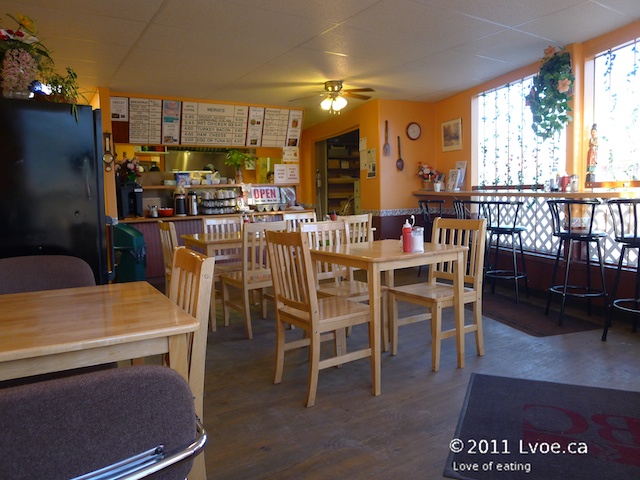 I noticed in Kamloops there is also a Mervo's Pizza listed? Does this place still exist? Are the coffee shop and pizza place connected by a common Mervo? I can't imagine Mervo being a common moniker.
Mervo's service is fast and friendly. The prices are unquestionably cheap. The two meals above came to $13.10, and both dishes came with a beverage. You can easily fill your belly with just a few twoonies at Mervo's, but the breakfast food needs a bit of work.

Locations
Mervo's Coffee Shop
289 Tranquille Road
Kamloops
,
BC
V2B 3G2
Canada