Sips Martinis and Tapas - Kamloops, BC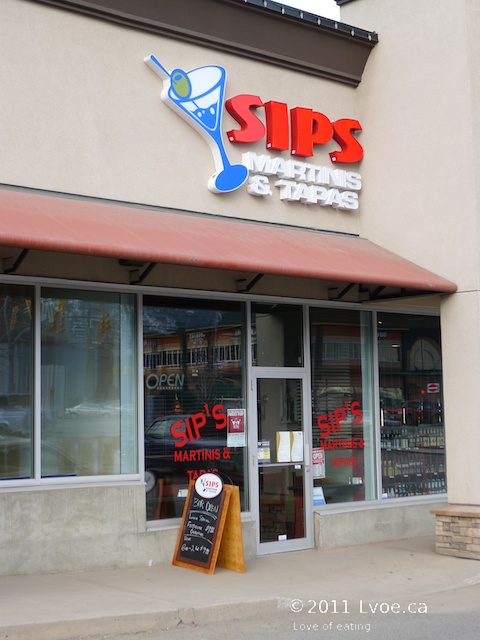 **UPDATE 2012: Sips has taken its last sip, and is now closed. Eden Bento now occupies this space.**
What a week! I finally finished two major projects that have been looming over my head for some time. I finished up around mid-day this afternoon and needed some snacks. My last few errands today ended up being at London Drugs, and Sips Martini and Tapas happened to be open.
Again I have to give credit to Bumbling Along in Kamloops author, A.L. Smithey, for giving us the heads-up about this place last month. Don't you admire her dedication in getting the info out to you? I mean, A.L. whipped out her notebook to take down the daily specials and other deets. Her notebook!! I would not have had the patience to jot all of that down.
The time between 3pm and 5pm has got to be one of the worst times to go out to eat. It's those odd hours between lunch and dinner when it's not busy, and restaurant staff is transitioning. Tumbleweed time. This is also usually the time when the main kitchen member/chef is not yet on shift. Sure, this may not be the primo time to check out a restaurant...or is it the perfect time? This weird time of the day is an opportunity to see if a kitchen maintains the quality of their menu items at the most dead of hours. Y'know, whether or not the A Team and B Team staff can maintain consistency? Whoa, I'm way off on a tangent now, aren't I? We can chat about this later.
I'm hungry and Sips is open.
Warm Goat Cheese and Stone Fruit Salsa ($9.00)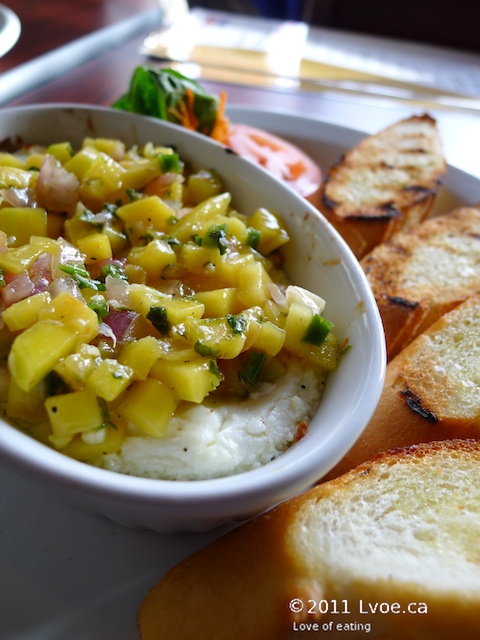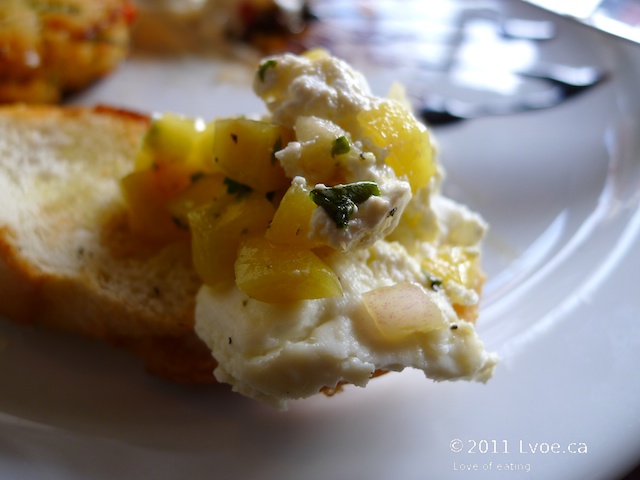 Gimme some warm cheese and bread, and I'm pretty happy. The goat cheese is strong enough for me to know I was eating cheese, but not overpowering. I'm not sure what kind of stone fruit is in this salsa though? The yellow diced bits had the texture of bell peppers. If anyone has had this at Sips before, do you know? The tapa is a generous helping of yummy warm cheese, and we needed extra crostini to finish it off. This is a nice one to share.
Lamb Brochettes ($7.50)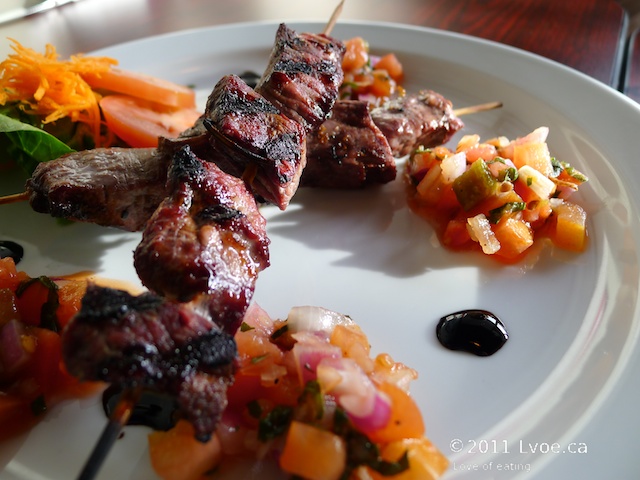 The overall flavour of these had potential, but the execution left them tough and dry. I love lamb, and I wanted to like these. But I have a difficult time when the skewer of meat is taken far, far, FAR past a medium doneness. These were in fact far past well-done, closing in on jerky-territory. The salsa that accompanies the lamb however is excellent! Crunchy with a citrusy zing. Nice and refreshing, this little side reminded me of summer-time.
Crab Cakes ($10.50)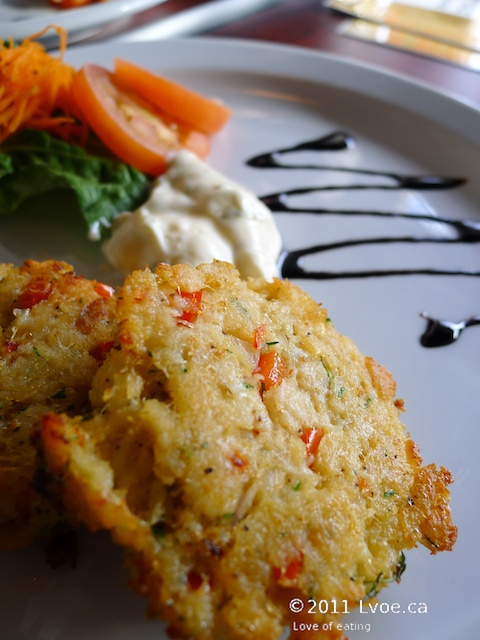 The cakes have a light crispy outer coating and the inside is a finely shredded crab. The meat is light and not mushy. I want to say it's fluffy, but I know that's probably not the best descriptor. Most importantly, these didn't have that "seafoody-I've-been-fozen-too-long" aroma to them. Nice.
Tiramisu Martini ($8.95)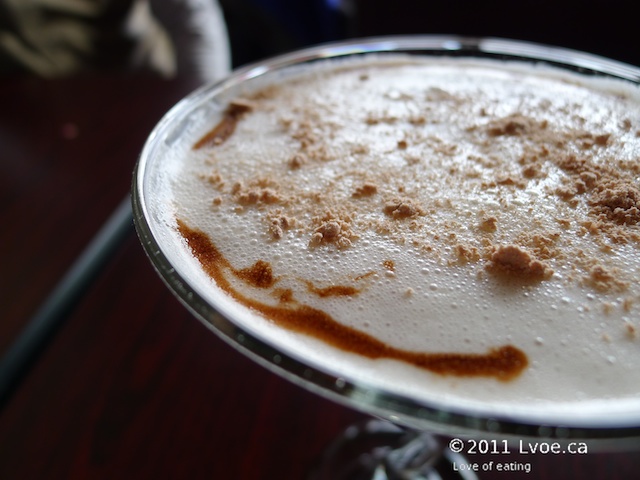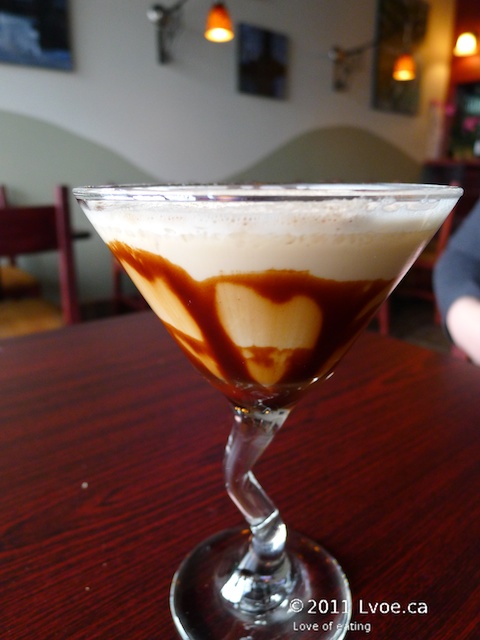 I do enjoy a good cocktail. Martinis are one of the staple cocktails in my household. Basic Gin martinis. With olives. Stirred. Just like olive oil and fish sauce, I will always have a bottle of Sapphire and vermouth handy. (It's amazing how long a bottle of vermouth can last.) Since I drink normal martinis at home, I decided to order something that I would never make at home. A dessert martini*. A dessert this is indeed! Very sweet, creamy and chocolately just like, well tiramisu. This is definitely an after meal treat. Unless you have an insatiable sweet tooth, I can't imagine having more than one of these. I think Sips should serve this drink with a ladyfinger garnish, no?
*Sometimes I wonder if these fancy multi ingredient drinks can still be called martinis? Other than the glass they're poured into, they seem to be so far removed from the original.
I generally like to wait a while before going to a new place. It's inevitable that new eateries have kinks to work out here and there. The space is clean, narrow and compact. When I imagine drinks with tapas, I usually think of a lounge-y atmosphere. Sips Martini and Tapas has more of a sports bar feel to it as all the flat screens played a selection of NASCAR, hockey and curling. Visualize with me now... the bar packed with the jersey-clad playoff crowd sipping...Appletinis?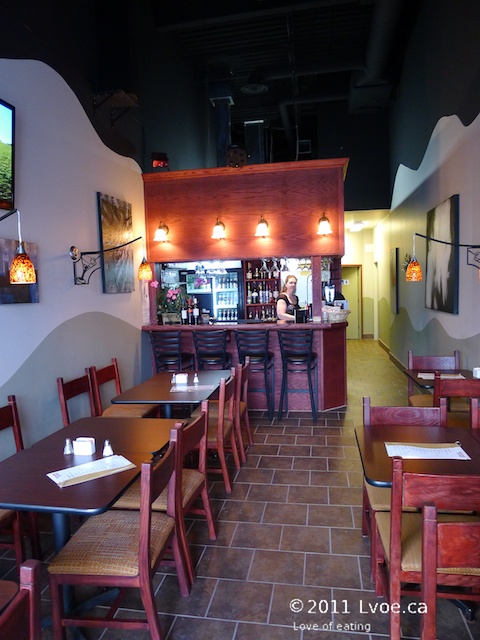 Sips Martini and Tapas will provide a sober-ride-home service too; if you're coming down to celebrate with libations. Thank you Sips, this is such a pro-active service. Does any other restaurant do this in Kamloops?
Service is efficient and friendly. They have only been open for 3 weeks or so, and the server shared that they have been busy. The daily dinner specials A.L. had jotted down sound very interesting and I am curious. But I'd like to wait it out a bit before heading in again.

Locations
Sips Martini and Tapas
223-450 Lansdowne Street
Kamloops
,
BC
Canada