Spice: A Taste of Indian Cuisine - Kamloops, BC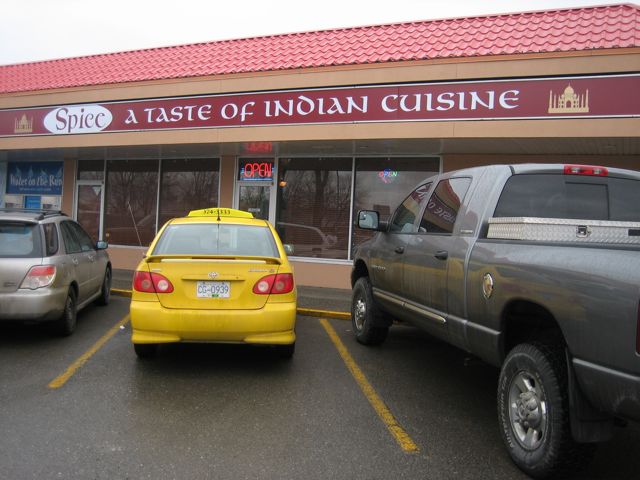 I ended up here at Spice after a second failed attempt to eat at Vyanjan. I decided not wait an hour for Vyanjan to open and looked for eats elsewhere. One of us remembered vaguely a commercial about a South Asian restaurant on the north side of the river. We basically drove around until we spotted it. Kamloops, my friends, is not all that big.
When I walked in, there were only two other tables occupied. There is a buffet lunch option here. Of course I ordered off the menu, as I have briefly shared with you folks my distain for buffet and my judgemental-ness of any establishment offering buffet.
We ordered our usual dishes for the purpose of comparison with other restaurants.
Washed our meal down with chai and ice tea.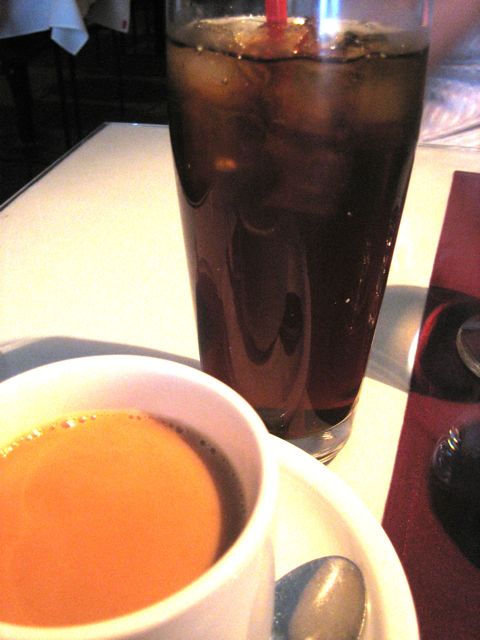 The ice tea tasted like a commercial mix such as Nestlé. I wish places would make their own ice tea with real tea, and their own lemonade with real citrus instead of the mixes. (Sigh...)
We started with vegetable samosas ($4.95).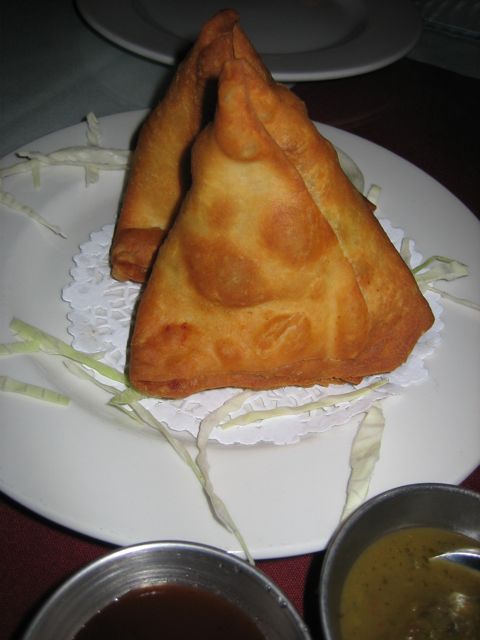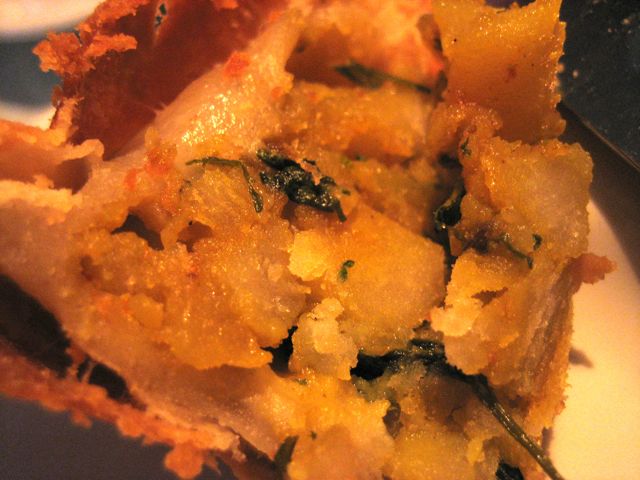 These were served with the usual chutneys (mint and tamarind).
They were huge, and tasty. They were stuffed with soft potatoes and peas with a hint of aromatics.
Butter Chicken ($13.95)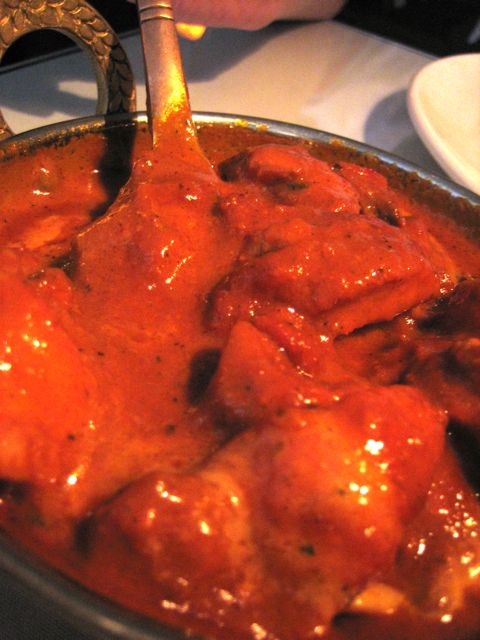 DL reports that the butter chicken was very tomatoey. Although it was nicely creamy in texture, it is difficult to differentiate the aromatics in the dish. It's missing or lacking something but couldn't put our finger on it. However DL still liked it better than some of the other Kamloops restaurant butter chicken.
Lamb Korma ($12.95)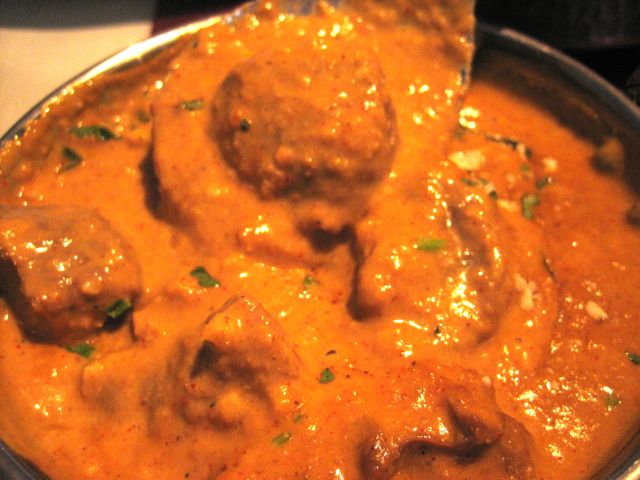 The pieces of meat weren't melt in your mouth tender, but they weren't cow hide dry and tough either. I can't complain, but I can't rave about the tenderness and moistness of the meat. It was pretty standard lamb. I like a bit more nuts in my korma but it was still tasty. It was smooth and you can taste some of the other ingredients. We couldn't finish the korma so we packed it home for lunch the next day.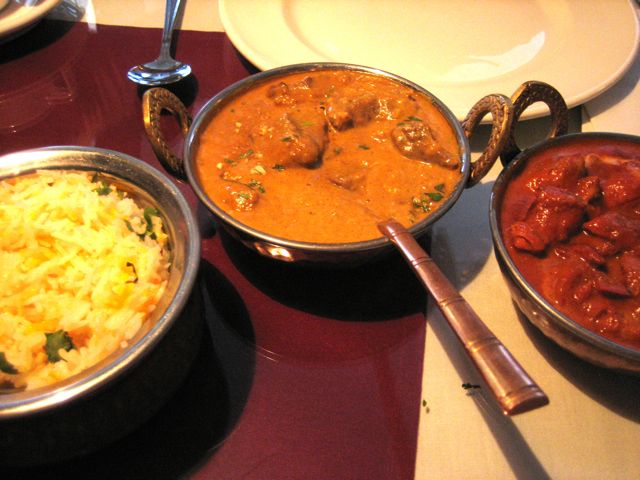 Butter Chicken and Kormas aren't meant to have a lot of heat, so when we were asked how spicy we wanted them, we just ordered it medium. However, we did specify that we wanted it a real medium, not a North American-palate medium. The owner/server giggled and immediately knew what we were talking about.
Basmati Rice ($3.95)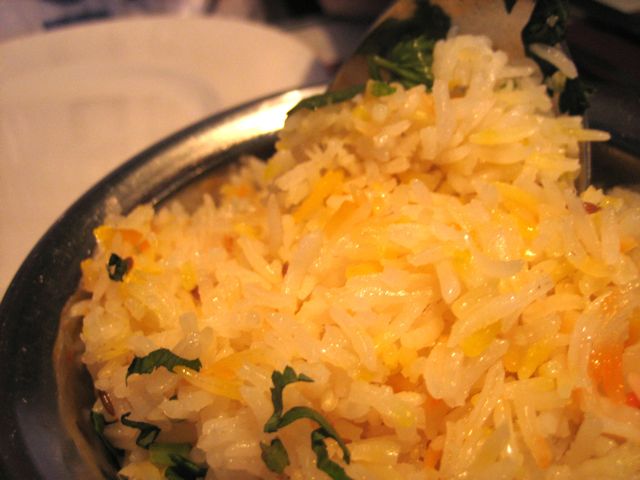 The rice was conventional. It's just a filler, but it was presented nicely. The menu states that the rice is included in the above orders but I think we may have been charge for ours. We were never given an itemized receipt, but after adding up what we ordered they must've charge for it..or our drinks were ridiculously expensive!
Naan ($1.95 each)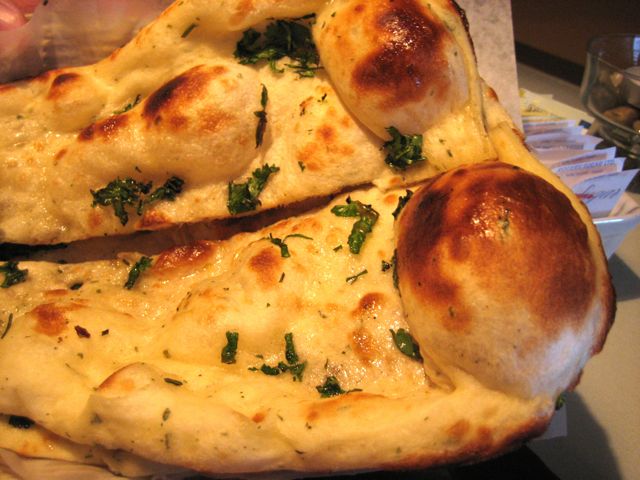 We ended up needing 4 orders of naan to finish the Butter Chicken. I find that the restaurants that cook their naan in a hot clay oven tend to have good bread. I've only been disappointed with naan at places that obviously aren't investing in the appropriate equipment.
The Spice restaurant is very non descript. You would probably never notice it if you weren't specifically looking for it.
When we told the owner we knew of the restaurant through a TV advert some time ago, his surprised response was, "Oh, you saw that??" Yes we did, so his advertising dollars did not go to waste. He shared with us that he will focus on print ads only for now, and he is in the process of putting up more visible street signage and a website.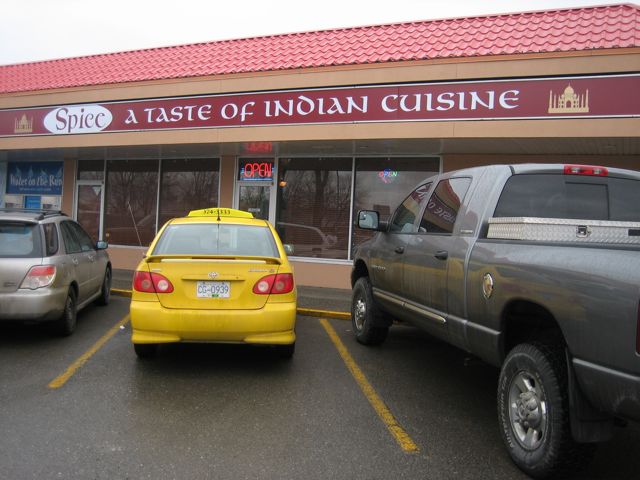 Spice has approximately 25 or so tables. Mostly four tops and a few deuces to make up the space in the middle. The interior is decorated in rich warm hues. It is eye clean and uncluttered. The bathrooms were basic but clean. The service was very attentive and friendly; we were attended to by both the owner(?) and a server. We seemed to be the only patrons that were menu customers; everyone else was having the buffet.
Value wise I believe Spice is slightly better than others. The prices of the main dishes are on par with other South Asian restaurants in Kamloops, but the sides are a bit more affordable. Example: Naan is $1.95 at Spice, whereas it averages $2.50 else where in the 'Loop. This might not seem like a big deal, but we are known to order 4 servings of naan at one sitting, so it adds up. The above meal came to $48.72.
I really enjoyed Spice a more than Goldie's and somewhat equally as much as Maurya's. We have yet to try Vyanjan's, and I am not aware of others. If you know of others that are worth going to, please chime in. Spice is no Mirch Masala but I will definitely return to try the other menu items.

Location
Spice - A Taste of Indian Cuisine
Unit 1 - 700 Tranquille Road
Kamloops
,
BC
V2B 3H9
Canada